Top 10 Immunity-Boosting Products And Supplements Of 2023
Fight germs and stay safer than ever with organically-enriched formulations.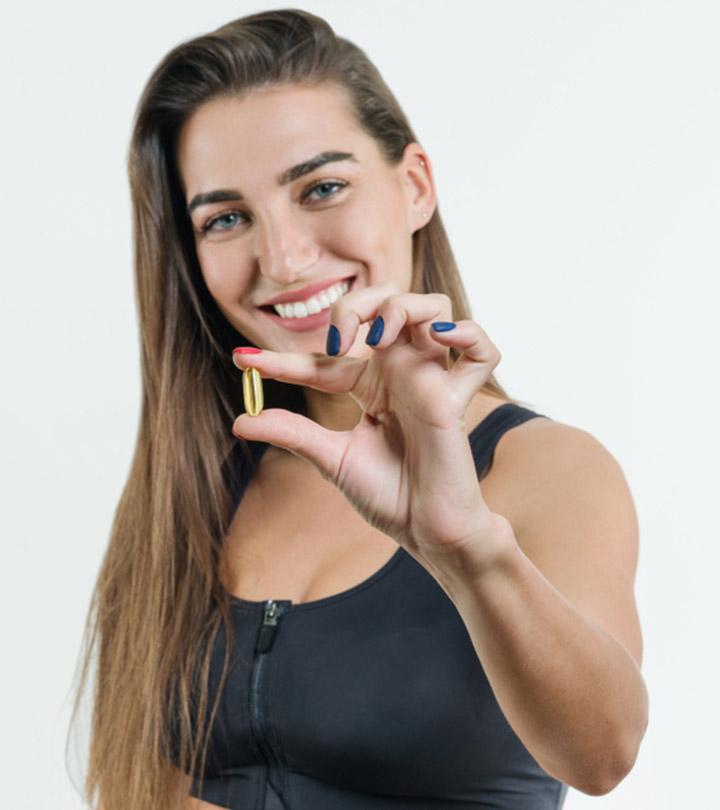 It is essential to take good care of your health and amidst the Covid-19 pandemic, boosting your immunity is of utmost importance. Immunity-boosting products significantly contribute to building your immune system. These supplements help to fight all the diseases and infections effectively. Keep scrolling further to have a look at them!
Top 10 Supplements To Boost Your Immunity
This product is a probiotic tablet manufactured by American Health Products. It contains 12 billion good gut bacteria that help improve digestion and nutrient absorption. It is formulated with the patented BIO-tract technology, which involves covering the tablet with a gel matrix that protects it as it travels through the digestive tract.
Pros
Non-GMO
Vegetarian
Aids digestion
Aids nutrient absorption
May help treat UTI
Gluten-free
No preservatives
No artificial flavor
Cons
Not suitable for pregnant or lactating women
May interact with other medicines
Contains milk ingredients
Rainbow Light Counter Attack tablets are made with a blend of immunity-boosting herbs. They are vegan and natural. Each tablet contains 840 mg of potent immunity boosters. The active ingredients of these tablets are yerba santa, xanthium, Echinacea purpurea, polygala, coptis, Chinese licorice, mullein, horehound, Chinese lovage, and peppermint. It also contains zinc, selenium, folic acid, magnesium, molybdenum, manganese, and vitamins.
Pros
Boosts immunity and bone health
Contains lycopene (an antioxidant)
Supports brain function
Four formulations for men, women, kids, and immunity
Cons
May interact with other drugs
No international shipping
Price at the time of publication: $29.96
Super Greens by Nested Naturals uses ethically sourced ingredients. This powder contains spirulina that helps boost immunity, digestion, and energy. The brand offers lifetime guarantee and also gives back to the community through charity.
Pros
Non-GMO
100% organic
Vegan
Contains phytonutrients
Contains dairy-free probiotics
Cons
May taste a bit like plants
Price at the time of publication: $31.95
This product contains a strong blend of fruits and herbs like black elderberry, echinacea, and andrographis that support the immune system. It also contains vitamin C and zinc. You do not have to take this supplement every day. Just take 2-3 tablets for five days.
Pros
Non-GMO
Certified glyphosate residue-free
Gluten-free
Dairy-free
Soy-free
Tested for 125+ pesticides
Certified kosher
Cons
None
Price at the time of publication: $14.39
Made in the USA in an FDA approved laboratory, Instant immunity claims to provide an instant boost to your immune function. It contains a blend of Vitamin C, Vitamin E, Graviola, Selenium, Red Raspberry Juice Extract, Beta-Glucan, Green Tea (extract), Curcumin, Pomegranate, Garlic, Cat's Claw, Korean Ginseng, Lycopene, Quercetin, Pine Bark, Indian Rhubarb, Burdock Powder, Sheep Sorrel Powder, Grape Seed (95% extract), Slippery Elm Powder, Shitake Mushroom, Maitake Mushroom, Reishi Mushroom, ARA-6, and Olive Leaf Extract.
Pros
Fights free-radicals
Tested for purity and potency
No GMO, binders, and fillers
Easy to swallow
FDA and GMP complied
All-natural immunity booster
Cons
Not suitable for pregnant or lactating women
Consult a doctor before use
Might interact with other drugs
Price at the time of publication: $39.95
This is a probiotic-based immunity-boosting supplement. The Lactobacillus plantarum and Lactobacillus paracasei in it help keep the gut healthy. These chewable tablets also help maintain upper respiratory tract health.
Pros
Improves overall health
Sugar-free
Chewable
Dairy-free
Vegetarian
Gluten-free
Cons
Price at the time of publication: $19.95
Kyolic Immune Formula is made of aged Kyolic garlic (odorless), mushrooms, vitamins, and herbs. The garlic is aged for 20 months to enhance its nutrients, and its odor is removed to make it palatable. The antioxidants in this formula help boost immunity, digestion, and lowers inflammation.
Pros
Non- GMO
Uses whole, organic, odorless garlic
Boosts immunity
Gluten-free
Sugar-free
Sodium-free
Dairy-free
No preservatives
Supports digestion
Aids detoxification
Reduces inflammation
Cons
None
Price at the time of publication: $19.79
These supplements contain the probiotic strain Lactobacillus fermentum ME-3, which produces the antioxidant, glutathione. It also contains vitamin D3 for improved immune response and energy production and B-vitamins for better metabolism.
Pros
Aids detoxification
Improves physical and mental function
Decreases muscle loss from sports activities
Increases strength and endurance
Dairy-free
Gluten-free
Nut-free
Soy-free
Vegan
Cons
None
Price at the time of publication: $37.96
Sambucus Elderberry Capsules are loaded with 200% vitamin C and zinc that can help fight the disease-causing germs. They boost immunity and improves skin health. These minerals also improve skin health and reduce oxidative stress.
Pros
Non-GMO
Gluten-free
Dairy-free
Soy-free
Dairy-free
No sugar
No nuts
No shellfish
No preservatives
No fillers
Cons
Not suitable for pregnant and lactating women and children
Price at the time of publication: $15.97
This immunity-boosting syrup supplement is formulated with black elderberries, vitamins A, B and C, iron, potassium, and anthocyanins. It is specially formulated for kids. The antioxidants in it scavenge free radicals and strengthen immunity in children.
Pros
Gluten-free
Delicious berry flavor
Syrup formula
Cons
Price at the time of publication: $10.56
Why Trust StyleCraze?
Aditi Naskar, the author of this article, holds a diploma in health and wellness and loves reviewing fitness and health products. She has extensively studied various immunity-boosting products and supplements, reviewed several user feedback, and studied the ingredients of the products in detail to prepare this list. These products are tested for purity and potency. They help boost immunity, digestion, and energy.
Frequently Asked Questions
How can I boost my immune system in 24 hours?
• Hydrate your body with regular or lemon water.
• Consume lots of healthy food, including fruits and vegetables.
• Exercise or take a walk.
• Take zinc and vitamin C supplements.
• Avoid smoking.
• Get enough sleep.
What builds a strong immune system?
A healthy lifestyle and vaccinations help you build a strong immune system.
How long does it take to build up an immune system?
If you follow good habits daily, you can build a strong immune system in ten days.
What are signs of a weak immune system?
• You catch colds very easily and frequently.
• You often feel constipated.
• You feel tired all day.
• You have high stress.
• Your skin infections take time to heal.
What causes a weak immune system?
Poor diet, smoking, alcohol consumption, genetic disorders, and diseases can cause a weak immune system.
What are signs of a strong immune system?
• You have strong gut health.
• You can recover from the cold fast.
• Your sleep schedule is good.
• You feel energetic all day.
Recommended Articles
Top Nutrition Drinks In India (For A Healthy You)
Best Protein Powders For Indian Women
Best Hair Growth Supplements In India – (With Reviews)
The Best Multivitamins For Women – Top Brands, Benefits, And The Side Effects