Indian Traditional Dresses – Ethnic Essentials For Every Girl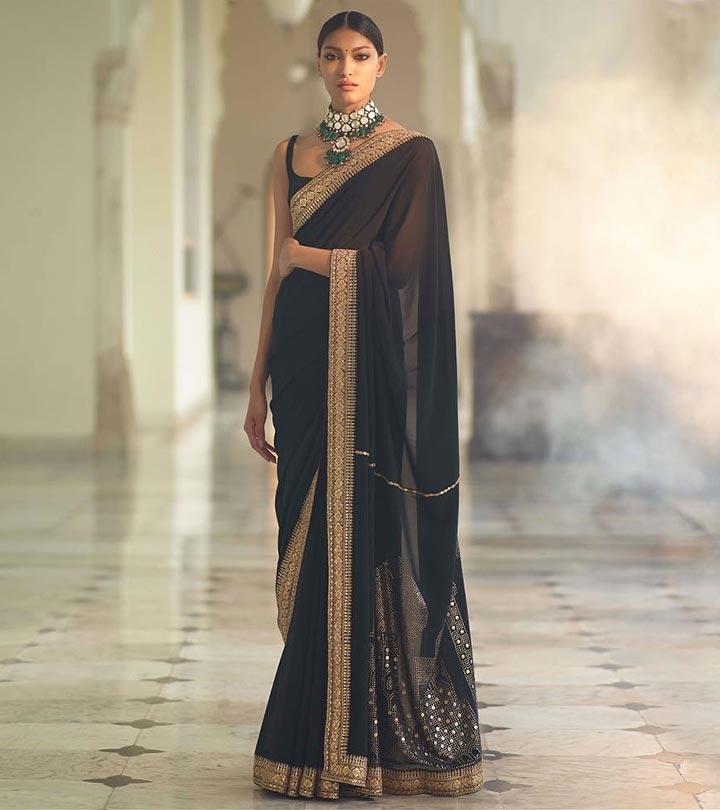 There was a phase when Indian traditional dresses took a backseat in the fashion world, and there were many reasons for this. But, slowly, and then all at once, they started to make an appearance everywhere; and now, going the desi way is not so boring or uncool anymore. We have brands to back us up and designers who have come up with so many options that it kind of gets overwhelming to choose just one. I now wait for an opportunity to doll up in Indian dresses, and never let go of a chance to wear these. But, do we know all there is to know about ethnic wardrobe staples? No? We've got this. Bring out the desi girl in you and do a little happy dance, because we are going to talk about just that.
Indian Traditional Dresses – Ethnic Essentials For Every Girl
1. Saree
Thanks to Deepika, Kareena, and Shilpa Shetty, wearing sarees is so in. But, if you ask me, I'd rather wear my grandmother's gamcha saree and spruce it up with a blouse than invest in a couture saree by a prominent designer. That said, whatever it is that may define you – we need sarees and a lot of them in our ethnic closet because nothing is more compelling on a woman than a saree. While some cannot get enough of Kalamkaris, some like to doll up in a Sabyasachi, and a few others jump at the idea of wearing a saree – any kind would do! So yes, have a few sarees in your closet, they always come in handy.
2. Salwar Kameez
Salwar Kameez is to Indian fashion what rice is to Indian food – a staple; or, it has become so over the years. The traditional salwar kameez, as the name goes, is a standard set of a top, bottom, and a dupatta. But, these have taken many forms over the years, and we will talk about that in a minute. The traditional salwar kameez is something the average Indian woman spends most of her life in. Designers are doing a splendid job in taking the salwar suits to the next level; so, you can never have too many of these.
3. Patiala Suits
Indians love all things Patiala, if you know what I mean. The Patiala pants are a wider and cooler variation of your regular bottoms. These have more definition because of their pleats that give your outfit a fuller feel. It looks especially great on tall women. Nevertheless, Patiala suits are evergreen, and thus we all need these in our closets.
4. Anarkali Suit
There was a total fashion freeze for the longest time and we felt like there was no innovation in the traditional dresses line because Anarkalis took over. They practically ruled the racks before there were others entrants, but all said and done, you cannot get enough of these, and that's why a part of me will always look for these every time I go shopping. Anarkalis are long and voluminous, and the A-line cut starts way above the hips. From cotton to tulle, lace, and zari, Anarkalis will always have a considerable market share, and no one can change that.
5. Lehenga Choli
The lehenga is slowly turning out to be the most sought-after bridal dress. Women from most communities in India get married in a lehenga choli, and the kind of options that we have right now is beyond overwhelming. If the lehenga is not the dress to get married in, brides make sure they wear one for their sangeet, Mehendi or other functions. The bridesmaids too generally go for this sexy Indian wear.
6. Kurta
Kurtas to the modern Indian women are go-to formal dresses. Even when you are not in a mood to suit up for a meeting, wear a block printed kurta and pair it with jhumkas and pumps – you've got yourself a chic boho look in minutes. From teenagers to middle and old aged women, kurtas are what we all prefer because we have gotten over the fact that we need a dupatta every time we wear an Indian dress.
7. Palazzo Suits
Palazzos will be one of those things I will really be thankful to God for. Gone are the days when we survived on leggings – palazzos have come and taken over the shelves. You can wear any kurta with palazzo pants to look stylish, or ditch the boring old salwar suits and go for palazzo suits. You can also go Indo-Western by matching your palazzo pants with a short top or even a T-shirt and finish the look with chunky accessories.
8. Long Skirt
I'm going to say this one more time – if you cannot get enough of Bohemian clothes, start hoarding long skirts. You can wear them with simple tank tops and chunky jewelry, and go for a smokey eyed look. Wearing skirts with long or short kurtas is fashionable too, so if you can pull something like that off, you should give it a shot. Either way, if you are working on your closet for traditional dresses, throw these in.
9. Floor Length Dresses
After Anarkalis, it is the floor-length dresses that we are all obsessing over. Floor length dresses are nothing but a very desi melange of a long one-piece suit and the Anarkali. Add a heavy or light worked dupatta to dress up or dress down; either way, you will stand out. But, remember to wear slightly elevated footwear for a better-looking silhouette.
10. Dupattas
We always had a love-hate relationship with the dupattas for reasons I do not want to get into right now, but now, I must admit I have a love-love relation. I love the whole concept of mix and match of the dupatta to play a contrast game instead of the mainstream salwar suits. You could do that too, but as per the market trends, if you are wearing a dupatta, it just means the onus is on that one peripheral to lift the outfit. That's why women are going gaga over the Banaras, phulkari, and bandini dupattas.
[ Read: How To Wear A Dupatta – Different Types & Draping Style Ideas ]
Thanks to both online and offline stores, shopping is at its beautiful best right now. From customized design solutions to mass-produced apparel, all are available at the tip of your fingers. What is your favorite kind of ethnic dress? Let us know by dropping in a text in the comments section below.
Recommended Articles:
Banner Image Credits: Instagram
The following two tabs change content below.