Traditional Indian Dresses That Every Girl Can Wear
Steal the show and flaunt your traditional side with these stunning ethnic wear ideas.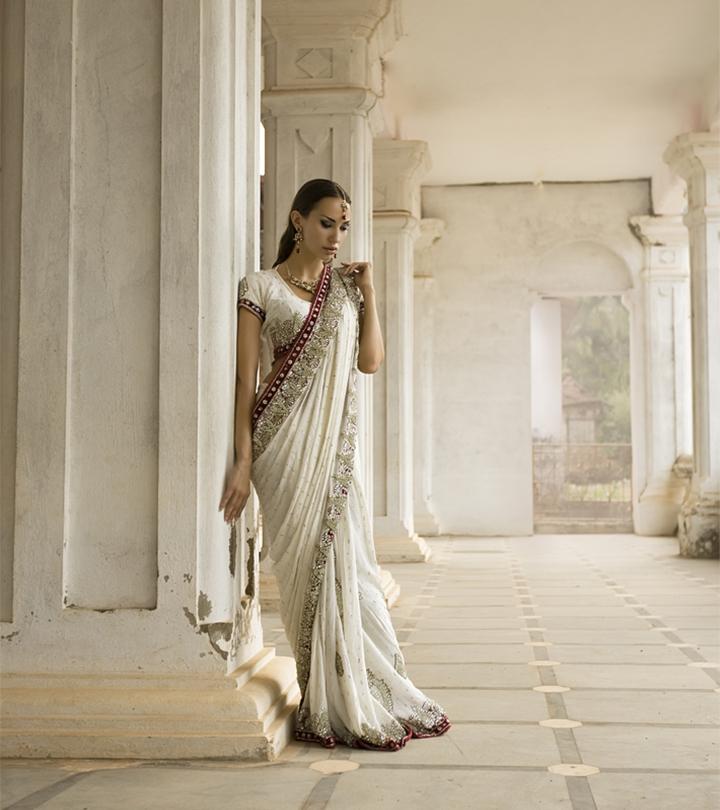 There was a time when Indian traditional dresses started to take a backseat in the world of fashion. However, gradually, these dresses began to make a smart comeback and paved the way for all of us to look amazingly gorgeous and super cool in them. Today, women just cannot not love these dresses and thanks to many brands and designers who have blessed us with umpteen unique options. To this end, we want to tell you everything you need to know about traditional wardrobe staples in this article. All you have to do is scroll down and find out. So without further ado, let us go ahead and give this piece a read because it is time to flaunt some beautiful ethnic dresses and steal the show.
Indian Traditional Dresses – Ethnic Essentials For Every Girl
1. Saree
Thanks to Deepika, Kareena, and Shilpa Shetty, wearing sarees is so in. But, if you ask me, I'd rather wear my grandmother's gamcha saree and spruce it up with a blouse than invest in a couture saree by a prominent designer. That said, whatever it is that may define you – we need sarees and a lot of them in our ethnic closet because nothing is more compelling on a woman than a saree. Though contemporary saree looks are all the rage right now, we surely cannot neglect the classic silhouettes, be it a kanjeevaram saree or bandhani saree. And while some cannot get enough of Kalamkarisi  XA kind of hand or block-printed cotton fabric produced in the Indian state of Andhra Pradesh that uses only natural dyes. , some like to doll up in a Sabyasachi, and a few others jump at the idea of wearing a saree – any kind would do! So yes, have a few sarees in your closet, they always come in handy.

Did You Know?
There are more than 80 different ways of draping a sari. In fact, eminent sari historian, Rta Kapur Chishti, mentioned 108 ways of draping the fabric in her book 'Saris: Tradition and Beyond'.
2. Salwar Kameez
Salwar Kameez is to Indian fashion what rice is to Indian food – a staple; or, it has become so over the years. The traditional salwar kameez, as the name goes, is a standard set of a top, bottom, and a dupatta. But, these have taken many forms over the years, and we will talk about that in a minute. The traditional salwar kameez is something the average Indian woman spends most of her life in. Designers are doing a splendid job in taking the salwar suits to the next level; so, you can never have too many of these.
3. Patiala Suits
Indians love all things Patiala, if you know what I mean. The Patiala salwar or pants are a wider and cooler variation of your regular bottoms. These have more definition because of their pleats that give your outfit a fuller feel. It looks especially great on tall women. Nevertheless, Patiala suits are evergreen, and thus we all need these in our closets.
4. Anarkali Suit
There was a total fashion freeze for the longest time and we felt like there was no innovation in the traditional dresses line because Anarkalis took over. They practically ruled the racks before there were others entrants, but all said and done, you cannot get enough of these, and that's why a part of me will always look for these every time I go shopping. Anarkalis are long and voluminous, and the A-line cut starts way above the hips. From cotton to tulle, lace, and zari work, Anarkalis will always have a considerable market share, and no one can change that.
5. Lehenga Choli
The lehenga is slowly turning out to be the most sought-after bridal dress. Women from most communities in India get married in a lehenga choli, and the kind of options that we have right now is beyond overwhelming. If the lehenga is not the dress to get married in, brides make sure they wear one for their sangeet, Mehendi or other functions. The bridesmaids too generally go for this sexy Indian wear.
6. Kurta
Kurtas to the modern Indian women are go-to formal dresses. Even when you are not in a mood to suit up for a meeting, wear a block printed kurta and pair it with jhumkas and pumps – you've got yourself a chic boho look in minutes. From teenagers to middle and old aged women, kurtas are what we all prefer because we have gotten over the fact that we need a dupatta every time we wear an Indian dress.
7. Palazzo Suits
Palazzos will be one of those things I will really be thankful to God for. Gone are the days when we survived on leggings – palazzos have come and taken over the shelves. You can wear any kurta or sherwani with palazzo pants to look stylish, or ditch the boring old salwar suits and go for palazzo suits. You can also go Indo-Western by matching your palazzo pants with a short top or even a T-shirt and finish the look with chunky accessories.
8. Long Skirt
I'm going to say this one more time – if you cannot get enough of Bohemian clothes, start hoarding long skirts. You can wear them with simple tank tops and chunky jewelry, and go for a smokey eyed look. Wearing skirts with long or short kurtas is fashionable too, so if you can pull something like that off, you should give it a shot. Either way, if you are working on your closet for traditional dresses, throw these in.


Quick Tip
Alternatively, you can give an Indo-Western twist to the traditional long skirt with an off-shoulder top and enhance your appearance.
9. Floor Length Dresses
After Anarkalis, it is the floor-length dresses that we are all obsessing over. Floor length dresses are nothing but a very desi melange of a long one-piece suit and the Anarkali. Add a heavy or light worked dupatta to dress up or dress down; either way, you will stand out. But, remember to wear slightly elevated footwear for a better-looking silhouette.
10. Dupattas
We always had a love-hate relationship with the dupattas for reasons I do not want to get into right now, but now, I must admit I have a love-love relation. I love the whole concept of mix and match of the dupatta to play a contrast game instead of the mainstream salwar suits. You could do that too, but as per the market trends, if you are wearing a dupatta, it just means the onus is on that one peripheral to lift the outfit. That's why women are going gaga over the Banaras, phulkarii  XFolk embroidery from the Punjab region of India that includes floral and geometric motifs embroidered with silk threads. , and bandini dupattas.
Infographic: Fun Facts About Indian Clothes
Traditional Indian dresses have a beauty and charm of their own that cannot be replicated by any western attire. With their beautiful fabric adorned with eye-catching patterns, prints, and ornaments, these attires are truly something to die for.
If you are planning to flaunt your desi side, check out our infographic below to learn more about traditional Indian clothes!


There was a time when Indian traditional dresses were put on the backburner. However, in recent times, ethnic wear has seen a resurgence with many designers and brands providing you with endless options. If you are looking for something comfortable and evergreen, you can opt for a beautiful combination of patialas and kurtis. If you want something more bohemian and chic, a long skirt paired with chunky jewelry can elevate your look to the next level. While the above-listed outfits are the most popular ones, a few more traditional dresses can also be noted such as kurta pajama, dhoti kurta, ghagra choli, churidar kurta, gota patti suit, jodhpuri suit, ikat silk saree, and Banarasi silk saree. From the elegant sari to stylish floor-length dresses, you can select your clothes based on your preferences and style.
Frequently Asked Questions
What is traditional Hindu clothing?
A saree or long scarf for women and short coats for men comprise traditional Hindu clothing.
What is another name for the Indian dress?
Saree is another name for the Indian dress.
Key Takeaways
A simple kurta, paired with palazzos, jeans, or leggings, is a great modern take on Indian ethnic attire.
Show off your culture by wearing a classic saree. It could be plain cotton or a silk saree.
Palazzo suits are in trend now; they give that oversized look while being ethnic.
Try hopping into a lehenga instead of a gown for your special event.
Opt for traditional embroidery styles that instantly upscale the ethnic look, such as chikankari.
Banner Image Credits:
Instagram
The following two tabs change content below.