43 Best Indoor Date Ideas For Couples To Keep Things Spicy
Explore the many fun and delicious ways to make your dates more memorable right at home!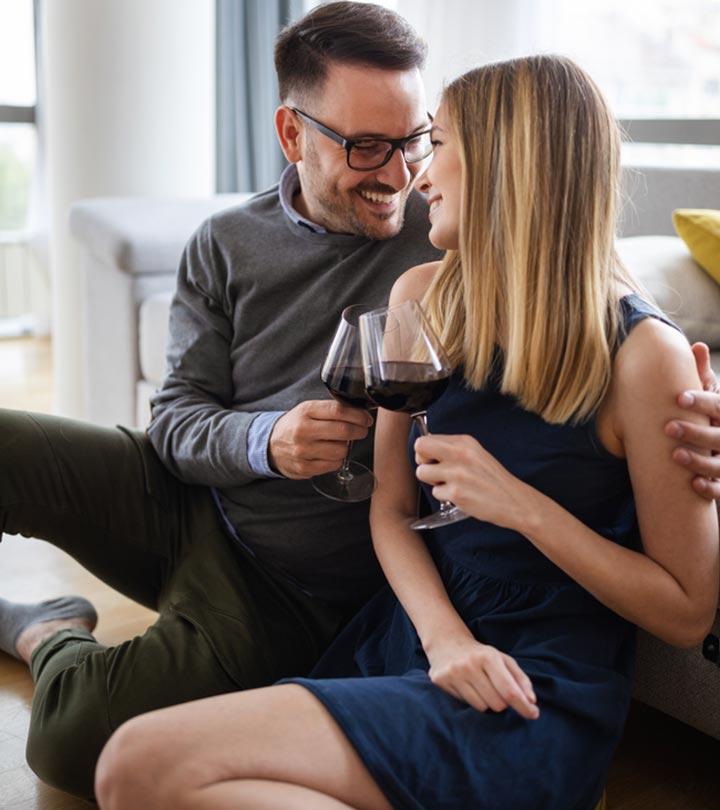 Is it too humid or rainy to go out? Don't let this weather dampen or dry out your date plan. Instead, you can enjoy some romantic moments at home with your beloved by choosing from these indoor date ideas. It is not necessary to go outdoors to express your love for each other. You can be creative and make your date happen indoors!
Going out on dates is surely cool, but indoor dates can be romantic to a great extent. We have curated a list of unique and romantic indoor date ideas for you to experience intimacy with your beloved. Keep scrolling!
21 Indoor Date Ideas For Couples
1. Set Up A Movie Hall
You can arrange for a projector and choose your favorite movie (something romantic, of course!) and have a relaxed movie night at home. It needn't be some new movie; it can be a favorite movie of your partner. Keep your phones aside, disconnected from social networks. Arrange a bowl of popcorn with some fizzy drinks to accompany. Give it a movie hall experience by drawing up the curtains and making the lights dim. You will have the best date ever!
2. A Blanket Tent
Do both of you like camping? If yes, you can set up a camp on your lawn or even inside the house. Take some blankets, pillows, and a duvet to organize your tent. Once ready, use stringed lights to light up your tent to create a romantic and cozy atmosphere. Your lover will be elated by this super exciting romantic date. Give it a try!
Quick Tip
If you plan to set the tent up outdoors, keep insect repellents handy. You do not want the pesky bugs ruining your perfect date night.
3. Cook Together A Restaurant-style Dish
Both of you always catch up for dinners outside, right? Why not try it indoors this time? Surprise your beloved with a dish that tastes exactly like her favorite restaurant's or maybe one of your signature dishes. You can try out something Mexican or Italian, which is not easily available at local restaurants. Take the help of a cookbook or online tutorials, and you will all be set! Make it all the more romantic by involving your date. They can chop the vegetables or help with other side chores.
4. Wine And Cheese Afternoon
Arrange for some cheesy platters like chicken lasagna or appetizers. You can order it from some local store or a roadside restaurant. Couple it up with some good wine that both of you like. Spend some cozy moments with them. You never really know what it can lead to!
5. Bake Along
If you have never tried your hand at baking, what are you waiting for? It is the perfect time to bake something delicious with your beloved. You can either bake some cookies or dessert of your choice or go for experiments. It will definitely create a strong bond between you.
6. A Candlelit Dinner
The most beautiful indoor date idea is a candlelit dinner. You can set up a candlelit décor on your terrace. Use stringed lights and light up scented candles all around. Order some delicious food and serve it in an appetizing fashion.
7. Learn Your Zodiacs
Did you ever wonder what your partner's zodiac sign is? Take a moment to dive into it. It is very interesting to know your partner's zodiac and read up on your compatibility together. Take a look into your differences and similarities. It will help you know each other better. Who knows, it might lead to some interesting, deep conversations!
Related: What Your Zodiac Sign Says About Your Style
Quick Tip
Additionally you can watch tarot card reading videos for your respective signs on YouTube. It could be interesting to try to make connections between the readings and your real couple situation.
8. Compete On Cocktails
Try out some super cool recipes for cocktails at home. It will be a great way to showcase your style and innovation of flavors. Buy some essential ingredients, mix and match some assortments, and compete on making cocktails. Garnishing can achieve you some brownie points, too!
9. Game Night
Fun games like UNO or Rummy or board games can bring you both a lot closer. You can also get adventurous with Truth or Dare. These games can make you stay awake throughout the night. You can also make it interesting with some naughty wagers!
Related: 41 Entertaining And Fun Party Games For Adults
10. Strip Poker Game
This spicy game can lead to something very hot! Arrange for a strip poker game. The one who draws a losing hand will need to take off their clothing items as punishment. This romantic and sensual game can develop deeper chemistry between you and your significant other. It is one of the most famous indoor date ideas and will make your date worth remembering.
11. A Karaoke Night
Lift your mood and try out something different. Choose your playlist and get prepared for a karaoke night! Not a good singer? It doesn't matter! Sing your heart out like a free bird. But beware! You might make your beloved fall in love with you all over again.
12. A Two-person Quiz
Want to know more about each other? Host a quiz session where both of you will ask each other questions on any topic. It is a cool way to explore their thought process and beliefs as well. You must give it a try!
13. Photo Station Date
It is a great idea to create a photo station. You can arrange a beautiful backdrop and click loads of pictures together to add to memories of your dates, which can be relived later.
14. Spa Date
There can't be anything better than getting a relaxing spa treatment with your date. Make some homemade masks or facial packs. Search your cupboard for some pedicure creams or assortments. You can also use some essential oils for a revitalizing body massage. Take your time and enjoy this treatment. It is a lovely way to get cozy without much effort.
15. Book Reading
Pick a book that both of you would like to read – preferably romantic. Sit on your cushioned sofa, cuddle up inside a blanket, and sift through the pages together. Try to complete the reading, and don't leave it mid-way.
Quick Tip
Do plan on having a break session where you can discuss each of your books. Have plenty of comfort food and drinks handy as well.
16. Personality Tests
Nathalie Maggio, LMFT, says, "Knowing your partner is one of the most important factors to a healthy and successful long term relationship. Learning about your partner can be both fun and effective for cultivating a lasting relationship. You can use one of the many available card decks, journals, or books to guide you in asking the right questions. You may be surprised by all the things you find out!"
17. Stargazing
A wonderful indoor date idea is stargazing. Climb up to the terrace and lie down to see the stars in the night sky. Talk about life while gazing at the stars. It is indeed a beautiful way to spend your date night.
18. Coloring Books
Take up some adult coloring books and reflect on your creative side. It is also an innovative way to relax and calm your senses. Coordinate with your partner and develop it into a couple's hobby and showcase your artistic side.
19. Workout Date
Work out together and get sweaty. It will not only make you fit and stronger but also strengthen your relationship. Working out is a lifestyle nowadays, and you can exercise together to give it more meaning. You can also get a warm shower together later on. Hot! Isn't it?
20. Redecorate Your House
You can redecorate your house and make it a date night. Rearrange the dining room and bedroom. Move the sofa and get rid of useless things. You will surely love this innovative date idea as it gives you both a chance to work together towards the same goal.
Related: 29 Late-Night Date Ideas
21. Meditation Date
Meditation is a great way to feel closer to your partner. Open yourself up to positive vibes and meditate together to calm your soul and mind. It will relax you and make you stress-free. It will also help both of you to understand each other better. So, meditate along!
22.Indoor Picnic
Set the stage for a romantic indoor picnic by spreading a soft, colorful blanket in the heart of your cozy living room. The room's warm ambiance and soft lighting create an intimate atmosphere. Arrange a delicious spread of your favorite snacks: a charcuterie board with an assortment of cheeses and cold cuts, a basket of freshly baked bread, a bowl of ripe berries, and a selection of chocolates to satisfy your sweet tooth. Choose a bottle of wine that holds special meaning for both of you and let it breathe while you set the scene. As you sip and savor, engage in deep conversations, share your dreams, or simply enjoy the comfort of each other's presence. The absence of outdoor distractions makes this an ideal setting to strengthen your bond!
Destene, a YouTuber, decided to have an in-home picnic with her boyfriend for their date night due to quarantine restrictions. She says, "Brandon and I have decided to do an in-home picnic for our date night. It's always been a dream of mine to go on a picnic and I've just never been (i)." They showed the process of setting up their indoor picnic, including preparing sandwiches, using a picnic basket with plates, silverware, salt, pepper, and wine glasses. They also indulged in chocolate-covered strawberries and fruit, and played Uno.
23.Paint and Sip
Indulge in a delightful evening of artistic expression with a paint and sip session. This creative endeavor combines the joy of painting with the pleasure of sipping your favorite wine. Set up your canvas, brushes, and an assortment of vibrant paints, then find an online painting tutorial that inspires both of you. As the evening unfolds, follow the step-by-step guide, allowing your inner artist to emerge. Sip on your chosen wine, revel in its flavors, and let your creativity flow onto the canvas. This shared experience not only brings out your artistic side but also encourages laughter, bonding, and the satisfaction of creating something beautiful together.
24.Learn Something New
Embark on a shared journey of discovery and growth by picking up a new hobby or skill together. Whether it's learning to play a musical instrument, diving into the art of salsa dancing, or mastering the art of cooking a cuisine you've never tried before, this shared endeavor brings you closer as you navigate the learning curve together. The process of learning as a couple not only strengthens your bond but also reinforces the idea that you're a team, united in the pursuit of knowledge and personal development.
25.Virtual Travel
Satisfy your wanderlust and create a sense of adventure right from your living room. Begin by selecting a city or country you've both dreamt of visiting, and embark on a digital voyage together. Explore the vibrant streets of Rome, the historic sites of Kyoto, or the breathtaking landscapes of Patagonia through virtual tours and travel documentaries. Immerse yourselves in the culture, history, and beauty of your chosen destination. As you virtually travel, take notes of the places that captivate you the most and the experiences you'd love to have. This not only fuels your wanderlust but also sets the stage for planning a future trip. Discuss your dream itinerary, activities, and the local cuisine you can't wait to savor!
26.Memory Lane
Indulge in the delightful nostalgia of your shared history as a couple by taking a stroll down memory lane. Dust off those old photo albums or scroll through digital snapshots that capture the essence of your journey together. As you flip through the pages and reminisce, let the stories behind those photos come to life. Share the laughter, the surprises, and the heartfelt moments that have woven your unique story. Reflect on the milestones you've reached and the challenges you've conquered side by side. These cherished recollections remind you of the enduring love that has carried you through every chapter of your shared story and inspire yet other beautiful chapters to follow.
27.Dance Party
Transform your living room into a vibrant dance floor where it's just the two of you and the music. Begin by selecting a playlist filled with your all-time favorite songs, the ones that make your hearts sing and your feet move. Clear a space to let your bodies sway, twirl, and groove to the rhythm. As the music flows through your veins, allow yourselves to let loose, and dance like no one's watching. It's all about the joy of movement and the intimacy of sharing this uninhibited dance with the one you love.
28.Scavenger Hunt
Ignite a sense of adventure and mystery right within the walls of your home by organizing a creative indoor scavenger hunt. Craft clever clues that lead your partner on an exciting journey through different rooms, each clue bringing them closer to a delightful surprise or a heartfelt love note. The anticipation and thrill of uncovering hidden treasures add an element of surprise and wonder to your date night. It's a playful way to reconnect, share laughter, and keep the excitement alive in your relationship. This scavenger hunt is a reminder that love can be an exhilarating adventure, even within the familiar confines of your own home.
29.Love Letter Exchange
Deepen the emotional connection between you and your partner by engaging in a timeless and intimate activity – writing heartfelt love letters to each other. Set aside some quiet time to pen your feelings, thoughts, and affection for one another on paper. Pour your heart into the words, expressing what makes your bond unique and the love you hold in your hearts. After exchanging these letters, take turns reading them aloud in each other's presence. This shared vulnerability and open communication create a profound sense of intimacy, allowing you both to truly understand each other's emotions and desires.
30.Home Art Gallery
Elevate your appreciation for each other's creativity by transforming your home into an enchanting art gallery. Set the stage by dimming the lights and arranging your artworks in an organized and visually appealing manner. As you walk through the "gallery," take turns describing the inspiration behind your pieces, the emotions they evoke, and the stories they tell. This unique setting allows you to not only showcase your artistic talents but also gain a deeper understanding of each other's creative processes and perspectives. It's a beautiful opportunity to celebrate the beauty of self-expression and the artistic connection you share as a couple.
31.Trivia Night
Engage in a battle of wits and revel in the thrill of friendly competition with a trivia night tailored to your shared interests. Select topics that interest both of you, whether it's pop culture, history, movies, or a mix of everything you love. As you take turns asking questions and keeping score, you'll be amazed by how much you know and how much you still have to learn about each other's areas of expertise. Whether you're keeping score or simply enjoying the pursuit of knowledge, you'll find that trivia night not only tests your intellect but also inspires teamwork and sportsmanship. It's an engaging way to bond, stimulate your minds, and create lasting memories filled with both triumphs and good-natured banter.
32.Indoor Gardening
Cultivate not only a shared project but also the growth of your love with a small indoor garden. Begin by selecting an array of potted plants, vibrant succulents, or aromatic herbs to nurture together. As you carefully tend to them, you'll witness the fruits of your labor blooming and flourishing alongside your relationship. Indoor gardening isn't just about greenery; it's about the tangible representation of your partnership's growth and the enduring love that blossoms in the process.
33.Virtual Concert Night
Transport yourselves to the front row of a live performance without leaving the comfort of your home by indulging in a virtual concert featuring your favorite band or artist. Set the stage by dimming the lights, creating a cozy concert atmosphere that feels almost as magical as the real thing. With your favorite music in the background, you can dance, sing along, or simply soak in the melodies together. It's an opportunity to connect with the music that has shaped your relationship and simulate the experience of a concert.
34.Homemade Pizza Night
Homemade pizza night is a delightful culinary adventure that brings you and your partner closer while allowing your creativity to shine. Start by kneading the perfect pizza dough and roll it out to your desired thickness. Then comes the fun part – the toppings! Whether you prefer a classic combination such as pepperoni and mozzarella or want to experiment with exotic ingredients, the choices are endless. As you artfully arrange your chosen toppings, you'll find that this activity fosters teamwork and encourages laughter. Finally, when your homemade pizzas emerge, bubbling and golden, you can savor the satisfaction of creating something special together and enjoy a romantic, personalized feast!
35.Indoor Mini Golf
Indoor mini golf transforms your home into a whimsical wonderland of adventure. With just a bit of creativity, you can fashion a challenging course using everyday objects as obstacles—think coffee mugs as bunkers, broomsticks as tunnels, and laundry baskets as hazards. As you navigate your DIY masterpiece, you'll find yourselves sharing cheerful banter and rooting for hole-in-one shots. The close quarters and makeshift challenges add a delightful twist to the game, making it a memorable date night that combines skill, imagination, and a healthy dose of fun.
36.DIY Puzzle
Crafting your very own DIY Puzzle is a heartfelt and intimate experience that lets you piece together not just a picture but cherished memories as well. Select a favorite photo that holds special significance to both of you, be it from a memorable vacation, a milestone celebration, or a candid moment shared together. Printing this image onto a blank puzzle template allows you to transform it into a unique and personal jigsaw puzzle. This activity not only tests your patience and problem-solving skills but also deepens your connection as you work together to piece together your own love story, one section at a time.
37.Poetry Night
A poetry night can be a tender and soulful event that allows you both to express your innermost thoughts and emotions through the power of words. Set the scene with soft candlelight and cozy surroundings, then take turns crafting heartfelt verses, love letters, or even haikus that convey your feelings for one another. As you exchange your creations, you'll discover the beauty in each other's perspectives and the poetic essence of your love story.
38.Movie Character Night
Movie character night is a whimsical journey into the realm of cinema in which you and your partner get to embody your favorite silver screen heroes and heroines. From donning iconic costumes to perfecting character accents and quirks, it's a chance to step into the shoes of your beloved cinematic figures and bring them to life in your own home. As you slip into character, you'll not only deepen your connection through shared laughter and playful improvisation but also gain a newfound appreciation for the magic of storytelling and the characters that have touched your hearts.
39.Indoor Obstacle Course
Indoor obstacle course is an adventurous activity that can transform your home into an arena of fun and challenges. Utilizing furniture, cushions, and household items, you'll design a labyrinth of hurdles, tunnels, and balance beams that lead to a triumphant finish line. The creativity and coordination required to navigate this whimsical course can bring out the kid in both of you, fostering laughter and friendly competition. It's an experience that encourages communication, problem-solving, and a healthy dose of laughter, making it a memorable date night!
40.Movie Poster Makeover
Movie poster makeover offers a creative and entertaining twist on your favorite films, allowing you and your partner to insert yourselves into iconic moments of cinematic history. Choose a selection of your beloved movie posters, from timeless classics to modern blockbusters, and reimagine them with your own faces as the stars. You can go all out with costumes and props to recreate the scenes, or opt for a more humorous approach with playful Photoshop edits. It's a playful date night that combines artistry, humor, and a touch of movie magic, resulting in unforgettable memories and a collection of one-of-a-kind artworks celebrating your love story.
41.Indoor Archery
Indoor archery provides a thrilling and unique bonding experience that's sure to hit the bullseye. With a safe target set up in your home, you and your partner can channel your inner Robin Hood or Katniss Everdeen. The precision required in archery fosters patience, concentration, and communication as you take turns lining up your shots and providing guidance to each other. The release of the arrow and the satisfying thud as it strikes the target create moments of excitement and achievement that you can share together. Whether you're seasoned archers or novices, this indoor adventure offers a chance to embrace a new skill, test your accuracy, and, most importantly, enjoy each other's company in a unique and memorable way.
42.Magic Tricks Night
Magic tricks night conjures an enchanting atmosphere that's bound to leave you both spellbound and deeply connected. As you dive into the world of magic, learning and performing tricks for each other, you'll embark on a journey filled with wonder and surprise. The process of mastering illusions cultivates patience, dexterity, and a sense of mystery. Whether you're pulling a rabbit out of a hat, making objects disappear, or reading each other's minds, the shared experience of enchantment fosters a sense of camaraderie and childlike wonder.
43.Sensory Taste Test
A Sensory taste test is a tantalizing adventure that heightens your senses and takes your taste buds on a thrilling journey of discovery. Blindfolding each other and presenting a variety of mystery flavors, whether it's different chocolates, fruits, or exotic spices, creates a sense of anticipation and excitement. As you rely solely on your sense of taste, you'll learn to trust each other in a new way, guided by the descriptions and reactions you share. The laughter and playful banter that arise from mistaken guesses add a delightful layer of fun to the experience. It's a date night that not only tickles your taste buds but also leaves you with a renewed appreciation for the special bond you share.
Infographic: Top 5 Indoor Date Ideas You and Your Partner Will Love
Indoor dates are the best options for days when you do not feel like going out or the weather keeps you from doing so. They can be as romantic and fun as outdoor days and make you grow closer to your partner. Check out the infographic below for the top 5 indoor date ideas you and your partner are sure to love.

You don't need to go on expensive and adventurous outdoor dates to show your love for your partner. With these creative indoor date ideas, you can easily elevate your love game to the next level. For instance, you can have a relaxed afternoon with wine and cheese while watching a movie together, try out some fun food recipes, create homemade face packs, take an online art class, do a home wine tasting, and have a relaxing spa day at home. Use these fun date ideas to get to know each other better and have fun making wonderful memories together.
Frequently Asked Questions
What can you do on a date with no money?
While the idea of a date may seem intimidating if you think of lavish dinners or special venues and decorations, a date could be as simple as watching a movie, cooking together at home, or doing some fun and romantic activities together. You can pick any of the ideas suggested above as per your budget and preferences.
After how many dates is the relationship official?
While it depends and varies from couple to couple, you should take your time to know the person, their preferences, and opinions before you take it further as an exclusive relationship.
What is a low-key date?
A low-key date doesn't need elaborate planning or set-up of place or food. It can be anywhere the two people are comfortable meeting and spending time together without fancy expectations.
Key Takeaways
Surprise your partner with a dish that tastes exactly like how it is made in the restaurant.
Bake something together. You can either bake desserts or cookies or experiment with a new recipe altogether.
Climb up to the terrace and lie down to see the stars in the night sky. Talk about life while gazing at the stars.
Watch this video below to spice up your relationship with these 10 romantic date night ideas! Enjoy quality time with a romantic indoor dinner, or a movie night.
Personal Experience: Source
i. Join us for an Indoor Picnic | Date Night
https://www.youtube.com/watch?v=mu6poADp-70