Top 35 Inspiring Hairstyle Blogs
You can always count on these blogs to get the latest hair inspo and stay on top of your hair game.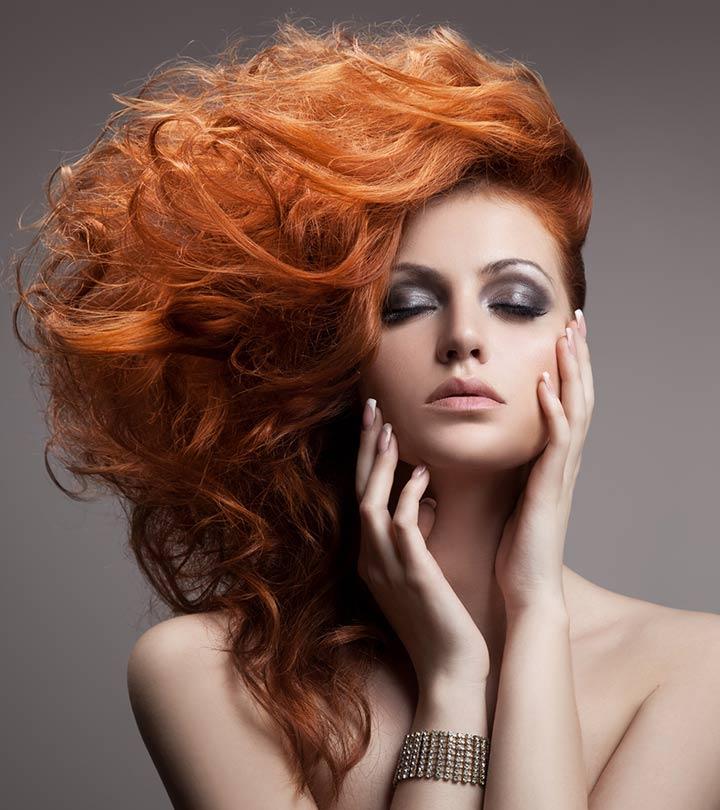 Have you been searching for a new hairstyle but didn't know where to look? Maybe, you didn't know who to turn to for advice. We've compiled a list of 35 best hairstyling blogs on the internet. Each blog is a unique self-expression of the artist with a wealth of information and has answers to even the most specific of doubts. So, what are you waiting for? Check these out!

Before You Get Started
Hairstyle blogs may suggest tons of tips. But follow them based on your hair type, texture, and preferences.
Instead of blindly following the hairstyle trends, it's best to note the pros and cons first. You can consult a professional to get a better idea of what may suit your face.
Hairstyling is an art. Therefore, be patient while learning the steps from the hairstyle blogs and practice frequently until the look is perfected.
Best Hairstyle Blogs for Women:
1. Hair Romance
If you want to follow the latest hairstyle trends, straight from the fashion ramp to your home, Hair Romance is the blog for you. The blog was started by Christina, who has no formal training, and styles and photographs all the hairstyles on her own. This means her instructions are easy to follow by just about anyone and for any hair.
From information on the latest trends at the world's fashion weeks, step-by-step hairstyling tutorials, and daily style updates to the ever popular "30 days, 30 hairstyles" feature, this trendy blog will keep you coming back for more.
2. Curly Nikki
Curly Nikki, as the name suggests, is exclusively for women with curly hair. Nikki Walton, the founder, struggled to accept her curly hair, and wished her hair was straighter. She decided to start her blog to act as an online therapy session. It serves not just as an educational tool but also a forum for curly-haired women to share their experiences.
The blog is regularly updated with new hairstyles, video tutorials, and personal accounts of what it is like living with and styling curly hair. With more than a 100 appearances as a celebrity guest, and features published in the New York Times, Huffington Post, The Grio, The Root, and on CNN, we can see this blog going from strength to strength.
Curly hair expert and owner of Royal Locks Curl Care, Casey Simmons approves, "The blog focuses on ethnic natural curly hair and embracing all that goes along with it. It's a good platform to learn about the hair care itself and also about the connection to identity and culture."
3. Hairdresser On Fire
Hairdresser On Fire is a blog that has self-professed to make all your hair dreams come true. Reagan Baker, is the main author and founder of the blog. Don't let the informal tone fool you. It is a site for serious hairstyle enthusiasts. Easy-to-follow tutorials are aplenty, as are collaborations with some of the biggest beauty websites around. There's also a helpful Q & A page dedicated to answering questions ranging from the hairstyling profession to simple home styling tips and tricks.
So, if you're looking for a funky blog that will keep you entertained and give you the best hairstyling advice, look no further!
4. LuxyHair Blog
The LuxyHair Blog's aim is to be your one-stop shop for all things hair related. They have innovative hairstyling tutorials, tips and tricks, and product reviews as well. The blog is attractively designed with plenty of eye-catching pictures and unique hairstyles. The blog is also host to guest interviews from hairstyling bloggers and influencers like Alena Gidenko and Alex Centomo. All these contributions mean you will always have something fresh and exciting to look forward to.
5. Princess Hairstyles
The mom and daughter duo responsible for Princess Hairstyles are avid hair stylists. This blog caters to a young or young at heart audience, with over 200 hairstyles and accompanying video tutorials. They've even launched a free app for Android and iOS for easier access to their hairstyling guide. The blog is packed with useful step-by-step image and video tutorials that make it a favorite for beginners. Some of the featured hairstyles include variations of braids, buns, updos, ponytails, twists, and curls.
6. Cute Girl Hairstyles
Cute Girl Hairstyles was started by a mother of six, Mindy, who was tired of the boring hairstyles she was subjecting her daughters to. As she experimented with different hairstyles, she kept a record, including images of all her favorite hairstyles. Soon, she had to give people step-by-step instructions on how to replicate her increasingly famous hairstyles. One thing lead to another, and she started a blog with all the information people needed. It now attracts hundreds of thousands of women every day.
The blog is primarily focused on young girls, so the hairstyles are designed to be quick and easy to do. The gallery is full of hairstyle images and helpful video tutorials. With contributions from well-known hair stylists and a full range of hairstyles to choose from, it's easy to see why this blog is so popular.
7. My Style Bell
My Style Bell is a great hairstyle and hair care resource guide. With news on the latest celebrity hairstyles, hair care, product reviews, and tips and tricks, the blog is a one-stop shop for all things hair related.
The site has dedicated sections for Q & A, hair product reviews, hairstyle trends, and how-to videos that are very useful. There are pages that specialize in how to deal with frizzy hair, styling for curly hair, and much more. With the wide variety of information available, it's no surprise that My Style Bell is one of the most popular hairstyling blogs around.
8. Hairlicious Inc
Hairlicious Inc was started by Valerie who struggled with her relaxed hair. Through research and a dedicated routine, she set about attempting to style her hair the way she wanted. With her experience, Valerie has compiled helpful information for anyone looking to achieve their dream hair. With instructional videos and precise daily regimen guides, the blog is full of useful information for all types of hair. Special features like the "Castor Oil Challenge" keep the blog fresh and fun.
9. Hair Boutique
According to its tagline, Hair Boutique is aimed at banishing bad hair days. The blog is full of useful information for all your hairstyling needs. From easy-to-follow hairstyle instructional articles, to natural remedies for your hair problems, this blog has it all.
It also has inspirational articles and hairstyle highlights from your favorite TV shows and movies, complete with image guides. The blog is unique for its features on modern celebrity hairstyles, hairstyle trends of the past (including those from the 40's), and a look at all the pop culture surrounding traditional hairstyles over the years.
10. Latest-Hairstyles
The team at Latest-Hairstyles noticed that women were increasingly looking to the internet for hairstyling information and trends. Partnering with salons, stylists, and experts around the world, they set up the blog to ensure that women could find everything they were looking for on their site. The fact that more than a million women visit Latest-Hairstyles every month bears testimony to their success. You can sort through the hairstyles by type, length, trends, colors, or events. This blog is the perfect place to find the latest and greatest styles, and the salons that will style your hair.
11. My Stylist Kristy
My Stylist Kristy is a unique take on the hairstyle blog formula. With an informal tone and an eye for the latest trends, Kristy brings her unique style to this hair blog. Witty writing and images aside, the blog serves as inspiration for people who want to try a new look but don't know which direction to go in.
Another neat service is the virtual consult. Since Kristy is a stylist herself, if you mail her a picture and ask for advice, she will consult with you over the internet. Her feedback will, no doubt, prove to be invaluable.
12. Hairstyle-Blog
Hairstyle-Blog is a nifty site that was started in 2005 by Barb. The main purpose, initially, was to answer any questions her salon clients and the students she was teaching had about hair. It has now grown to include more than a thousand articles covering every hair-related topic under the sun.
Barb is a nationally recognized hairstylist, educator, makeover artist, freelance writer, and beauty blogger. Her blog brings years of experience and knowledge that are hard to find anywhere else. It is a great place to find trending hairstyles, how-to tutorials, and celebrity hairstyles and trends. There are also guest contributors who add their wealth of knowledge and aim to educate women on the latest hair care and styling.
13. Christie Walker Hair
Christie Walker Hair is a blog by popular hairstylist Christie. It is a great place to find informative articles on the latest hair care products, tips and tricks, and celebrity hairstyle trends. As Christie is an active stylist, she aims to bring you up-to-date on the latest from the world of hair. Some of the popular features on this site are tips on hair coloring, styling tools, trends, and tips and tricks.
14. Naturally Curly
As the name suggests, if you've got curly hair, this is the perfect blog for you. Naturally Curly aims to appeal to everyone- whether you are a beginner or a veteran hairstyle enthusiast. The blog takes great pride in its multicultural user base, which is the largest community for curly hair in the world. The blog has a very useful products review page, where you can take a look at the products that particularly suit curly hair.You can also purchase your favorite haircare products if you like the reviews.The blog sections on hair types, articles, and even a helpful salon guide specifically for people with curly hair. So, from finding the right products for your hair to styling your hair at the perfect salon (and everything in between), Naturally Curly will take care of everything you need to know to make your tresses look tressilicious!
15. Hair Styles Cut
Hair Styles Cut is a hairstyle blog that caters to a wide audience. There are separate sections for trending hairstyles, long and short hair, children's styles, etc. Featured articles like "The Best Hairstyle Trends Of 2015" are interesting and informative. There are tips on hair coloring, hair loss, and hair product reviews. You could spend hours absorbing all the information available on this blog. The image-rich content is a definite plus, and all your favorite hairstyles are accompanied by relevant images.
16. Emerson Salon
The Emerson Salon Blog is authored by the stylists of the Emerson Salon. It offers information on the latest trends in men and women's hairstyles, as well as nifty tips and tricks from the current stylists. In addition, there are insights into the hair industry, product reviews, and all the latest events from the world of hair.
17. Confessions of A Hair Stylist
Confessions of A Hair Stylist was started by Jenny Strebe, and assimilates more than 14 years of experience as a hair stylist into a single platform. For six of those years, she worked as an educational director at Toni & Guy, which also sparked her love for teaching.
Over a million people view her blog, and it boasts of over 100k social followers. The main reason it is so popular is the array of easy-to-follow picture and video hair styling guides. There are many styles to choose from, with step-by-step instructions, including hairstyles that are straight from the latest International Fashion Weeks. It's no wonder this blog is quite popular.
18. A Beautiful Mess
A women's lifestyle blog, started by sisters Elsie Larsen and Emma Chapman, A Beautiful Mess is focused on improving people's lives through a homemade lifestyle. The sisters bring their contemporary tastes and knowledge base to the website, and it shows in their articles. The hair section is rich with easy-to-follow instructions and clear picture guides. There are also features on hair care, hair cutting, and video tutorials to help you style your hair with creativity and innovation.
19. The Small Things Blog
The Small Things Blog is a women's beauty blog that is best known for its hairstyle tutorials. Kate, the author, was a hairstylist for over eight years, and decided to write the blog primarily for her clients. The popularity of her tutorials made the blog popular. It is packed with video tutorials and step-by-step instructions with pictures to help make your styling dreams a reality. There is also a Q&A section and a products page. If you're looking for highly rated hair styling advice, this is the place to go. Her hairstyle tips will help you add volume to your tresses and confidence to your style.
20. The Beauty Department
The Beauty Department is a women's beauty blog that is well known for its hairstyle tutorials. Kristin Ess is the writer responsible for all the hair tutorials. She is a practicing stylist with her salon.
The blog features fresh ideas and all the latest trends from the hairstyling world. The tutorials are complete with image guides, along with helpful instructions that make them easy to follow. They also offer advice on hairpieces and hair accessories and new, innovative looks for all types of hair.
21. Bye Bye Beehive
Bye Bye Beehive is written by active National Air Guard member Annelise, who also works as a wellness coordinator at a hospital. The blog is a compilation of easy-to-follow hairstyles and tips on accessorizing. There are video tutorials along with step-by-step image guides and instructions that make it a breeze to get your hair to look fabulous. Annelise brings her unique style to the writing, which is another reason you should check out the blog today.
22. Twist Me Pretty
Twist Me Pretty
is a fun blog that founder
Abby
started a few years ago. A mother of four, Abby initially wrote a homemade crafts blog. She then decided to share her tried and tested methods of hair styling. The blog grew in popularity, has a huge following now, and is even popular on social media. The pictures, that are shot in high definition, are clear and accompanied by instructional videos. There are also hair care articles, product reviews, and video guides for private members that are sure to keep you coming back for more.
23. The Freckled Fox
The Freckled Fox is a women's lifestyle guide that encompasses food, fitness, hair, and beauty. Emily, the author, is a mother of five, and aims to inspire her readers to innovate. The hairstyle sections are extremely thorough, with images and detailed instructions on how to achieve the desired hairstyle. There are also thorough styling tutorials in the videos section on the website. Emily adds a personal touch to all her writings and that's what makes this blog so special.
24. Hair And Makeup By Steph
Started by professional hair stylist Steph, Hair And Makeup By Steph is a beautiful blog that follows her styling exploits. From hair styling for weddings and elaborate photoshoots to an entire section on tips and tricks, the blog is an eye-pleaser.
The 'How To' section has video tutorials and images of all popular hairstyles. It also includes easy-to-follow instructions for those who prefer to read. The portfolio section, that is full of Steph's clients, also serves as inspiration for followers of the blog. Each hairstyle instructional also mentions the products used to achieve the look, which is very useful.
25. The Hair Styler
The Hair Styler aims to help you find your perfect hairstyle, and tells you how you can replicate it. It is home to an innovative hairstyle app that lets you upload your photo and virtually try over 11,000 hairstyles for free. Their hairstyle resource guide is extremely detailed and has multiple categories like popular, easy to style, celebrity hairstyles, and much more. Click on the image of the hairstyle for detailed instructions and styling tips. The detailed descriptions leave little to imagination, and will ensure you can perfectly emulate the hairstyle you want.
26. Sascha Breuer Blog
The Sascha Breuer blog is a hairstyling blog that highlights the latest and greatest trends from the world of hair. Started by Sascha Breuer, the blog features  how-to guides, images, and articles from the most recent fashion shows. The blog gives you all the information you need to effectively style your hair, as if you were backstage at a fashion show, ready to walk out on the ramp. It also highlights your favorite celebrities' hairstyles from their latest red carpet, runway, and editorial appearances and tells you how you can replicate them.
27. She Does Hair
She Does Hair is aimed squarely at moms looking at trying a few new hairstyles for their young daughters. Started by a mom who loves to style her daughter's hair, this helpful blog highlights everything from hair styling guides to organizing those pesky little hair bands that seem to go everywhere.
If you have daughters and are looking to bond over the latest in children's hairstyles, this is the blog for you.
28. How To Hair Girl
How To Hair Girl is a blog started by Roxie Jane Hunt, a professional hair stylist and naturalist. The blog is known for its DIY hairstyles, color and cutting techniques, and hair inspiration. Following the naturalist theme, there is also a lineup of natural products available for your hair. It also serves as a community forum for a new way of kindling empowerment through the style movement, makeovers, and transformations among women. There are quirky interviews, video guides, and step-by-step instructions on how to achieve the perfect hairdo.
29. Short Hair Styles
Short Hair Styles, as you would have guessed, is a blog for women looking for shorter hairstyles. The style gallery lets you pick from some of the trendiest hairstyles for short hair, including celebrity hairstyles. There are many sections including braids, wedding styles, celebrity-inspired hair, wigs, extensions, etc.
30. Babes in Hair Land
Started in 2008 by Becky Porter, a mother of three daughters, Babes in Hair Land is a blog with all the hairstyle information you will ever need. From tips and tricks and video tutorials to step-by-step instructions, the blog has it all. You can spend hours searching for the perfect hairstyle in all the categories and learn how to style your hair easily. Another highlight is the Hair Accessories And More page that teaches you how to make bows, ribbons, and other accessories for your daughter's hair.
31. Glamazini
Glamazini was started by Roshini Cope in 2002, and was originally a personal hair blog. It soon developed into a women's beauty and style destination. Its primary focus is on natural hair. There are images of hairstyles, instructional videos, and detailed written instructions. The daily regimen and product review sections are thorough and very helpful. The blog also has a distinctly personal touch as Roshini shares her experiences with the readers and keeps them updated on what's going on in her life.
32. Lexi With The Curls
A women's blog focusing on natural hair, beauty, and much more, Lexi With The Curls ticks all the right boxes. The blog is written by Lexi and is targeted at women with thick, curly hair, and shows them how many styles are available to them, and how they can get the hair of their dreams. Hairstyle tutorials are accompanied by instructional images and videos. There is a distinct focus on natural hair. The hair product section is great for honest reviews of hair care and hair styling and straightening products. There is also a celebrity hairstyle section that gives you the latest information in celebrity hairstyles, and how you can replicate them.
33. Natural Chica
Natural Chica is a blog that was started by Maeling, a mother with a Ph.D. in Engineering. She started the blog in 2009 to document her transition from relaxed to natural hair. It's aimed at people who want to keep their hair natural. There are tips and tricks, video tutorials, and inspiring interviews. This beautifully laid out and detailed blog will keep you coming back for more. There is also a do-it-yourself hair and beauty products section that is a hit with people looking for homegrown remedies for their hair care needs.
34. Thirsty Roots
As a woman who was struggling with postpartum hair loss, Sharina spent months researching feasible solutions and hair care methods. Thirsty Roots was founded in 2010 when she decided to start a blog to share the knowledge she had acquired. The blog is now read by more than 2.9 million people a year, including the 30,000 members of its online community. There are plenty of hairstyles to choose from, ranging from natural and relaxed hair to braids and dreadlocks. Video tutorials are clear and easy to follow, and image guides are equally detailed.
35. Hair Products Pro
Hair Products Pro is a blog that focuses on all things hair. From hair styling tips to hair product reviews and haircare advice, this blog has it all. Follow the latest trends in hair at the international fashion weeks, check on what celebrities are doing to their hair, and find hair styling tool reviews as well. The video section is a treasure trove of information and is useful for everyone ranging from beginners to the advanced stylists.
Infographic: 5 Things Successful Hair Blogs Have In Common
The best hairstyle blogs cover tips and hacks for different hair types, lengths, and textures, so you can find content relevant to your specific needs. Check the blog's comments sections and social media presence. Follow blogs that encourage feedback, questions, and discussions, enabling you to connect with like-minded individuals and learn from their experiences. Check out the infographic below for more information.

Nothing in the world is constant, except change. This same is true for the hairstyling world. One day a certain hairstyle might turn everyone's heads. But, the next day, another hairstyle is named the new diamond of the town (snuck in a little Bridgerton reference for you all!). Trying to stay on top of trends in the hairstyling world can be tough. Thankfully, these inspiring hairstyle blogs will lead you in the right direction. Whether it is about a top trending style or a chic new hair color trend or accessory, these blogs have the inside scoop on all things hair. So, keep your eye on these blogs!
Frequently Asked Questions
Do you think having a good hairstyle is important?
Yes, having a good hairstyle is important as it accentuates your overall look and gives an edge to your personality.
How does hairstyle affect personality?
A person's hairstyle can give you a glimpse into their personality. Someone bold might opt for edgier haircuts and styles like the undercut, heavy and shape layers, electric pop colors, and emo looks. Whereas someone more fun-loving might try curly hairstyles or pastel and neutral hair colors.
Can I use hairstyle blogs to learn how to style my hair?
Yes, you can surely use hairstyle blogs to learn how to style hair. These blogs can be really helpful with more detailing and a holistic approach toward hair styling.
Are hairstyle blogs only for women?
No, hairstyle blogs are not just for women. There are other blog pages too that might capture both male, female, and other gender hairstyles.
Get super bouncy and wavy hair that stays in place. Check out this video for the best tips to make your hair appear healthy and voluminous.
The following two tabs change content below.