51 Women's Day Quotes That Are Inspiring And Powerful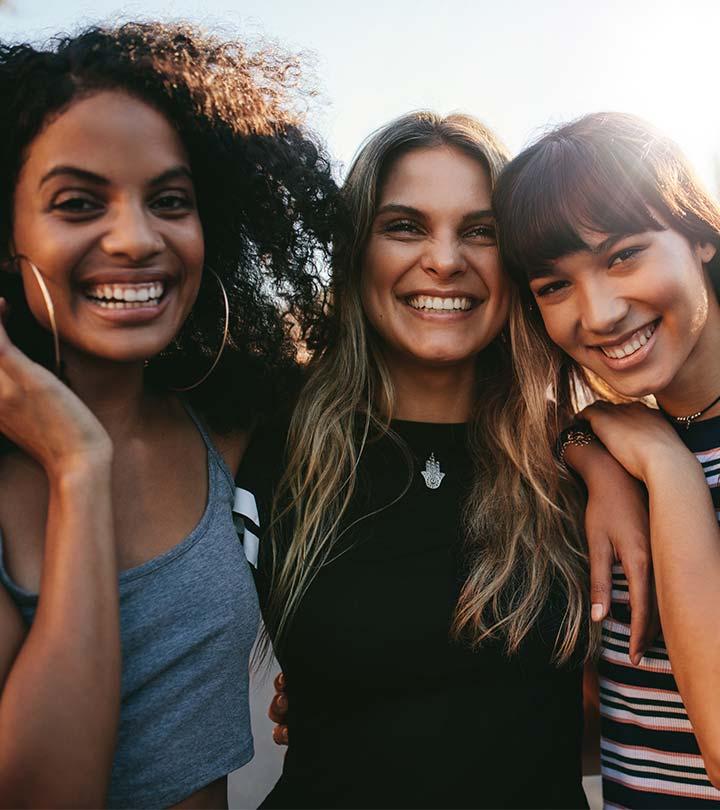 Every year on March 8th, International Women's Day is celebrated. Here, we have compiled a list of inspiring and powerful Women's Day quotes that you can share with the women in your life to convey your gratitude towards them for helping you grow as a human being.
Many famous people have taken part in the fight for women's rights and deeply care for them. Women demonstrate their courage, perseverance, and strength to excel in their specific fields. They teach us how to challenge the status quo and face adversity while becoming a beacon of peace and hope. Taking a cue from women's strength, we have listed 51 exhilarating Women's Day quotes for you in this article. So, what are you waiting for? Let's dig into it.
51 Powerful Women Quotes To Share On International Women's Day
"To tell a woman everything she cannot do is to tell her what she can." – Spanish proverb
"Women have served all these centuries as looking-glasses possessing the magic and delicious power of reflecting the figure of a man at twice its natural size." – Virginia Woolfe
"Well behaved women rarely make history." – Eleanor Roosevelt
"Where there is a woman, there is magic." – Ntozake Shange
"Like anything learned, bravery needs to be practiced." – Caroline Paul
"She wasn't looking for a knight, she was looking for a sword." – Atticus
"A charming woman doesn't follow the crowd. She remains herself." – Loretta Young
"And one day she discovered that she was fierce and strong and full of fire, and that not even she could hold herself back because her passion burned brighter than her fears." – Mark Anthony
"There's nothing a man can do that I can't do better and in heels." – Ginger Rogers
"If you want something said, ask a man. If you want something done, ask a woman." – Margaret Thatcher
"Rock bottom became the solid foundation on which I rebuilt my life." – J.K. Rowling
"I have learned over the years that when one's mind is made up, this diminishes fears; knowing what must be done does away with fear." – Rosa Parks
"Find out who you are and be that person. That's what your soul was put on this Earth to be. Find that truth, live that truth, and everything else will come to you." – Ellen DeGeneres
"A woman's heart holds the light that guides you even in a dark tunnel like that of life." – Anonymous
"A strong woman is the one who can dare to raise her voice for the cause she believes in, and this strength lives in a corner in every woman's heart. It just needs to be searched." – Carlos P. Gonzalez
"A strong woman looks a challenge in the eye and gives it a wink." – Gina Carey
 "The thing women have yet to learn is nobody gives you power. You just take it." – Roseanne Barr
"One is not born a woman, but rather becomes, a woman." – Simon De Beauvoir
"Think like a queen. A queen is not afraid to fail. Failure is another stepping stone to greatness." – Oprah Winfrey
"If you don't like something, change it. If you can't change it, change your attitude." – Maya Angelou
"Extremists have shown what frightens them the most – a girl with a book." –Malala Yousafzai
"A woman's guess is much more accurate than a man's certainty." – Rudyard Kipling
"Above all, be the heroine of your life. Not the victim." – Nora Ephron
"God gave women intuition and femininity. Used properly, the combination easily jumbles the brain of any man I've ever met." – Farah Fawcett
"Beauty is about being comfortable in your own skin. It's about knowing and accepting who you are." – Ellen DeGeneres
"We need to reshape our own perception of how we view ourselves. We have to step up as women and take the lead." – Beyoncé
"Do your thing and don't care if they like it." – Tina Fey
"Decorate your own soul, instead of waiting for someone to bring you flowers." – Veronica A. Shoffstall
"I've always told myself that if I was going to be given a voice, I might as well say something worth listening to." – Alessia Cara
"Sometimes it's the princess who kills the dragon and saves the prince." – Samuel Lowe
"Somewhere out in this audience may even be someone who will one day follow in my footsteps and preside over the White House as the President's spouse. I wish him well!" – Barbara Bush
"Success is only meaningful and enjoyable if it feels like your own." – Michelle Obama
"No woman should be told she can't make decisions about her own body. When women's rights are under attack, we fight back." – Kamala Harris
"Don't try to squeeze into a glass slipper. Instead, shatter the glass ceiling" – Priyanka Chopra Jonas
"Women are the largest untapped reservoir of talent in the world." – Hillary Rodham Clinton
"Whether women are better than men, I cannot say. But I can say they are certainly no worse." – Golda Meir
"There is no force more powerful than a woman determined to rise." – W. E. B. Dubois
"All the world's a stage, and it's a dead easy guess which sex has all the speaking parts." – Robert Elliott Gonzales
"The most alluring thing a woman can have is confidence." – Beyoncé
"I don't know a woman alive who isn't courageous." – Reese Witherspoon
"I am no bird; and no net ensnares me: I am a free human being with an independent will." – Charlotte Bronte
"A woman with a voice is, by definition, a strong woman. But the search to find that voice can be remarkably difficult." – Melinda Gates
"I am a woman phenomenally. Phenomenal woman. That's me." – Maya Angelou
"Be the kind of woman that when your feet hit the floor each morning, the devil says, 'Oh crap! She's up.'" – Anonymous
"Learn from the mistakes of others. You can't live long enough to make them all yourself." – Eleanor Roosevelt
"A man's got to do what a man's got to do. A woman must do what he can't." – Rhonda Hansome
"Yes, some women are difficult to understand. Complicated yet interesting to most men. Both should find their match." – Nora Ephron
"Do not live someone else's life and someone else's idea of what womanhood is. Womanhood is you." – Viola Davis
"Some of us are becoming the men we wanted to marry." – Gloria Steinem
"You should know you're beautiful just the way you are, And you don't have to change a thing, the world could change its heart. No scars to your beautiful, we're stars and we're beautiful." – Alessia Cara
"I do not wish women to have power over men, but over themselves." – Mary Shelley
There's no better way to celebrate Women's Day than by cherishing how much them and expressing your gratitude for their presence in your life. A woman embodies care, compassion, and tenderness that help her nurture others to bring out their best. These Women's Day quotes will help you honor their strength, courage, and perseverance.
A woman's confidence inspires everyone they meet, and that is something you want to reciprocate. You can use these quotes to convey to the special woman in your life the thoughts you have wanted to express and show them how much they mean to you. Capture the beauty of every woman's journey with words you may relate to.
The following two tabs change content below.