6 Best Interview Outfit Ideas For Women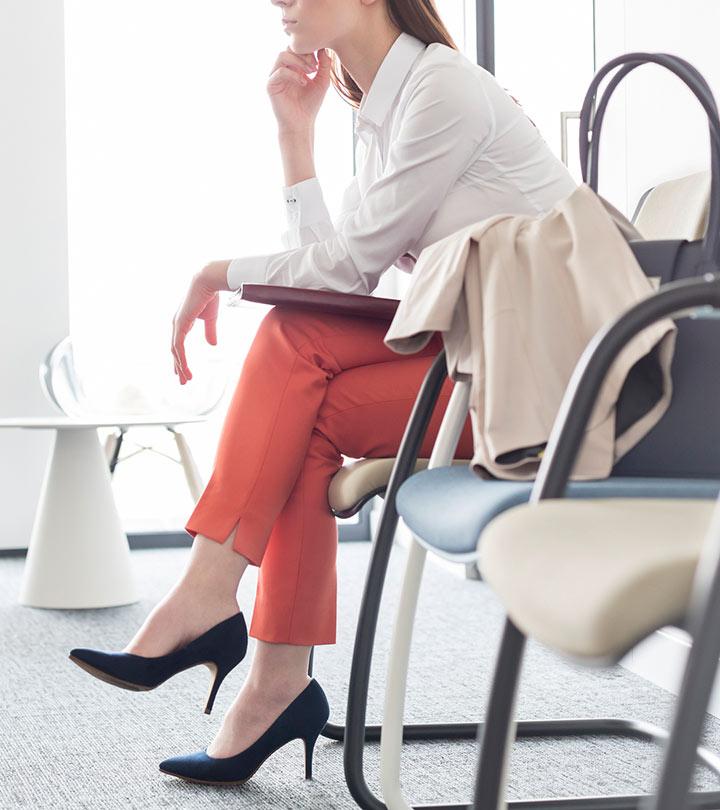 When it comes to job interviews, picking your outfit may feel like the hardest part. You need to look professional but also wear something that reflects your personality. Whether you are interviewing for a corporate job or a creative one, you don't want to get your interview outfit wrong.
Often, sticking to a polished yet stylish outfit is a great option. It reflects what kind of a person you are before you even begin to talk. A smart outfit is also a great way to boost your confidence for a job interview. After all, you need every ounce of confidence you can get! This article will give you some outfit ideas for different kinds of job interviews. Read on to know more.
Outfits For Different Job Interviews
1. Corporate/Professional Interview Outfit
Nothing works better than a formal pantsuit. This black-on-black suit is perfect for a corporate interview. It is neither too tight nor too loose – it fits just right. It exudes professionalism and power. Stilettos will work flawlessly with this outfit and speak volumes of your sense of style and confidence. This black pantsuit is a definite go-to for a business interview.
2. Non- professional/Casual Interview Outfit
For casual or non-professional interviews, a cute floral dress will be appropriate. It is comfortable yet stylish. You want to come across as someone who is open to opportunities and has a fun side to them, and a dress like this can do the trick.
3. College Job Interview Outfit
Since you have just graduated from college, your first job interview can be quite nerve-racking. Getting your outfit right is quite essential. You want to look mature and professional. At the same time, it is important to dress like yourself, without pretending to be someone else. Keeping it minimalistic is the way to go.
Sticking to a classic well-pressed white shirt and formal black trousers is a great idea. You can tie your hair up in a sleek top knot or straighten it out and leave it loose. What's important is that you feel comfortable and confident in what you wear. This easy yet effortlessly stylish outfit will help you do just that.
4. Internship Interview Outfit
Internships are often a fun learning experience. They can give you an insight into the industry you want to build your career in. Wearing the right outfit to such an interview is extremely necessary. But since you are interviewing for an internship, don't wear something that is too loud or over the top.
Stick to the basics. A cute gray top paired with blue jeans and a classy wristwatch should work for an internship interview. You can finish off this outfit with a pair of clean white sneakers.
5. High School Interview Outfit
Since you are in high school, you don't need to get too worked up. It's best if you dress up in something that makes you feel comfortable and confident. We suggest a simple bright-colored top over a pair of jeans and sneakers. It keeps things basic but very cute!
6. Summer Job Interview Outfit
Summer internships are super fun. You can learn, explore, and experience so much. The vibe at these interviews is quite easy and laid-back. The interviewer will expect you to be nothing but yourself. Wear a fun pastel-colored t-shirt with a cute pair of denim shorts. It is neat and stylish yet functional.
Those were our outfit ideas for some basic job interview scenarios. However, you probably need a few more questions answered, like what colors to wear or what outfits to avoid wearing to an interview. Keep scrolling for the answers.
What colors are best suited for an interview?
Since what you wear really matters in an interview, don't overdo it with bright and flashy colors. As a basic rule, steer clear of neons. Stick to pastel colors, nude shades, whites, and blacks. They reflect a certain level of professionalism and maturity.
What color shirt and tie can I wear to an interview?
Shades of blue and gray are great for shirts. They look professional and classy. For a tie, black is a great option.
What shoes should I wear to an interview?
The goal here is to look professional. If you are interviewing for a corporate job, sneakers are a big no-no. You can opt for a pair of wedges or classic black pumps. They go with all outfits and look extremely sophisticated.
What should I not wear to a job interview?
It all depends on the kind of job you are applying for. If it is in the creative field, as long as you wear something that reflects your personality, you are good to go. But in the corporate world, it is extremely important that you get your outfit right. Ripped jeans, sloppy t-shirts, unpressed dresses, muddy shoes, and uncombed hair will get you nowhere but out the door. They speak of unprofessionalism and cannot be worn to a job interview.
What to wear when there is no dress code?
Wear something you love and completely adore. It could be a break from your usual regular office outfits. A fun maxi dress, a cute pencil skirt with a blouse, or a nice pair of jeans with a button-down shirt are some great options.
Interviews can be quite stressful, but as long as you stay calm and wear the right outfit, you've got nothing to worry about. Do you have any go-to outfits that you wear to job interviews? Let us know in the comments section below!
The following two tabs change content below.

Latest posts by Nooraine Firdouse (see all)