What Is The Inversion Method? How To Use The Inversion Method For Hair Growth?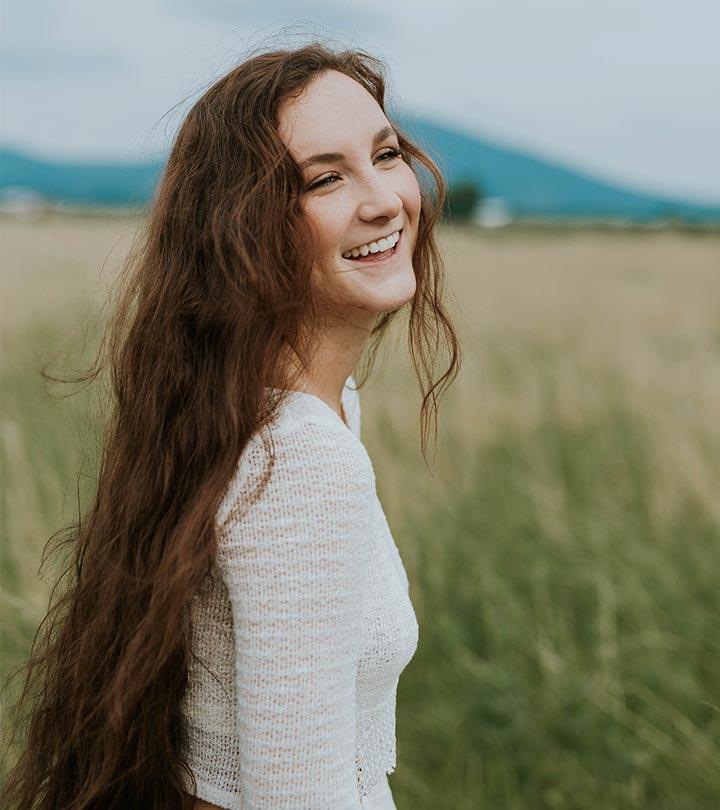 When I was a child, my mother would try bizarre techniques on my hair, claiming it would grow quickly. Although they always sounded unrealistic, I would give in and follow her instructions. Little did I know that one of her weird techniques would actually work! She suggested that I start following the inversion method, which has increased the rate of my hair growth over the years. If you want to grow your hair quickly without any chemicals, expensive products, or pills, the inversion method is the way to go. For your convenience, I have laid out detailed instructions for the entire process below.
What Is The Inversion Method?
The inversion method involves two major steps:
Bending your head forward and flipping your hair in front of you.
Using your fingertips to massage your scalp while your head is upside down.
Try this method at home in the following manner.
How To Use The Inversion Method For Hair Growth
Step 1 – Choose An Oil
Pick any oil, preferably olive, coconut, argan, or castor oil. You can mix these oils or use them separately.
If you want maximum results, add a few drops of peppermint or lavender essential oil to the mixture.
Warm the mixture slightly, making sure it does not get too hot.
Step 2 – Apply The Oil
Massage the oil onto the entire scalp using your fingertips.
Make sure to run your fingers gently through your roots and hair for 5 minutes.
Step 3 – Flip Your Hair
Flip your head upside down and gently massage your scalp.
Distribute the oil evenly across your scalp.
After massaging, keep your hair in the inverted position for a few minutes. You can either stand or sit.
Make sure you flip your hair for not more than 4 minutes.
Step 4 – Wash Your Hair
Let the oil sit in your head for two hours. You can either tie a top bun or braid your hair.
Wash off the oil using a mild shampoo.
Results
Let us now understand how this method works.
How Does The Inversion Method Work?
This hair care routine uses scalp massage to stimulate hair growth. Research shows that scalp massage increase hair thickness in 24 weeks (1). Massaging, combined with turning your head upside down, increases blood flow to your hair follicles. These two important steps in this method can unblock blocked blood vessels in your scalp, resulting in rapid hair growth.
Many people have claimed that the inversion method helped their hair grow by one inch in just 3 weeks. Studies show that scalp hair grows at a rate of 1 cm per month (2). But with this method, there are chances of growing 2 inches of hair per month!
Here are a few tips that you need to keep in mind when trying out the inversion method to maximize the results.
Tips For Maximum Results
Follow the inversion method at least once a week for quick results.
Do it with hair growth oils like argan, jojoba, coconut, olive, or Jamaican black castor oil.
Leave the oil on for a minimum of 2 to 3 hours before washing it off.
If you are pregnant or have any medical condition, consult a doctor before considering this method.
If you feel dizzy or nauseous when you flip your hair forward, get back to an upright position slowly.
Before you dive headfirst into the inversion method, keep in mind that there are a few people who cannot follow it because of certain medical conditions. These conditions are listed in the next section.
Caution!
Do not follow the inversion method if you have:
Low blood pressure
High blood pressure
Ear infection
Spinal injury
Hernia
Final Thoughts
If you want to try the inversion method, keep in mind that the results will not be instant. For a few people, it may work exceptionally well while for others, it may give very slow results. It all depends on your scalp and hair type.
However, the best thing about this method is that you don't have to spend much money, and it does not take up too much of your time.
Have any more questions about the inversion method? Leave them in the comments section below, and we will get back to you.
Expert's Answers For Readers' Questions
Will the inversion method work without oil?
Yes, it may work for people with an oily scalp. But if you have a dry scalp, it is imperative that you use a hair growth oil.
Can I do follow the inversion method every day?
No. Doing it every day can be harm your neck as you need to bend your head forward for 4 minutes straight. Also, your scalp can turn extremely oily if you do it every day.
Will the inversion method work on textured hair?
Yes. However, it can show very slow results on type 3 and 4 hair.
Is it necessary to heat the oil?
Yes. Using warm oil will stimulate your scalp and increase hair growth.
Will the inversion method work if I have damaged hair or split ends?
Yes, it will. However, you need to use a sufficient amount of a nourishing oil to get the desired results.
The following two tabs change content below.

Latest posts by Pooja Karkala (see all)

Pooja Karkala
Pooja is a Mass Communications and Psychology graduate. Her education has helped her develop the perfect balance between what the reader wants to know and what the reader has to know. As a classical dancer, she has long, black hair, and she knows the struggle that goes into maintaining it. She believes in home remedies and grandma's secrets for achieving beautiful, luscious hair. When she is not writing, she learns Kuchipudi, practices yoga, and creates doodles.