36 Gorgeous Inverted Bob Haircuts For Women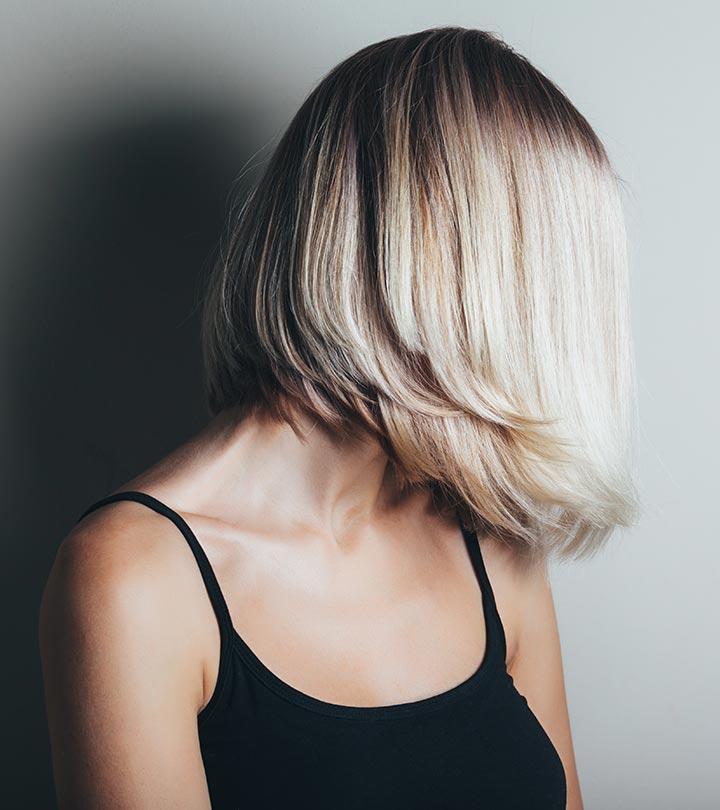 Ask anyone about the bob cut, and they will describe short hair. But did you know that there are different bob hairstyles? One such cut is the inverted bob haircut!
The inverted bob is a face-framing hairstyle, not to be confused with the other bob styles. Your hair is cut short to accentuate facial features. This is why it has become one of the most coveted short hairstyles of our time. Also, you can find an inverted style that matches your personality.
Still unsure of what an inverted bob looks like? Keep reading to know more!
What Is The Inverted Bob?
The inverted bob is a bob with layers stacked at the back that gradually get longer in the front. The layers curve along the shape of your head. It is also called the gradual bob and stacked bob.
Are you thinking that the inverted bob sounds an awful lot like an A-line bob? I don't blame you because they are quite similar. However, there some key differences between the two. Let's check them out.
How To Distinguish Between An Inverted Bob And An A-line Bob
The major difference between an A-line bob and an inverted bob is the layers at the back. An A-line bob may or may not have layers stacked at the back, but an inverted bob always will.
Also, inverted bobs are softer in their transition from short to long while A-line bobs can be drastically angled cuts.
Now that you know the difference between an inverted bob and an A-line bob, let's talk about what you need to consider before getting an inverted bob.
What Do You Need To Think About Before Getting An Inverted Bob?
Before you chop off your locks, here are a few things you need to consider:
Ready to take the bob plunge? Great! Read on to know which of these 30 stylish inverted bobs will suit you best. You'll never want your hair long again after this.
36 Beautiful Best Inverted Bob Haircuts
1. Dark To Light Blonde Inverted Bob
Blonde comes in many shades. You can get a brilliant champagne or a beachy sand blonde. Or, you could get all the shades of the same tone (warm or cool). If you have a cool undertone opt for a cool blonde blend, and if you have a warm undertone go for a warm blonde blend.
2. Brown Disconnected Inverted Bob
See how this bob abruptly gets longer in the front instead of gradually? I love it! I also like that the top layer at the back looks lighter, and it gets darker as you reach the final layer. It adds oodles of dimension to the bob.
3. Mild Wavy Inverted Bob
Have you ever had one of those days when you have tons of work, and you have a hot chocolate to take a breather? Everything just seems easier after that. Time seems to pass in slow motion. Take that stress-buster to your hair and add some waves to it to calm you down.
4. Brown Dimensional Bob
This inverted bob starts off with a dark brown shade that gradually turns into light brown and blonde towards the front. Its woody brown dimension adds tons of elegance to this hair look.
[Read: What Is The Undercut]
5. Curly Ends
Marble cake, anyone? Gorgeous shades of blonde and brown merge to bring us this delicious blended bob. The curly ends in the front are the highlight of this look.
6. Chocolate Bob
Think of cutting through shiny chocolate glazed icing to find a rich chocolate cake within. You can try, but you can't stop smiling! That is what this inverted bob reminds me of.
7. Blonde Curved Bob
Whenever I see fine sand at the beach, I always want to shape it into a castle. The blonde locks on this bob give me the same feeling. If I had this glossy hair, I would style it in a new way every day in lace braids, a faux Mohawk, and what not!
8. Contrast Layers
Lighter blonde at the top that bleeds into darker shades of blonde – this blonde dimension is ah-may-zing! See how the light blonde locks soften the layers? This will create a stunning face-framing effect.
9. Short Layers
Back in the early 19th century, it was a trend to flaunt a deep hairline curve at the back. This inverted bob has its own spin of this fashion statement, and it looks pretty cool. If you want to take it up a notch, try adding a fun pattern to the shaved hairline.
10. Black Edgy Bob
The black bob is synonymous with edgy anime characters. This haircut makes it easy to see the stacked layers. I love that even though her hair is short, you can clearly see the angle at the bottom.
11. Super Short Layers
Say hello to the perfect tomboy bob! The short layers at the back and chin length hair in the front add a playful touch to this hair-ttire! (See what I did there? I combined hair and attire to…forget it).
12. Auburn Bob
Auburn is the perfect hair color for all seasons. It gives your hair a nice glow in summer, blends in perfectly in fall, brings warmth to winter, and gets our hearts ready for spring. LOVE!
13. Choppy Bob
Choppy hair paired with an inverted bob makes for a killer look. The brown locks here give this bob a soft look. This is the perfect hairdo for those hot summer days when all you want to do is tie up your locks.
14. Volumized Inverted Bob
Ladies, raise your hand if you've never wanted voluminous locks. I bet none of you raised your hand! Everyone wants lush, thick tresses. If you have short hair, get a thick inverted bob to add volume to your hair.
15. Angled Inverted Bob
Just look at the angle on this bob. It is PERFECT! If you're gonna give up your locks for a bob, make sure it looks just as cool as this one.
16. Thin Curls
Thin, messy curls can be a girl's best friend instead of her frizzy enemy. Apply some curl defining cream to your locks after you wash your hair. You can also scrunch your hair and apply hairspray to enhance this look.
17. Brunette Curved Bob
Look. At. That. Curve! That right there is the perfect curve that all of us dream about. Now is the time to make it possible! The layers of this inverted bob are lovely and soft, and they can highlight specific features of your face when paired with the right makeup.
18. Inverted D Bob
Oh no, you woke up late this morning? Well, if you had this inverted D bob, all you'd have to do is run your fingers through it to neaten it up and be ready in a jiffy! It forms the perfect D at the back. I remember an anime character I used to love who had this hairstyle.
19. Curly Inverted Bob
A curly bob is the wild child hairstyle I never knew I needed! This curly bob has to have been created by the French. It's flawless and perfectly curled. Those soft swirls showcase the layers at the back beautifully. And, in that vibrant mahogany brown, this bob is to die for!
20. Stacked Bob
Layers stacked upon layers – this cut is the very definition of the inverted bob. Color your hair plum or burgundy to freshen up your look. That red shade blended with purple completely transforms this bob!
21. Thicks Bangs
If you have thick hair, it would be a crime not to flaunt it any way you can! But, it can be a problem if you want to cut it off. I have a solution! Pairing a short hairstyle with thick bangs is a total win-win. If you love thick bangs, try this haircut on for size.
22. Brown Top Bob
A cake is never complete without chocolate icing on top. This is the motto I've lived by all my life. The icing is what I think this hairstyle looks like. Smooth and brown at the top and dark at the bottom.
23. Chic Inverted Bob
Some bobs have a classic feel, while others are clearly made for the future. This style is one of the modern ones. The contrasting colors of this inverted bob add a certain sharpness to it. If you have a diamond face shape, get this bob and keep its length below your jaw.
24. Black Inverted Bob
I know I've only added two black bobs to this list, but black is a bold color and not one to be taken lightly. Though many women are born with incredible black hair, this black cut requires a chilled-out personality to carry it off.
25. Purple Curled Bob
Purple – the color of femininity, unicorns, and every child's favorite dinosaur. All of us, at some point, wanted purple hair and short hair. Put them together to get your dream hairstyle!
26. Blow Dried Inverted Bob
I recently got a trim, and, I have to admit, my hair looks stunning when I blow dry it now. On days when I feel down, blow drying my hair is a sure-shot way to get my spirits up.
27. The Perfect Curve Inverted Bob
When it comes to the inverted bob, it's all about the curve. And let's talk about the hair color! It's like a sunset in a desert. Beautiful. This hair look is definitely on my must-try list.
28. Long Inverted Bob
I like this long hair version of the inverted bob. It's perfect for the women who don't want to cut their hair too short. If you want to add an edgy twist to this hairstyle, keep the back short and the front well below your chin. Style it in waves to add some volume to your hair.
29. Sandy Blonde Bob
Let your locks soak in the sun rays with this sandy blonde inverted bob. Curl your hair and spritz on some sea salt spray. Mess it up your hair with your fingers, and you are gold. Looks pretty awesome, doesn't it?
30. Curve And Angled
Curved at the beginning and angled towards the end, this inverted bob is in a class of its own. I like how the layers are not blended in completely. They add a soft touch to this look.
31. Ringlet Bob
Ringlets are known to be the perfect curls. You'd think that ringlets would've faded out after the Victorian era. But no, they are here to stay. Of course, instead of being tight and small, ringlet curls are now big and soft. This is the perfect bob for weddings, dances, and fairytale dreams.
32. Beachy Waves Inverted Bob
The best thing to do on a sunny night is to go to the beach and chill. Watch and hear the waves move and soak it all in. This beachy waves inverted bob is the perfect representation of those nights.
33. Mild Inverted Bob
Go to the beach right now and tell me if this blonde dimension doesn't look like sun rays falling on sand! This stunning color job is elevated by the mild inverted bob that it is styled in. Until you're ready to go more angular, it's alright to play it safe with this mild inverted bob.
34. Inverted Bob On Thin Hair
The second I saw this image, it spoke to me. I have thin hair, and I had this preconceived notion that thin hair does not look good in a bob. This hairstyle is giving me so much joy!
35. Bob With Peekaboo Highlights
Peek-a-boo! See those hidden highlights? They're called peekaboo highlights. You can get them in different colors and in as many styles as you want – plain, dual, or multicolored. Let your inner unicorn fly free and uninhibited with this style of highlights in bright colors.
36. Modern Inverted Bob
Add a modern twist to a classic bob with this inverted bob with an edgy undercut. Did you know that bobs were angled way back in the '20s? Pretty modern for a vintage age, right?
And that is the end of an extremely long list for now, phew! So, you have been over the list and taken a look at the pictures? The above entries are our favorite picks for styling a gorgeous inverted bob haircut. Do you have a favorite one yet? If not, head to your nearest stylist and ask them for their expert opinion. However, don't forget to do your research on their establishment first. The graduated bob suits almost all face types. So, go ahead, and try experimenting with these amazing styles.
The following two tabs change content below.