Is A Short Hairstyle Right for You?
How would you know if any of the short haircuts is right for you? Well it all depends on the face cut you have. Some women have round faces, some have square and some might have diamond face shapes. No matter what your face shape is, short hairstyles always look sleek and chic. We will tell you which hairstyle suits your face cut the best.
Firstly, the chart below will give you an idea of what your face shape is: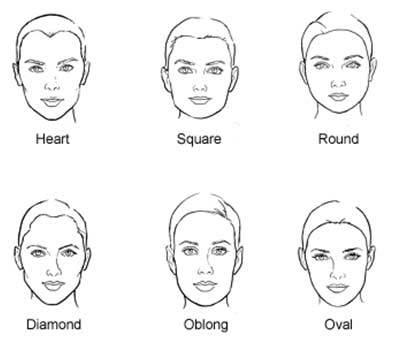 This chart helps you to pick the right kind of hairstyle which suits your face shape appropriately.
Let's start with all the short hairstyles according to your face shape:
1. Oval face:
As you can see the above actress is having an oval face and yet this hair style suits her so well.  This hairstyle looks great especially on all the oval shape faced people out there.
*This short hairstyle accentuates the entire feature
*You can clearly see her big eyes, lips and cheekbones
* In this short hairstyle there's nothing to hide.
2. Oval face:
*This hairstyle has elongated her face and made her face look not so oval
*The side parting gave her face, a shape and made all her features looks amazing.
3. Round face:
*The Height at the crown elongates her face
*The very short cut in the back makes her neck look long
*The soft side swept bangs works great in defining her eyes
Here are some more short hairstyles that look good on round faces.
4. Round face:
*This hairstyle looks elegant on her round face
*The bangs create an appearance of an oval face
5. Roundish square face:
*For this face shape, the main aim should be in softening the edges
*Avoid sharp angled cuts
*Add texture to the hair by scrunching it or adding waves
*The side swept bangs hides the wide forehead
6. Oblong shape:
*Bangs are dramatic and add symmetry to the face
*Just above the shoulder length, this hairstyle frames her face very well
7. Heart shape:
*The long side swept bangs cover the large forehead
*The length is perfect for this face shape as it cuts her face just below her chin
8. Heart shape:
*This side parting helps to bring attention to her prominent cheekbones
*The height in the crown area helps to hide the wide forehead and makes her face look oval
9. Triangle faced:
*Chin length is perfect and shows her long neck
*The side swept bangs makes her face look squared.
10. Diamond shape:
*The volume of the hair around the crown area gives a fuller look to the face making the chin stand out.
*The hair is away from the face which makes her cheekbones and eyes pop out.
Hope this article helped you in choosing the right short hairstyle you have always wished forJ Shoot a comment on which hairstyle you're opting for?

The following two tabs change content below.