How To Figure Out If Short Hair Will Suit You
Hint: Your face shape, hair texture, and color all play a decisive role.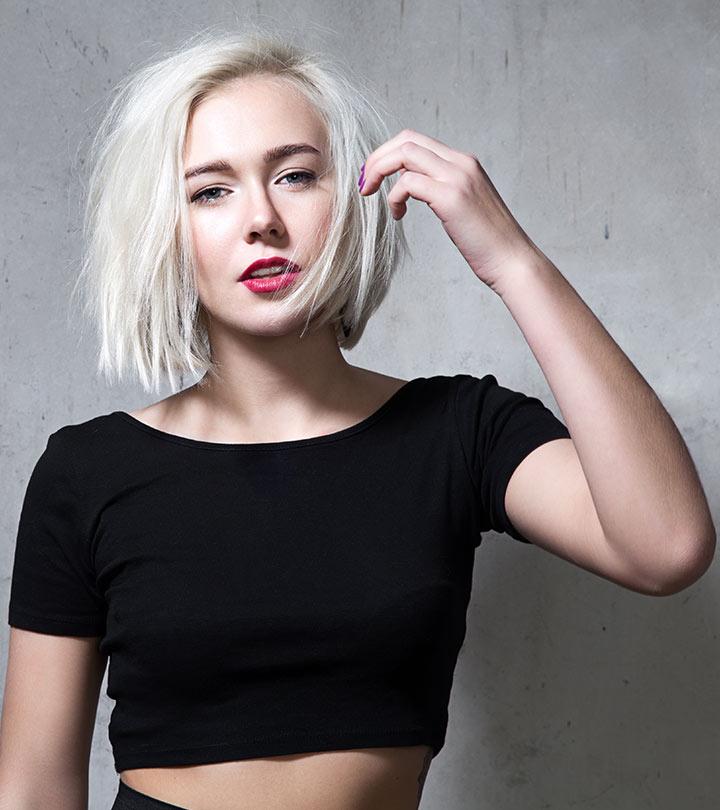 Short hair is a big craze right now!
But if you find yourself wondering 'Does short hair suit me?' Well, let us tell you that it is super stunning and versatile. There is no need to worry! You can mess it up to make it playful, or you can gel it back to make it glamorous. In short, it gives your confidence a super boost. If you are enamored with short hair, this article is for you. Before you take the plunge and cut off your long tresses, there are some things you need to consider. Eager to know what? Keep reading.

Before You Get Started
Short hair lets you retain more natural volume as they do not get weighed down.
It feels lighter and is less annoying, provided you get regular trims.
Shorter tresses also tend to look and feel more healthy as hair care is convenient.
From a styling perspective, short haircuts for women are quite difficult to maintain. Even a little extra growth and baby hair will completely alter your hairstyle.
What To Consider When Cutting Your Hair Short
Face Shape
Your face shape decides the suitability of a hairstyle on you. Hairstyles are meant to enhance the beauty of your face. If you have an oval face shape, then most hairstyles will suit you. But if you have a round, heart-shaped, or rectangular face shape, you will have to be more careful with the hairstyles you choose. Always talk to a hairstylist if you are not sure which hairstyle will suit your face shape. They are professionals and will guide you toward the right hair fashion.
Hair Texture
Your hair type matters when you are cutting your hair short. While the image in my mind looked fine, when I actually got my hair cut short, it did not suit my straight hair. But grooming it in slight waves or scrunching it did the trick. If you have a slightly angular face shape, you will find yourself in a similar situation.
Hair Color
Yes, hair color matters as well. Your hair color determines how your hair frames your face. It can make your hair look thicker or thinner. So, keep this in mind when choosing a short hairstyle.
Maintenance
Short hair requires regular trims to maintain its attractiveness. You will have to trim it at least once a month. Also, depending on your hairstyle, you will need to style your hair regularly to keep it looking fresh.
Personality
Sometimes, all you need is a certain personality to flaunt a hairstyle. Pick a short hairstyle that works well with your persona. You will be surprised how well you can pull off a look that you never thought of sporting.
The John Frieda Rule
The 2.25-inch rule was developed by celebrity hairstylist John Frieda. It's a suitability analysis that measures the angle of your jawline to check whether long or short hair will suit you. Here's how you do it.
Place a pencil below your chin. Hold it parallel to the ground. Take a ruler and place it perpendicularly under your ear. The ruler and pencil will now create a "T region" with each other. If the reading where the pencil meets the ruler is less than 2.25 inches, then short hair will suit your face. If it is more than 2.25, it is ideal to stick to long- or shoulder-length haircuts.
Hairstyle
Now if you're confused about how to style short hair, we've listed in the next section some of the trendiest short hairstyles that you can try. Check them out!
10 Basic Short Hairstyles You Need To Know About
1. Buzz Cut
Hairstyles for short hair such as buzz cuts have become increasingly popular because they can enhance both hard and soft features. The close cut gives a bold look and can be personalized with different colors.
2. Undercut
Among popular short hairstyles for women, the undercuts have a funky edge that make you feel different. This hairstyle is perfect for girls who like to switch up their looks. You can experiment with different colors to match your mood and the occasion.
3. The Bob
The bob gained massive popularity in the '20s. It was when short hair was all the rage. Over the course of time, there have been many bob styles that hit the market. We have the classic bob, curled bob, stacked bob, graduated bob, and many more.


Trivia
The bob was invented by chance in 1915. Irene Castle, a well-known actress and ballroom dancer, chopped her hair short out of convenience into what was then known as the Castle bob.
4. The Lob
The lob is a slightly longer version of the bob. The length of your lob can be anywhere from below your chin to your shoulders.
Curly hair expert and owner of Royal Locks Curl Care, Casey Simmons adds, "This style is perfect for those with fine to medium waves. The wave "S" pattern can be pulled down by longer hair. A lob gives more bounce, shape, and style to wavy hair naturally. All you need for this trendy style is a good curl cream. Just twist your damp or wet hair in several sections and scrunch the twists upwards. Turn your head upside down to shake out. With a bit more curl cream on your fingertips, twist or set the pieces around your face, and you're good to go."
5. The Pixie Cut
The pixie cut is making waves around the world right now. It first gained popularity when Rihanna sported it back in 2008. Again, there are many ways that you can style this cut. Simmons advises, "It's important to be realistic with this style based on your hair texture. This type of pixie is great for straight and fine hair for a low-maintenance, chic look. However, if you have naturally thick, curly hair you might want to try a style like a bob or lob that accentuates those patterns."


Trivia
Pixie cuts were popularized in the 1950s when Audrey Hepburn sported the look in the movie Roman Holiday. Later in the 1960s actress Mia Farrow sported the look in Roman Polanski's Rosemary's Baby.
6. The Shag Cut
The shag cut was huge in the '90s and it is making a comeback. It comprises many layers that are either flicked in or out.
7. The Asymmetric Bob
In an asymmetric bob, one side is long while the other is short. It can also be a back to front cut, where the back is short and the front is long.
8. The Mohawk Cut
In a mohawk cut, the sides are either shaved off or cut extremely short while the center is left longer to style in a mohawk. The length of the mohawk depends on your preference.
9. The Quiff Cut
The quiff is getting more popular by the second, and many women have been adding their own twists to their quiffs. It looks pretty stunning!
10. The Pompadour Cut
The pompadour is a great way to add height to a short hairstyle. If you have a slightly round face, this cut will work beautifully for you.
Infographic: Celebrities With Short Hair Looks To Inspire You
Transforming from long hair to short hair is a big, risky decision. You need to consider multiple factors like your face shape, your personality, and hair maintenance, among others. In fact, you might even feel overwhelmed while deciding on a suitable short hairdo. But fret not – as the infographic below lists celebrities who have rocked the short hair look. They are sure to inspire you!


Opting for shorter hairstyles means you do not have to deal with long hair and ruin your perfectly planned hairdo by tying it in a bun to beat the sweltering heat. Add curls, waves, and layers to your short locks to amp up your hairstyle. Short hair with bangs has also never gone out of style. Play around with hair accessories and hairstyles like bobs, pixies, shag cuts, and butterfly haircuts. With your face shape and hair texture in mind, you can come up with a style perfect for you. So go about experimenting and become the next talk of the town!
Frequently Asked Questions
Does short hair make you more attractive?
While this varies from person to person, short hair can accentuate the beautiful features of your face.
Does short or long hair slim your face?
Both long and short hair can make your face look slimmer. This depends on your face shape and the type of hairstyle you choose.
Can hair texture or thickness affect whether short hair suits me?
Yes. The texture and thickness of the hair have an impact on the haircut, especially if it is short. Coarse hair, for example, may not be suitable as a blunt bob, whereas fine and straight hair will look fantastic in that cut. It is best to consult with your hairstylist before getting a haircut to ensure that you get a short haircut that is appropriate for your hair type and texture.
Is it possible to make adjustments to a short haircut to better suit a my features?
Yes. You can have a face-framing fringe with a short haircut to draw attention to your round face. For your face to look more defined, you can get an angled bob. You can choose a shag layered bob or pixie cut to highlight your bone structure if you have chiseled cheekbones and a defined jawline.
Does short hair suit any face?
While there are considerations for each face shape when going short, short hair tends to flatter all face shapes. For example, an asymmetrical bob will look amazing on round faces, a pixie cut will flatter an angular oblong face, and a lob will flatter heart-shaped faces.
Does short hair need more styling?
No. In fact, shorter hair costs less to maintain because it doesn't need as much shampoo and conditioner as longer hair. Shorter hair also requires less heat styling, which lessens hair damage.
Is short hair more confident?
Shorter hair is typically perceived as more professional and confident, whereas long hair, particularly if it is a hair weave, can be perceived as more youthful and sexy by some. You can feel confident regardless of hair length; all you need to do is get a haircut that compliments your personality and face.
Discover the best hairstyles and cuts for your face shape. Get the perfect look with expert tips and advice. Watch this video before you cut your hair!

The following two tabs change content below.