Cream Cheese: Nutrition, Health Benefits, And Recipes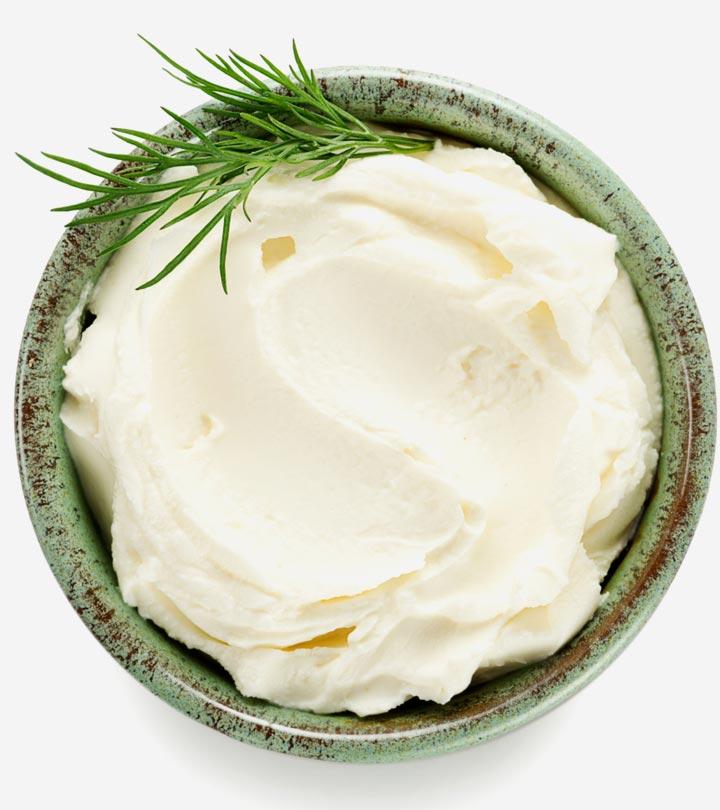 Cream cheese is a versatile ingredient and a healthier alternative to butter. Cream cheese benefits arise from its antioxidant and nutrient profiles and can help with many health problems. It is nutritious, delicious, and has a smooth, mild taste and soft texture. All these qualities make it suitable for a wide variety of dishes. It can be served with toast or bagels and is a wonderful addition to your breakfast.
There is evidence that cream cheese may benefit gut health, vision, and atopic dermatitis. This article explores cream cheese nutrition, health benefits, preparation techniques, and possible downsides. Take a look.
Cream Cheese Nutrition Facts
According to the U.S. Department of Agriculture, one tablespoon (14.5 g) of cream cheese contains:
Energy: 50.8 kcal
Protein: 0.892 g
Fat: 4.99 g
Carbohydrate: 0.8 g
Sugars: 0.545 g
Fiber: 0 grams
Sodium: 45.5 mg
Vitamin A: 44.7 micrograms
Vitamin B12: 0.032 micrograms
Cream cheese is available as whipped, double-cream, regular, and flavored. The calorie content will depend on the type of cheese you choose and the brand. Whipped cream cheese has the lowest calorie content among all variants. But is cream cheese healthy to eat? Scroll down to know.
Is Cream Cheese Healthy?
Intake of soft cream cheese is healthy and has many health benefits. Keep reading.
1. May Improve Gut Health
Lactic acid bacterial strains are used in the preparation of cream cheese. These bacterial cultures help improve the texture of your cream cheese. In addition, probiotics (live bacteria) can help improve gut health and prevent gut inflammation. In one mice study, Lactobacillus chungangensis cream cheese increased beneficial short-chain fatty acid levels. As per another study, probiotics can have a beneficial effect on inflammatory bowel disease (IBD) and intestinal disorders. However, more studies are warranted to understand this benefit of cream cheese in humans.
2. Is High In Vitamin A
Cream cheese is rich in vitamin A, a fat-soluble vitamin essential for vision health. One tablespoon of cream cheese contains 44.7 micrograms of vitamin A, which plays a key role in supporting vision. The vitamin A in cream cheese also helps boost the immune system. However, more research is needed to understand this phenomenon of cream cheese.
3. Is Low In Lactose
Intake of foods containing lactose may cause digestive issues in some. Such individuals may exhibit certain symptoms like bloating, cramps, and diarrhea. Dairy products such as cheese, yogurt, and milk contain lactose. But cream cheese is low in lactose (less than 2 grams in an ounce). Hence, people with lactose intolerance may not exhibit any symptoms if they consume cream cheese in limited quantities.
4. Has Antioxidant Properties
Cream cheese possesses antioxidant properties that help fight oxidative stress and free radical damage. Also, it contains carotenoids like lutein and zeaxanthin that help treat eye problems. However, more studies are warranted in this regard.
Also, cream cheese-derived Lactococcus chungangensis can help alleviate atopic dermatitis (AD) in mice.
Cream cheese is often confused with butter. But they have certain differences.
Cream Cheese Vs. Butter
Butter has double the calories when compared to cream cheese. Butter also has a higher concentration of fat. While butter is made with cream, cream cheese is from a mixture of cream, milk, and other minor ingredients. Cream cheese is a good source of calcium, riboflavin, pantothenic acid, vitamin B6, and thiamin.
Cream cheese also looks similar to Neufchatel cheese. But there are a few differences between the two.
Cream Cheese Vs. Neufchatel
| Cream Cheese | Neufchatel |
| --- | --- |
| It has more fat content and contains at least 33% milk fat. | It has a low fat content with about 23% milk fat. |
| It tastes sweet. | It tastes nutty. |
| It has a soft texture. | It is milder and softer than cream cheese. |
You can prepare soft cream cheese at home easily with three simple ingredients. We have discussed the process below.
How To Prepare Cream Cheese At Home?
What You Need
Whole milk – 1 gallon (3.785 liters)
Large lemon, juiced – 1
Salt – 1 pinch
Process
Pour the milk into a large pot and stir in a pinch of salt.
Bring to a boil over medium heat, occasionally stirring to prevent the milk from scorching at the bottom of the pot.
Turn off the heat as the milk begins to boil.
Set it aside for a few minutes while the milk curdles. You will notice curds forming and a yellowish liquid being left behind.
Your curds should have formed within a few minutes. Pour the curdled milk through a cheesecloth and a sieve to strain all the liquid whey.
Alternatively, you can use a slotted spoon to scoop out the curdles while leaving the liquid whey in the pot.
Rinse the curdled milk with cold water by pouring the water over the sieve. This will help get rid of any extra whey clinging to the curds.
Squeeze the curdled milk as much as possible to drain any last drop of the liquid whey.
Add the strained milk into a food processor/blender and add the salt.
You should have a light and fluffy cream cheese within 1 to 2 minutes.
This is how you prepare cream cheese. You may also try any of these cream cheese recipes.
Recipes To Try
1. Cheesecake Egg Rolls
What You Need
Softened cream cheese – 2 (8 oz.) blocks
Pure vanilla extract – 1 teaspoon
Granulated sugar – ½ cup
Egg roll wrappers – 12
Sour cream – ½ cup
Vegetable oil – as needed
Pinch of kosher salt
Powdered sugar – for garnish
Process
Combine strawberries, water, and sugar in a small saucepan over medium heat.
Stir to combine and bring to a simmer.
Stirring frequently, cook until thick and jammy, for 3 to 4 minutes. Transfer to a medium bowl and set aside.
Combine cream cheese with sugar, sour cream, vanilla, and kosher salt in a large bowl.
Beat the ingredients with a hand mixer until they are fully combined.
Place an egg roll wrapper on a clean surface in a diamond shape and spoon approximately three tablespoons of cream cheese mixture into a line in the center.
Fold the bottom half and the sides. Gently roll and seal fold with a couple of drops of water.
Heat oil in a large skillet over medium heat until it starts to bubble.
Add egg rolls and fry until golden, 1 minute per side. Transfer to a paper towel-lined plate to cool slightly.
Dust with powdered sugar and serve.
2. Blueberry Cream Cheese Cookies
What You Need
Softened cream cheese – 4 oz.
Granulated sugar – 1 cup
Softened butter – ½ cup
Egg – 1
Baking soda – 1 teaspoon
Lemon juice – 1 tablespoon
All-purpose flour – 2 ½ cups
Lemon zest – 1 tablespoon
Cornstarch – 2 tablespoons
Blueberries – 2 cups
Kosher salt – ¼ teaspoon
For The Lemon Glaze
Powdered sugar – 1 cup
Lemon juice – 1 tablespoon
Zest of 1 lemon
Cream – 1 tablespoon
Process
Preheat the oven to 350° F. Line two baking sheets with parchment paper.
Mix sugar, butter, and cream cheese in a large bowl until fluffy.
Scrape down the sides, and add the egg, lemon juice, and zest. Beat until they mix well.
Combine flour, baking soda, cornstarch, and salt in a bowl.
Beat into the wet mixture just until combined. Gently fold in the blueberries.
Using a large cookie scoop, scoop dough (about 3 tablespoons) onto the prepared baking sheets.
Bake until cookies are set, and edges turn lightly golden, for 10 to 15 minutes. Let them cool.
Whisk together powdered sugar, cream, lemon juice, and zest.
Drizzle on top of cookies.
3. Key Lime Cheesecake
What You Need
For the crust
Finely crushed graham crackers – 9
Melted butter – 6 tablespoons
Granulated sugar – ¼ cup
Pinch of kosher salt
For the filling
Softened cream cheese – 4 blocks
All-purpose flour – 2 tablespoons
Granulated sugar – 1 cup
Eggs – 4
Pure vanilla extract – ½ teaspoon
Sour cream – ¼ cup
Key lime juice – 2 tablespoons
Key lime zest – 1 tablespoon
Pinch of kosher salt
Process
Preheat the oven to 325° F and grease an 8″ spring form pan with cooking spray.
Make the crust. In a large bowl, mix the graham cracker crumbs, melted butter, sugar, and salt until combined. Press this mixture into the bottom and up sides of the pan to prepare crust.
Make the filling: In a large bowl, use a hand mixer to beat the cream cheese and sugar until no lumps remain. Add eggs, one at a time, then stir in the sour cream, vanilla, lime juice, flour, lime zest, and salt.
Pour the mixture over the crust and smooth the top with a rubber spatula.
Wrap the bottom of the pan in aluminum foil and place in a large roasting pan.
Pour in enough boiling water to come up halfway in the baking pan.
Bake until the center of the cheesecake only slightly jiggles, for about 1 hour 30 minutes.
Turn off the heat, prop open the oven door, and let the cheesecake cool in the oven for about an hour.
Remove the foil and refrigerate cheesecake until completely chilled, for at least 5 hours or overnight.
Pipe around the edges of the cheesecake with whipped cream and garnish with lime zest and slices. Serve.
Cream cheese should be used in moderation due to its high-fat content. Excess intake of cream cheese may also have some downsides. We have discussed them in the next section.
Downsides Of Cream Cheese
The high-fat content of cream cheese may increase serum LDL cholesterol levels, which may elevate the risk of cardiovascular diseases. It also is low in protein and has a shorter shelf life. Its high water content may make it susceptible to microbial contamination. Cream cheese should be eaten within two weeks after opening the pack. It cannot be stored outside; it instead must be stored in the refrigerator to avoid spoilage.
Stabilizers are often used in cream cheese. But are they safe? What should you look for before buying a pack of cream cheese?
Are Thickening Gums In Cream Cheese Safe?
In general, cream cheeses are manufactured with 0.33% of guar gum, locust bean gum, xanthan gum, or a combination of these three gums (0.11% each). Locust bean gum has low toxicity and is safe to use, and guar gum is used to produce low-fat cream cheese. It can improve the body and texture of the cream cheese. However, these thickening gums may cause gastrointestinal problems in some people. Hence, practice caution.
Are you looking for an alternative to cream cheese? You can try any of the following substitutes.
Cream Cheese Substitutes
Cottage Cheese: It has a soupy texture with a creamy, mild flavor. You can use fresh cottage cheese in dips or as a spread on bagels, gravies, and baking recipes.
Mascarpone Cheese: This is a soft Italian acid-set cream cheese. It is also known as triple cream cheese and has a similar texture and flavor as that of cream cheese. This cheese's smooth and sweet taste makes it an ideal substitute to cream cheese in desserts and as frosting for cupcakes.
Greek Yogurt: It has a thicker and creamier texture with a fat-free formula. Greek yogurt is less sweet, but its creamy texture works well as a spread on your favorite chips, bagel, and dips.
Ricotta Cheese: This Italian whey cheese is made from the milk of cow, sheep, or goat. It is high in protein and calcium and is less sweet. It has a grainy texture. It is ideal for baking and adds a good taste for savory dishes.
Key Takeaways
Cream cheese is a healthy alternative to butter and is known for its rich antioxidant and nutrient profile.
Cream cheese may improve gut health, boost immunity, and fight against oxidative damage.
You can prepare cream cheese easily at home with simple kitchen ingredients.
Cream cheese is prepared with cream and milk. It has a soft texture and mild taste. The rich nutrient and antioxidant profile are responsible for cream cheese's benefits. The intake of this versatile ingredient may help improve gut health, supports vision, and fight oxidative stress and free radical damage. You can prepare cream cheese easily at home. However, excess intake may cause increased LDL cholesterol levels and microbial contamination. Hence, consume it in moderation to avoid its adverse reactions and consult your doctor in case of emergencies.
Frequently Asked Questions
Which is healthier: cheese or cream cheese?
Cream cheese is healthier. It has a lower sodium content compared to a slice of American cheese (20).
Is cream cheese OK for weight loss?
Yes, but in moderation. Intake of dairy products was found to keep women from gaining weight (21).
What is the unhealthiest cheese?
Halloumi cheese. Avoid consuming it in excess as it has a high fat and sodium content (22).
Is it healthy to eat cream cheese every day?
No. Cream cheese may contribute to weight gain if consumed daily. Instead, opt for a whipped, low-fat version, or have it twice a week.
Sources
Articles on StyleCraze are backed by verified information from peer-reviewed and academic research papers, reputed organizations, research institutions, and medical associations to ensure accuracy and relevance. Read our editorial policy to learn more.
The following two tabs change content below.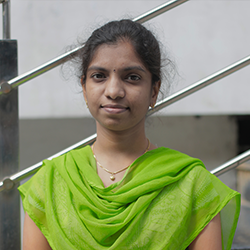 Sindhu Koganti is a health and wellness writer with over 5 years of experience. She has a bachelor's degree in...
more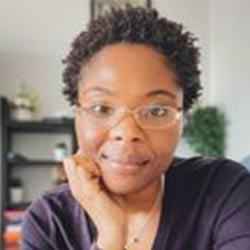 Dr. Somi Igbene
(PhD, MSc (Human Nutrition), ANutr)
Somi is a biomedical scientist, a registered nutritionist (ANutr), and a nutritional therapist. She helps her clients reverse prediabetes, lower...
more