Is Ginger Ale A Healthy Drink? Benefits, Recipes, And Potential Side Effects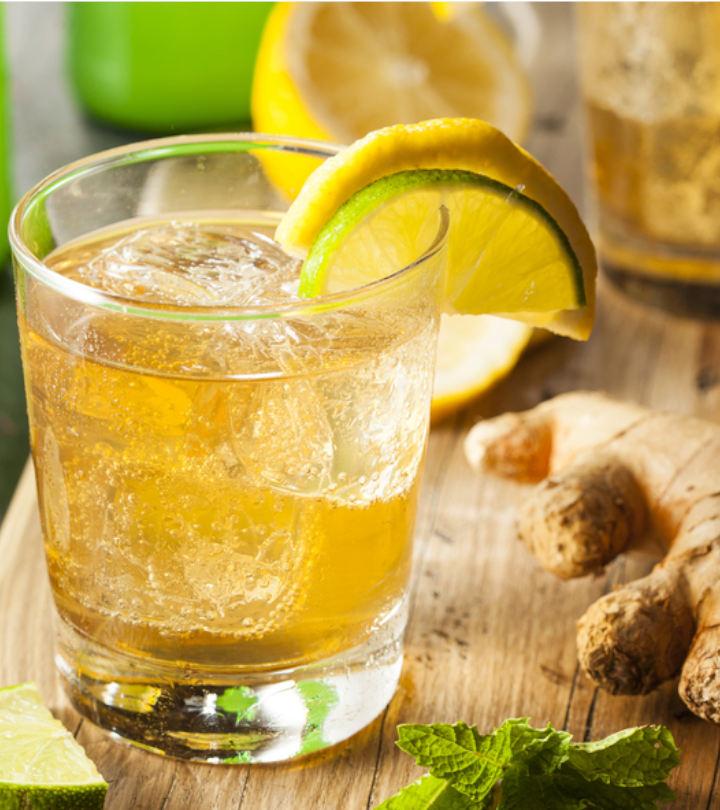 Ginger ale, one of the most popular carbonated drinks, is flavored with ginger. It is primarily made of ginger and ginger bugs. One can consume the drink on its own or as part of a cocktail. Ginger ale has been around for a very long time, but is only becoming recently popular for its purported health benefits. It seems to be a healthy beverage with certain disadvantages. Let us understand more about this beverage in this post. Keep reading.
What Is Ginger Ale?
Ginger ale is a type of soda infused with the flavor of ginger. This beverage traditionally consists of fresh ginger root, sugar, and other flavorings made with fermented water and microbial cultures (yeast or ginger bugs). Ginger ale uses fermented ginger to make it fizzy and beneficial.
Fresh ginger root containing Lactobacillus bacteria and wild yeast can be used to prepare ginger bugs. Ginger ale does not contain caffeine and can be an ideal beverage for anyone who cannot consume caffeine.
Commercial ginger ales contain carbonated water, sugar or high-fructose corn syrup, and an artificial or natural ginger flavor. Alkaline compounds like sodium bicarbonate are also used to neutralize acidity. Ginger ale may also contain preservatives like citric acid, sodium benzoate, and some coloring agents.
Ginger ale is available in different types. We will explore them in the next section.
Types Of Ginger Ale
 Regular: This refers to both the ginger ale soda and the traditional fermented ginger ale.
 Dry: Dry ginger ale has a spicier or drier ginger flavor due to the way the ginger root is sourced and processed.
 Diet: This version contains no sugars or high fructose corn syrup. It instead contains artificial sweeteners.
How is ginger ale different from ginger? Let us understand.
Ginger Vs. Ginger Ale
Ginger has been widely used as a culinary and medicinal ingredient while ginger ale is only used as a soda or soft drink. We have listed the nutritional differences between the two (per 100 grams):
| | | |
| --- | --- | --- |
| Nutrients | Ginger | Ginger ale |
| Calories | 80 | 34 |
| Total Fat | 0.75 | 0 |
| Sodium | 13 mg | 7 mg |
| Total Carbohydrate | 17.8 g | 8.76 g |
| Sugar | 1.7 | 8.9 g |
| Protein | 1.82 g | 0 g |
| Vitamin D | 0 mcg | 0 mcg |
| Calcium | 16 mg | 3 mg |
| Iron | 0.6 mg | 0.18 mg |
| Potassium | 451 mg | 1 mg |
* All the listed values of ginger and ginger ale are sourced from USDA.
Ginger ale is made of ginger root and other components. While there is no direct research on the health benefits of ginger ale, the ginger it contains may offer certain advantages. Let us explore them in the next section.
Potential Health Benefits Of Ginger Ale
1. May Help Treat Nausea
Nausea is typically characterized by an uncomfortable sensation occurring in the throat and epigastrium (upper abdomen) that may lead to vomiting. Some studies suggest that ginger consumption may reduce nausea associated with stomach flu, migraine headaches, chemotherapy, and morning sickness. This effect could be attributed to the gingerols and shogaols in ginger. The gingerols in fresh and dried ginger rhizomes are the main compounds responsible for their pungent taste. They are known for their medicinal values.
2. May Help Treat Morning Sickness During Pregnancy
Morning sickness is the discomfort associated with pregnancy especially in the first trimester. It is characterized by vomiting, vertigo, and irritability. Research states that ginger may effectively relieve morning sickness.
3. May Aid Digestion
Animal studies show that ginger can effectively stimulate the production of digestive enzymes. Ginger intake was found to enhance pancreatic lipase activity. Additionally, ginger intake could also stimulate trypsin and chymotrypsin – two enzymes that play a major role in digestion.
4. May Help Manage Migraine
Another major health benefit of the ginger in ginger ale could be associated with migraine relief. In a study, using ginger in the treatment of migraines had shown a significant beneficial effect. However, more research is warranted in this area.
5. May Help Manage Rheumatoid Arthritis
Studies have shown that ginger may effectively help in managing rheumatoid arthritis. Ginger could significantly increase the expression of FoxP3 genes and decrease the expression of RORγt and T-bet genes and help manage the condition. However, more research is needed in this aspect.
6. May Exhibit Cardioprotective Effects
Studies have also shown that ginger can effectively exhibit cardioprotective properties. The cardioprotective action of ginger is believed to be associated with its antihypertensive, anti-hyperlipidemia, and anti-platelet effects. More quality studies are needed to better understand the underlying mechanisms.
While the ginger in ginger ale may offer these benefits, they may also depend on the concentration of ginger in the beverage. Hence, consult your doctor to further understand the health benefits of ginger.
We have discussed the nutritional profile of ginger ale in the following section. Take a look.
Nutritional Facts Of Ginger Ale
Ginger ale (100 grams) contains:
 Calories: 34
 Fat: 0 g
 Cholesterol: 0 mg
 Sodium: 7 mg
 Potassium: 1 mg
 Carbohydrate: 9 g
 Protein: 0 g
*All values are sourced from USDA
Preparing ginger ale at home is easy. Here's how.
How To Prepare Ginger Ale At Home
What You Need
 4 cups water
 2 cups peeled and chopped fresh ginger
 3 strips lemon peel, about 4 inches each, yellow parts only
 1 ½ cups granulated sugar
 3 quarts club soda, chilled
Method
 Mix the ingredients, except the sugar and club soda.
 Add them to a 4-quart saucepan. Heat the mixture to a boil over high heat. Reduce the heat to medium-low, cover, and simmer for 10 minutes.
 Pour in the sugar, stir constantly, and continue boiling until it is reduced to 3 cups (about 15 minutes).
 Place a fine-mesh strainer over the bowl. Separate the solids from the liquids by adding ginger syrup. The lemon peel should be discarded.
 Let the ginger syrup cool completely before transferring it to a glass container. Make sure the lid is tightly sealed. Chill for at least an hour.
 Prepare each serving by mixing ¼ cup of ginger simple syrup with 1 cup of cold club soda. Pour over the ice. You can sweeten it to your taste with further ginger syrup or sugar.
Here are a few other ginger ale recipes you may want to try.
Diet Ginger Ale
Diet ginger ale is similar to regular ginger ale, though it is free from sugar. An artificial sweetener is added in the place of sugar.
What You Need
 4 cups water
 1 cup fresh ginger, peeled and roughly chopped
 1 cup sweetener
 1 lemon with grated peel
Method
 Combine the water, ginger, sweetener, and grated lemon peel in a large saucepan and bring to a boil. Once boiled, turn the heat down and simmer for 20 minutes.
 Place in a sealed container, cool completely, and refrigerate for at least two days or longer.
 Add lemon juice and stir well. Strain the syrup and discard the solids.
 Add 2 to 4 tablespoons of syrup in the glass. Top up with soda water or sparkling water and serve chilled.
Dry Ginger Ale
A spicier ginger flavor is imparted to dry ginger ale by using fresh ginger root.
What You Need
 1 cup fresh ginger peeled and chopped finely
 2 cups water
 ½ a cup raw sugar
 1 tablespoon dark brown sugar or molasses
 Lime wedges
 Soda water or sparkling mineral water
 Ice
Method
 Cook ginger in water with a lid on a small pot. Turn the stove off after reaching a boil. Let the ginger steep for 30 to 60 minutes (depending on how strong you want the ginger flavor).
 Return the ginger-spiced water to the pot after straining out the chopped ginger. Add sugar and heat again, stirring until completely dissolved. Turn off the flame and allow the ginger syrup to cool.
 Fill a glass with ice. Add 1 to 2 tablespoons of ginger syrup, lime juice, and soda water.
Ginger Ale Vs. Ginger Beer
Ginger ale and ginger beer contain ginger. These two drinks, however, do not have the same composition.
| | | |
| --- | --- | --- |
| Parameters | Ginger Ale | Ginger Beer |
| Alcohol content | No alcohol content | 0.5% alcohol content |
| Taste and aroma | Mellow and sweet light | Gingery taste |
| Sugar content | Less | More |
| Fermenting agents | Whey | Yeast |
When consumed in moderation, ginger ale is generally considered safe for the majority of people. However, you should also consider the following potential side effects.
Possible Side Effects Of Ginger Ale
1. May Cause Bloating And Diarrhea
Studies suggests that ingesting more than 6 grams of ginger root may cause diarrhea. Diarrhea and bloating caused due to ginger ale could be due to the carbonation more than the ginger itself. The artificial sweeteners used in diet ginger may also cause bloating.
2. May Increase Inflammation
Ginger ale may have sodium benzoate added as a food preservative to inhibit microbial growth. Studies show that such food additives may cause inflammation in some cases.
3. May Cause Gallbladder Issues
Ginger ale may improve digestive health as it enhances bile secretion. Bile juice plays an important role in digestion. However, excess intake of ginger has been reported to drastically improve the production of bile. Studies show that excess accumulation of bile may lead to gall stones.
4. May Interfere With Blood Clotting
Anecdotal evidence suggests that ginger may slow down the process of blood clotting. Caution is advised if you are taking blood thinners. However, more research is warranted in this regard.
How To Choose A Healthier Ginger Ale That's Good For You?
Ginger ale is consumed mostly to alleviate nausea and indigestion. However, it should not be consumed in large quantities. Health benefits can be derived from moderate consumption.
Drinking ginger ale made from fresh ginger root has health benefits. Manufacturers label their products with the ingredients used – check it before making a purchase. Avoid ginger ale containing flavorings or colorings agents or high sugar/high fructose corn syrup. The healthiest choice is homemade ginger ale.
Conclusion
Traditional ginger ales contain fermented ginger root, whereas most commercial ginger ales contain little ginger and a lot of sugar. Hence, read the ingredient labels and choose a low sugar variant. Homemade ginger ale is the best option. Consume it in moderation to enjoy its potential health benefits.
Expert's Answers For Readers' Questions
Is ginger ale good for a cold?
Ginger, in its natural form, might have some benefit for cold and flu. But carbonated ale may not provide relief.
Is ginger ale better than soda?
Ginger ale may be a healthier choice than other sodas due to some of its healthier ingredients. Homemade ginger ale is ideal.
Is ginger ale good for pregnancy?
Homemade ginger ale could be ideal if someone is experiencing nausea during pregnancy.
Is diet ginger ale good for you?
Diet ginger ale contains no sugar. But it may have artificial sweeteners. Information about its safety is limited. Consult your doctor for more information.
Sources
Articles on StyleCraze are backed by verified information from peer-reviewed and academic research papers, reputed organizations, research institutions, and medical associations to ensure accuracy and relevance. Read our editorial policy to learn more.
The following two tabs change content below.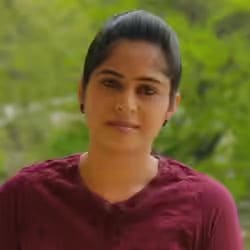 Aparna is a professor-turned-content writer with over 5 years of experience in life sciences. Her passion for writing and interest in the healthcare and wellness industry pushed her toward a career in content writing. She has a master's in Microbiology and aims to use her knowledge of life sciences to break down complex information into easily understandable content for the readers. When she's not working, Aparna loves cooking and collecting keychains.