Can I Dye My Hair While Pregnant? How To Do It With Caution?
All you need to know about the safety of your baby before coloring your locks. If the question, 'Can I dye my hair while pregnant?' bothers you, you are not alone. Queries like these often trouble pregnant ladies. However, you don't have to worry anymore. We got your back. In this article, we answer all queries regarding coloring your hair while pregnant and related issues.
Coloring your hair is fun, and it boosts confidence in many. But, as commercial colors contain harmful chemicals, it is better to know about their effects on maternal health before using them. Instead, you can visit a hair salon that uses organic products or try DIY natural colors as they are safe to use and do not cause any harm to your hair texture or your baby. Continue reading to know more.
Can You Dye Your Hair While Pregnant?
The Organization of Teratology Information Services (OTIS) is the most trusted source of information about the risks of exposure to any substances during pregnancy.
According to OTIS, it is safe to color your hair during pregnancy because of two reasons (1):
Little or no hair dye is absorbed by the scalp and enters the bloodstream, much less enough to reach the fetus.
Pregnant animals that were exposed to hair dye showed no signs of reproductive damage.
However, a study conducted at the University of North Carolina found that maternal use of hair dyes may moderately increase the risk of neuroblastomai  XA type of cancer commonly found in and around the adrenal glands due to immature nerve cells in children. in the offspring (2). It was also surprising that temporary hair colors increased the risk of cancer development, and not permanent hair dyes (3).
Another study found that maternal exposure to hair dyes during breastfeeding increased the risk of childhood germ-cell tumors, especially in girls (3). However, a contradictory study showed no association between maternal use of hair colors during pregnancy and the development of childhood tumors (3).
However, Gallina Vertigo, a blogger and hairstylist shared her experience of coloring her hair during pregnancy. She said, "This is my second pregnancy and I colored my hair both times. My logic was simple. If any harm was ever caused by coloring chemicals – they would put a giant tag on each box "Do not use during pregnancy". C'mon this is America and they even put "Caution might contain hot beverages" on the coffee cup. If there were even a slight chance or possibility of a lawsuit, this would be on the box (i)."
Nonetheless, more research with a larger sample size and greater categorization of different conditions of the mother during pregnancy is required.
It is best to consult your gynecologist before coloring your hair. Also, consider these points before you color your hair during pregnancy.
Consult a dermatologist to know if there are any pregnancy-safe hair colors.
Talk to your gynecologist to know if you should wait for a few weeks before dying your hair.
Check if highlights, lowlights, ombre, and streaks will be safer than global hair color.
Check the label to see what chemicals the hair color contains. If you are not sure which ones to avoid and which are safe, read the next section.
Here is a list of toxic chemicals in hair dyes that you must avoid.
What Are The Chemicals In Hair Dyes?
Ammonia – It is a respiratory irritant and may cause hormonal imbalances.
P-phenylenediamine – It causes liver toxicity, birth defects, and irritate the skin.
Coal Tar – It is carcinogenic (cancer-causing) and may cause eye injury.
Toluene – This neurotoxin may terminate the pregnancy and cause birth defects or allergic reactions.
Resorcinol – It is a neurotoxin and causes hormonal imbalances.
Other Chemicals – Peroxide, methylisothiazolinone, DMDM hydantoin, and fragrance.
Avoid hair dyes that contain these toxic chemical ingredients. Instead, use hair colors that are made with natural ingredients and tested for heavy metals.
There are a few natural hair coloring options you can try at home without fretting! You will find these natural hair colors for pregnancy in your kitchen or at a grocery store. Also, their color payoff is stunning. Let's take a look at them in the following section.
How To Color Your Hair Naturally During Pregnancy?
Henna: This natural dye is prepared by crushing the leaves of the henna plant. Henna powder is easily available at any Indian or Middle Eastern store. Mix the henna powder with tea decoction and lemon juice (add a little coconut oil if you have dry hair). Apply it to your hair and rinse after 60 minutes. This ingredient imparts a gorgeous red-orange or auburn shade to your hair.
Note: If you have blonde hair, henna might turn it bright orange.
Beet Juice: Beet juice gives a subtle red tint to your hair that comes to life when you step out into the sun. Beetroot has antioxidant properties, which help prevent premature graying of the hair. If you want a more orange hue, try carrot juice. You can also customize your hair dye by mixing both juices. Apply this pure vegetable dye to your hair and wash off with a pregnancy-safe shampoo after 60 minutes.
Tea: Concentrated tea decoction can help darken your hair and cover grays. Black tea is shown to have almost the same compounds as henna (4). On the other hand, chamomile tea has a bleaching effect and might lighten your hair if you sit under the sun after applying it.
Coffee: If you want to darken your mane or add some depth and dimension to it, coffee is the way to go (5). A mixture of a strong cup of espresso coffee, leave-in conditioner, and coffee grounds works wonders in adding a dark shade to your hair. Wash off after 60 minutes.
Lemon Juice: A few highlights throughout your tresses can go a long way in transforming your hair. The easiest way to go about it naturally is with lemon juice. Lemon juice is used as a lightener, especially to achieve blonde tones (6). Apply freshly squeezed lemon juice on thin sections of the hair and leave it on for several hours to lighten your hair and create highlights.

Quick Tip
If you want to give your hair a reddish-orange color, try carrot juice. It works particularly well on those with naturally blonde hair. Sage is a fantastic choice if you have dark hair and wish to darken it slightly. It can intensify brunette hair colors and aid in eliminating gray hairs.
Take the following precautions before using natural hair color or coloring at home using natural ingredients.
Precautions For Coloring Your Hair During Pregnancy
Check the label of the hair dye to see if it contains any harmful chemicals.
Wear gloves before dying your hair.
Apply Vaseline or olive oil on your hands, neck, and forehead to prevent hair dye stains on your skin.
Apply the hair color in an open space.
Rinse your hair thoroughly with a color-safe shampoo and follow with a conditioner.
Consider using pregnancy-safe hair colors from Radico's and Hairprint as they are made of organic ingredients.

Quick Tip
Never bleach or color your brows. Many expert colorists don't do this, and doing it at home is not safe either. It may result in eye swelling, infection, and blindness in extreme cases.
Infographic: Hair Dyeing Tips For Pregnant Women
Being pregnant does not rule out the possibility of having gorgeous hair. However, it would be best to simply use more caution while dyeing or coloring your hair while pregnant. Here are 5 tips for getting the hair color you want without harming your unborn child.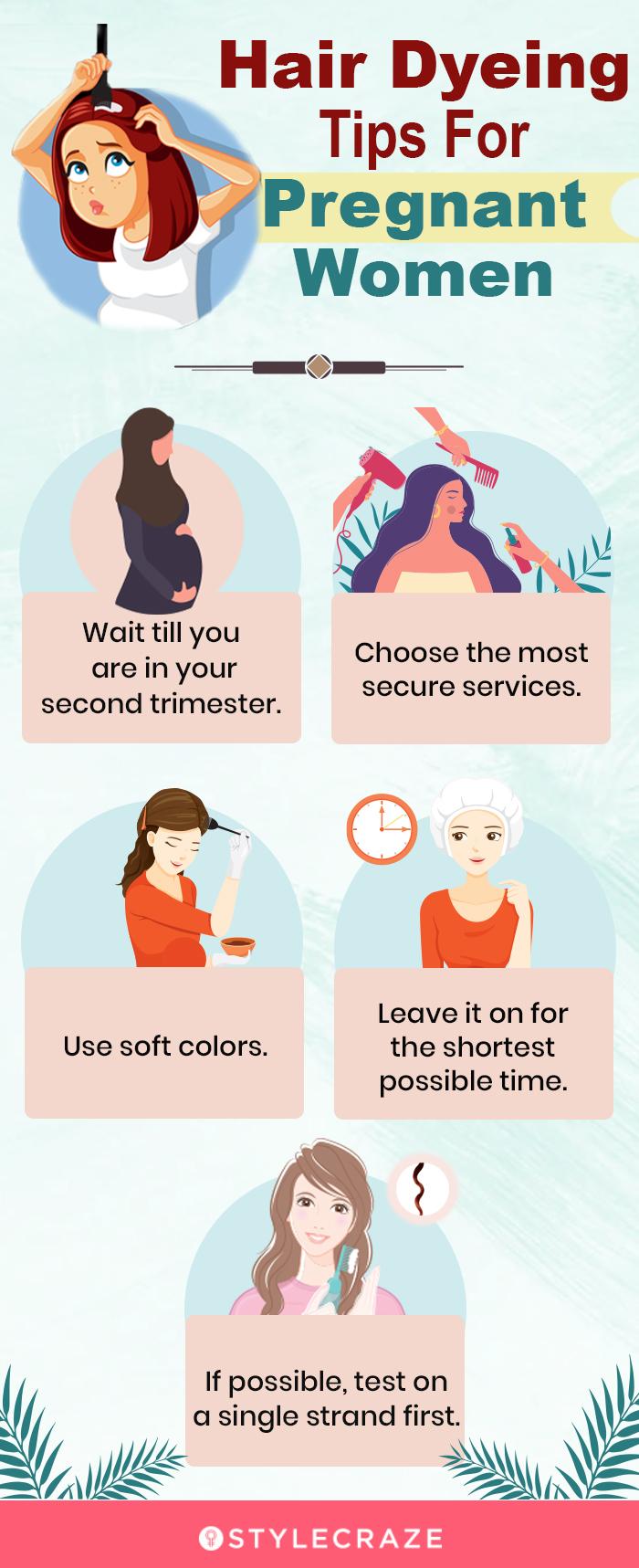 Studies have come up with contrasting results on the effect of both temporary and permanent dyes during pregnancy. Therefore, it is always better to consult a gynecologist if you are wondering whether you can use beauty products or dye your hair while pregnant. Always use dyes and hair products free from toxic chemicals like resorcinol, toluene, and ammonia. Consult a hair stylist if you are unsure about the hair product ingredients. These chemicals not only cause hair damage but may also impact your pregnancy and lead to birth defects. Instead, use natural ingredients like henna, tea, beet juice, or lemon juice to support natural hair growth, hair maintenance, and prenatal care. You can also discuss with your gynecologist and find out the best pregnancy-safe hair colors you can use.
Frequently Asked Questions
Can I balayage my hair while pregnant?
Balayage hair treatment is an alternate dyeing method that produces a long-lasting ombre look. It limits exposure by not requiring any chemicals to come into contact with the scalp. So, yes, you may balayage your hair while pregnant. You can also consult your gynecologist to determine the best pregnancy-safe hair colors.
Can hair dye lead to a miscarriage?
No links have been found between using hair dyes and miscarriages. However, hair dyes are highly toxic and can lead to irritation and other health complications, which may affect your pregnancy.
When is it safe to dye my hair after giving birth?
Very little chemicals enter your bloodstream when using chemical hair dyes, and it is mostly harmless for the infant. Nevertheless, note that these conclusions are based on limited research.
Can you dye your hair in the first trimester?
Yes, you can. However, if you are using too many chemicals for your hair treatment, it is better to wait until 12 weeks of pregnancy, when the risk is much lower.
Key Takeaways
Hair colors contain many toxic chemicals that may have negative effects on pregnancy.
So, you should choose natural hair colors like beetroot juice, henna, and tea instead of chemical-laden hair colors.
Follow safety precautions like checking all the ingredients, wearing gloves, and rinsing hair with cleansing shampoo after dyeing.
Pregnant and considering dyeing your hair? Then find out if it's safe to dye your hair during this phase in the following video.
Personal Experience: Source
i. Is it safe to color my hair during pregnancy?
https://vertigo28.wordpress.com/2013/07/17/is-it-safe-to-color-my-hair-during-pregnancy/
Sources
Articles on StyleCraze are backed by verified information from peer-reviewed and academic research papers, reputed organizations, research institutions, and medical associations to ensure accuracy and relevance. Check out our
editorial policy
for further details.
The following two tabs change content below.