Neem Oil: Tips To Use It For Scabies Treatment
Scratch your itchy skin no more with this natural and safe healing elixir.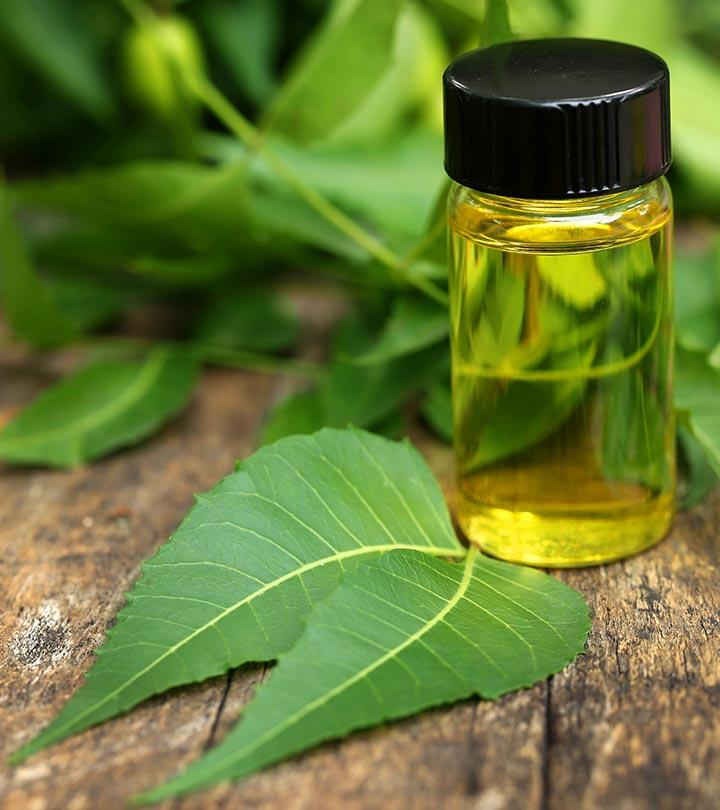 Scabies is a contagious and uncomfortable skin infestation caused by scabies mites. Luckily, you can use neem oil for scabies management and eliminate the mites. Neem oil has antibacterial, insect repellent properties, which is why you would often find it in insecticides, and medicinal properties. It is widely used in herbal medicine for various ailments. It can reduce redness and irritation caused by scabies and help soothe your skin. Scroll down to learn how to use neem oil for scabies and how it may work.
What Is Scabies?
This is an extremely contagious skin disease caused by noxious mites called Sarcoptes scabiei. These mites burrow underneath your skin, giving you rashes that itch like hell. When underneath your skin, these mites dig tunnels (yes!) and deposit their eggs into them. And this is how the disease spreads all over your body if left untreated.
According to the International Alliance for the Control of Scabies (IACS) 2020 criteria, around 1577 individuals were classified as cases with scabies out of 9526 participants. This includes 697 cases of suspected scabies and 880 (55.8%) cases of clinical scabies. In 1470 cases (93.2% of the cases), the itch was present, and in 1266 cases (80.3% of the cases), contact history was present.
Now you understand why I called it distressing. But luckily, there's one thing that can help you get rid of these mites easily. And that's neem oil. This oil is considered the best traditional medicine for scabies treatment as it is natural and good for your skin. I am not claiming this! Research and studies say so. Check it out right here.


Did You Know?
Symptoms of scabies include itching that gets worse at night, and blisters or bumps on the skin generally found between fingers and toes, along the wrist, waist, and around the belly button.
Neem Oil: How It Helps In Killing Scabies Mites
Convincing enough? Yes, I guess! Now, let's look at a few ways you can use neem oil for scabies.
How To Use Neem Oil For Scabies Treatment
In case you have a minor infestation (just in one or two localized spots), or if scabies has just emerged, you may try the following remedies:
1. Directly Applying Neem Seed Oil
What You Will Need
Method
Wash the affected area with water.
Dab the cloth with neem oil and apply it directly to the spots.
Let it sit for half an hour (or longer, if you wish).
Follow this routine twice daily until the infestation is gone.
Note: You may buy pure neem oil from the market. Or you can extract it from the neem seeds. Crush the seeds and put them in a cloth pouch or bag. Hang it over a jar or container (for holding the oil). Add water to the cloth bag (just a bit at a time) and collect the extract in the jar.
2. Neem And Coconut Oil
What You Will Need
1 teaspoon coconut oil (unrefined)
1 tablespoon neem oil
Method
Blend the two oils and apply to the affected area.
Let the blend enter the pores and be completely absorbed.
You may leave it on overnight or wash it after 30 minutes
Follow this routine twice daily.
Note: The amount of neem oil should always be double the amount of coconut oil you are using.
On the other hand, Danica, a YouTuber, shares her story of how she got scabies and how she treated it. She stated, "The first symptom that I got was little lumps in between my knuckles and you really get itchy at night and you start to get rashes all over (i)." She got rid of scabies by applying a mixture of coconut oil and tea tree oil all over the body.
For major and severe infestation, use neem oil in the following ways:
3. Neem Oil Bath
What You Will Need
3-4 tablespoons neem oil
2 tablespoons liquid soap
Method
Add the neem oil to the liquid soap and blend well. Let the oil emulsify with the liquid soap.
Add this mixture to a lukewarm bath. The best way is to fill the bathtub and add the mixture.
Soak in it for at least 20 minutes (or longer). This helps in clearing the pervasive infestation.
Follow the routine every day until the mites are gone.
For best results, apply a neem-based moisturizer after bathing.
4. Neem Oil Soap
What You Will Need
2 teaspoons neem oil
450 g soap base (use melt and pour soap bases)
2-3 drops lavender essential oil (you may use tea tree or any other oil)
2 drops food color (optional)
Method
Melt the soap base and the neem oil in separate bowls. (Pure neem oil tends to solidify like coconut oil.)
Mix the oil with the soap base.
Add the essential oil and food color. Blend well.
Pour it into a soap mold or any flexible plastic container.
Let it dry and harden for about an hour.
Take it out and cut into your desired size or shape.
Use the soap at least once a day on the affected area.
Note: Use measuring cups to make this DIY soap.
5. Neem Oil And Turmeric
What You Will Need
2 tablespoons neem oil
1 teaspoon coconut oil
1 tablespoon turmeric powder
1 teaspoon lemon juice
6-7 drops tea tree essential oil
Method
Add all the ingredients in a bowl and mix well.
Apply the paste to the affected area.
Let it sit for at least 20-30 minutes and then wash it off.

Quick Tip
You can also use jojoba oil or grapeseed oil instead of coconut oil.
6. Neem Oil Balm
What You Will Need
2 tablespoons neem oil
40 g shea butter
¼ teaspoon vitamin E oil
5-8 drops lavender essential oil
Method
Melt the shea butter in a container. (Hold the bowl over a pot of steaming water and melt the butter).
Add the neem, lavender, and vitamin E oils.
Blend well.
Store it in a jar and apply to the affected area twice daily.
7. Neem Body Mask
What You Will Need
3 tablespoons organic honey
5 tulsi leaves (dried and powdered)
3 tablespoons neem oil
Method
Add the neem oil and powdered tulsi leaves to honey and mix well.
Apply the paste all over the affected area.
Leave it on for 30 minutes and then wash it off.
Follow up with a neem-based cream, lotion, balm, or moisturizer.
8. Neem Oil And Aloe Vera
What You Will Need
2 tablespoons aloe vera gel
1 tablespoon neem oil
2-3 drops clove oil
Method
Mix all the ingredients to form a thick paste.
Apply the soothing gel all over the affected area.
Leave it on for 20-30 minutes and then wash it off.

Quick Tip
Neem oil may irritate the eyes, skin, and stomach in some individuals due to the presence of
azadirachtin
i
X
A naturally occurring compound in neem leaves and their seeds that helps repel and kill insects and pests.
. Hence, use it cautiously.
Next, let's discuss commonly asked questions related to neem oil application and effectiveness. Scroll down to read.
When To Apply Neem Oil To Kill Scabies?
It's typically recommended to apply neem oil before bedtime. Apply it by gently rubbing it onto your skin and leaving it on the affected areas overnight. Also, follow the product instructions for the best results. Additionally, it is recommended to consult with a healthcare professional for proper guidance and treatment.
How Long Does It Take For Neem Oil To Kill Scabies?
The exact timeframe for neem oil to effectively kill scabies can vary from person to person. In one of the animal studies, positive results were observed within 7 to 14 days of using neem-based treatments (3). Also, in humans, the effectiveness can depend on individual factors, such as the severity of the infestation and how consistently the treatment is applied.
Infographic: How Neem Oil Helps In Killing Scabies Mites
Neem oil is an excellent natural remedy to treat scabies because of its antibacterial, anti-fungal, and anti-inflammatory properties. It can clear the mites and soothe other symptoms of infestation. Check out the infographic below to learn how neem oil helps kill scabies mites.


Scabies is an uncomfortable and contagious skin condition that spreads all over the body if left untreated. You can treat this distressing condition caused by scabies mites with the help of neem oil. Using neem oil for scabies helps kill the mites due to the presence of chloroform extracts. It also contains compounds that help slow down the metabolism of the mites and cause death. You may either directly apply neem oil to the affected area or mix it with other oils. However, do not use it as an alternative therapy, or solely rely on home remedies for treatment. if these remedies do not work and the infection persists, consult a dermatologist at the earliest.
Frequently Asked Questions
Can we mix neem oil and tea tree oil for scabies?
Yes, applying a mixture of neem oil and tea tree oil can help get rid of scabies. The antipruritici  XA substance that helps relieve or alleviate itching as well as treat other skin irritations, such as eczema, rashes, etc. , antibacterial, acaricidali  XA chemical agent or pesticide that kills dust mites and ticks as well as prevents them from spreading. , and anti-inflammatory properties of tea tree oil make it an excellent ingredient to fight infection (5).
Can I put neem oil directly on the skin?
Yes, you can put neem oil directly on the skin. However, dilute it with water or essential oil if you have sensitive skin.
Can we use neem oil and clove oil for scabies?
Yes, the acaricidal activity of clove oil may help treat scabies (6). Therefore, you may mix neem oil with clove oil to get rid of scabies.
Key Takeaways
Neem oil is quite effective in treating scabies due to its antimicrobial nature.
Neem oil's anti-inflammatory properties can help soothe skin irritation and reduce itching.
You can dilute neem oil with unrefined coconut oil and apply it on the affected areas for quick relief.
Some other easy ways of treating scabies with neem oil are by adding it to your bath or preparing a soap or body mask with it.
Discover the power of neem oil as a natural remedy for scabies. Watch this video to learn effective techniques and easy applications to treat scabies.
Personal Experience: Source
i. How To Cure Scabies FOREVER!! | BEST Scabies Home Remedy | My Scabies Story
https://www.youtube.com/watch?v=DEEg9ln2N6Q
Sources
Articles on StyleCraze are backed by verified information from peer-reviewed and academic research papers, reputed organizations, research institutions, and medical associations to ensure accuracy and relevance. Read our editorial policy to learn more.
The following two tabs change content below.