Is Olive Oil Effective For Dry Hair?
A nourished and glossy mane is not just a dream with this oil in your hair care routine.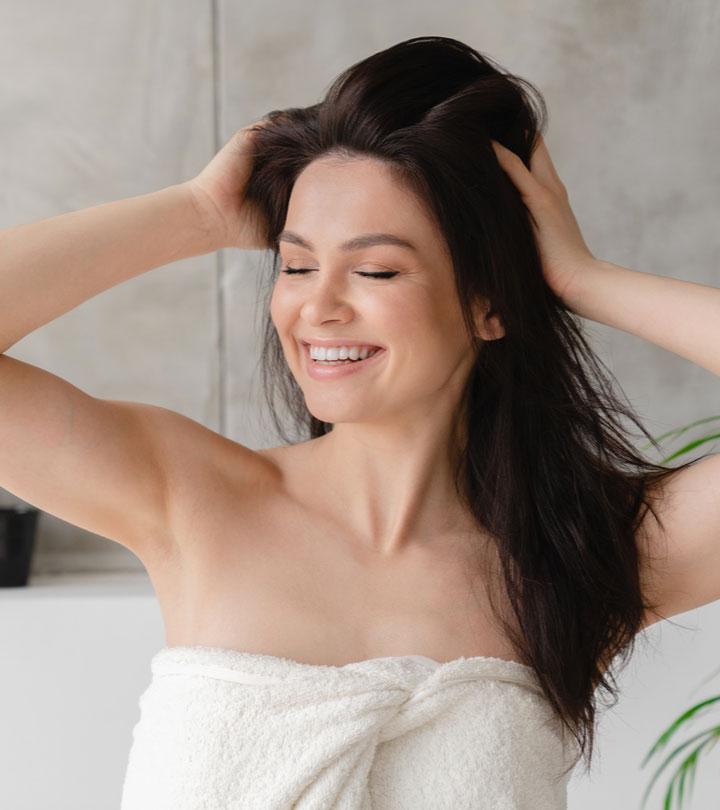 Dry hair looks brittle, damaged, and is difficult to style or manage. One of the most advertised remedies for dry hair is olive oil. But among the many oils available, is olive oil an effective hair oil for dry hair? Apart from keeping your tresses hydrated, this oil contains nutrients that replenish and protect hair. Continue reading to learn the many benefits of using olive oil to manage dry hair. We have also discussed the different ways you can add olive oil to your hair care regimen.
Causes Of Dry Hair
The following factors may make your hair appear dry and lifeless:
Frequent shampooing strips the scalp of natural oils, leading to dryness. If you have dry hair and scalp, it's best to wash your hair only 1-2 times a week. Also, do not use hot water when shampooing as it can damage your hair.
Coloring, perming, and relaxing treatments may weaken the hair structure, causing dryness and breakage.
Excessive heat styling can dehydrate the hair, making them dry and frizzy.
Nutrient deficiencies, especially in vitamins A, C, E, and biotin, may affect your hair health.
Exposure to sun and extreme temperatures can sap moisture from the hair, making it dry and prone to damage.
Certain health issues, like thyroid disorders and hormonal imbalances, can cause dryness and affect hair texture.
So, can olive oil serve as an effective solution? Let's find out!
Is Olive Oil Good For Your Hair?
Yes. Olive oil leaves a thin film on the hair strands to reduce friction (1). It also controls frizz and improves the shine and health of your hair. Olive oil is traditionally used for topical application and is highly preferred for its emollienti  XA substance that helps soothe, soften, and moisturize skin or hair. properties. In the next section, we have discussed olive oil's benefits and how it works on your hair.
Benefits Of Olive Oil For Hair: Understanding How It Works
1. Hydrates Dry Hair
Olive oil is an excellent hair conditioner and has emollient properties (2). It can improve hair hydration, minimize frizz, and improve its softness and smoothness.
2. Promotes Hair Growth
Olive oil contains oleuropeini  XA polyphenolic (naturally found in plants) compound found in olive oil and leaves of the olive tree. . Animal studies have found that topical application of oleuropein regulates the anagen (growth) phase of hair and can promote hair growth (3).
3. Prevents Hair Damage
Dry and damaged hair is brittle and prone to breakage and split ends. The emollient properties of olive oil can minimize all these issues and help retain the hair length.
4. Prevents Oxidative Damage
Oleuropein and other phenolic compoundsi  XA class of natural molecules found in plants that have anti-aging and anti-inflammatory properties. in olive oil are free radical scavengers (4). The reactive oxygen species are responsible for oxidative stress and cause premature graying (5). Olive oil may minimize oxidative stressi  XAn imbalance between the production of unstable oxygen molecules and the ability of the body to detoxify them. and preventing premature graying. However, this aspect needs further research.
5. Helps With Sensitive Scalp And Skin
Olive oil has a soothing effect on the skin. It has anti-inflammatory properties that can stabilize the skin membranes (6). Olive oil can soothe the sensitive scalp and keep it healthy.
To incorporate olive oil into your hair care regimen, follow the DIY formulations made of natural ingredients in the next section.


Trivia
Besides using olive oil in hair masks, you can also add olive oil to your deep conditioning products to enhance hair texture.
How To Use Olive Oil For Healthy Hair And Scalp
1. Calming Olive Oil, Sesame Oil, And Honey Mask
Topical sesame oil can promote hair growth and be an alternative therapy for alopecia areata (7). Honey is an excellent emollient and humectanti  XA substance used to retain or preserve moisture. and soothes the skin (8).
What You Need
2 tablespoons of olive oil
1 tablespoon of sesame oil
1 tablespoon of honey
Method
Mix the oils and honey in a bowl.
Apply the mixture gently to your scalp and strands.
Leave it on for 15-30 minutes.
Rinse off.
2. Olive Oil And Avocado Mask For Frizz-Free Hair
Avocado is an excellent base for any traditional homemade mask, and together with olive oil, this olive oil hair mask can help keep the hair soft, smooth, and moisturized.
What You Need
1 ripe avocado (mashed)
¼ cup of olive oil
1 teaspoon of lemon juice (optional)
Method
Blend the avocado and olive oil into a creamy paste.
Add the lemon juice and mix (if using).
Apply the paste to your strands and leave it on for 20 minutes.
Rinse off.
3. Olive Oil And Shea Butter Hair Mask For Detangling
Shea butter is abundant in antioxidants and widely used in skin and hair care products for its anti-inflammatory properties (9). Apple cider vinegar is often used to add shine to the hair and cleanse the scalp.
What You Need
1 ripe avocado (mashed)
¼ cup of olive oil
½ cup of unrefined shea butter
2-3 tablespoons of apple cider vinegar
Method
Blend all ingredients into a smooth paste.
Apply the mixture to the scalp and hair.
Keep it on for 45 minutes.
Rinse off.
You need to be careful while buying olive oil. Check the label and ensure that you choose the right type of olive oil.
Mary, a YouTuber, shares her DIY olive oil recipe for dry and frizzy hair. She used a mixture of olive oil and honey for deep conditioning hair. She shares that, "After this treatment, my hair feels like it is revived again like it does not feel anything like it did earlier today, you guys can see my curls are definitely popping now (i)!"
What Type Of Olive Oil To Use For Hair
Always use extra virgin olive oil for topical application. Compared to refined and virgin olive oils, extra virgin olive oil contains high levels of nutrients.
If you do not find extra virgin olive oil, use virgin olive oil. However, avoid refined olive oils as they lack all the beneficial properties of olive oil. Before buying, ensure that the product is:
Certified organic
Non-GMO
Unrefined
Cold-pressed
You can also use extra virgin olive oil when using the inversion method for hair growth.
Does The Inversion Method Work With Olive Oil?
The inversion method rests on the logic that hanging the head upside down improves blood flow to the hair follicles and promotes hair growth. While there is no scientific proof to support the inversion method, many people follow it. You may use extra virgin olive oil while following this method. To do it:
Massage the scalp and hair with olive oil for a few minutes.
Sit on a chair, bend forward, and hang your head below knee level.
Hold the position for 5 minutes. Discontinue if you feel dizzy and nauseous.
Rinse your hair.
Follow the routine daily for a month.
Olive oil is extremely beneficial for your skin and hair, but it may have some adverse effects if not used mindfully.


Quick Tip
Olive oil is difficult to wash out. Always apply it before your hair wash session and use a clarifying shampoo.
The Side Effects Of Using Olive Oil For Hair
Unrefined and pure olive oil may cause:
Allergic Reactions: A patch test is recommended before use.
Clogged Skin: Olive oil is heavy, and it may rub off on your forehead, block the pores, and cause breakouts.
Infographic: How To Use Olive Oil For Frizz-Free, Shiny Hair
Olive oil can help in managing frizz and adding luster to the hair. The goodness of this oil, along with the antioxidant and anti-inflammatory properties of other ingredients, provides added benefits – from nourishing your locks to stimulating blood flow. Check out the infographic below to learn the best ways to use olive oil for frizz-free and glossy hair.


To recap, olive oil is very beneficial for your hair. It coats the hair strands to prevent frizz, reduce friction, improve hair health, and increase hair shine. Olive oil is also a very effective dry hair treatment as it has strong emollient properties that keep your tresses hydrated. It promotes hair growth, prevents hair damage, and soothes a sensitive scalp. You can mix olive oil with other ingredients to make homemade hair masks and packs to apply to dry hair. It is recommended to perform a patch test before using olive oil as it may cause an allergic reaction.
Frequently Asked Questions
Can olive oil make your hair grow faster?
No. The speed of your hair growth depends on factors like your age and overall health. However, the oleuropein in olive oil may promote new hair growth.
Can cooking olive oil be used for hair?
No. Cooking olive oil is refined and not suitable for topical use.
Do you put olive oil on wet or dry hair?
Any oil must be applied when the hair is dry or damp (not wet) as it helps seal the strands and gets easily absorbed.
Is olive oil suitable for all hair types?
Yes, it is suitable for all hair types.
Can I leave olive oil in my hair without washing it out?
Yes, you can leave it on your hair without washing it out. However, do not leave it on for too long (more than a day or two), as it may accumulate dirt and make the hair and scalp greasy.
Are egg and olive oil good for hair?
Yes. Using egg and olive oil can be used as a pre-shampoo mask to condition hair and add shine to it.
How often should I oil my hair with olive oil?
You may use olive oil twice a week to nourish your hair.
How long does it take for olive oil to work on hair?
Let your hair and scalp soak in the oil for at least an hour. You may leave it on overnight for better penetration and nourishment.
Should I wash my hair before applying olive oil?
No, massage your hair with olive oil and then wash your hair.
Key Takeaways
Olive oil provides moisturization, stimulates hair growth, and minimizes split ends.
Using extra virgin olive oil with shea butter or avocado as a hair mask keeps your hair soft, hydrated, and frizz-free.
It is recommended that you perform a patch test before using pure olive oil as it may result in an allergic reaction.
Time to revive your dry and damaged hair with a nourishing olive oil and honey hair treatment as showcased in the video below. Check it out now to discover how olive oil can benefit your dry tresses and say hello to luscious locks.
Personal Experience: Source
i. Fix Your Dry, Damaged Hair With This Honey + Olive Oil Prepoo Treatment!
https://www.youtube.com/watch?v=4AdXFdzRQCk
Sources
Articles on StyleCraze are backed by verified information from peer-reviewed and academic research papers, reputed organizations, research institutions, and medical associations to ensure accuracy and relevance. Read our editorial policy to learn more.
The following two tabs change content below.