Is Orange Juice Good For Constipation?
Learn how this citrus, pulpy fruit juice may support your bowel movement.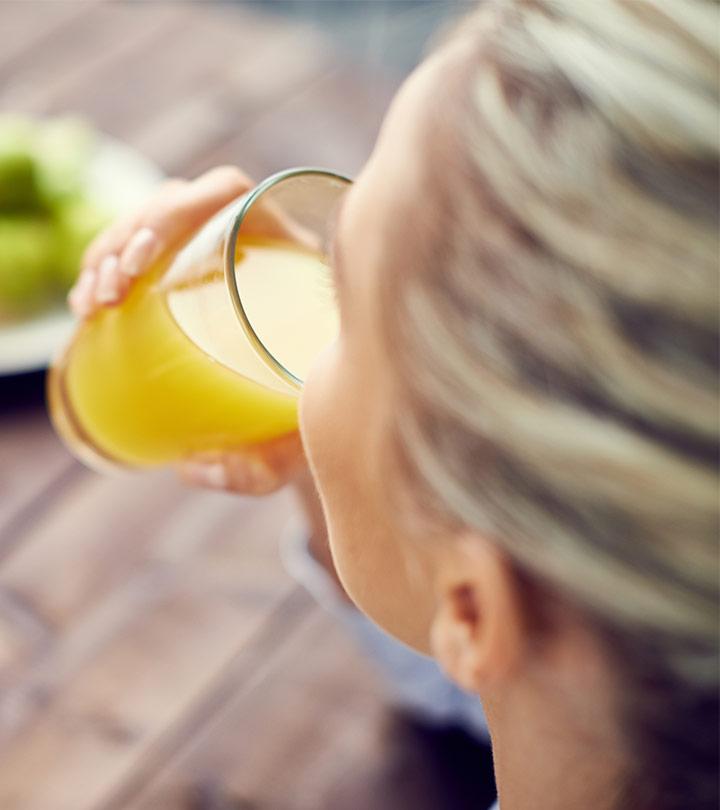 Orange juice for constipation works, as strange as it may seem! It's one of those easy, quick fixes that you can try out as soon as you get concerned over the reduced frequency of your bowel movements. Generally, less than thrice a week is considered low frequency for passing stool. Even without counting the days, you may be able to tell you are constipated if you feel bloated and have to strain to clear your bowels. While constipation can present as just an annoyance in the short run, it can lead to various health complications in the long run. Therefore it is best tackled as early as possible, and orange juice can help.
Read on to find out how!
Is Orange Juice Good For Constipation?
How does orange juice help relieve constipation? This delicious and beneficial juice is full of fiber, which, as you know, plays an important role in facilitating the bowel movement (1). When you do not get enough fiber in your diet, it wreaks havoc with your digestive system. Drinking orange juice with the pulp gives you the fiber you need and stimulates your bowels, helping you to go to the bathroom without any problems.
Orange juice also stimulates bowel movements by enhancing the peristaltic activity, which pushes the food through the colon and causes it to be eliminated from the body (2). Here is how you can combine orange juice with various ingredients from your pantry and multiply its beneficial effects.
[ Read: Is Lemon Juice An Effective Remedy For Constipation? ]
StyleCraze Says
Orange juice can be consumed one to two hours after breakfast when you are neither too empty nor too full to treat constipation.
How To Use Orange Juice For Constipation
Orange Juice Remedies For Constipation
1. Olive Oil And Orange Juice For Constipation
You Will Need
1 glass orange juice (with pulp)
1 tablespoon olive oil
What You Have To Do
Mix the olive oil with orange juice.
Drink this.
Castor oil, flaxseed oil or mineral oil can also be used instead of olive oil to achieve the same result.
How Often You Should Do This
Use this remedy as and when required.
Why This Works
Olive oil is another great home remedy for constipation. Its consistency and texture make it very effective in treating this problem. It also helps in stimulating the digestive system, which in turn helps in moving things through the colon. When you take it regularly, it can prevent constipation from affecting you in the future as well (3).
2. Prune Juice And Orange Juice For Constipation
You Will Need
½ cup prune juice
½ cup orange juice (with pulp)
What You Have To Do
Combine the two juices together and drink it.
How Often You Should Do This
If required, drink this juice combination again after a few hours.
Why This Works
Prunes and their juice are commonly used to treat constipation. They are rich in fiber and sorbitol which softens the stool and helps it to pass out of the body easily (4).
3. Orange Juice And Aloe Vera For Constipation
You Will Need
2 tablespoons aloe vera gel
1 cup orange juice
What You Have To Do
Extract fresh aloe gel from the plant's leaf.
Mix this with the orange juice and drink it.
How Often You Should Do This
Repeat this after 4-5 hours if there is still no relief.
Why This Works
Aloe vera was shown to improve the water holding capacity of stool (5). As this increases, stool passage and elimination become easy for the body. The aloe gel also lines the intestines and smoothens the elimination process.
StyleCraze Says
Excessive consumption of orange juice can lead to diarrhea, headache, vomiting, and insomnia.
When you look at natural remedies for constipation, chances are that you will find oranges among the list. According to experts, eating one or two oranges every night before you go to bed and in the morning can also help prevent constipation. Make oranges and/or orange juice a part of your daily diet in order to keep your digestive system functioning optimally.
It is a good idea to consume orange juice for constipation relief as it is rich in dietary fiber. It is also loaded with beneficial bioactive compounds, antioxidants, vitamins, and minerals that promote good health. This beverage when coupled with other natural ingredients like olive oil, aloe vera gel, and prune juice can effectively improve your bowel movements. These home remedies boost your digestive system and may soften your stool which will help relieve constipation. Have oranges or their juice once a day to reap these benefits. Should the problem persist, be sure to consult your healthcare provider.
Why does orange juice make me feel better?
Orange juice is rich in vitamin C and natural sugars. Vitamin C has been shown to fight depression and improve mood (6). The natural sugars in the juice can also increase dopamine levels in the brain, making you feel good (7). In addition, the color orange, according to color psychologists, may help improve one's focus and energy.