Is Pineapple Good For Your Liver?
This fruit can be a game-changer in keeping your liver healthy and avoiding related issues.
The liver is an essential part of the body that is responsible for breaking down the toxins in your body and filtering them out of the system. That is why it is important to eat foods such as pineapple to maintain its health and functioning. In this article, we explore the reasons why pineapple is beneficial for the liver and can be a good option for individuals who consume excess amounts of alcohol.

Know Your Ingredient: Pineapple
What Is It?
Pineapple is a tropical fruit of the family Bromeliaceae which is sweet and juicy.
What Are Its Benefits?
Pineapple consumption may help in fighting fatty liver disease as it is rich in fiber.
Who Can Consume It?
Anyone can consume it except for people with diabetes or those who take antibiotics.
How Often?
You can consume it once to twice daily but in moderation.
Caution
Avoid if you are allergic to pollen as it may trigger oral allergy syndrome and overconsuming it may lead to tooth decay.
The Human Liver – A Brief
The human liver is the second largest organ in the human body. Your liver processes all foods and beverages you consume and filters the materials that can act as toxins. It releases bile that aids in proper digestion of the food and fats in the body. It is also very important that you discard foods that can cause damage to the liver and include more foods that help boost liver health. Apart from eating fresh, organic foods, it is important that you drink plenty of water and avoid junk and processed foods and unhealthy habits like alcohol consumption as it may lead to serious liver damage and cause conditions like cirrhosis.
Consuming Pineapple For Liver
It is said that eating citrus and tropical fruits is beneficial for overall health and boosts liver functionality (1). Pineapple is a tropical fruit that is loved by the majority of people. Its unique sweet taste and flavor make it a favorite ingredient in salads. Pineapple juice is also quite refreshing in the scorching summer days . It is used to make ice creams, sorbets, and smoothies as well.
A survey conducted on 3608 participants found that pineapple ranks fifth among the most commonly consumed fruits in Great Britain. It is liked by 78% of the people and is more popular among women (100%) than men (98%). Additionally, pineapples are liked by 78% of baby boomers, 78% of Gen X, and 77% of millennials.
So, what makes pineapple so good for the liver, even if it tastes great? Pineapple has high nutrition value and serves as a versatile fruit that boosts health. However, it is the presence of a compound named bromelain that makes it really good for liver health (2), (3). This is an enzyme that helps in disintegrating toxins in the human body and paves the way for their elimination. This aids the digestion process and keeps the liver free of toxins in the long run. Besides, pineapple's vitamin C content helps the liver as well as boosts the immunity levels (4), (5).
Pineapple is rich in essential nutrients that can improve your liver health and overall well-being. Check out the next section to learn about its nutritional profile.
Pineapple Nutrition Facts
Pineapple offers a variety of essential nutrients in a 100-gram serving (4). It is hydrating, thanks to its 86% water content. In terms of energy, a serving provides approximately 50 calories. It has 0.54 grams of protein and a minimal 0.12 grams of total fat. It is a rich source of carbohydrates, with 13.1 grams per serving. This fruit also has 1.4 grams of dietary fiber and 9.85 grams of natural sugars. It has essential minerals that include 109 milligrams of potassium, 13 milligrams of calcium, 0.29 milligrams of iron, and 12 milligrams of magnesium. In addition, this fruit contains 58 International Units (IU) of vitamin C and 2.12 micrograms of vitamin A.
The nutrient profile of pineapple may possibly help in the treatment of fatty liver. Check out the next section to find out how.
Beneficial For Fighting Fatty Liver
A significant number of people are afflicted with a liver ailment called fatty liver disease. Apart from medication and treatment, eating plenty of fiber-rich foods is essential for those suffering from this condition. Fiber intake boosts metabolism in the body and pineapple juice is rich in fiber (6). Drinking this juice once or twice a day helps people with this condition.
Points To Keep In Mind
Excess of anything good is bad, and that holds true for pineapple as well! Consuming this tropical fruit in juice or slice form can help improve your liver functioning and overall health. However, excess consumption of pineapple may prove to be harmful in certain situations. The fruit contains manganese in trace amounts. Manganese is required by your body for a number of physiological functions. However, taking too much of this mineral may lead to toxicity, which may be quite harmful to those with liver ailments. Ideally, an adult person should not take more than 11 mg of manganese a day. In fact, according to studies, people coping with the chronic liver disease may face a risk of developing neurological symptoms by eating excess amounts of manganese-rich foods (7).

Trivia
Half a cup of raw and fresh pineapple contains approximately 33% of the daily recommended value of manganese.
Tips To Take Pineapple Without Harming Your Liver
You may drink pineapple juice or eat the fruit without causing harm to your liver. Keep the following aspects in mind to be on the safe side.
Look for the manganese quotient in any food you eat, more so when you have existing liver ailments. Or else, your daily manganese intake will cross the safety limits.
Try to drink homemade pineapple juice to obtain the maximum nutrients and health benefits. OTC juices may contain fewer nutrients and more of artificial sweeteners and flavoring agents.
It is better that you eat pineapples that are quite ripe and fresh.
It is better that you eat fresh pineapple or drink its juice rather than using the fruit in any dish that needs heating up. Heat destroys the bromelain in pineapples.

Quick Tip
Pineapples don't ripen after being plucked off the plant. So, choose a pineapple with a yellow rind to ensure that it will be sweet and juicy if you want to eat it uncooked and without added sugar or flavorings.
Infographic: Consuming Pineapple Without Harming Your Liver
Pineapples are rich in fiber content that helps boost metabolism and improve the symptoms of fatty liver disease. However, excess intake of this fruit may cause some serious adverse effects. To avoid these negative reactions, you need to follow certain tips while consuming pineapple.
Read through the infographic below to learn about some tips on how to eat pineapple without harming your liver.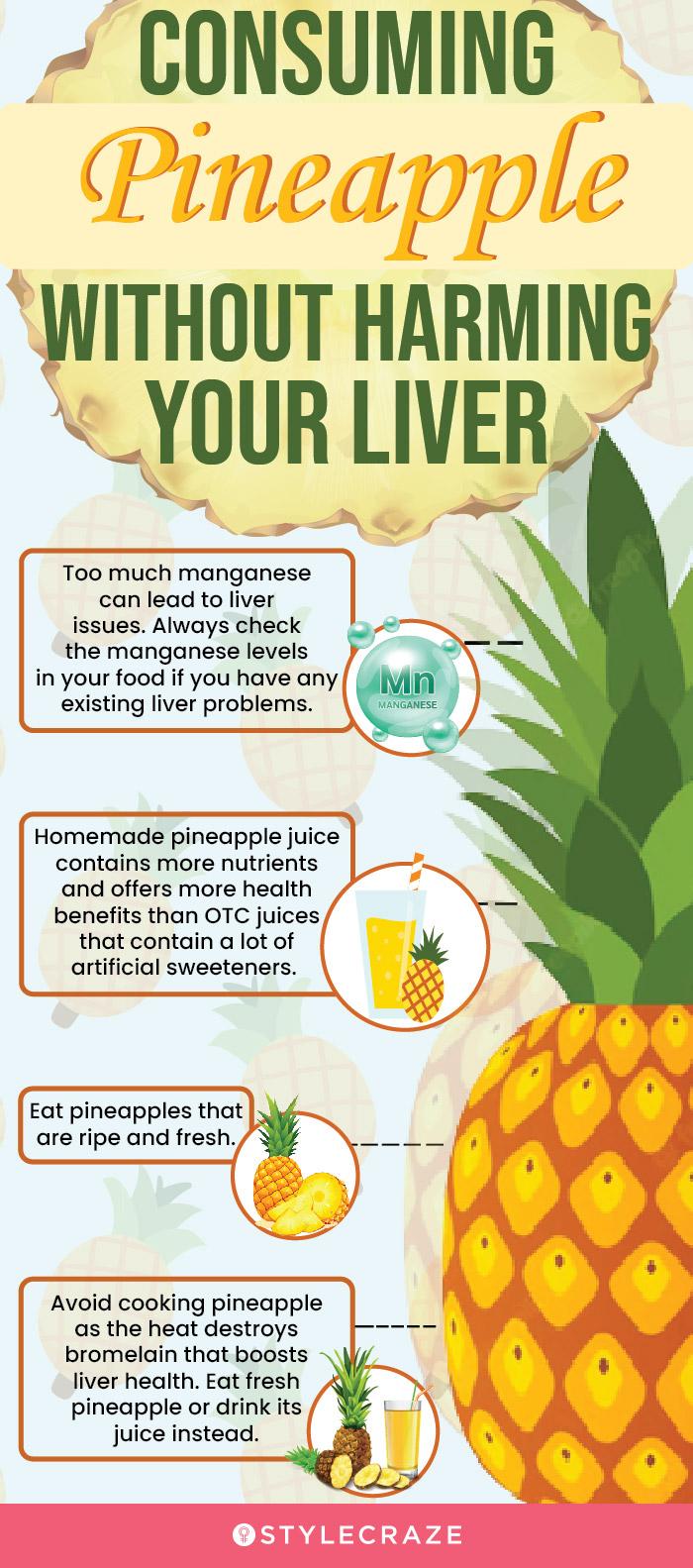 People often consume pineapple for liver health improvement and reduce the risk of liver-related ailment. This sweet and tangy fruit has all the nutrients to combat jaundice, improve overall health, and has bromelain promoting liver health. This enzyme helps keep the liver free of toxins by aiding digestion. In addition, the fiber content of pineapple aids in the treatment of fatty liver. However, consuming pineapple in excess may lead to magnesium toxicity, negatively affecting liver health. Hence moderate consumption is advised to reap the maximum benefits.
Frequently Asked Questions
Does pineapple increase cholesterol?
No, in fact, pineapples help lower cholesterol levels thanks to their antioxidants and lipid-lowering properties. These help reduce the risk of cardiovascular disease (8).
Is pineapple good for inflammation?
Yes, pineapple contains bromelain that helps fight inflammation and reduces pain and swelling. It also helps treat arthritis symptoms (9).
Does pineapple water help detox your liver?
It is believed that the carotenoids and antioxidants in pineapple juice help cleanse the liver. However, more research is warranted in this regard.
Is fermented noni juice good for you?
Yes, raw and fermented noni juice is rich in vitamins A, C, and B3, and antioxidants that help reduce inflammation in the body and boost immunity.
Is pineapple good for treating hepatitis?
Yes, a recent study does support the positive effects of bromelain enzymes (present in pineapple) in combating hepatitis C due to its antiviral properties (10).
Key Takeaways
Pineapple is a wonder fruit that contains bromelain that may enhance liver health.
It is extremely rich in fiber that may help manage fatty liver ailments.
Pineapple consumption reduces oxidative stress and inflammation in the liver.
Always consume pineapples in moderate quantities, as an excess of it can be harmful to the body.
Pineapple is a delicious and nutritious fruit with many health benefits. Click on this video to learn about the top 10 benefits of pineapple and why it makes an excellent addition to your diet.
Sources
Articles on StyleCraze are backed by verified information from peer-reviewed and academic research papers, reputed organizations, research institutions, and medical associations to ensure accuracy and relevance. Read our editorial policy to learn more.
The following two tabs change content below.