32 Stunning Jane Fonda Hairstyles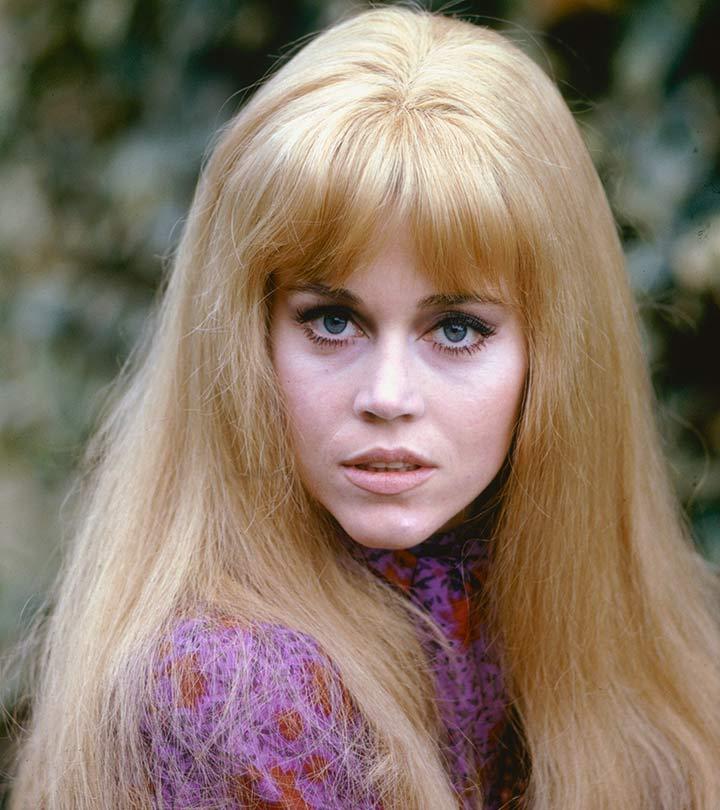 Few women have lived a life as full as Jane Fonda! Jane Fonda is a legendary actress with many (and I mean, MANY) awards to her name, including two Oscars, two BAFTAs awards, and four Golden Globe awards. She is also a fitness guru with bestselling fitness videos to her credit. Since the start of her career, she has been a political activist who takes a stand when many in the industry don't want to. She was even blacklisted from the film world for it! She is also a writer, producer, and a former fashion model. In a world where botox rules, Jane Fonda believes in embracing and accepting just the way you are.
If you thought at the age of 80(!) she has chosen to retire in a cottage, think again. With so much on her plate, how does this stunning woman have time to do her hair? If you want to know, read on!
32 Stunning Jane Fonda Hairstyles
Right off the bat, you will notice that Jane Fonda's haircut has been the same for a really long time. It is a shag cut with heavy layers. It's the way she styles it that makes it look different on each occasion. If you have had the same haircut all your life, here are some simple techniques to make your hair look new and fresh.
1. Heavy Golden Layers
Going simple is sometimes all it takes. Golden blonde hair cut in layers can help soften a cool-toned face. The well-defined layers and shaggy ends soften Fonda's face shape but accentuate her features.
2. Half Updo
Fonda shows us how to keep things simple with this hairstyle. Gather some hair from the sides and top and clip it up with a decorative clip. Brush your hair inward, so the ends point in. If your hair is cut in layers, part it on one side to achieve a deep side-swept look.
3. Upturned Ends
It's almost as if the short shag cut was made for Jane Fonda specifically. If you have a shag cut and want to mimic this look, you'll be happy to know that it is very simple. Wash your hair and let it air-dry until it is damp. Then, style your hair by blowdrying it while brushing the ends outward.
4. Hooked Ends
This is a great way to add volume to thinning hair. Brush your hair from underneath with a round brush and set it in place with a blow dryer and some hairspray. Comb it neatly at the front and top.
5. Soft Layers
The lob is one of the coolest hairstyles. Pair it with a heavy layered shag, and you've got a red carpet-worthy look. The layers are defined, but the soft blonde hue makes them look soft. The hair is brushed out near the jawline to accentuate it.
6. Side Swept Bangs
The way your bangs are directed can make or break your hairstyle. If Fonda's bangs here were pointed inward or outward, this hairstyle would have looked comical. But brushing them to the side makes them flow better with the hairstyle and the flicked-out ends of the rest of the hair.
7. Combed Down Hair
This light strawberry blonde shade gives Jane Fonda a youthful look. If you want something simple but stylish, look no further. The side-swept bangs give your hair a fuller look.
8. Soft Muted Blonde
Messy hair can be good sometimes! Clearly, it's for the win here. A few light feathered layers near your jawline can add oomph to your hairstyle. Keep your roots dark to make your face look longer.
9. Grown-Out Layers
This hairstyle is retro and looks great. The outward long ends, the dark blonde color, the heavy layers – they all come together to create the perfect retro look. All you need to achieve this look is a round brush, a blow dryer, and some hairspray.
10. Wavy Locks
This hairdo is what I like to call the "prim and proper" wavy shag. The layers add volume and texture to your hair while the partial highlights give your hair and face definition.
11. Light Spiky Hair
If punk style is your chosen poison, Fonda has the perfect punk look for you. Spike your hair all over and leave your roots dark. The layers make your jawline look slender and pointed. The feathered tips can make your hair look bouncy.
12. Light Golden Hair
Never underestimate the power of a curler! Yes, you can get the golden-haired look by simply keeping your hair tips in a curling iron for about two seconds. The curls are subtle yet strong. The parting adds the right amount of definition to her jawline and cheekbones.
13. Defined Layers
This hairstyle is a layered bob for fine hair. Run your hand through your hair and part it without a comb. This hairstyle is perfect for the entire day. The feathered layers focus on the cheekbones and jawline while not completely ignoring the forehead.
14. Punk Shag Cut
If you have thick and straight hair, this is the hairstyle to amp it up. You can use a straightening iron and hairspray to get this look. The ends are wispy, which gives your hair a voluminous look and makes the lower half of your face appear thinner.
15. Slicked Down Hair
This slick hairdo can be achieved with the help of some styling mousse and a side parting. Change the parting to suit your face shape. Also, apply just enough mousse, so your hair appears natural but not greasy.
16. Brushed Down
The side parting is more than just a way to part your hair. It can change your entire hairstyle and make you look oh-so-fabulous! Curl the ends of your hair inward to give it that turned-in look. Pair this hairstyle with some light lipstick that matches your skin tone, and you are good to go!
17. Shaggy Bob Cut
Fonda's blonde hair accentuates her green eyes beautifully. A shaggy bob with slight layers in the front and bangs is what you need to create the perfect girl-next-door look.
18. Glamorous Updo
What does it take to make your hair look full? Some messy waves and a dash of color. The layers add volume to your hair. The color, while softening your face, draws attention to your facial features, like your eyes and mouth.
19. Blown-Out Hair
Even at its simplest, blown-out hair is a force to be reckoned with. This kind of blown-out wavy hair is ideal for an amazing updo style. Add some messiness to the hairdo, and you are gold! All you need is a curling iron, hairspray, and some pins to achieve this look.
20. Soft Updo
Jane Fonda is very cool. And her hairstyles? Mind-blowing! Take this chic look, for instance. The feathered bangs draw attention to her eyes, while her dark locks bring out her lip color. Her entire hairstyle works towards accentuating her face. If you have long hair, simply tie it in a low bun to achieve this look.
21. S Wave Bangs
If you have short, fine hair that's lacking in volume, say hello to the S waves. The S waves look super natural. The slight layers soften her face, while the bangs cover her large forehead. Very lovely!
22. Slick Bun
Fonda sure knows how to make heads turn at a red carpet event! Leaving out your bangs, comb all your hair back and wrap it in a low bun. Comb your bangs to one side. Don't forget that hit of hairspray to set your updo in place.
23.Defined Bangs
Go natural! Yes, sometimes your natural hair can make a statement. Get it cut in some heavy, defined layers to accentuate your look. You can see how Fonda's flawless cheekbones are highlighted with this hairstyle. Absolutely fabulous!
24. Heightened Shag Cut
This shoulder-length hairstyle has a huge amount of rebel and hippie vibes in it. What makes this hairstyle so edgy is the difference between the lengths at the jawline and near the back. The length in the front softens her face shape.
25. Pouf Twist
Jane Fonda's style is to die for! She looks amazing in this hairdo. The French twist acts slightly as a faux facelift. Bunning your hair higher makes your cheeks look slightly lifted and more accentuated. This hairstyle also slims down the bottom half of your face.
26. Soft Bangs
The layers define her face shape, especially her jawline, which makes her face look longer. The inward and outward layers at the bottom give her hair a fuller look. The parting makes her forehead appear lean and adds focus to her eyes.
27. Brown Locks
If you have been blonde all your life, try a brunette shade. It is a great makeover. If you are worried that the full color change will not suit you, start off small with an ombré.
28. Fluffy Layers
There is no short hairstyle that would not look good on this goddess. Jane Fonda absolutely stuns with this hairstyle. The side-swept bangs add height to her hair and elongate her face. The lower layers of her hair slim down her face right at the jawline.
29. Smoothened Layers
Her side-swept bangs give her jawline an angular feel rather than a round one. The lighter shades of hair color near her cheeks accentuate her eyes. Moreover, brushing down her hair gives her a more laid-back look.
30. Dirty Blonde
Dirty blonde hair with waves is all the rage right now. I love this look. Keep your roots dark to make the color change look more natural.
31. Center Bangs
This hairdo is very different from the hairstyles Jane Fonda used to sport. Back in the day, she used to flaunt her stunning long locks. She started cutting her hair much later on. It shows that she knows what hairstyle to sport when.
32. Wavy Hair
Big waves with a side parting add height to your hair and face. Wavy locks also accentuate your cheekbones while not making them look too full. The best things about this hairstyle are the waves. They look so perfect! Just let a little hair fall on your face to add to the style of this look.
There are many ways you can style your hair. Take some hair inspiration from Jane Fonda! Which one of these was your favorite look? Comment below and let us know!
The following two tabs change content below.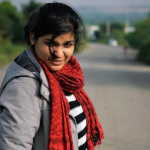 Anjali Sayee is a writer and an introvert. From studying Aeronautical Engineering and wanting to design her own airplane to writing articles on hairstyles, she has been on quite a journey. She believes that hair is one of the key factors that define a woman's personality. To quote her, "What's the first thing they do in the movies to show a personality change? Change the hair – because it has a life of its own." She's here to help you find the hairstyle you need. This bookworm is a self-professed Wholocker, a talented drummer, and an amateur photographer.