34 Incredible Jennifer Aniston Hairstyles
From messy wavy layers to a chic ponytail – this evergreen diva knows how to rock an elegant look. If there is one thing as popular as the series Friends, it is Jennifer Aniston's hairstyles. Her highlighted hair cut in a shaggy style was the biggest hairstyle trendsetter in the late '90s and early 2000s. Aniston takes care to look her best every time she appears in front of the camera. Here are the best Jennifer Aniston hairstyles you can take inspiration from!

Before You Get Started
Hair Type: Jennifer Aniston's hair is naturally wavy. So if you have wavy hair, too, you can try out her hairstyles with the help of the right tools.
Layering: Most of her hairstyles are layered. Therefore, layer them according to the hair density. Layers reduce the weight of thick hair, and light layers are ideal for thin and fine hair.
Styling Products: The hairstyles worn by her are often sleek and defined. Therefore, you must use hair serums, creams, and gels. You can also try hair mousse for the desired look.
34 Incredible Jennifer Aniston Hairstyles
1. Loose Ponytail
Jennifer Aniston can rock any hairstyle, from letting her hair down to different updos. At the 'Friends With Money' premiere she showed us how to really sport a classic ponytail. A slightly messy ponytail gives you the volume you need! This loose messy ponytail paired with a no-makeup look complements her face shape very well.
2. Tousled Side-Parted Wavy Hair
Jen sported tousled wavy hair with a slight side-parting at the PaleyLive event in New York for the preview screening of 'The Morning Show'. For those of you who love a middle parting, but have realized that as you age a middle part can harshen your lines, the slight side part is your savior. This popular Jennifer Aniston haircut helps cover wide cheeks and softens fine lines while the long wavy yet a bit messy tresses make the face look softer and the jawline prominent.
3. Highlighted And Messy Wavy Layers
Jennifer Aniston is a natural brunette, but she prefers light blonde shades. This textured and messy layered cut accentuates her highlights. Her hair has been teased to make it look fuller and thicker. Her long side-swept bangs add a youthful vibe to her look.
4. Sharp-Ended Layers
Notice how her layers end below her chin? The sharp, well-defined layers accentuate Jennifer's jawline. The middle parting and long side bangs cover her cheeks. If you have wide or angular cheeks, this is a great way to cover them up.


Did You Know?
Jennifer's hair care involves hair cuts every four weeks (even if it's just a baby trim) to get rid of split ends caused by heat styling and to keep them sharp.
5. Long Bangs With Long Soft Layers
Jennifer sported this stunner at Jason Bateman's Hollywood Walk of Fame ceremony. The blonde highlights and long side bangs really make her eye color pop. Her lovely long tresses are cut in wispy soft layers. This makes her face appear soft and draws attention to her facial features.
6. Slanted Side Parting With Fuller Layers
The layers in this hairstyle have soft ends. This makes the rest of her hair appear thicker and fuller. The slanted side parting adds height to the hairstyle, making Jen's face look longer.
7. Messy Middle Parting With Face-Framing Layers
If you have medium-length hair, take a cue from Jennifer Aniston's hairstylist. Having layers cut below your chin makes your jawline more prominent. This is especially true if you have short or medium-length hair. The messy parting adds contrast to her silky locks.
Fun Fact: Jennifer Aniston's hair is styled by her longtime hairstylist, Chris McMillan. He styled her hair when she was on Friends and is the one responsible for "The Rachel" haircut. Jennifer Aniston's signature waves and layers look has been modified over the years by McMillan.
8. Halfway Wavy Layers With A Side Parting
A side parting is one of the best ways to add height to your hair. Simply part your hair to the side, then place a comb underneath the hair on the deeper side and comb out and upward. If you have fine or thin hair, styling it in waves from midway down can make it more bouncy.
9. Silky Natural Wavy Ends
Jennifer Aniston's hairstylist really knows how to make her blue eyes pop, and we could borrow a beauty tip or two from her! The darker hair color makes her hair stand out, while the slight waves added at the ends make her hair look more voluminous.
10. Sleek High Ponytail With Side Swept Bangs
Jennifer Aniston is most often seen with her hair down, but when she sports an updo, she gives us stunning gems like this one. The sleek high ponytail paired with long side-swept bangs accentuates her eyes, nose, mouth, and jawline.
11. Naturally Tousled Beach Curls
Jennifer sported this look way back in 2009. Yes, she knew how to get those tousled waves we all want now way back in the day. The key is to curl your hair in round and loose curls. Begin curling your hair from near the jawline to make it flow naturally.


Did You Know?
Jennifer doesn't like manufactured curls. Instead, she twists her hair around different-sized brushes for looser and more natural curls.
12. Wispy Flicked-Out Ends With Layers
The wispy tips accentuate Jennifer's layers gorgeously. Wispy ends make her hair look softer and smoother. They help in framing her face and adding dimension to her hair. The flicked-out ends make Jennifer's jawline appear more streamlined.
Fun Fact: Jennifer Aniston set a Guinness World Record by racking up a million followers just 5 hours and 16 minutes after opening her Instagram account!
13. The Long Slick Shag
Farrah Fawcett made the feather cut a raging trend back in her day. In our time, if anyone has made heavy layers a big deal, it has to be Jennifer! The layers look absolutely beautiful on her silky brown tresses. The middle parting in this celebrity hairstyle draws attention to her facial features as well.
14. Heavy Waves
Let's be honest – Jennifer makes glasses look cute! Styled in loose natural waves, her layered hair just stands out and looks healthy. The layers create a triangular shape that complements her face shape.
15. Simple Classic Top Knot
Jennifer Aniston rocked this top knot hairdo at the 2016 Giffoni Film Festival. She looks stunning! She has full cheeks which, when paired with a top knot, can look wide. The light highlighted bangs work their magic and cover them up.
16. Side-Swept Bangs With Silky Wavy Hair
In my opinion, side-swept bangs are the best type of bangs. They work for all face shapes, cover up wide cheeks, and complement your facial features. What makes this hairstyle look even more phenomenal are the loose waves and minimal makeup.
17. Classic French Sans The Fringe
Jennifer Aniston made the classic French bob her own! I love that she went without bangs here. The side parting flaunts her facial features incredibly well. The blunt ends draw attention to her jawline, neck, and collarbones.
Fun Fact: At one point in time, Jennifer Aniston was filming the TV show Friends and the movies Along Came Polly and Bruce Almighty simultaneously.
18. Effortless Beach Waves
In 2002, after being nominated twice for Best Supporting Actress, Jennifer Aniston finally won the Emmy for Lead Actress In A Comedy Role for her role in Friends. She looked stunning on the stage when she gave her speech, and her hair could not have looked more perfect. She sported natural beachy waves with added texture for that slightly wet look.
19. Messy Ponytail With Side-Swept Bangs
If anyone does messy hair right, it's Jennifer! The long side-swept bangs cover her face shape and focus on her facial features. The messy ponytail looks perfect and brings her cheekbones to the forefront.
20. Half Updo With Long Bangs
Instead of sporting elaborate hairstyles on the red carpet, Jennifer Aniston always opts for simple yet elegant looks. This sweet half updo paired with natural waves and glasses creates a look to die for!
21. Frosted And Highlighted Layers
Face-framing is everything! It makes wide faces look slim, short faces look long, and vice versa. Subtle highlights and frosted layers at the front can help streamline your jawline. They also add a tinge of color to Jen's classic blonde layered hairstyle.
22. Finger Twirled Wavy Ponytail
This has to be one of the coolest hairstyles Jennifer Aniston has ever flaunted. The waves look like they have been finger twirled. The rest of her hair is clipped up in a half ponytail.
Fun Fact: Jennifer Aniston has a fear of flying.
23. White Blonde Long Bangs
Jennifer Aniston has bluish-gray eyes. The white blonde highlights bring out the gray in her eyes, which is further accentuated by the gray dress and the dark eyeliner. She looks like a vision with this layered haircut!
24. Natural Light Waves With Soft Layers
Contrasts make up this hairstyle. You can see Jen's natural brunette hair at the top, which makes her face look longer. The light blonde highlights soften the layers in her hair. Her straight hair paired styled in light waves ups the style factor of this look.
25. Toned Down Shag Cut
Jennifer does layers like no one else! This toned down shag adds a modern take to the classic shag cut. The layers are flicked out, while the rest of her hair is slightly wavy.
26. Loose Low Ponytail With Long Side Bangs
This low loose ponytail looks flawless. It is graceful and chill at the same time. Here, Jennifer Aniston's hair is tied down in a loose ponytail. The long side bangs help in framing her face. If you want to recreate this look, use hairspray to set your hair in place.
27. Long Layers
In season 6 of Friends, Rachel Green was #hairgoals with her long layers. We usually see Jennifer with short or medium-length hair, but her long hair looks gorgeous! The feathered ends accentuate her hair's thickness and silky texture.
Fun Fact: Jennifer Aniston has played the role of a waitress in four different movies and TV shows!
28. Long Highlighted Curls With Half Updo
Did you know that Jennifer Aniston's hair is naturally frizzy and wavy? Due to all the heavy styling, her hair started to break. Even when she had long hair, she had thin ends. A good way to add volume to thin hair is to curl it. Keep the curls natural and medium-sized.
29. Poufy French Twist Updo
Jennifer Aniston flaunted this stunning French twist hairstyle at the 2001 Golden Globes. She looked absolutely beautiful! The pouf adds height to the hairstyle. Recreate it with the help of some backcombing.
30. Blonde Highlights With Sharp Layers
This hairstyle is the longer, straighter version of "The Rachel." The soft blonde highlights accentuate the layers. The sharp layers help in framing the lower half of her face. The deep side parting is a great way to help cover a big face.
31. Blonde And Brunette Subtle Waves
Blonde and brown hair together create a flawless contrast. The dark brown adds depth and height at the roots. The lighter blonde ends soften the face shape and layers. The waves add bounce to the hair.
32. Long Messy Ponytail
Jennifer knows how to slay with a ponytail. The deep golden blonde color brings out the blue in her eyes. The darker roots add dimension and thickness to her tresses. The dark blonde color adds a natural flush to her skin tone.
33. The Rachel
Recently the hit TV series Friends celebrated its 25th anniversary. As iconic as Mondler and Rochel were, nothing created the kind of frenzy that "The Rachel" did. It revamped the shag cut! Jen's hairstylist, Chris McMillan, was stoned when he gave her this cut. Jen says that it is her least favorite haircut because it was very high maintenance.
Licensed hairstylist Jessica Shults opines, "Jennifer Aniston has always been a hair icon for me. Back in the year 2000, when I was in beauty school, one of the first haircuts we had to learn was "The Rachel". So I have been following her hair trends for a couple of decades now. I just love that her hair always seems healthy and well cared for. Whether it's smooth or beach waves, she always looks so chic."
A blogger shares her personal experience of getting a long bob with bangs haircut that is quite emblematic of "The Rachel" haircut. She explains her experience with her go-to hairdresser and the process of the haircut in her blog. She adds, "I get inspired by many celebs like Jennifer Aniston and Anne Hathaway, two of these diva's bob have their own charm and attract me towards their hairstyles (i)."
34. Natural Wavy Hair
Jennifer's naturally wavy and frizzy hair took a beating due to the heavy styling it was subjected to, so it is not as wavy as before. She now uses Living Proof products to maintain the texture and volume of her hair.
Infographic: The Most Iconic Hairstyles of Jennifer Aniston
Jennifer Aniston is a well-known Hollywood movie star and actress. In addition to her excellent work, she is known for having immaculate taste in both her clothing and hairstyles. Her hairstyles always have an aura of elegance and refinement and she never stops experimenting with different looks.
Take a look at the infographic below to see some of Jennifer Aniston's best hairstyles.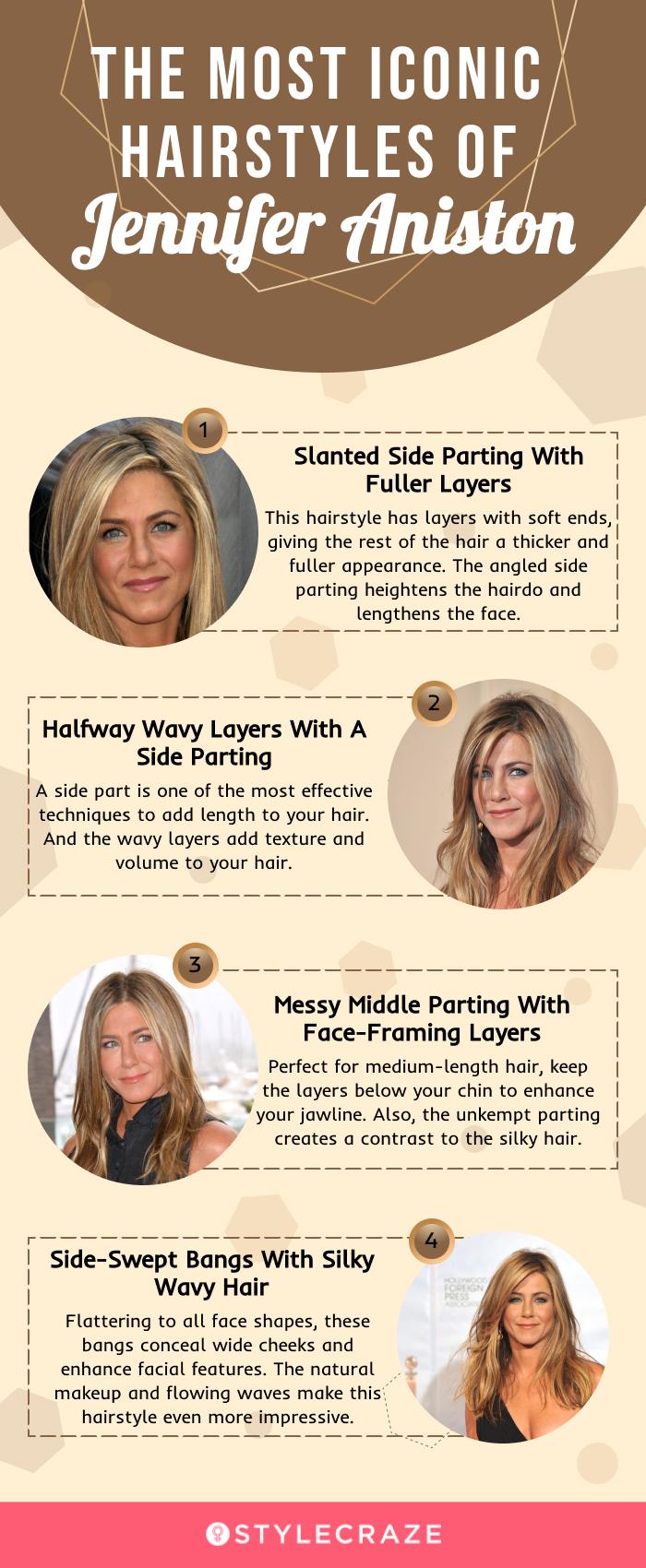 Jennifer Aniston is a popular American actress who has sported many iconic hairstyles that gave us some serious hair goals. Aniston's hairstyles are a mix of uniqueness and style. Highlighted and messy wavy layers, sharp-ended layers, and long bangs with long soft layers are some popular Jennifer Aniston hairstyles. They add a youthful look and elegance to your style. You can also try her signature waves-and-layers look mentioned in this list. Can't get enough? Keep experimenting with the 34 best Jennifer Aniston hairstyles mentioned above till you find your perfect fit.
Frequently Asked Questions
Is Jennifer Aniston's hair naturally curly?
No. Jennifer Aniston's hair is naturally wavy.
What is Jennifer Aniston's most famous haircut?
Her Rachel haircut from the series Friends is still considered her most famous hairstyle.
Does Jennifer Aniston have Balayage or highlights?
Jennifer Aniston has had both balayage and highlights in the past. She usually goes for highlights to give her a sun-kissed look for her medium dark blonde hair.
What other hairstyles has Jennifer Aniston had throughout her career?
Aniston is seen supporting various ponytails, updos, layers, and beachy waves.
Are Jennifer Aniston's hairstyles easy to maintain?
Most of her hairstyles are easy to maintain. Her usual beachy waves simply require hair preparation and hair sprays.
Can Jennifer Aniston's hairstyles work on all hair types and face shapes?
She has an oval face shape. Some of her hairstyles may suit a round or oblong face. The beachy waves usually work well with medium-length straight hair.
What are some easy Jennifer Aniston-inspired hairstyles for everyday wear?
Beachy waves, messy ponytails, and side-swept bangs with waves are some of the easiest Jennifer Aniston hairstyles you could try.
Are there any lesser-known Jennifer Aniston hairstyles that are worth trying?
Some of the iconic "Rachel" hairstyles included buns, side braids, and French braids. Try her side-crown braid inspired by her character.
Key Takeaways
Jennifer Aniston was the biggest hairstyle trendsetter in the late '90s and early 2000s.
Though she is a natural brunette, she prefers light blonde shades.
She usually sports some variation of a layered cut with blonde highlights.
Check out this video to see Jennifer Aniston's best hairstyles and haircuts over the years! From the iconic Rachel cut to her present-day looks, you won't want to miss it!
Personal Experience: Source
i. Chopped Off!
https://mariaspeaksprada.blogspot.com/2013/01/chopped-off.html
The following two tabs change content below.