Jennifer Lawrence's Diet And Workout Plan For Weight Loss And A Toned Body
Hey, Jennifer Lawrence fans! Are you "mystiqued" by JLaw's faaaab body? Do you want to know how she keeps herself in shape? Well, if you ask her, she would probably say, pizza and wine. She is not making it up! Jennifer Lawrence is known for her love for junk food. But she is certainly doing something right to keep the flab away. Read on to know Jennifer Lawrence's diet and lifestyle for weight loss so that you too can enjoy food and have a superb body. Swipe up!
How Jennifer Lawrence Stays In Shape?
Jennifer Lawrence's impeccable posture and curves are tough to ignore. The Oscar winner hates to diet and restrict herself. When she starred in X Men: First Class as Mystique, she had to maintain a body that we all think required a lot of diet control. But her trainer for the movie, Dalton Wong, showed her a path that she still follows. Wong has recently published a book, The Feelgood Plan: Happier, Healthier & Slimmer in 15 Minutes a Day, in which JLaw says, "He changed my body for that movie but gave me the skills to change my life." She continues, "I could never live on a 'diet.' Dalton taught me how to eat, move, and live a delicious but healthy life. I will always thank him for that."
For her role in Red Sparrow, she had to be on a low-cal diet. She trained with Kurt Froman, a ballet expert, and also did Pilates with Kit Rich to have a slender and svelte figure. But in an interview, she revealed, "I can't work on a diet. I'm hungry. I'm standing on my feet. I need more energy. I remember having a meltdown, freaking out that I had eaten five banana chips."
And this is the reason I personally like Dalton Wong's approach. Here are his tips to have a body like Jennifer Lawrence.
How To Get A Body Like Jennifer Lawrence?
To get a body like Jennifer Lawrence, all you have to do is understand ways to change your lifestyle and shed the flab without feeling famished and weak. And to do that, I have listed down the top tips given by Jennifer Lawrence's former trainer, Dalton Wong. Take a look.
1. Just A 15-Minute Workout
No more excuses! You may not have 60 minutes for working out, but you do have 15 minutes. In Dalton Wong's new book he has mentioned 15-minute power circuits. He says, "The exercises in the book are ones that Jennifer and I have done together."
If you are not sure what he is talking about, take a look at the video below:
2. Do Body Weight Training
If lifting weights like dumbbells, kettlebells, and barbells is not your thing, just lift yourself! Err… I mean do body weight training. It requires no weights or machines but is super effective. Do 3 sets of 15 reps of lunges, squats, jumping squats, plié, push-ups, planks, jumping jacks, calf raises, wall sits, donkey kicks, and hip thrusts to get a full body workout using nothing but your body weight and muscle strength.
3. Run Or Walk In Nature
Do you struggle to get up in the morning? Well, when Jennifer Lawrence trained with Dalton Wong, he would just make her go for a run or just walk in the lap of nature. It helped her shake off all the sleep and get ready for the day. Walking and running also help release the feel good hormones that will keep you happy and productive throughout the day.
4. Relax After Workout
Make relaxing a part of your workout routine. After completing her workout, Jennifer Lawrence "beditates" or does the Ujjayi Pose. Dalton says, "It's just to help relieve the body so you can sleep better but also be able to be more resilient and be able to train and work the next day." Makes sense, right? Because right after exercising, you may feel tired, and by relaxing, you will recharge your body.
5. Stay Hydrated
Staying hydrated will give you that JLaw glow and, of course, a svelte figure. Water flushes out toxins and prevents constipation. This enhances your digestion and metabolism, leading to fat mobilization. Dalton made JLaw mix salt with every healthy beverage as he believes that salt water helps cure every health problem. Add salt to your water, lemon water, and coconut water. He also recommends sipping water throughout the day.
6. Control The Portions
You may graze on healthy food, but if you don't control the portions, you will never lose the flab. Jennifer Lawrence likes to have fries and chicken wings, but she makes sure to have them in moderation. This helps her stay within the calorie limit and not gain weight. If you are trying to lose the stubborn fat, use Dalton's "Rule of Two." This means that whenever you eat, have two balanced out courses. For example, have a starter as the main course and then share a dessert with your friend or family. Or have a starter as a starter and another starter as the main course.
7. Snack Healthy
Snacking is a huge part of most of our food habits. And if you do not do it mindfully, you will not be able to shed the extra pounds. As you know, Jennifer Lawrence is a bigtime foodie. And as her trainer, Dalton knew that if he restricted her from getting a few calories from snacks, she would feel weak and less energetic. So, he allowed her to consume the following:
Full-fat Greek Yogurt – If you are trying to lose weight, you must consume full-fat yogurt and milk. Dalton says, "This creamy treat has twice the protein of regular yogurt." And the nutritional profile is richer than low-fat yogurt, which helps keep you satiated for a longer duration.
Air-popped Popcorn – Craving for something crunchy? Well, have some air-popped popcorn. According to Dalton wong, popcorn "has fewer calories than a banana, twice as many antioxidants as any fruit."
Hard-boiled Eggs – "A good source of choline, which improves brain function." Yes, hard boiled whole eggs are filling, protein-rich, and loaded with vitamins.
Crudités And Hummus – Another great snack that you can share with a bunch of friends is cut up veggies with a hummus dip. Dalton says, "Great go-to for protein plus veggie goodness."
Apple Slices With Walnut Butter – This combo is so simple, hassle-free, and delicious. Dalton says, "fat makes the humble apple more satisfying and walnuts are a decent source of omega-3s." Make sure you get homemade or organic almond butter.
Peanut Butter-filled Celery Canoes – Much like crudités and hummus, peanut butter-filled celery canoes are perfect for a yummy snack. Dalton adds, "protein and fat from the PB are satisfying, while celery is refreshing."
Cashews And Blueberries – Wong says, "Winning combination of protein, fat, and brain-boosting antioxidant anthocyanin." Just make sure not to overconsume cashews as they are high in calories and fat.
Dark Chocolate – Dark chocolate is just so satisfying, isn't it? Wong says, "Sweet without destabilizing your blood sugar or messing with your metabolism."
Almond Milk – "Add a scoop of protein powder for the perfect post-workout snack."
Coconut Milk Yogurt – If you are a vegan, coconut milk yogurt is a great dairy-free snack option for you. And according to Dalton, it is "a dairy-free source of fiber, which means less risk of bloating."
8. Consume Organic Food
A lot of the food charts in Dalton's book recommend consuming homemade, organic food. From ice cream to cake, Wong says is best if it is made of pure and fewer ingredients. He also says microbrewed beer is better than a pint of beer. Choose apple cider vinegar over cocktails, organic red or white wine instead of mulled wine or rose spritzer, and Ultra Brut Champagne instead of regular ones.
9. Get Proper Sleep
Sleep deprivation leads to stress build-up, inflammation, and inflammation-induced weight gain. As a result, your brain will not function properly, which will lead to bad decisions. Since Jennifer Lawrence is in the show business, she has to feel and look good. In fact, everyone should (even if you work from home)! Dalton Wong says, "I've always told her (JLaw) that when you're traveling and you arrive somewhere and you're really fatigued, have a power nap," He emphasizes, "Relax. Let your body recharge. Try not to burn the candle at both ends."
10. Eat Dark Chocolate
The best way to curb chocolate cravings is to have 75% dark chocolate. Dalton says, "One thing I said she could have occasionally, but not all the time, was 75 percent dark chocolate," And he has a solid reason for it. He says, "I'd rather give you something you want, like a little bit of dark chocolate, than have you not eat it and crave a whole chocolate bar." So, get a bar of 75-80% dark chocolate and have a piece of it if you crave for chocolate or something sweet.
11. Correct Your Posture
Jennifer Lawrence also concentrated on correcting her posture. Correcting your posture will not only make you look taller and healthier, but it will also prevent age-related posture issues and protect your bones. Jennifer Lawrence did "bread and butter exercises" to keep her posture correct. T-bird is one posture-correcting exercise. Here's how to do it:
Stand with your back straight, knees slightly bent, hips pushed out, arms by your side, and thumbs out.
Lift your arms laterally up to the shoulder level to form a T-shape.
Keep your core engaged and squeeze your shoulder blades.
Hold this pose for a minute.
12. De-Stress – You Need It!
De-stressing is a huge part of being physically and mentally fit. Jennifer Lawrence's busy schedule may not be so friendly sometimes, but she still finds time to just let go and take deep breaths. Dalton says, "Inhale through the nose, filling your lower belly, lower rib cage, then up through your chest and throat." He also recommends, "Exhale through the nose for a count of three." This will give instant relief from anxiety and worry.
So, now, you have a faint picture in your head of what you must do to have a body like Jennifer Lawrence. Let's make it clear. Here are diet and workout routines for you to shed the weight.
Diet Plan
| Meals | What To Eat |
| --- | --- |
| Early Morning (6:00 – 6:30 a.m.) | Lemon water with a pinch of salt |
| Breakfast (6:45 – 7:00 a.m.) | 2 hard-boiled eggs + 4 almonds + 1 cup green tea |
| Mid Morning (10:00 a.m.) | 1 cup freshly pressed fruit juice |
| Lunch (12:30 p.m.) | 1 small cup brown or red rice + fish steak/sautéed mushrooms + grilled veggies |
| Post Lunch (3:30 p.m.) | Crudités and hummus |
| Dinner (6:30 p.m.) | Chicken clear soup + 1 piece of dark chocolate. |
This diet chart contains delicious, nutritious, and low-calorie foods that will help keep the hunger pangs at bay and boost your metabolism.
Now, let us take a look at the workout routine.
Workout Routine
Here's a sample workout routine that you can benefit from. Make sure you warm up and cool down before and after exercising. Also, do a mixed workout. Here are a few options.
Warm-up
Spot jogging, jumping jacks, and jogging (10 minutes)
Workout
3 sets of 15 reps of each of these exercises – lunges, burpees, sit-ups, push-ups, hip thrusts, and jumping squats
Hike, bike, swim, play a sport, dance, etc.
Cool Down
Do full body stretching and relaxing before you end your workout session.
So, there you have it – Jennifer Lawrence's fitness secrets. Go ahead and make heads turn and eyes pop when you reveal your new, transformed, and fit body. Lose the weight slowly and make changes to your lifestyle, and you will also be able to enjoy a guilt-free dessert. Make sure to control the portions and share your calories. Take care!

The following two tabs change content below.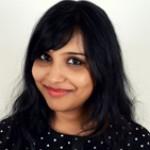 Latest posts by Charushila Biswas (see all)