9 Benefits Of Jojoba Oil For The Hair And How To Use It
Learn how this oil can improve hair health by cleansing, moisturizing, restoring, and more.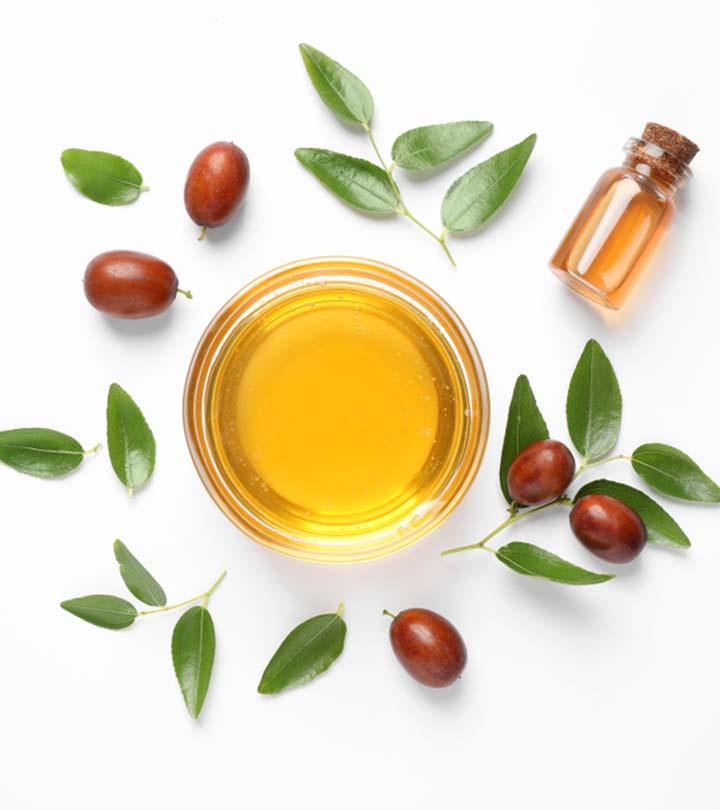 Jojoba oil is utilized for a variety of cosmetic and health purposes. However, did you know that jojoba oil has multiple benefits for hair growth?
Jojoba oil is a boon for your hair since it moisturizes, restores, and protects the hair. Its silky, oily texture penetrates effortlessly and nourishes the tresses. Because this oil is a natural lubricant that resembles sebum, it is good for all hair textures. Jojoba oil helps make your hair smooth, lustrous, and healthy, whether it is rough or damaged. Continue reading to figure out the steps to make the most of these benefits. Scroll down!

Know Your Ingredient: Jojoba Oil
What Is It?
A clear and odorless oil obtained from the seeds of Simmondsia chinensis or the jojoba plant, native to America.
What Are Its Benefits?
It has moisturizing, restorative, cleansing, and anti-microbial properties that help in hair growth by nourishing the hair.
Who Can Use It?
It is safe for anyone to use as long as they are not allergic.
How Often?
It can be used daily or as needed.
Caution
It may cause contact dermatitis and lead to redness, extreme itching, blisters, dry skin, and swelling.
What Is Jojoba Oil? 
Jojoba oil is a clear and odorless oil obtained from the crushed beans of the jojoba shrub, which is mostly found in the deserts of Southern Western America and Mexico. This emollienti  XMoisturizing and skin-softening ingredients that relieve dryness, itching, and flaking and protect the skin from damage. is a polyunsaturated liquid wax that contains fatty acids and straight-chain alcohol esters. It reduces the signs of premature aging, prevents breakouts, soothes burns and bumps, and fights fungal infections.


Trivia
Jojoba oil contains 11-eicosenoic acid, oleic acid, erucic acid, and nervonic acid as the primary mono-unsaturated fatty acids.
Benefits Of Jojoba Oil For The Hair: What Does Science Say?
Natural Moisturizer: Jojoba oil is similar to the natural sebum produced by humans. It has natural restorative esters identical to sebum and can be used as a natural emollient for the hair (1). This natural wax ester can help moisturize and soften the hair.
Dry Scalp Treatment: This multi-beneficial oil can help stimulate hair growth and soothe

psoriasis

i

  X

A chronic autoimmune disease that results in skin inflammation and causes dry, rough, and elevated patches of skin.

and

eczema

i

  X

A chronic inflammatory disorder that occasionally flares up and results in dry, irritated skin.

. It also treats dry scalps since the composition is similar to sebum (2).
Restorative Treatment: Jojoba oil is popularly used as a hair restorative treatment due to its hair protecting benefits. It also boosts hair and scalp health.
Non-Comedogenic And Cleansing Properties: This oil helps remove excess sebum that clogs the scalp pores. Jojoba oil can also cleanse the hair and scalp, removing sticky buildup or airborne substances (2). It is often used in hair care products for its anti-dandruff and hair restorative properties.
May Aid Hair Growth: A study showed that massaging jojoba oil with an essential oil (like lavender or rosemary) onto the scalp could stimulate hair growth (5). However, there is not enough scientific evidence suggesting that jojoba oil stimulates hair growth.
Antimicrobial And Anti-inflammatory Properties: Jojoba oil has anti-proliferative, antimicrobial, and antifungal properties, which make it effective for dandruff control and help protect the scalp from breakouts and infections and promote scalp health (6). Studies also show that jojoba oil has a soothing effect on inflammation caused by dandruff and psoriasis (7).
Nutrient-Rich: Jojoba oil contains vitamins A, E, and F, squalene, saturated and unsaturated alcohols, and fatty acids and esters (7). Squalene, also found in human hair, acts as a protective agent (8). Vitamins A and E have antioxidant properties that prevent free radical damage that causes the signs of aging.
Read on to know how the vitamins in jojoba oil benefit the hair.
What Vitamins And Minerals Does Jojoba Oil Contain? 
Jojoba oil is well-known for its rich vitamin and mineral content. It contains natural forms of vitamin E, which makes it ideal for hair damage prevention, hydration, nourishment, strength, and shine (1).  Vitamin E prevents oxidative damage to the hair, improves natural moisture retention and hair softness, conditions the hair,, balances sebum production, and maintains the scalp's pH level. It also improves blood circulation, which can stimulate hair growth. A study showed that the topical application of vitamin E induced hair growth in rabbits (9). Vitamin E also boosts collagen production and helps improve hair elasticity.
Jojoba oil contains vitamin A, which has antioxidant properties and can prevent damage and hair loss caused by free radicals (10). The topical application of retinoids (derivatives of vitamin A) can help treat conditions like alopecia areatai  XAn autoimmune disorder that frequently causes abrupt hair loss and causes overlapping bald patches. and androgenetic alopeciai  XA common skin condition that generally impacts your scalp and is marked by scaly patches, inflamed skin, and recurrent dandruff. (11).
Now that you know the benefits of jojoba oil, let's not be ignorant of its side effects. Check out the following section!
Side Effects Of Jojoba Oil
While the topical application of jojoba oil is mostly considered safe, it can cause contact dermatitis (12), (13). Perform a patch test on the arm's underside or at the back of the neck to check for any irritation, redness, or allergic reactions. Do not ingest topical jojoba oil as it contains erucic acid, which may increase the risk of heart disease (14).
Here are a few ways of using jojoba oil to moisturize and improve the hair.
How To Use Jojoba Oil For The Hair
Hot Oil Treatment: Research shows that massaging the scalp with oil can stimulate hair growth (15). Jojoba oil can be used as an overnight hot oil treatment with a carrier oil like coconut or olive oil.
Blend two to three drops of jojoba oil with two tablespoons of coconut oil and apply it to the hair and scalp. Cover the head with a shower cap and leave it on overnight.
Enhancing Hair Care Products: Add a few drops of jojoba oil to your shampoo or conditioner to enhance its effectiveness.
Hair Mask: Jojoba oil can be used with other ingredients as a hair mask to nourish a dry scalp and as a restorative hair treatment. It can be paired with replenishing ingredients like honey, olive oil, avocado, eggs, and oatmeal.
Direct Application: Apply jojoba oil directly to the hair and scalp. Leave on for half an hour as a general hair care treatment.

Quick Tip
You can warm the oil slightly for easier application and use 1 tablespoon for short hair and 2 tablespoons for longer hair.
Note:
Jojoba oil is generally hypoallergenic and safe for use on skin (2). However, do a patch test if you have sensitive skin/scalp. Avoid the oil if you observe any inflammation on the scalp (like
seborrheic dermatitis
i
X
This inherited, permanent hair loss, also known as male or female-patterned baldness, is caused by an excess of androgens.
or
folliculitis
i
X
The bacterial infection of the hair follicles, from where hair strands grow, which causes small, red, itchy bumps on the skin.
).
Infographic: Jojoba Oil Hair Masks
Jojoba oil is an odorless and clear oil that acts as a natural moisturizer, may aid hair growth, and cleanse your hair properly. While you can directly apply jojoba oil to your hair, you can also mix it with some of your favorite ingredients to create a relaxing hair mask.
Check out the infographic below to know more!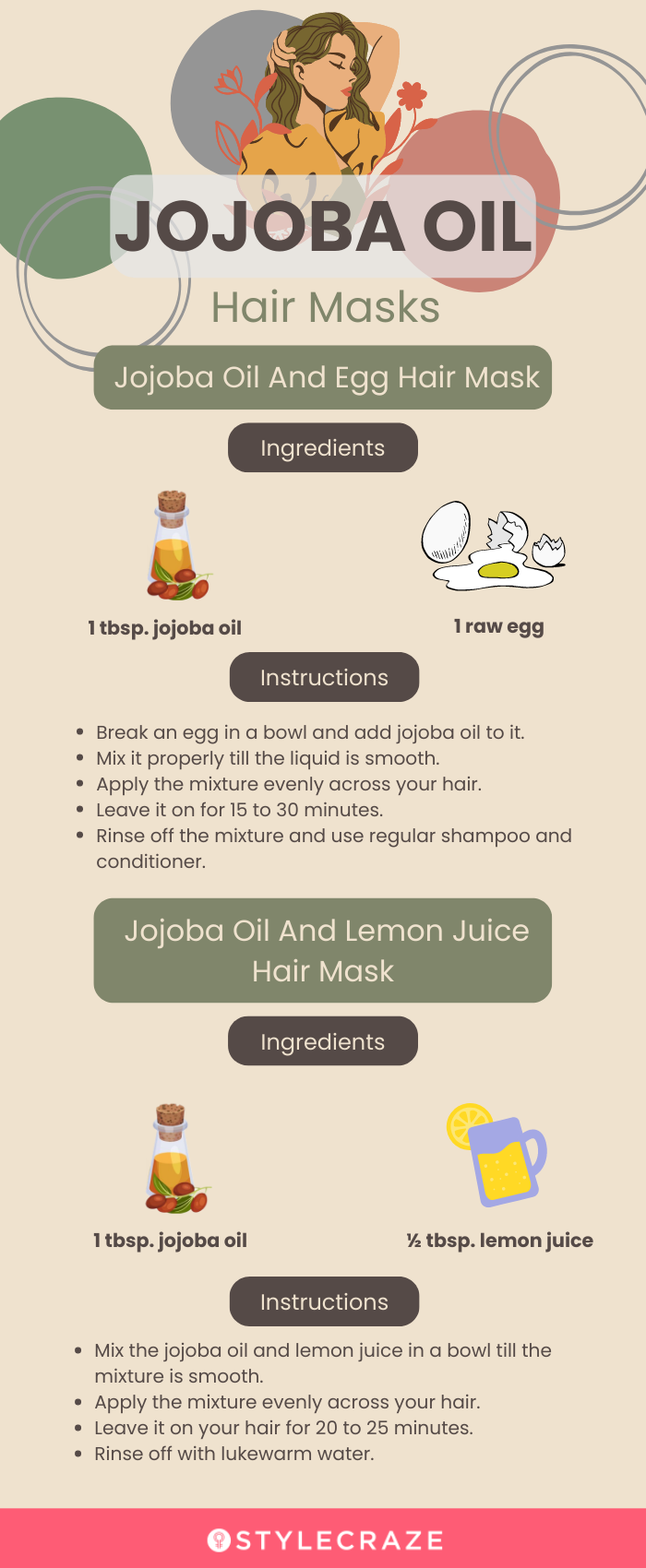 The benefits of jojoba oil for hair are numerous. It can soften the hair and moisturize it effectively. In addition, it can stimulate hair growth and treat a dry scalp. This oil can boost scalp health and remove excess sebum. It also improves hair manageability and has anti-inflammatory and antimicrobial properties. Although the topical application of jojoba oil is generally safe, it may trigger contact dermatitis in some people. Hence, a patch test before applying jojoba oil is highly recommended. Also, ingestion of jojoba oil may increase the risk of cardiovascular disease, so use it with caution.
Frequently Asked Questions
Can I apply jojoba oil directly to the scalp?
Yes. Topical jojoba oil is safe on the scalp.
Jojoba oil vs. coconut oil – which one is better?
Coconut oil is a well-known hair care oil. It penetrates the hair follicles to strengthen them from within and protects the hair from UV damage and enhances its length and density. On the other hand, there is not enough scientific evidence to show that jojoba can promote hair growth. Jojoba oil is recommended if you have a dry scalp or hair.
Can I use jojoba to seal in moisture?
Yes. Jojoba oil retains moisture in the skin/scalp.
How often should you use jojoba oil in the hair?
Jojoba oil can be used once a week, provided it does not irritate the skin or scalp.
Do you apply jojoba oil to wet or dry hair?
Yes. Jojoba oil can be applied to both dry and wet hair. However, anecdotal evidence suggests that jojoba oil is absorbed quickly when applied to wet hair.
Argan or jojoba oil: which is better for hair?
While both oils are good, jojoba is much closer to your natural sebum and can help address clogged follicles, control excess oil production, and soak deeper into your skin. Hence, it is comparatively better for your hair than argan oil.
Key Takeaways
Jojoba oil is a polyunsaturated, clear, odorless liquid with vitamins, fatty acids, and esters.
Jojoba oil may moisturize the scalp, treat dry scalp, and boost hair health.
It may prevent hair damage and maintain calp's pH balance as it is rich in Vitamin E.
Jojoba oil can be used hair mask or can be added to shampoo or conditioner.
One may get contact dermatitis, therefore, a patch test before usage is recommended.
Sources
Articles on StyleCraze are backed by verified information from peer-reviewed and academic research papers, reputed organizations, research institutions, and medical associations to ensure accuracy and relevance. Check out our
editorial policy
for further details.