Top 7 Jovees Face Washes For You to Try in 2023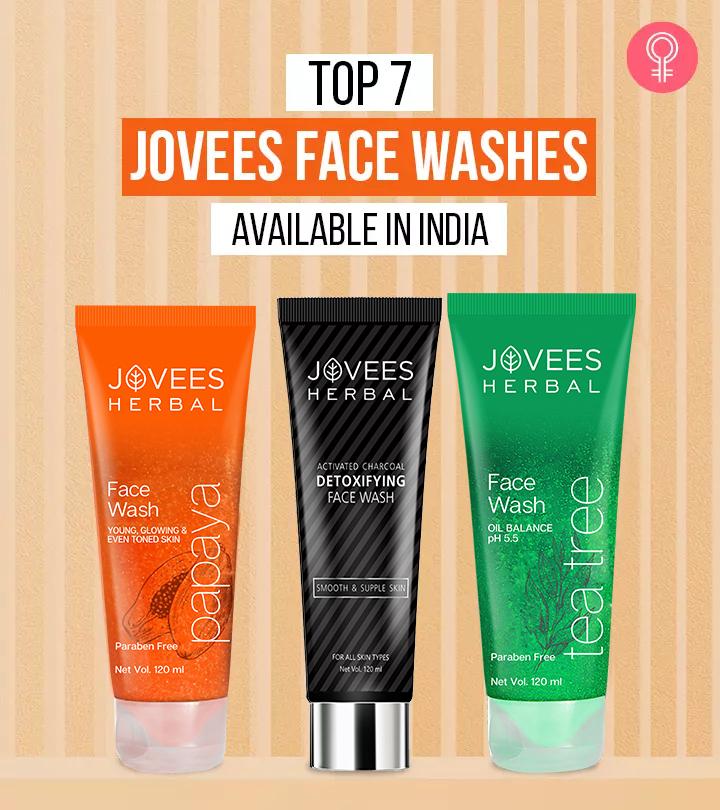 A face wash is the first step in your daily beauty regimen and an essential step to achieving happy skin. But, if you go one step further and pick a JOVEESface wash, you will get multiple benefits from a single product.
JOVEES is a leading skincare brand that is well known for its natural, non-toxic formulations. The products are 100% vegan and cruelty-free, clinically tested, and do not contain parabens and alcohol. With the many options available online, it may be tough for you to choose the one that suits you best. We have compiled a list of the top 7 JOVEES face washes available in India. Go ahead and pick one that suits you most!
 7 Best JOVEES Face Washes In India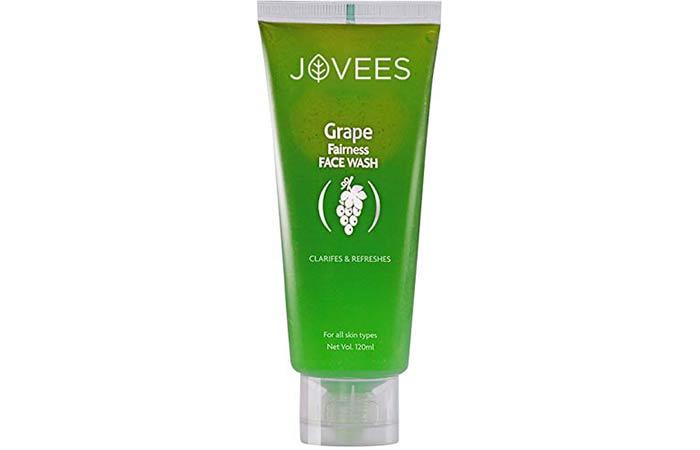 This refreshing face wash harnesses the goodness of grapeseed extract and aloe vera to diminish dark spots, blemishes, and pigmentation. It is enriched with natural vitamin E and vitamin C that helps in combating acne and leave the skin with a healthy glow. It boosts collagen production to make the skin firmer and reduces the appearance of wrinkles. This clarifying face wash lightens and evens out the skin tone to make it smooth and visibly fairer.
Key Ingredients: Grapeseed extract and Aloe vera
Pros
Reduces the appearance of fine lines
Evens out the skin tone
Suitable for all skin types
Paraben-free
Cons
The gentle cleaning action of the JOVEES Papaya Face Wash helps in revitalizing dull and tired-looking skin and restore its natural glow. It is formulated with a papaya fruit enzyme that keeps the skin moisturized and fades dark spots, acne scars, hyperpigmentation, and wrinkles. It is also enriched with bilberry fruit and grape leaf extract that have astringent and antioxidant properties to control oil production and strengthen the skin. The cranberry and watermelon fruit extracts in the formula help boost skin elasticity by encouraging collagen production to combat the signs of premature aging and promote a youthful appearance.
Key Ingredients: Papaya fruit enzyme, Bilberry fruit extract, Grape leaf extract, Cranberry fruit extract, Watermelon fruit extract
Pros
Mild fragrance
Imparts glow to your skin
Suitable for all skin types
Cons
None
Price at the time of publication: ₹156
The JOVEESTea Tree Oil Control Face Wash is formulated with tea tree extracts and lemon to deeply cleanse the skin of impurities while exfoliating dead cells that clog pores and cause acne. While tea tree oil penetrates the pores to clear oil buildup, dirt, and bacteria, lemon has astringent properties. The vitamin E in the formula helps in fading sunspots and acne scars. This face wash is designed to maintain the ideal pH balance of the skin, reduce inflammation, and promote healthy skin.
Key Ingredients: Tea tree extract, Lemon extract, and Vitamin E
Pros
Evens out the skin tone
Suitable for oily skin
pH-balancing
Cons
None
Price at the time of publication: ₹145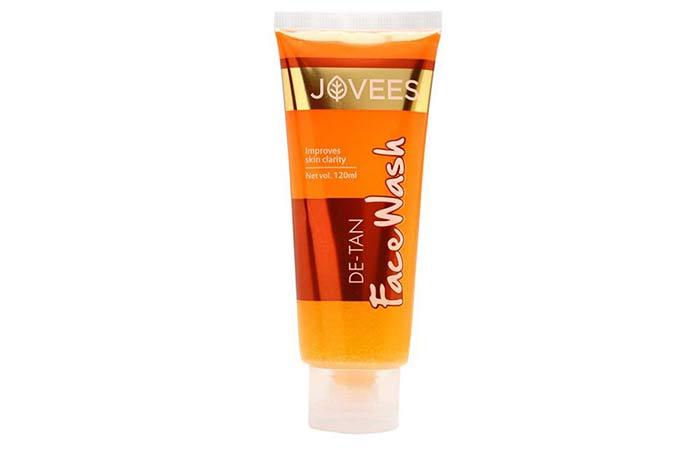 The gel-based De-Tan Face Wash from JOVEES is formulated with aloe vera to soothe and heal skin damage and sunburns. It is also enriched with green tea leaves and sweet cherry fruit that help reduce melanin production and dark spots. This hydrating blend evens out the skin tone while replenishing hydration and restoring the moisture balance. It reduces irritation and inflammation and eliminates dullness to reveal a brighter and rejuvenated skin tone.
Key Ingredients: Aloe vera, Green tea leaves, and Sweet cherry fruit
Pros
Nice fragrance
Reduces dark spots
Improves skin tone
Cons
May dry the skin out.
May cause breakouts.
Price at the time of publication: ₹178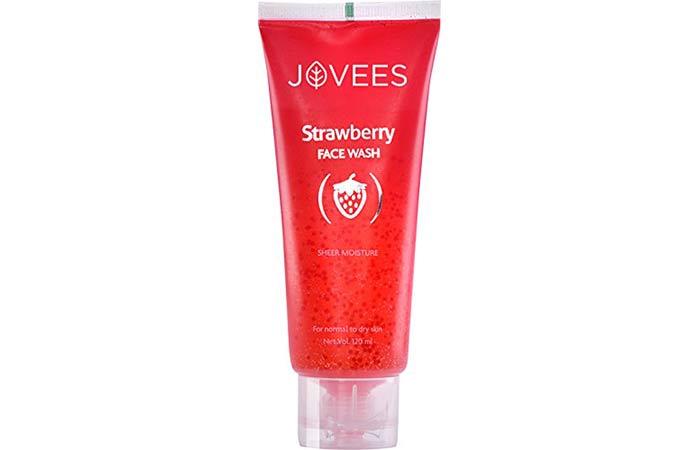 The fresh fruity fragrance of the JOVEESStrawberry Face Wash boosts the mood while the energizing formula revitalizes the skin. It is formulated with strawberry extracts that are a natural source of vitamin C and antioxidants that prevent the signs of premature aging. The jojoba extracts in the formula reduce irritation and redness caused by dry skin, while vitamin E restores moisture and keeps the skin well hydrated. This face wash also contains small granules that gently exfoliate the skin and remove dead skin cells to reveal a clean and healthy complexion.
Key Ingredients: Strawberry extract, Jojoba extract, and Vitamin E
Pros
Mild fruity fragrance
Lathers well
Makes the skin smooth
Cons
None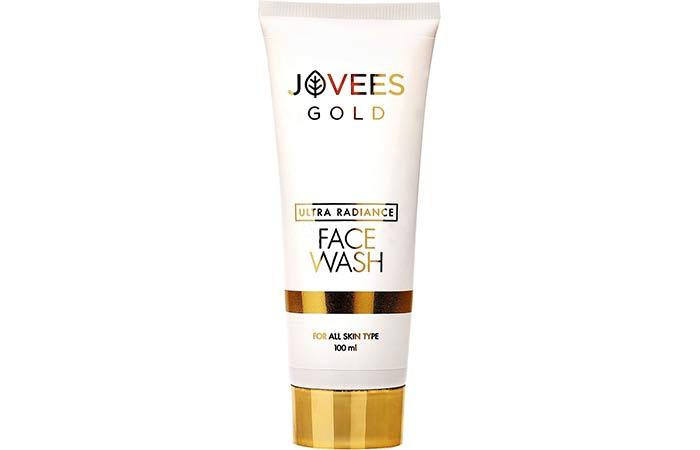 The luxurious Ultra Radiance Face Wash is crafted with 24-carat gold dust to infuse the skin with a luminous, youthful glow. It is enriched with botanical extracts of beetroot and daisy flower, which diminish the appearance of blemishes and acne and prevent dark spots and pigmentation. This anti-aging face wash protects the skin from sun damage and fades fine lines to give the skin an even,well-toned look.
Key Ingredients: Gold dust, Beetroot extract, and Daisy flower extract
Pros
Imparts glow
Reduces the appearance of fine lines
Suitable for all skin types
Cons
The Detoxifying Face Wash harnesses the beneficial absorbing powers of activated charcoal to draw out toxins, dirt, and dead skin cells from the pores to reveal a healthy skin tone. It is also enriched with neem extracts to reduce inflammation and keep the skin free of acne and blemishes. The apple cider vinegar in this face wash balances the pH levels of the skin and reduces dryness.
 Key Ingredients: Activated charcoal, Neem extract, and Apple cider vinegar
Pros
Suitable for acne-prone skin
Reduces blackheads
Lightens blemishes
 Cons
None
Price at the time of publication: ₹196
The above JOVEES face washes are enriched with a blend of natural ingredients to help combat your skin woes. Go ahead and choose a suitable one for your skin type and feel the difference.
Recommended Articles:
The following two tabs change content below.