15 Latest Jumpsuits That Will Make Getting Dressed So Easy
Comfy and stylish, there is one for every body type and every occasion.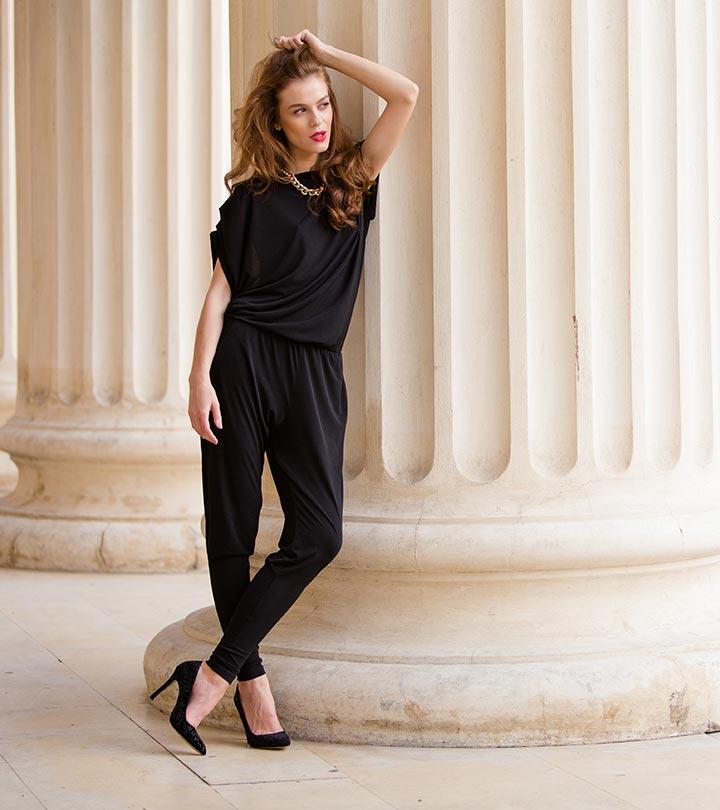 Jumpsuits for women are sheer gems! Yes! The reasons are many and obvious. These pieces of clothing are comfortable, easy to wear, and always trendy. They are very similar to overalls and sometimes the terms are used interchangeably as fashion trends merge so easily these days. But a simple distinction is, overalls are generally worn over other top wear for a casual look, while jumpsuits are single items of clothing, that can be designed to be worn as suits for formal or semi-formal occasions. Today, there are many different types of jumpsuits to cater to people's very many specific requirements. While some jumpsuits are for parties, they are versatile enough to be designed for casual outings as fashionable bodysuits, and some can be worn as lounge clothes as well. Also known as rompers or onesies, these clothes are like that go-to outfit for many. They are blessings in the world of women's wear – when in doubt, you can always grab one and look amazing. And the best part is that, as they have evolved over time, today there is a jumpsuit for every body type. Oh, this sounds like heaven! Anyway, since the love for them has already been established, below, we have curated the latest jumpsuit options for you. Cheggit!

Fun Fact
The jumpsuit was created as a functional garment for parachuters in 1919. It became a part of women's fashion in the 1930s when Elsa Schiaparelli began designing jumpsuits.
Latest Jumpsuits For Women
1. Black Heather Jumpsuit
The easiest thing to do when in doubt while shopping for long sleeve jumpsuits is to choose the dark colors. And, with black as a choice of color, it never fails you. This monochrome jumpsuit gives you good coverage while adding definition at the right places and in the right proportions. Dresses like these can be worn as-is as evening wear and need little else to be done otherwise, like adding accessories, etc. If you have broad shoulders to hide and thin legs to flaunt, go with something along similar lines. You have nothing to fear.
Tips And Tricks
These suits are an ideal fit for pear-shaped bodies.
Look for something that narrows at the waist and sits well on your wide hip, covering your relatively small bust line.
Remember that you need to be aware of your body type and try on something that brings about balance.
Regular V or plunge V-necklines steal attention, so pay attention to details like these.
Pair them with pumps or stilettos to amp up the style.
Color block accessories if you're going to use any.
Purchase Link – Shutterstock
2. Blue Cold Shoulder Baggy Jumpsuit
Go with cold shoulders sleeves if you are looking to camouflage your broad shoulders or if you are someone who is not thrilled with the idea of wearing sleeveless. Fashion fads really work to our advantage, we are indebted. Subtle and stylish just how most of us prefer, I'm assuming. The svelte waistline that moves down into baggy fitting trousers works best for your tiny torso and wide hips or bulkier thighs. The baggy hemline adds flow, and you know the best part about these? You can get as casual as you can with the footwear. Shoes, flats or whatever else you're comfortable in.
Tips And Tricks
This will suit those with an inverted rectangle or apple-shaped body type.
Swap the fabric for linen, cotton or satin that sits well without sticking too close to the skin.
The idea is to steer attention away from the pain areas, so make sure your dress does that for you.
If you have shorter legs, go with wedges that make you look taller and also match the baggy cut.
High-neck or halter will look equally good.
Purchase Link – stalkbuylove
3. Strapless Denim Jumpsuit
Well you know what they say, fashion is not for the faint-hearted. But maybe it is, it's no big deal, after all. You just need to let go of the fear and give it a shot. How else do you think the industry evolved? If you have an hourglass figure to flaunt, venture into a jumpsuit like this. We promise you won't be disappointed. It almost feels like the strapless neckline is made for women with smaller bustline or petite structures. Denim jumpsuits and rompers are classics, but there are so many options out there.
Tips And Tricks
This suits the one with an hourglass or petite body.
You could go bare neck, and there's nothing like it.
If you feel bare and naked just because the necklines makes you feel so, try a statement neckpiece that takes away the attention.
Explore other fabric options like lycra, satin or chiffon—your options are limitless.

Trivia
Jumpsuits are especially flattering for people with shorter legs and longer torsos.
Purchase Link – 
stalkbuylove
4. Printed Baggy Rayon Jumpsuit
Bohemian-inspired designs are just classy and comfortable. You can wear these for a lunch date with friends, a day at the mall or even make this your airport look. These loose one-piece suits from head to toe can sometimes seem like it's swallowing you because of the fit, so this might not be for you. Or at least try it out first.
Tips And Tricks
These look great on any body type.
However, avoid these if you're petite because it's a fabric overlay.
Go with flats for these boho-chic designs as they go quite well together. However, watch out if you're like me and fall under the not-so-tall category.
Purchase Link – jabong.com
5. Black Layered Jumpsuit
Bored of the bold and plain jumpsuits? Layer it up. It doubles up as a suit from behind and a one piece dress from the front. You could easily wear this to work, and yes you will ace power dressing.
Tips And Tricks
Suits any body type, especially the slender and hourglass figures.
Go easy on the accessories, but you could use a stylish bag.
One or two-inch heels will go well with this style.
Pay attention to the print of the layers if you're using a different jacket than what comes with the set.
Fabrics for these dresses make a lot of difference, so go with something that is not sticky but should be form fitting.
Purchase Link – myntra.com
6. Black Solid Wide Legged Jumpsuit
Beauty is in the tiny details. You must have heard this a million times right? There I just said that once more. The gold embellished neck detailing bumps up everything for this dress, and it needs absolutely no accessories. When I first told you that jumpsuits could be donned at dinners or date night, I'm sure some of you brushed it away. I hope this is proof enough. Switch between pumps, peep-toes, and wedges—anything works!
Tips And Tricks
Suits best for triangle-shaped bodies.
Halter, high neck or strapless takes the attention away from smaller bustline, or narrow shoulders work for this triangle body type.
Look for something that takes the shape of your curves and sits well on the hips.
Go with ballerinas or any footwear comfortable, these dresses can afford that.
Wide-legged jumpsuits can be convenient winter wear outfits. Simply wear your thermals underneath without looking bulky and overlay with your winter jackets.
Purchase Link- jabong.com
7. Printed Pantsuit
Printed pantsuits anyone? Imagine getting a look of a perfectly fit trousers and top without all the hassle! If you have an hourglass figure, any of these will invariably work well for you. For the rest of us, the fabric makes a lot of difference. Something that follows your body silhouette works better.
Tips And Tricks
Suits hourglass and triangle-shaped bodies.
You could add a thin waist belt for effect.
Fine silver and gold jewelry will be a good match, depending on the print.
Purchase Link- myntra.com
8. Ivory Solid Jumpsuit
From your closet to runway, one dress that has been all over the place. Beyonce, JLo, Taylor Swift, Gigi Hadid, Kylie Jenner, Kim Kardashian and several others have sported this look—royally. A dress that sets you apart and makes heads turn. You get these in many variants, so choose something that complements your body type. A dress that cinches near the waist, in particular with a gold belt will up the style quotient.
Tips And Tricks
Suits hourglass figures or petite bodies since it is the color white.
The options are plenty, pick a design that suits your body, and that's all it takes.
Gold accessories and shoes will never fail you.
A waist belt will be platonic!
Purchase Link – jabong.com
9. Floral Romper
The little sister of our very own jumpsuit, so to speak. What started as a variant for kids has caught up like wildfire. It ought to be, because of its feather-light texture and design. These are stylish, comfortable and non-complicated. You know how a few jumpsuit designs just work effortlessly? This is one of them.The length and flowy design of this romper can make for life-saving summer wear!
Tips And Tricks
One more style that suits all body types. However, you need to be aware of the specifics.
Specifics like shirt model will suit the best for a pear-shaped body, while a strapless goes for women with a bigger bust line.
Shoes and rompers work like a well-oiled machine, while flats are a close second to this hit combo.
Remember that your accessories should match the print, pattern, and design of your romper.
Purchase Link – myntra.com
10. Bold Olive Green Jumpsuit
Bold jumpsuits have been a rage from the start. They are relatively easier to pick, choose and style. Patterns and prints take a little more effort considering our body types. So, bold jumpsuits are quite a safe bet. You can color-block it with contrast or add a denim jacket for a casual fashion statement. Either way, this is a must-have.
Tips And Tricks
Suits any body type.
Pay attention to the length of the bottom if you're not very tall, it can look weird.
Layer it up, jazz it up or color block it.
Add a thin waist belt and doing just that can round off the look.
Purchase Link – myntra.com
11. One-Sided Shoulder Jumpsuit
A jumpsuit that is straight up chic and stylish. Not everyone can carry off a jumpsuit. and it's not easy to pull off a one-sided shoulder dress either—this is both. It's no rocket science, you just need to feel confident to see through this. Oozing oomph and class, all these dresses need are a pair of sexy stilettos or a clutch or both. You are date night ready! This is one of the best summer jumpsuits.
Tips And Tricks
Suits triangle, hourglass and pear-shaped bodies the most.
If you're on the petite side, pay attention to the fitting of the shoulder sleeve and length of your trouser.
Like most of the jumpsuits, all this requires is a pair of pumps to take it to the next level.
Purchase Link – amazon.com
12. Blue Off-shoulder Jumpsuit
For the love of off-shoulder, let's do this once more. A design and model we can never get enough of, so might as well do it for the jumpsuit. While white, blue and black are the most obvious choice for jumpsuits, printed ones are equally good too. If you have one in a plain color, go with a printed one, and I bet it would be worth it.
Tips And Tricks
This suits any body type really.
Chokers are your go-to accessories.
Off-shoulder playsuit or a jumpsuit are equally good.
Consider a sling body bag, and that will amp up the look enough.
Purchase Link – jabong.com
13. Blue Strapless Jumpsuit
It's blue, strapless and in georgette—your best bet. If you've been shying away from trying jumpsuits, this is a good place to start. This is a hit variant and a most common one, for obvious reasons.
Tips And Tricks
Suits anyone with a bigger bust line; pear-shaped or hourglass figure.
You could layer it up with a shrug, cape or try the plaid shirt look.
Fine silver or gold jewelry with a cross body bag is a foolproof statement you could try.
Purchase Link – Shutterstock
14. Printed Playsuit
Planning a beach vacation, weekend getaway or a summer brunch? Your one choice for all of this is a playsuit. It is stylish, chic and vibrant. You will never run out of options with patterns, prints or fabrics. Go all out!
Tips And Tricks
A life hack for all of us—a perfect bikini cover up. It can't get any better than this.
If you could pull off boots, this might be your opportunity.
Purchase Link – jabong.com
15. Lounge Playsuit
Even after a tiring party in the middle of the night, I need to change into something comfortable to sleep in. If you're anything like me, you've got to try these lounge playsuits. Just slide them on and have fun!
Tips And Tricks
There's none really, hit the sack and sleep like a baby!
Purchase Link – myntra.com
Infographic: Timeless Jumpsuits That Will Make Getting Dressed So Easy
Jumpsuits have made a mark in the fashion world and we know why – they are super convenient yet fashionable! Plus, some of their types never even go out of style. How amazing is that!
In the infographic below, we want to introduce you to those timeless ones so you can rock them and grab compliments too. Check it out!


Jumpsuits are absolute wardrobe essentials! They are always here to save your day. Whether you want to dress up for a corporate meeting, have a casual outing to look fabulous, or are on vacation to calm your mind, a jumpsuit is what you can always count on. They are so versatile that they can go well with any occasion. And now that we have introduced you to the different types of jumpsuits for women, you are already good to go. So, choose from our list based on your preferences and flaunt your look.
Frequently Asked Questions
Do you wear a bra with a jumpsuit?
It is the wearer's choice whether to wear a bra with a jumpsuit. However, if you are wearing a strappy or strapless jumpsuit, you can opt for a strapless bra under it.
Can I wear a sweater over a jumpsuit?
Yes, you can wear a sweater over a jumpsuit. It looks sophisticated yet fun.
Key Takeaways
Jumpsuits are comfortable, easy to wear, and perfect for casual outings.
Go for fitted jumpsuits if you have an hourglass figure and for wide-leg pants if you have an apple-shaped figure.
You can choose a one-sided shoulder jumpsuit if you have a petite figure.
The printed playsuit is a good bikini coverup.
The following two tabs change content below.