Ever Heard Of Kalamata Olives? How Are They Good For You?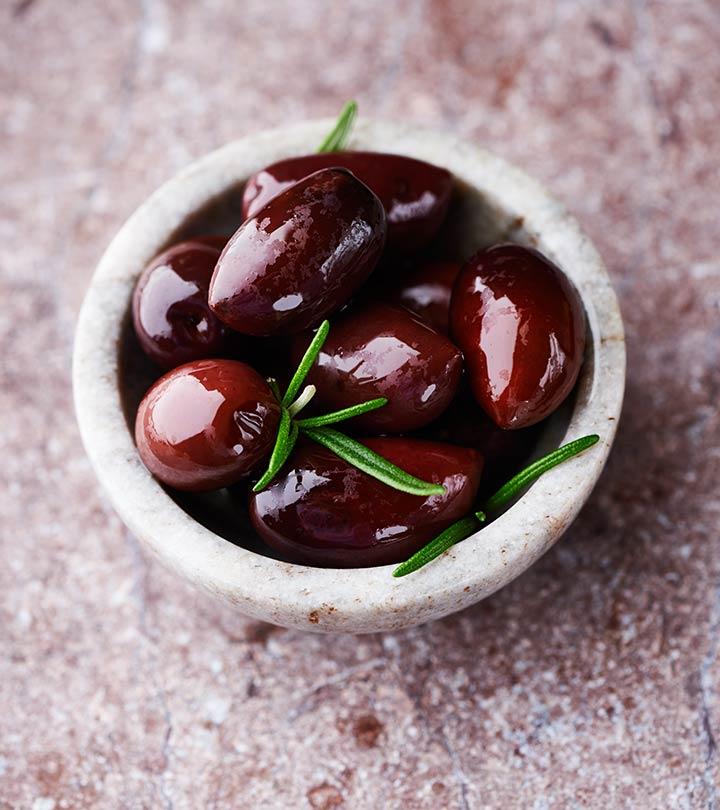 Olives can take any dish to the next level with their characteristic taste. They are widely grown in the Mediterranean and American countries. And their taste and tartness vary across cultivars. But one olive variant that is a class apart from the rest is Kalamata Olives.
Kalamata olives are a variety of olives that are only grown in Greece. They taste delicious and treat various disorders. Packed with antioxidants, essential fats, and sodium, kalamata olives are a healthy replacement for green or black olives. To know more about their nutritional and biochemical profile, various ways to use them, and what makes them unique, you have to read ahead. So, start scrolling!
Table Of Contents
What Are Kalamata Olives? How Are They Different From Other Olives?
Kalamata olives are cherry-sized, oval-shaped, dark fruits (yes!) that are another variant of green olives. These are produced in Kalamata, Peloponnese, and are hand-picked to avoid bruising.
They are harvested in the late fall (unlike the green ones) and have a very intense flavor. You cannot eat them right away because they are quite bitter. These olives are usually fermented in brine (salt solution) or oil so that they lose their bitterness. This process can last up to a few months, after which the olives acquire their rich, meaty taste. And only then are they ideal for consumption.
What goes on in the 'debittering' process? Let's find out.
How Are Kalamata Olives Cured?
Curing (also called pickling) is done to get rid of the bitterness in kalamata olives. Kalamata olives can be cured using a concentrated salt solution (brine), water, vinegar, wine (red or white), lye, etc. Depending on the strength and concentration of the pickling agent, curing might take anywhere between three weeks to a year (1).
Broadly, the curing process takes places in either of two ways:
The short process involves soaking the olives in brine for a week. After this, they are packed with brine, wine vinegar, and slices of lemon and olive oil and can be used as table olives.
The long process involves making a slit in each olive and storing them in 10% saltwater for fermentation until they are debittered. This process usually takes anywhere between 3 to 6 months.
Trivia Time!
The earliest cultivation of olive trees was probably over five thousand years ago – since Ancient Greek times.
To maintain authenticity, the European Union (EU) has marked kalamata olives with a Protected Designation of Origin (PDO). This designation confers authenticity as only those kalamata olives produced in Greece are original, thus they will have to be sold accordingly.
Kalamata olives (all olives, in general) are sold with and without seeds. The ones in which seeds (or stones) are removed are called 'pitted' olives. The pits are sometimes filled with onions, sauces, and other seasonings.
The ones with the seeds intact are called 'unpitted' olives. The unpitted and cured olives are healthier because they don't have excess salt and oil like the pitted olives. But they still have to be seeded before using.
After this process, when kalamata olives are served to you, you can only register their creamy and intense taste. But did you ever wonder why these olives are called the 'world's healthiest food' by a few? If you didn't, it's time to know what these little power foods can do to your body.
Let's move on to the next section.
What Are The Benefits Of Kalamata Olives?
1. Contain Powerful Antioxidants
One of the essential components of kalamata olives is hydroxytyrosol. It is a polyphenol present in most olive varieties.
In Greek kalamata olives, you can find about 250-760 mg/kg of hydroxytyrosol. This polyphenol is highly bioavailable and can be integrated into the human body easily.
Due to the presence of hydroxytyrosol and related compounds, kalamata olives exhibit antioxidant properties. Hydroxytyrosol is just below gallic acid and is 10 times more powerful than green tea in terms of antioxidant potential.
Hence, consuming olives can prevent damage caused by oxidative stress and eliminate heavy metal ions and toxic intermediates from your body (2). Both oxidative stress and these chemical compounds could cause organ damage and give rise to diabetes, cardiovascular disorders, and, in some cases, cancer.
2. Aid Weight Loss
The phytochemicals in these olives help in preventing the accumulation of lipids and fats in your body. Kalamata olives prevent the peroxidation of LDL (bad cholesterol) with their antioxidant activity. They also assist in maintaining optimal HDL (good cholesterol) levels in your body.
Kalamata olives provide antioxidant enzymes to the adipose tissues, preventing oxidative damage or inflammation. With the adipose tissue and lipid breakdown in check, there wouldn't be unnecessary weight gain and hedonic hunger pangs.
Yes, olives do have fats, but they are the healthy monounsaturated kind. So, kalamata olives are still a heart-healthy food when consumed in moderation. Your blood vessels would also be free from cholesterol deposition and hence stay protected from atherosclerosis, ischemic attack, and related disorders (2).
3. Prevent Neurodegenerative Disorders
Since kalamata olives have anti-hypercholesterolemic and lipolytic activity, they prevent lipid peroxidation and formation of undesirable derivatives in the body (2).
Adding these olives to your meals can help prevent the formation of fat or triglyceride deposits like amyloid plaques in the brain and neuronal sheath. This protects your brain and brain cells from inflammation and possible destruction.
In these cases, the probability of developing neurodegenerative disorders (Alzheimer's), or age-related memory loss and cognitive impairment, is reduced manifold (2).
For such tiny fruits, kalamata olives have quite a bit of medicinal value. So, is hydroxytyrosol the only component behind these significant benefits?
No. Kalamata olives have an impressive nutritional and phytochemical profile. Interested? Scroll down.
Nutritional Profile Of Kalamata Olives
Nutrition Facts Serving Size 1 OZ
Amount Per Serving
Calories 70
Calories from Fat 55
% Daily Value*
Total Fat 6.1 g
8%
Saturated Fat 0 g
0%
Trans Fat 0 g
Cholesterol 0 mg
0%
Sodium 403.5 mg
27%
Total Carbohydrate 3.5 g
1%
Dietary Fiber 0 g
0%
Sugars 0 g
0%
Protein 0 g
0%
Calories
4%
Fat
8%
Cholesterol
0%
Carbohydrates
1%
Sodium
27%
Protein
0%
Vitamin A – IU
0%
Vitamin C
0%
Calcium
3%
Iron
4%
Kalamata olives are reservoirs of polyphenols, including hydroxytyrosol and tyrosol. The predominant compounds in raw olives are certain secoiridoids like oleuropein, aglycon, hydroxytyrosilelenolate, and enololeuropeindiale.
Olive fruits also have variable amounts of benzoic, cinnamic, phenylacetic, and phenylpropionic acid hydroxy derivatives, such as p-hydroxybenzoic, protocatechuic, vanillic, syringic, o- and p-coumaric, caffeic, chlorogenic, ferulic, sinapic, p-phenylacetic, 3,4-dihydroxyphenylacetic, homovanillic, and dihydrocaffeic acids.
The flavonoids present in these olive fruits are flavones, mainly luteolin, rutin, and luteolin-7-glucoside, and anthocyanins, mainly cyanidin-3-glycosides (3), (4).
Woah! Who knew that the usually ignored olives in salads and pastas had so much nourishment!
There are also a lot of us who cannot stand olives. But, kalamata olives are a class apart. They taste heavenly whether they are pitted (seed taken out and stuffed with a filling) or unpitted (intact with seed), cured (in brine or oil) or uncured.
How do you know they taste great, you might ask. Because I've used them all in my cooking! And I also have a surprise for you!
Scroll down to find a couple of simple recipes with kalamata olives that you can try right away in your kitchen.
2 Simple Recipes With Kalamata Olives
1. Spaghetti with Tomato, Feta Cheese, Kalamata Olives
What You Need
Tomatoes: 1 ½ pounds (about 3), seeded and cut into 1/2-inch pieces
Kalamata or other black olives: ½ cup, pitted
Feta cheese: ¼ pound, crumbled
Capers: 3 tablespoons, drained
Flat-leaf parsley: 3 tablespoons, chopped Salt: ¼ teaspoon
Black pepper: ¼ teaspoon, freshly-ground
Spaghetti:¾ pound, whole wheat
Olive oil: 6 tablespoons
Garlic: 3 cloves, minced
Let's Make It!
In a large glass or stainless steel bowl, combine the tomatoes, olives, feta cheese, capers, parsley, salt, and pepper.
Add water and salt to a large pot. Leave it to boil.Add the spaghetti to the boiling salted water and let it cook until it is just done (around 12 minutes).
Drain the water and set aside.
Meanwhile, heat the olive oil in a medium frying pan over moderately low heat.
Add the garlic and cook. Stir for 1 minute.
Add the cooked pasta and tomato mixture to the garlic oil and toss.
Serve with some freshly baked garlic bread or a fillet of your choice.
For those of you that don't wish to have a heavy brunch, how about some fresh and warm bread with tasty tapenade? Check it out!
2. Tasty Tapenade With Kalamata Olives
What You Need
Garlic: 3 cloves, peeled
Kalamata olives: 1 cup, pitted
Capers: 2 tablespoons
Fresh parsley: 3 tablespoons, chopped
Lemon juice: 2 tablespoons
Olive oil: 2 tablespoons
Salt: to taste
Pepper: to taste
Let's Make It!
Toss the garlic cloves into a blender or a food processor and pulse to mince.
Add the olives, capers, parsley, lemon juice, and olive oil to the minced garlic in the blender.
Blend until everything is finely chopped.
Transfer the mixture to a bowl.
Season with salt and pepper.
Serve fresh with any bread. Or use it as a dip alongside nachos, tortillas, or fritter platters.
I have made these two recipes so many times that they've become my signature dishes. These recipes will change your opinion about olives, especially kalamata olives.
As you keep making such dishes with kalamata olives, you might wonder if there is any limit on the consumption. How do we know when to cut their consumption? Are there any side effects?
Well, there's not much written or researched about this aspect, but the following section might be helpful to you.
Are There Any Side Effects Or Points To Be Kept In Mind?
As there is not a lot of literature and data backing, we can temporarily assume that there is not much harm in eating kalamata olives.
These olives do not contain any compound or nutrient, the overdose of which could be fatal. Pitted, brine-cured olives might have high sodium but not a lot of fatty acids. You can eat pitted and cured olives because they contain essential fatty acids that have a cardioprotective role too.
Those with hypertension should monitor their olive intake strictly because the high sodium levels might worsen their condition. You can still enjoy a few olives tossed over a pizza once in a while.
Does that mean the rest who do not suffer from hypertension can have a jar full of these olives at once?
Certainly, not. The daily intake limit of sodium is 2300 mg. Each serving of kalamata olives has about 110-150 mg of sodium (cured ones have higher sodium). Doing the math right will show you that 4-5 olives per day would be fine – provided you don't consume too many sodium-rich processed foods on the same day.
The Bottom Line…
Known for their natural, rich black-brown color, and distinctive taste, kalamata olives are the most healthy and rare variety of olives.
Kalamata olives are rich in antioxidative, cardioprotective, neuroprotective, anticancer, antimicrobial, and lipolytic bioactive ingredients. These polyphenols, secoiridoids, and anthocyanins offer a lifetime health insurance. But only when you add them to your diet.
So, set your kitchens up. Go olive shopping. Whip up the tapenade or spaghetti for a weekend brunch and tell us how it turned out! You can write your feedback, suggestions, and relevant comments in the box below.
Bring home good health with the kalamatas!
References
The following two tabs change content below.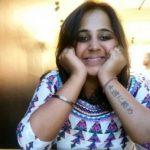 Latest posts by Swathi Handoo (see all)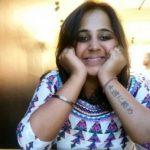 Swathi Handoo
Swathi holds a Master's degree in Biotechnology and has worked in places where actual science and research happen. Blending her love for writing with science, Swathi writes for Health and Wellness and simplifies complex topics for readers from all walks of life.And on the days she doesn't write, she learns and performs Kathak, sings Carnatic music compositions, makes plans to travel, and obsesses over cleanliness.