15 Timeless Kalamkari Sarees With Matching Blouse Designs You Need To Check Out Right Now
Bring out your desi side with this traditional saree that looks exquisite and fabulous.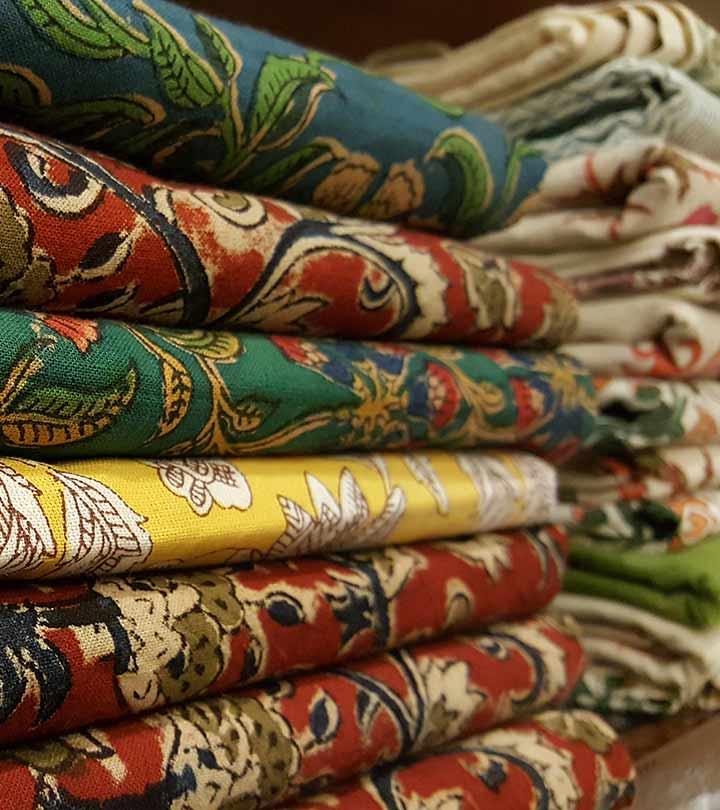 Pride of Andhra Pradesh, Kalamkari has always been a much-loved design. It is basically a block-printed design that is handmade and finds its inspiration from Persia. So if you are dreaming of flaunting this print, then you are in the right place, for here, we are going to discuss Kalamkari sarees with matching blouse ideas. Yes! We have got it all sorted for you here. You can wear these options literally anywhere. If you are going for a casual outing, you can drape them; a wedding event, sure you can drape them again; for work, yes, always yes! These prints will not only give you those Bohemian dressing feels but will also bring out the "desi" you better. Kalamkari blouse designs are bound to captivate everyone with their vibrancy. So, now, we don't think there is a need for you to hold yourself up any longer. You don't too. Go ahead, scroll down and find your favorite options below! Come on!


Ace The Look
Fabric: Consider the event and climate when selecting the fabric. While cotton Kalamkari sarees are ideal for daytime or casual parties, silk exudes elegance and is excellent for more formal occasions.
Color: Since most Kalamkari designs use earthy tones like browns, rusts, and greens, choose saree colors that align with your skin tone.
Draping Style: You can opt for traditional drapes or contemporary ways. Experiment with different pallu drapes and pleating methods to achieve a unique look.
Accessories: Opt for simple jewelry like jhumkas or oxidized or beaded necklaces to add an elegant touch to your saree.
The Top 15 Kalamkari Sarees With Matching Blouses
1. Black And Beige Saree With Floral Motif
That cotton sarees are for older adults is a thing of the past. If treated the right way, it makes for a perfect ensemble for 20-somethings as well. Black is a kalamkari staple, and the design motif like elephants, floral, and peacock are also eternal prints that never go out of style. It flows smoothly and is extremely comfortable, making saree wearing a breeze for novices.

Trivia
The term "kalamkari" is derived from the word "kalam", meaning pen, and refers to the intricate designs that are drawn by hand on fabric. However, another style of kalamkari sarees that have similar intricate designs are block-painted. Both styles use completely natural dyes.
2. Black Kalamkari Saree With Procession Border
Black is the first choice for most women, and for me, I love it for more reasons than I want to admit. But, in my defense, kalamkari sarees in black are a classic because the black canvas lifts the intricate hand made, handcrafted designs, motifs, and prints that speak of the unique craftsmanship. They say the design inspiration started from storytelling when craftsmen traveled from one village to another, and I can see why. Every saree has a tale to tell – distinct and unique. You can wear these to any occasion in summer as the fabric is light and comfortable. Team it up with tribal or silver accessories.
3. Black And Yellow Crepe Saree
Looking for something majestic, yet classy? This black and yellow Kalamkari crepe saree might interest you. The opulent grandeur of the Kalamkari design is at its beautiful best. The luxurious crepe fabric is enhancing the look further. When they say pure crepe, you get pure crepe. It is a comprehensive process of designing and that is what makes these pieces exquisite. Sarees like these are ideal for wearing at weddings, house-warming parties or even to an ethnic day at work.
4. Kerala Cotton Saree With Kalamkari Print
Kerala cotton sarees are a statement all by themselves. Just a plain saree and a contrast blouse can make a serious style statement. Now, using the Kerala cotton fabric and hand painting it with the classy kalamkari print makes this twice as beautiful. We have seen our celebrities flashing this combination lately, and I couldn't agree more. It's equal parts traditional and sophisticated. The pallu portrays the richness of kalamkari design like no other. The floral black blouse will amp up your look further. Go for a contemporary blouse design to build on the chic factor.
5. Pink Uppada With Kalamkari Print
Are you looking for a pattu saree? Uppada silk has been unanimously ruling the showrooms; it has become an obvious first choice. Now, this saree is a rich harmony of uppada silk with kalamkari design. The intricate design and color detailing involve a laborious process that can sometimes take over a month to create. It is neither easy to make or find. The zari border that runs along the length of the saree is only adding to its luxurious aura.
6. Kalamkari Printed Saree In Kosa Silk
Do you like the half and half design style? Then, why not pick something similar in a kalamkari design? An exclusive design that has been masterfully rendered by an award-winning artist from Srikalahasti, one of the two regions in Andhra Pradesh that makes these sarees. Tussar silk is a premium fabric that comes with an in-built sheen. The motifs in the saree take inspiration from Indian mythology. The pallu is handpainted with paisley motifs, and the remaining part of the saree is plain, which enhances the entire look.
7. Red Georgette Kalamkari Saree
Georgette is a go-to for a lot of women, simply because it is easy to carry, flows well, and is lightweight. You can accessorize to make it look grand or go easy for a simpler look. Red and georgette complement each other perfectly – it brings out the beauty of the print. The pallu printed with idols predominantly takes inspiration from Hindu mythology. The organic colors give a warm tone to the design. You can easily wear this saree the entire day without feeling hassled because it is so light.
8. Bottle Green Crepe Kalamkari Saree
Kalamkari sarees are a value addition to your wardrobe. You can wear some of these sarees to work or an evening dinner. Kalamkari artists use organic colors that are extracted from plants, the bark of a tree, pomegranate seeds, etc., and the output is something you will never see with chemically processed colors. That is precisely what gives them the rustic vintage feel and is the USP of these prints.
9. Multi-color Crepe Saree With Zari Border
A kalamkari hand-painted lively print saree like no other! The addition of zari makes the saree stand out. You could either go with the blouse that comes with it or use a plain fabric that complements the myriad colors in the saree to balance it all out.
10. Red Tie And Dye Kalamkari Georgette Saree
Tie and dye is a timeless design that will never go out of style. You can never get enough of it! If there is one design that will effortlessly make you look stylish and chic, tie and dye tops the chart. We have seen our very own Bollywood celebrities sporting georgette sarees and flaunting their hourglass figures. Honestly, georgette flows well enough to flaunt and camouflage. So, either way, this is a safe bet. But, what I cannot get over is the kalamkari facelift this saree has been given. The border that runs along the length, the pallu, and the blouse – I cannot stop admiring it!
11. Blue Chanderi Hand Printed Kalamkari Saree
Here's something that stands out. The first thing that comes to my mind when I think of chanderi is classy, because it is. The richness of chanderi and kalamkari is well balanced. It has just the right amount of prints. Go with a blouse pattern with kalamkari applique work to own the look.
12. Kalamkari Printed Khadi Silk Saree
Khadi is rustic and sophisticated. A kalamkari printed khadi saree is one of a kind. Navy blue is a royal color in itself, and adding the kalamkari touch to it only makes it better. The intricate self-design blouse is a value add to the saree. However, feel free to go with a plain red saree and get a kalamkari pattern done. Pair it with silver jewelry, and it will make you stand apart.
13. Cotton And Net Half And Half Kalamkari Saree
Half and half is one design everyone is raving about right now. If you're someone who likes to doll up in one of these, you've got to try this simple and stylish piece. Yellow and red is a hit combination, especially for a traditional outfit. Cotton speaks elegance and net speaks style. So, you could consider this for anyone who is younger and looking for an elegant saree that matches their age and taste. Kalamkari will never let you down!
14. Black Pen Kalamkari Crepe Saree
This saree is love at first sight for anyone who is a fan of kalamkari. The intricate floral design that runs along as a thick border and the bigger temple motifs to separate them create a graceful silhouette. The material that comes with the saree can be used for making a stylish blouse. One look that oozes class and will never fail you.


Quick Tip
You can wear a blackpen kalamkari crepe saree with a stylized black blouse with open back, a tube blouse, or a halter blouse to make the look modern and fit for a party.
15. Beige And Blue Saree With Peacock Pallu
A soft cotton saree with beige as the base color and striking blue to spruce it up, it is beautifully done. The floral motif design for the body and a full-blown peacock border makes this saree look extremely elegant. It comes with a simple self-design beige blouse that balances out the blue. If you have tried all the classic blacks and grays of kalamkari, then go for this one!
Infographic: 7 Kalamkari Saree Design Techniques
Kalamkari sarees are a testament to the skilled craftsmanship and rich tradition of Indian textile art. These are traditional sarees with hand-painted or block-printed motifs created using special methods. While they are created using different design techniques, we have covered the most widely used ones in the infographic below. Check it out to know more.


Are not the motifs amazing? They sure are. Think about the talents, skills, and effort that go into designing these sarees. The makers surely deserve immense respect and recognition. These motifs are enough to make you look like a showstopper. Classy and elegant, these kalamkari sarees with matching blouses mentioned above will let you grab countless compliments for sure. This design will always withstand the test of time with grace, no matter the fashion or clothing trends, or changing attires. So, next time you want to buy one, take your inspiration from this article and get ready to look dream-like. Also, do not forget to wear your confidence.
Frequently Asked Questions
What are some popular color combinations for Kalamkari sarees and matching blouses?
Yellow-black, white-red, and black-red are some of the popular color combinations for Kalamkari sarees.
Are Kalamkari sarees and blouses easy to maintain?
Yes, these sarees and blouses are easy to maintain. Adding 2-3 teaspoons of regular salt and soaking the saree or the blouse in it for 2-3 hours before washing may help preserve the color of kalamkari sarees and blouses.
How to match a saree with a Kalamkari blouse?
You can pair a Kalamkari blouse either with simple sarees with attractive borders or a designer saree with a mirror or tie and dye work.
How to choose a blouse color and design for a saree?
Its color and design should complement the saree. You can either go for contrast blouses or same-colored blouses if your saree has heavy work on it. If it's a simple saree, you can pair it with heavy statement blouses.
Why is Kalamkari so expensive?
The Kalamkari print is produced by the traditional artisans of Andhra Pradesh. It involves twenty-three steps for completion and is hence labor-intensive, which makes it expensive.
What types of jewelry and accessories can I wear with a Kalamkari saree?
Kalamkari sarees are colorful and hence look best when paired with silver, black, rustic, or beaded jewelry.
How do I choose the right Kalamkari saree and matching blouse for my body type and skin tone?
The right blouse for you depends on your body type. For example, if you have an apple-shaped body, you can go for a full-sleeved blouse in single colors, whereas a deep round-necked blouse would look better on an hourglass figure. Pear-shaped bodies look better in backless blouses, while fitted or cropped and noodle-strapped go well with rectangular body shapes. In terms of saree and skin tone, go for beige, green, blue, wine, pink, white, and black in case of light skin tones and deep or pastel shades of red, blue, olive, purple, and neon and metallic colors for medium to dark skin tones.
*Prices may vary.

Check out the latest Kalamkari saree designs in this video and be inspired to find the perfect matching blouses. Get creative with your ideas to create a stunning look!
The following two tabs change content below.