Kareena Kapoor Inspired Eye Makeup – 2 Step By Step Tutorials With Images
Kareena Kapoor – the blue eyed girl of tinsel town has established herself as one of the topmost stars in Bollywood. Apart from her brilliant acting skills and drop dead gorgeous looks, she has proved herself to be quite a style Diva. Her endorsements include top-notch beauty and makeup products. Her onscreen makeup varies dramatically from character to character. However, it is generally seen that she prefers a dark kohl-eyed look that goes well with her peaches and cream complexion.
Given below are two tutorials of Kareena Kapoor eye makeup, that would surely inspire you. Check them out and choose your preference.
Tutorial 1:
Here is the list of products, which we are going to use in this tutorial:
Elf eyeshadow palette in Day to the Beach
Lotus Herbals black kajal
Kryolan Crease brush
Mascara
Concealer
Compact Powder
Kareena Kapoor Inspired Eye Makeup Look 1:
Follow the steps to create the Kareena Kapoor inspired eye makeup look:
Step 1:
Apply an eye cream to hydrate your eye area. This step will help get rid of drier patches, which can ruin your whole makeup. Then, take a full coverage concealer and conceal the dark circles to create a flawless base for the makeup to come. Set the concealer with a compact powder to prevent creasing of the product.
Next, fill in your eyebrows to make them look thicker to replicate the Kareena look. Here, I used a matte brown eyeshadow and filled the gaps in my eyebrow.
Step 2:
Then, pick up a matte dark brown eyeshadow with soft plum undertones to it. If you don't have a plum brown eyeshadow, then apply a wash of brown eyeshadow and then layer a red eyeshadow softly as a wash of color to get the perfect plum eyeshadow. Softly pat the eyeshadow without sweeping it as is usually done. Using a patting motion while applying the eyeshadow will give you good color intensity. Then, use the same brush and soften the edges to create a seamless and even finish. Here, I used the Elf eyeshadow palette in Day on the Beach for the plum brown eyeshadow.
Step 3:
Apply a dark black eyeliner to your upper lash line. Line your eyes thickly and don't worry about being neat as we will be smudging the eye liner later. It is best to use a creamy formula for this step as it will help in easy blending of the eyeliner in the next step. Here, I used the Lotus Herbals black kajal.
Step 4:
Then, use a soft, fluffy crease brush or a pencil brush and soften the Kajal applied on the previous step. Create short circular strokes and gently soften the edge for a smokey look to your eyes like Kareena. Here, I used the Kryolan Crease brush for this step. If you don't have a crease brush, you can easily use a cotton swab to soften the eyeliner.
Step 5:
Then, apply the same matte plum brown eyeshadow to your lower lash line and line your eyes thickly. Here, I again used the Elf Day on the Beach eyeshadow palette for the matte plum brown eyeshadow.
Step 6:
Then, line your waterline with a black kajal pencil and use the same crease brush and soften the kajal on the lower lash line as done for your upper lash line. Now, tight line your eyes with the same kajal to give an illusion of thicker eyelashes. Apply mascara and if you want to create a dramatic look, you can add false eyelashes to complete the eye makeup look. As this eye makeup is intense and heavy, it is best to use a good concealer in your under eye area. This will make your eye makeup appear sultry and neat without looking dull or tired.
And you are done! Six simple steps to achieve a gorgeous, diva inspired eye makeup. You need not be a Bollywood superstar to look like a million dollar diva. With a few makeup tricks, you can look like a diva in your own right!
Tutorial 2:
Here is an eye makeup of Kareena Kapoor which has been sported in the movie Talaash. I have slightly toned down the look by applying less amount of eye liner. Let us get into the details.
Kareena Kapoor Inspired Eye Makeup Look 2:
Step 1:
Kareena has a really fair and perfect complexion. I primed my entire eye area with the help of 2 products to achieve a flawless complexion and to get rid of any darkness. I applied the Maybelline Clearglow BB Cream in Radiance on the entire lids as well as under the eyes where I have dark circles. To top that, I patted the Colorbar Full Cover Concealer in 003, Sand Beige.
[ Read: Eye Make up ]
Step 2:
In this look, Kareena's eye brow is shaped in a very different way. It is thick and bent towards the inner eye area and narrows up towards the outer corner. As my eye brow shape is completely different, I took a dark grey shade to shape it like her. Once the eye brows are defined the base makeup has to be applied.
Step 3:
For the look I used 3 eye shadow palettes, Smashbox Instant Eyes Shadow & Liner Palette, Dior Ombres A Paupieres Eye shadow Palette and Avon True Colour Eye shadow Duo in Sunshine Peach. I took the Pewter shade from the Smashbox Eye shadow Palette and created the base for the entire lid and extended till the crease. The colour is quite intense so I blended it with a fluffy brush.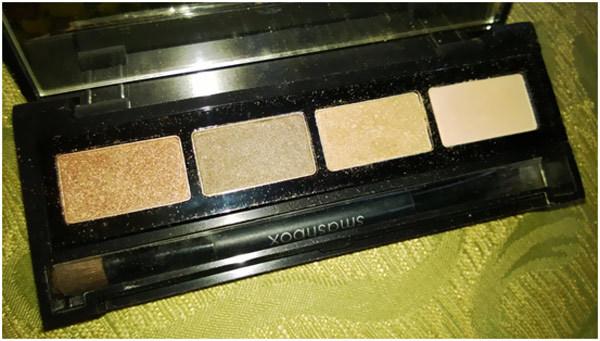 [ Read: Eye Makeup Colours For Different Indian Skin Tones ]
Step 4:
Next, I took the Bronze shade from the palette and used a thin brush to apply it on the centre of the crease and extend it towards the outer side. I took the Light Gold shade from the Palette and applied on the middle of the lid with light but swift strokes. I blended the colours thoroughly so that each one shows distinctively without looking too intense.
Step 5:
I took the dark grey colour from the Dior Palette and intensified only the outer portion of the crease area. It is to be taken care that the Bronze shadow applied before, should also be prominent. Once the lids are perfected it is time to highlight the eyes.
Step 6:
I used the Matte Cream Shadow from the Dior Palette to highlight the brow bone area. The look focuses on a very prominent brow bone. I applied the colour on the inner corners of my eyes and extended towards the nose. Kareena's highlighted areas looked a bit shimmery so I dusted a little bit of the Light Gold shade and blended that along with the matte shade for a subtle shimmer effect.
[ Read: Rekha Without Makeup ]
Step 7:
Kareena's eyes have been lined with a very thick liner. I tried to mellow the effect a bit by lining my eyes very close to the upper lash line. I made it a bit thicker at the outer corners and made a wing shape at the corners. I extended the winged line downwards just to emphasize the corners.
Step 8:
Kareena's lower lash line has been lined with a shimmery white shade. I used the shimmery white shade from the Avon palette and applied with a thin angled brush on the water lines. I finished the look with lots of Mascara. It is best if you can curl your lashes before applying the mascara for a more dramatic effect.
[ Read: Ileana D'Cruz Without Makeup ]
The look is elegant and is easy to create. Are you going on a special date? Do you want to look stunning? This look is perfect! Add a few touches to personalize the look and let your eyes do the talking.
Try these and let us know your valuable comments in the comments section below. Hope you have liked these tutorials. If you have any requests for any makeup, please let us know. We are always happy to help you.

The following two tabs change content below.


Pavai
hi, I am a MBA degree holder and very passionate about makeup and beauty, although my academic background is strongly related to finance and accounts, the inner me has a soft corner for makeup and beauty. I love painting, photography and makeup.