40 Crazy Katy Perry Hairstyles You Need To Check Out!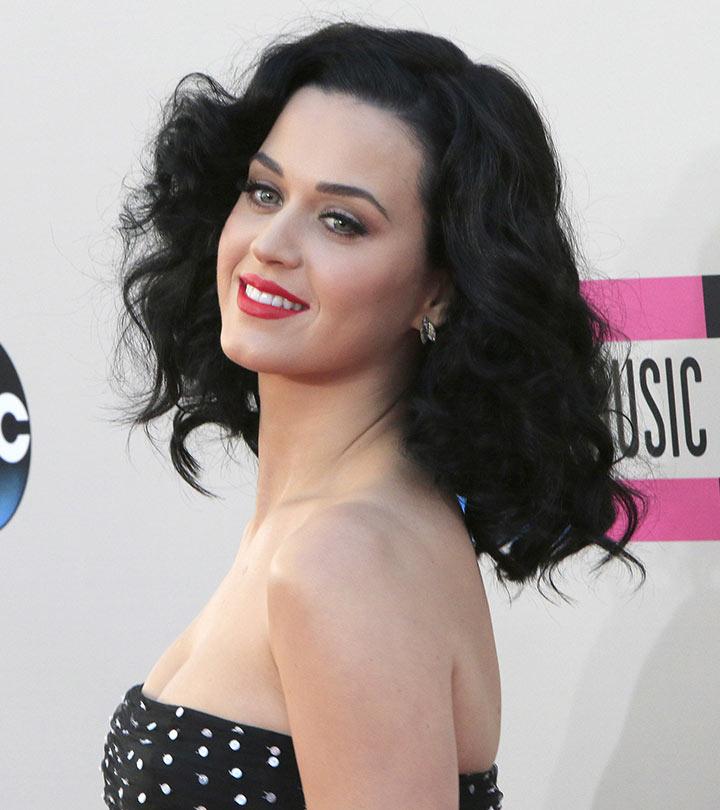 'Cause baby you're a firework, Come on show 'em what you're worth!
Who hasn't belted out to this chart-topping song? Katy Perry slays not only with her vocals and catchy songs but also with her quirky and fun style. Her hair looks range from a mix of vintage styles and fun colors to sleek 'dos with a modern twist.
Let's take a look at some of her best looks. Read on!
40 Crazy Katy Perry Hairstyles You Need To Check Out!
1. The Side Cut
Katy Perry rocked this stunning 'do at the 2017 iHeartRadio Music Awards. The dark roots add depth to her tresses. The blonde hair brings out her eye color and compliments her skin tone. The deep side lift looks extremely edgy and cool.
2. Blonde Side Cut With Blunt Bangs
Katy Perry pulls off the side cut like a queen! The layered top is combed forward to create the blunt bangs. The ends are cut wispy to make her hair look fuller. The hairstyle looks edgy and chic while drawing attention to her face.
3. Short Blonde Pixie
The layered pixie has captured the attention of women all over the world! It looks fierce and modern. It is a stylish hairstyle that flaunts your face shape and features. The blonde layers and makeup bring out Katy's gray eyes.
4. Jet Black Volume Curls
Katy Perry has described her natural hair color as " dishwater squirrel blonde." So, it comes as no surprise that she colored it black at one point in time. She looks like a natural black-haired beauty here. The curls add volume and fullness to her tresses.
5. Blonde Lion Lob
This blonde mane looks stunning on Katy Perry. The stray hair adds a rough texture to her hair, and the layers make it look thick. This mane-shaped lob frames her face beautifully.
6. Long Jet Black Hair With Middle Parting
The middle parting adds height to Katy Perry's face, making it look longer. The lifted sides near the middle parting balance out the added height. The jet black hair makes her gray eyes and fair skin pop.
7. Dark Purple Curls
Katy can pull off any hair color, but I love how amazing she looks with dark purple hair. It adds a modern and chic touch to a classic red carpet hairstyle. It also goes well with her skin tone and eye color. The curls add bounce to her tresses.
8. Intense Lilac Layered Bob
The whole world is going gaga over lilac! While most women can't pull off lilac hair, Katy Perry does it flawlessly. The pastel shade compliments her eye color and skin. The layered bob accentuates her black roots and lilac hair.
9. Glam Retro Vintage Waves
This vintage pin-up hairstyle is everything! The pink color raises the heat on this one. The volume of the sculpted waves makes Katy's jawline look more prominent. The flowers add an elegant touch to the look.
10. Tight Knotted Updo
This hairstyle showcases Perry's oval face. It flaunts her eyebrows, eyes, nose, and mouth. The hairstyle works because of her face shape. This hairdo requires a lot of hair gel, so be ready to slather it on generously.
11. Blue Bob
Katy Perry has played around with hair colors since she was 15. This blue bob looks gorgeous with her skin tone. The curve at the end adds style and draws attention to her jawline.
12. Tight High Ponytail
The high ponytail looks brilliant on Katy Perry. The ponytail acts as a facelift and draws attention to her cheekbones. You will need to apply mousse to give your ponytail that sleek look.
13. Pink, Purple, And Blue HIghlights
I've said it before, and I'll say it again: the best way to accentuate curls is with highlights. The pink and purple create a gorgeous contrast with Perry's gray eyes, and the blue compliments them. The curls draw the focus to her neck and jawline.
14. Dark Rooted Asymmetrical Bob
You can see Katy's natural blonde shade at the roots here. The light soft blonde hair brings out her porcelain skin. The asymmetrical bob draws attention to her neck, making it look longer.
15. Vintage French Twist With A Pouf
Here's another pin-up updo brought back to life by Katy Perry! She pulls it off beautifully by adding a modern twist with her blue hair. The French twist, paired with a pouf and bumper bangs, looks perfect for the red carpet.
16. Deep Purple Retro Curls
Katy Perry would make a terrific vampire! The intense deep purple hair paired with her porcelain skin and deep red lip color make for a killer combo. Her gray eyes are the icing on the cake.
17. Vintage French Bouffant
Katy Perry is a pro at vintage hairstyles. She looks brilliant with this bouffant hairstyle. The bouffant is created by backcombing the hair at the crown. The lift to the side bangs is added with the help of a round brush and a blow dryer.
18. Messy Full Curls
Messy is good, and Katy proves it with this hairstyle! While the curls add volume to her hair, the stray and frizzy hair adds texture to it. The jet black hair, paired with the red lip color, makes her skin look paler. This makes her gray eyes pop.
19. Volume Curves
If you have thin or fine hair, curve your hair at the ends. It makes your hair look fuller and thicker. It streamlines your face shape and neck, making them look longer.
20. Full Curls At The End
Again, curls bring volume to your hair. It's stylish and looks great! The contrast from straight to full curled hair is brilliant. The side-swept hair partially covers her forehead and draws attention to her eyes.
21. Vintage Headband Hairdo
Katy Perry makes looking like Stepford Wife look good! Her earrings, headband, clothes, and makeup compliment the hairstyle wonderfully. The defined curve at the end draws attention to her neck. You will have to tease your hair and apply some mousse to create that pouf.
22. Sculpted Waves
Katy makes this Hollywood glam hairstyle her own. She mixed straight hair with sculpted waves to create this stunning look. The prominent curve of the bangs draws attention to her facial features. She looks so beautiful!
23. Gelled Down Side Cut
Katy Perry looks stunning! This is a superb way to style a side cut. If your side cut is growing out, apply gel to the sides and slick it down. This edgy hairstyle accentuates her ah-mazing eyebrows, too!
24. Blue Vintage Classic With Curled Ends
Another classic hairstyle! Katy Perry pulls off vintage hairstyles like no one else. She makes these hairstyles look super modern and quirky. The blue hair color goes beautifully with her skin tone and eye color. The curls and waves accentuate the length of her neck and bring out her jawline.
25. Pink Decorated Updo
Katy Perry's quirky style looks super feminine with the slightest touches she adds. For instance, this flowery barrette. The pink shade adds a natural flush to her skin tone. The tight updo is elevated by the slight pouf at the top and the big bun at the back.
26. Black Curls And Fringe
Although Katy does not sport bangs most of the time, her oval face can pull off any bang style. These lightly-parted center bangs cover her forehead and draw attention to her facial features. The curly locks look thick and voluminous.
27. Pastel Candy Bob
I love how this candy looks with Perry's skin tone and gray eyes. The length of the bob flaunts her jawline. It also makes her neck look longer and draws attention to her sharp nose.
28. Wispy Ended Layers
Katy Perry doesn't seem to age! The wispy layers make her hair look thick and full. The choppy side-swept bangs flaunt her facial features. Once again, her neck and jawline are streamlined beautifully.
29. Vintage Pin-Up Hairdo
Katy Perry brings this classic '20s classic bob to life. She wears it so naturally. The black and deep purple hair colors work well with her skin tone. They make her gray eyes pop. The blingy vintage headband seals the deal!
30. Elegant Slick Updo
Katy Perry works slick hairstyles like a pro, thanks to her oval face. It is even and symmetrical, making it easy to pull off any hairstyle. The dark color makes her eyebrows shine!
31. Stylish Wavy Ends
Katy Perry's hairstylist knows how to make her look her best. The curls are added midway down to add volume and style to her hair. This is an easy-breezy hairstyle that adds a laid-back appeal to her look.
32. Modern Flapper
Katy Perry looks like a doll here. She channels the flapper energy so well. The straight bob and center fringe accentuate her facial features and make her look ethereal. It goes to show that when you sport a great hairstyle and makeup, you don't need many accessories to make a statement.
33. Wavy Volume Ends
The side parting, the wavy twirl at the end, and the deep black color come together for this flawless hairstyle. The black hair color brings out the green in Perry's gray eyes.
34. Dark Ombre
Dark ombre is a mix of brown and black hair. It adds a warm tone to her normally cool-toned skin. It looks brilliant! It makes her gray eyes stand out and outlines her face shape really well.
35. Intense Purple Updo
Katy Perry looks phenomenal! I like the distinction between the purple bun and her sleek black hair. Use a chignon bun-maker to create the big bun. It is available in different sizes, so pick one according to the length of your hair.
36. Side-Swept Bangs With A Black Bob
Side-swept bangs look great on Katy Perry. The tapering bangs draw attention to her eyes and cheekbones. The straight styling adds a goth appeal to her look.
37. Mermaid Blue Pouf Updo
Katy Perry looks graceful with this hairstyle. The mermaid blue suits her personality. The dark roots add dimension and character to the hairstyle. The slight pouf adds height and makes Perry's face look longer.
38. Double-Twisted Space Buns
Katy Perry rocked the double-twisted space bun hairdo at the 2013 iHeartRadio Music Awards. It looked playful and pretty at the same time. After wrapping the main bun, the rest of her hair was twisted and wrapped around once more to create the outer base of the space buns. Such brilliant details make this a great hairstyle.
39. Baby Bangs With Curled Ends
Women with oval faces are celebrated all over the world. Why? Because baby bangs were tailor-made for them. To achieve this look, keep your curls big and stringy at the end. It adds volume and bounce to your hair.
40. Blue And Purple High Ponytail
Only Katy Perry can pull off this dual-colored ponytail with such pizzazz. The blue and pink shades work with her skin tone and look natural on her. To recreate this hairstyle, you will need to use mousse or gel, depending on your hair's thickness.
If you had to try any of these quirky and vintage hairstyles sported by Katy Perry, which one would it be? Comment below to let us know!
The following two tabs change content below.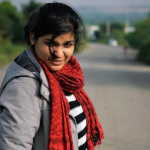 Latest posts by Anjali Sayee (see all)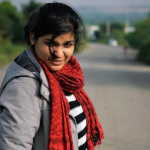 Anjali Sayee
Anjali Sayee is a writer and an introvert. From studying Aeronautical Engineering and wanting to design her own airplane to writing articles on hairstyles, she has been on quite a journey. She believes that hair is one of the key factors that define a woman's personality. To quote her, "What's the first thing they do in the movies to show a personality change? Change the hair – because it has a life of its own." She's here to help you find the hairstyle you need. This bookworm is a self-professed Wholocker, a talented drummer, and an amateur photographer.