Keratin Treatment Vs. Relaxer: The Difference Explained
Take the right decision for your precious mane as you understand these two procedures.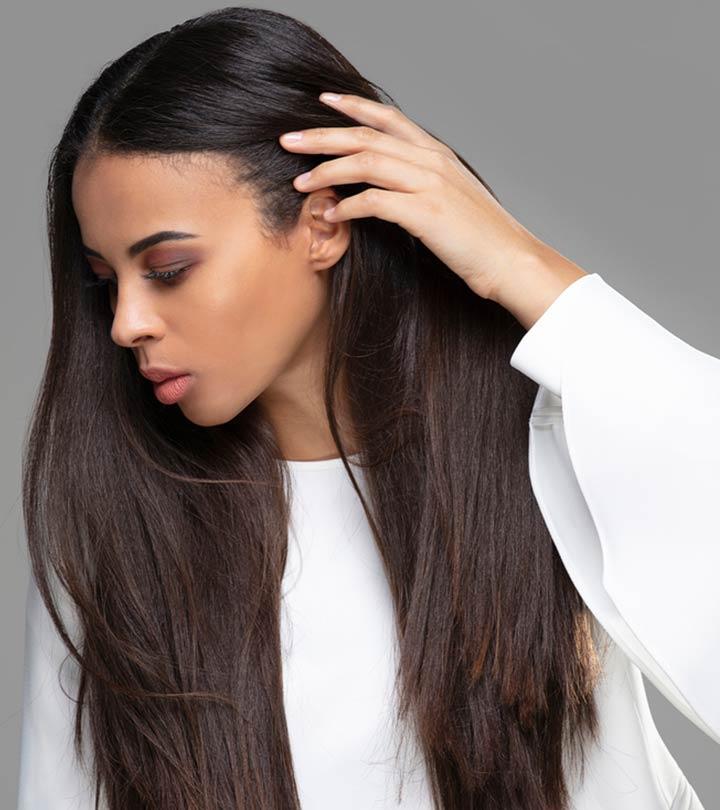 As much as you love your exquisite curly or coily textured tresses, there may be a point when you want to get your natural hair straightened. But once you head to the salon, you are confused between a keratin treatment and relaxers. If you are pondering over the difference between these two processes, scroll on.
Both processes transform naturally textured hair and make it smooth, frizz-free, and straight. Whether you want to change your hairstyle or spend less time managing your locks, you can consider either of these treatments. Here, we explain the inherent differences between both these processes so that you can choose the best one for your hair. Keep reading to know more.
What Is Keratin Treatment?
Keratin treatment is often known as Brazilian keratin treatment or Brazilian treatment. It is a semi-permanent process that focuses on hair strengthening without disrupting its texture.
Keratin is a protein essential for your hair's structural strength. Keratin-rich products contain L-cysteine or cysteine, a non-essential amino acid that supports hair health and slows down hair loss and breakage (1).
This professional hair straightening treatment infuses the hair strands with keratin to de-frizz the hair and make it smooth, shiny, and strong. It works on all hair types. However, if you have damaged hair, consult a professional hair expert before undergoing the treatment.


Trivia
Keratin is a protein present in your hair, skin, and nails naturally. Keratin treatment derives the protein from these sources and, hence, may not be vegan-friendly or cruelty-free.
In the following sections, find out how the process works and what to expect.
How Does It Work?
Keratin hair treatment products contain hydrolyzed keratin proteins mixed in a formaldehyde-releasing solution. During the treatment, the hydrolyzed keratin adheres to the hair cuticles. As a result, the sub-cuticlei  XAn inner layer of cells that lies beneath or forms the cuticle or the outermost part of the hair shaft. section of the hair strands relaxes, giving you flat, smooth, glossy, and shiny hair.
Different Types Of Keratin Treatments
Some of the common types of keratin treatments include:
Japanese hair straightening
Japzilian keratin
Soft keratin
Procedure
Keratin hair treatment is usually done in a salon. It involves the following steps:
The hair expert will shampoo your hair and blow-dry it (80% dry).
The semi-dry hair is saturated with the keratin protein solution.
The solution is left undisturbed for 30 minutes.
The saturated hair is blow dried, followed by flat ironing to ensure proper absorption of the solution.
You may be asked to leave the hair as it is for about a day or two.
After the stipulated time, the solution is washed out of the hair, followed by blow drying.
Time Required
Keratin treatment requires 3 to 4 hours, depending on your hair length, volume, and condition.
After-Care
Do not wash, style, or tie your hair for at least 72 hours after the treatment.
Use sulfate-free hair products to wash and condition your keratin-treated hair.
Avoid excess UV and chlorinated or salt water exposure to prevent any damage.
Switch to keratin, zinc, and

biotin-rich hair products

i

  X

Vitamin B7-infused hair products that help promote hair growth, increase hair volume, and result in strong, healthy hair.

for hair maintenance of keratin-treated hair.
Note: Consult a hairstylist for product recommendations.
How Long Does It Last?
Keratin is a semi-permanent treatment and may last on natural hair for 3-6 months, depending on your hair care habits.
Risks And Side Effects
Keratin-based hair products contain formaldehyde in large concentrations. The FDA recognizes formaldehyde as a human carcinogen, as prolonged exposure to this chemical may cause certain types of cancers (2). The procedure often releases a strong-smelling gas that may trigger (3):
Respiratory distress
Itchy and watery eyes
Sore throat
Burning sensation in the eyes
Coughing and wheezing
Nausea
Skin irritation
Cost
Professional keratin treatments cost anywhere between USD 200 to USD 800.


Quick Tip
Consult with your healthcare provider before getting keratin treatment for your hair if you are pregnant or lactating.
Now that you know all about keratin hair treatment, let€™s check out everything about hair relaxers or chemical relaxers.
What Are Hair Relaxers?
Hair relaxers are chemical-based products specifically formulated to relax and smoothen curly or kinky hair. Some formulations can also condition and moisturize the hair, reduce frizz, and improve hair texture. However, hair relaxers will not make your hair poker straight.
In the following sections, find out more details about how hair relaxers work.
How Does It Work?
Hair or chemical relaxers disrupt the disulfide bonds between the protein structures in the shafts of the hair (4). This alters the hair's natural structure and texture.
Different Types Of Hair Relaxers
You can opt for different types of hair relaxers like:
Lye relaxers or sodium hydroxide relaxers (suitable for wavy, coily, and curly hair)
No-lye relaxers or calcium hydroxide relaxers (suit all hair types)

Ammonium thioglycolate relaxers

i

  X

A chemical used in the process of hair straightening to soften and swell it. When compared with other chemicals, it is relatively less damaging to the scalp.

(suit fine, wavy, and curly hair)
The difference lies in the strength of the chemicals used in these relaxers. Always consult a hair expert to understand which may suit your hair type.
Procedure
Unlike keratin treatment, hair relaxers can be used at home. Here is how to use them:
Coat your hair with petroleum jelly to prevent scalp and hair damage.
Apply the relaxer (cream or lotion) to the hair ends and work your way up the strands.
Leave the relaxer on for 15 minutes and rinse it out with warm water.
Wash your hair with a neutralizing shampoo and condition it to balance the pH levels of the scalp.
Apply a hair moisturizer.
For touch-ups, follow the same process. However, do not apply the product to the hair ends.
Time Required
The hair relaxing process takes about 30-60 minutes.
After-Care
Use a gentle, sulfate-free, reconstructing shampoo.
Avoid frequent shampooing.
Apply leave-in conditioners or deep conditioners to maintain moisture balance.
Use hydrating and protein masks.
Avoid hair styling in high heat settings.
Trim the dry and brittle hair ends.
Never relax color-treated hair.
How Long Does It Last?
Hair relaxers are semi-permanent, and the effect may wear out after 6-8 weeks.
Risks And Side Effects
Hair relaxers have a pH between 9-12 and are incredibly harsh on your skin. They may (4):
Make the hair dry and brittle
Increase frizz
Cause chemical burns and injuries
Cause dandruff, hair loss, and thinning
A study also indicated a close link between hair relaxers and uterine leiomyomata (cancer) (5). However, further studies are required to confirm this hypothesis.
Cost
A hair relaxing treatment at the salon can cost about USD 200, while an at-home treatment costs about USD 20.
Infographic: Keratin Treatment Vs. Relaxer
Given the variety of hair treatment options available these days, all promising excellent results for your tresses, it can be hard to understand your options clearly and choose the right one for you. To make it easier for you to pick amongst the two most popular treatment options, keratin and relaxers, here's an infographic with all the key points of comparison.



We hope this article has helped settle the keratin treatment vs. relaxer debate. Both chemical treatments can change your hair texture and make it appear smoother and manageable, depending on your natural hair texture and the strength of the chemical used. However, since both treatments involve using chemicals and heat, they may damage the hair and skin and affect your overall health. Therefore, before opting for any one of them, consult a professional hairstylist to evaluate if the treatments are suitable for your hair type, texture, and quality.
Frequently Asked Questions
Is keratin good for relaxed hair?
Yes, keratin is good for relaxed or chemically treated hair. It may help restore the shine and smoothness of the hair.
Does keratin straighten black hair?
Yes, keratin works on black hair. You can go for keratin treatment if you want to straighten it and improve the shine and strength of your hair.
Does hair go back to normal after keratin treatment?
Yes, your hair will go back to normal when the effects of keratin treatment start fading. The results may last for 3 to 6 months.
Why is my hair frizzy after keratin treatment?
Your hair may become frizzy after keratin treatment if the stylist does not use enough product or use it incorrectly. Also, the high protein content of the product may result in frizzy hair.
Key Takeaways
Both keratin treatment and relaxers give hair a straight, frizz-free, and smooth look.
Keratin treatment minimizes frizz and gives lustrous hair, lasting for 3-6 months.
In relaxers, the structure of the hair is altered with special chemicals to give you silky, glossy hair.
Keratin treatment lasts for 3 to 6 months, while relaxers last for 6 to 8 weeks, depending on hair care habits.
Keratin treatments and relaxers are two popular hair treatments, but what is the difference between them? Let us find out in the video given below!
Sources
Articles on StyleCraze are backed by verified information from peer-reviewed and academic research papers, reputed organizations, research institutions, and medical associations to ensure accuracy and relevance. Read our editorial policy to learn more.
The following two tabs change content below.