6 Best Kinky-Curly Hair Products You Must Try In 2023
Manage your kinky curls to look beautifully exotic with these specially designed products.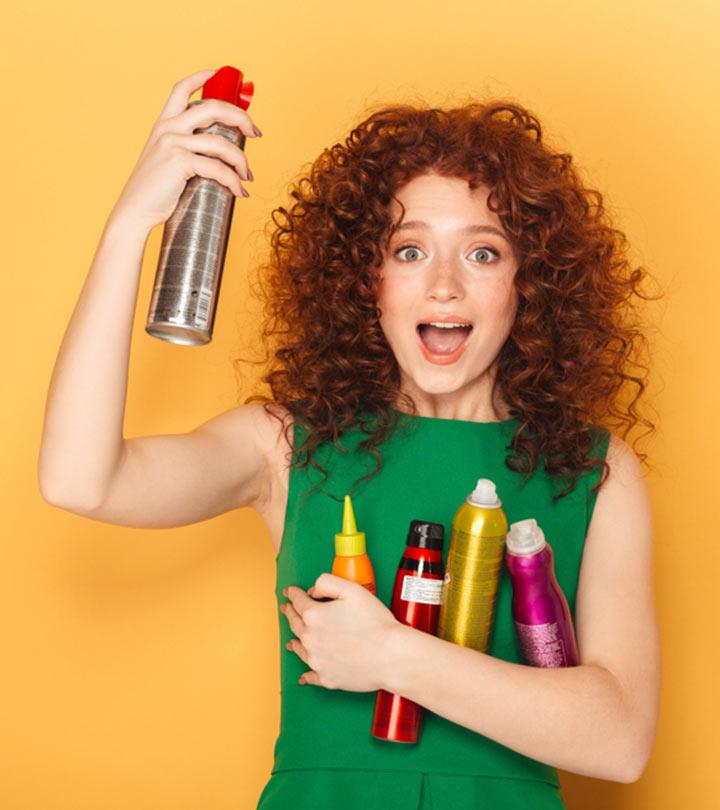 Every curly-haired woman out there knows the struggle of maintaining their beautiful but stubborn kinks and curls. That's why it is such a blessing to walk across the beauty aisles and find Kinky-Curly hair products that understand your hair type and work for them. Kinky-Curly is a brand that offers a wide variety of products specifically designed for those with type 4 hair. They are infused with ingredients that make your hair shinier, healthier and leave it much more hydrated after every application. The best part is their products are formulated with all-natural ingredients that even those with sensitive skin or delicate tresses can happily use. So, if you wish to liberate yourself from the constant burden of maintaining your kinks, check out our reviews of the 6 best Kinky-Curly hair products that are intended just for you! Oh, and don't forget to read our extensive guide on using Kinky-Curly hair products to achieve the best results.
Top 6 Best Kinky-Curly Hair Products Of 2023
Buy this creamy herbal conditioner by Kinky-Curly that will make your hair smooth and detangle it. It helps remove knots and smoothens cuticles as well. This product contains the goodness of organic mango fruit extract, organic lemongrass, citric acid, organic slippery elm, and phenoxyethanol, to name a few. It has a natural fragrance and doesn't weigh your hair down, preventing your hair from looking stiff. This product acts as a good moisturizer and helps soften your hair in no time while preserving your curl pattern. Try this hair product and never experience damaged hair again. Take a look at this video to check out a reviewer's experience of using this detangler to get a detailed about it.
Pros
Lightweight
Paraben-free
Sulfate-free
Silicone-free
Makes hair bouncy
Works for frizzy and thick hair
Cons
Might not have a pleasant smell
Get this Kinky-Curly Curling Custard, which will help you tame your curls and enhance the look of your hair, thanks to nourishing ingredients like chamomile, horsetail, aloe vera juice, agave nectar extract, and vitamin E. This product has a natural fragrance and consists of no harmful chemicals. This product works even better on your hair when used with other Kinky-Curly products. Besides defining your natural curls, it also provides moisture and is great for those transitioning from relaxed to natural hair. Check out this video that features a tester's experience with this product and learn more about it.
Pros
Adds shine
Safe to use
Detangles hair
Makes hair frizz-free
Prevents dryness
Offers long-lasting hold
Adds body to hair
Offers curl definition
Cons
Kinky-Curly Come Clean Natural Moisturizing Shampoo is one of the best shampoos you will ever find! This product does wonders for your hair. It is gentle and does not weigh your hair down. This product smells great and is safe to use even on color-treated hair. It deeply cleanses your scalp leaving your hair shiny and smooth. This is considered to be one of the best shampoos as it is made from organic ingredients. You may check this video to explore a tester's experience of using this shampoo for a better understanding of it.
Pros
Sulfate-free
Gentle on hair
Makes hair soft
Good for everyday use
Prevents hair damage
Cons
Might not be suitable for sensitive skin
Have you tried this Kinky-Curly Spiral Spritz yet? No? Then you definitely must try it out soon! This hair spray is packed with nourishing ingredients like aloe vera gel, vitamin B5, horsetail extract, lavender water, and grapefruit seed extract. These natural ingredients help moisturize your hair by eliminating frizz. It provides a great hold to your hair and adds a refreshing look too. Smoothen your hair with this easy-to-use and highly effective hair spray made just for your curls.
Pros
Lightweight
Curl-refreshing formula
Frizz control
Cruelty-free
Protein-free
Improves texture
Silicone, sulfate, and paraben-free
Cons
Might not be ideal for daily use
Kinky-Curly Stellar Strands help rejuvenate your hair while also reducing breakage and protecting hair from damage. It moisturizes your curly hair, preventing it from becoming dry and brittle. It is infused with curl-enhancing ingredients like argan oil, macadamia seed oil, biotin, and collagen amino acids. You can use this product regularly to get a beautiful texture along with improved elasticity and increased moisture retention. A small amount of this product is enough to keep your hair hydrated for long.
Pros
Smells great
Makes hair soft
Detangles hair
Deep conditioning formula
Cons
Might not work on hair with low porosity
Get this hair product offered by Kinky-Curly that rewards you with shiny and glossy hair. This product is made from natural ingredients and has the goodness of lemon essential oil that provides a beautiful fragrance to your hair. Buy this safe-to-use hair product that will also give your hair an excellent texture. It is recommended to use this product on dry hair as damp hair might dilute the product. All you have to do is warm it up a bit and apply it on your hair.
Pros
Mineral oil-free
Adds shine
Moisturizes hair
Adds softness
No beeswax. petroleum, or lanolin
Cons
Might have a grainy consistency
Besides purchasing these products, you should also use protective satin bonnets and caps to keep your curly tresses well-defined. It is recommended to use satin or silk pillowcases to avoid hair breakage. However, now that you know about the ideal products that can be used for morning and overnight hair care, here is a guide for you to help you make the right use of some of these formulas.
Buying Guide
How To Use Kinky-Curly Hair Products
1. Kinky-Curly Come Clean Natural Moisturizing Shampoo:
Step 1: Wash your hair thoroughly to get rid of the old product that remains on your hair.
Step 2: Apply a generous amount of shampoo to your hair and massage it on your scalp. This will help get rid of oils, grease, and dirt accumulated on your hair.
Step 3: Wash your hair and make sure no product is left as it might lead to dryness.
Step 4: Don't touch your hair much and don't blow-dry it. Allow your hair to dry naturally.
2. Kinky-Curly Knot Today Leave-In Conditioner
Step 1: Apply a fair amount of conditioner after shampooing your hair with Kinky-Curly shampoo.
Step 2: Comb your hair with a wide-tooth comb once the conditioner is applied to your hair.
Step 3: Leave it on for long at the ends of your hair in case of loose curls, and do not rinse out the conditioner if you have tight curls.
3. Kinky-Curly Curling Custard
Step 1: Divide your tight curls into small sections.
Step 2: Apply the cream to your wet hair and smoothen each strand.
Step 3: Spread the product along your hair from ends to roots.
Step 4: Re-wet with a spray bottle if your hair dries.
Step 5: For loose curls, you can dampen your hair and scrunch it into more significant sections.
These 3 Kinky-Curly products, when used together, can help you achieve better and faster results!
The Bottom Line
Why Trust Stylecraze
Kirtana Divakar is an ardent skin and hair care enthusiast. She curated this list of the best kinky-curly hair products after going through numerous user reviews on trusted online forums and researching the options in detail. The article also contains a buying guide that lists various parameters you must consider. The shortlisted items are chemical-free and work wonders on frizzy and dry hair.
Frequently Asked Questions
Are Kinky-Curly products good for your hair?
Yes, they are very safe to use as they do not contain harsh ingredients such as petroleum, silicon, plastics, mineral oil, carbomer, acrylic, alcohol, wax, and paraben.
Is Kinky-Curly sulfate-free?
Yes, all Kinky-Curly products are sulfate-free to ensure the good health of hair.
Does Kinky-Curly custard make your hair hard?
Excess use of the product might make your hair hard; however, if you just scrunch your hair, it will leave you with perfect curls.
Can I use Kinky-Curly Knot Today on dry hair?
Yes. The conditioner is ideal for dry and damaged hair and can be used to repair it.
Is Kinky-Curly black owned?
Yes, Kinky-Curly is a black owned hair care brand.
Do Kinky-Curly products have protein in them?
No, Kinky-Curly products do not contain wheat protein, animal protein, or any other type of protein that can cause buildup on the hair and reduce your hair porosity.
Is Kinky-Curly safe for color-treated hair?
Yes, Kinky-Curly products are safe to use on color-treated hair.
Recommended Articles: