Kirstie Alley Weight Loss – Lose 50 Pounds Like This Star Trek Actress
Get inspired by the best if you want to say goodbye to those extra kilos and maintain them.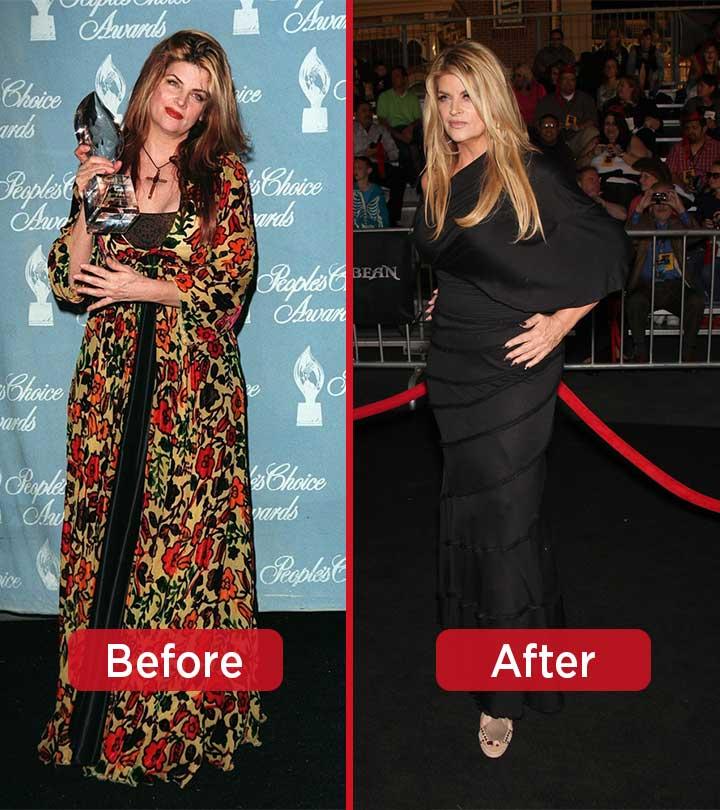 Kirstie Alley's weight loss of 50 pounds has left people speechless! The Star Trek II- The Wrath of Khan actress not only looks slimmer but also 20 years younger. The 60-something actress is slaying it when it comes to defying time. Of course, age is just a number. But women go through hormonal ups and downs that affect their body shape and mental health. However, a healthy lifestyle at any age can help you look good, lose weight, feel better mentally, and regain confidence. In this article, we have explained how Kirstie Alley managed her weight successfully. Here's how she did it, and you can too. Scroll down!
When Did Kirstie Alley Start Gaining Weight?
In an interview with Wendy Williams, Kirstie Alley revealed that she was a foodie and loved to overindulge in all kinds of fattening foods, such as cheeseburgers, pies, and brownies. However, until she was 52, she did not gain weight. But after hitting early menopause, she started gaining weight. It never occurred to her that it was due to her eating habits because consuming high-calorie foods was what she did all her life.
And this is where age and a woman's changing physiological functions come into the picture. So, if you are over 30 and lead a sedentary life, start taking care of your health.
In another interview, she said, "I always joked that my holidays lasted from Halloween to New Year's Eve, and maybe even into Valentine's Day. I would think it was okay for me to eat whatever I wanted during those months."
Do you feel the same way? If yes, you are not alone. Most dieters tend to cheat on the weekends, and we all know how that goes. Kirstie Alley started gaining weight, and before she realized it, she weighed 228 pounds (103 kgs).
How Did Kirstie Alley Lose Weight?
Kirstie Alley lost about 75 pounds and got back in shape and the right weight (145 pounds) for her age and height (5'8"). And she did it with the help of Jenny Craig. Kirstie Alley's fat reduction journey started when she worked with Jenny Craig from 2005 to 2008 and was also her spokesperson. She took the help of exercise and healthy eating and had to get rid of all her bad eating habits. She appeared in a bikini on The Oprah Winfrey Show. Her tremendous weight loss and womanly curves made her look hot (somehow, she doesn't like it now!), and this gave many women a new zeal to take their health seriously. But was she able to keep the weight off? Find out next.


Trivia
Jenny Craig is a well-renowned trainer who, along with her husband, Sidney Craig, founded the company Jenny Craig, Inc. in Melbourne, Australia in the year 1983. They began operating in the United States 2 years later.
Why Did Kirstie Alley Regain The Weight?
In 2011, Kirstie Alley launched her weight loss and slimming products and did a small stint in Dancing With The Stars. Many believe that she lost the weight by dancing 5 hours a day and consuming 1200 calories. But Shape Magazine experts predicted that once she'd lose her motivation to show off her body on TV shows, she'd regain the weight. Unfortunately, they were right.
Now that she was not a spokesperson for Jenny Craig and not in the public eye, she started with her now-famous emotional eating. Various reasons, like her career and personal life, made her an emotional eater. Why only her? In fact, I am sure most of us are guilty of it. A little bit of stress, and we reach out to the high-sugar and high-sodium foods in our kitchen cabinets.
Kirstie also appeared in the TV series, Fat Actress, and told that she was just not able to figure out her meals. She also told the Today Show, "The main thing I realized about myself is I really need to be held accountable for things because I have a tendency to go sort of wild. Food is one of the things where I can go sort of wild."


Quick Tip
Emotional eating is a very common issue that refers to eating as a way to cope with difficult emotions or a sense of emotional void and emptiness. Individuals reach out to foods as eating releases dopamine, a brain chemical that generates good feelings.
But things were about to change. She lost the weight again.
Wait! Kirstie Alley Lost The Weight Again?
In 2015, Kirstie Alley started the Jenny Craig program again. And not because she was motivated by TV shows or her own line of weight loss products – she did it for her health. The result? She lost a whopping 50 pounds and looked stunning.
She works out three times a week. She said, "I do stay active, but I hate the gym. It bores the bejeezus out of me. I'm not a lunging, squatting human, I'll do things that sound fun like a dance class or yoga, or I'll walk or run. Sometimes it's just whatever my friends are doing."
Also, she doesn't eat after 7 p.m. However, she says that she doesn't follow a "diet" diet. She told People magazine, "I can have anything I want, I'm just counting the calories. I know how many calories 6 oz. of tenderloin is. I know that pasta is 200 calories in a cup. So as long as I keep steady that way, and count it up, it's easy to count because I know how many calories those foods that I really love are."
According to a recent survey conducted on 1816 adults in Great Britain about their fitness journey, about 34% said that it is harder to lose weight while 35% of the respondents said that it is harder to keep the weight off. Around 22% believe that both are equally hard.
So far, she has maintained her new weight successfully. And the points that you can take away from her weight loss story are summed in this last segment.
How Can You Lose Weight And Maintain It?
Here are a few points that you should keep in mind for shedding weight and maintaining it:
Drink a glass of water first thing in the morning.
Fix a quick breakfast before you head out.
Keep yourself hydrated.
Eat every 2-3 hours.
Do not overeat cake, ice cream, pizza, burgers, etc.
Consume veggies, fruits, healthy fats, dairy, nuts and seeds, spices, and herbs for nutrition.
Avoid soda, packaged fruit juices, and energy drinks.
Run or walk if you are under a lot of stress.
Sleep 7-8 hours.
Cook your food at home or give special instructions to the chef.
Keep track of your achievements and progress.
Do group exercises for motivation and determination.
Limit your consumption of alcohol if you are partying.
Avoid late night snacking.
Do strength training and cardio for your physical wellness.
Have extra time to kill? Learn a new skill and develop it.
Infographic: 8 Things Kirstie Alley Did To Lose Weight
Losing weight and maintaining it can be a challenging journey, but with the right approach, it is achievable. Taking a cue from Kirstie Alley's weight loss journey, we have highlighted the 8 most important lifestyle changes that helped her lose and maintain her weight. Check out the infographic below to learn more.


Kirstie Alley's weight loss journey has had its share of ups and downs, much like everybody else's. However, what makes her 50-pound weight loss transformation such a stunning feat is that she has done it at 60 years of age. As Kristie revealed in an interview, she has been an emotional and binge eater all her life but it did not show up as weight gain till she hit menopause. Kristie decided to lose excess weight for health reasons and combines calorie restriction with fitness practices like dancing, yoga, jogging, and running.
Frequently Asked Questions
Did Kirstie Alley lose 100 pounds?
No, she lost 50 pounds of weight.
What diet did Kirstie Alley use?
She doesn't follow a partcilular diet but believes in maintaining a calorie deficit.
How much weight did Kirstie Alley lose on Dancing With The Stars?
Kirstie Alley lost weight significantly during her time on Dancing With The Stars. In an interview with Entertainment Tonight in November 2012, Alley stated that she had lost around 100 pounds between her two stints on the show. However, it is hard to tell if the weight loss was entirely due to her time on Dancing With The Stars.
How long did it take Kirstie Alley to lose weight?
It is hard to state how long Kirstie Alley took to lose weight. She declared in an interview with People magazine in May 2011 that she had been trying to lose weight for several years. However, she was finally successful during her time on Dancing With The Stars, where she had to undergo intense rehearsals and a strict exercise regimen. It took a steadfast commitment to a healthy diet and an ongoing effort for her to lose weight.
What advice has Kirstie Alley given to others who are struggling with weight loss?
Kirstie Alley has always spoken openly about her weight loss journey and encouraged people to choose a regimen that works for them. She has advised people to set realistic goals and focus on making small positive changes that they can stick with while celebrating their successes along the way.
Key Takeaways
American actress Kristie Alley has faced weight fluctuations throughout her career and has been candid about her issues.
She worked with Jenny Craig, a renowned trainer, to get her weight back under her control and addressed her struggles with repeated food binges.
She attributed her success to a healthy diet, carefully counting calories and a flexible yet effective workout regime.
Kirstie Alley shares her secrets to successful weight loss. Learn how to make lasting changes to your lifestyle and get the body you have always wanted by checking out the video below.

The following two tabs change content below.