17 Awesome Knee High Boots Outfit Ideas (With Pictures)
Style your knee-high boots most fashionably with these tips and ideas.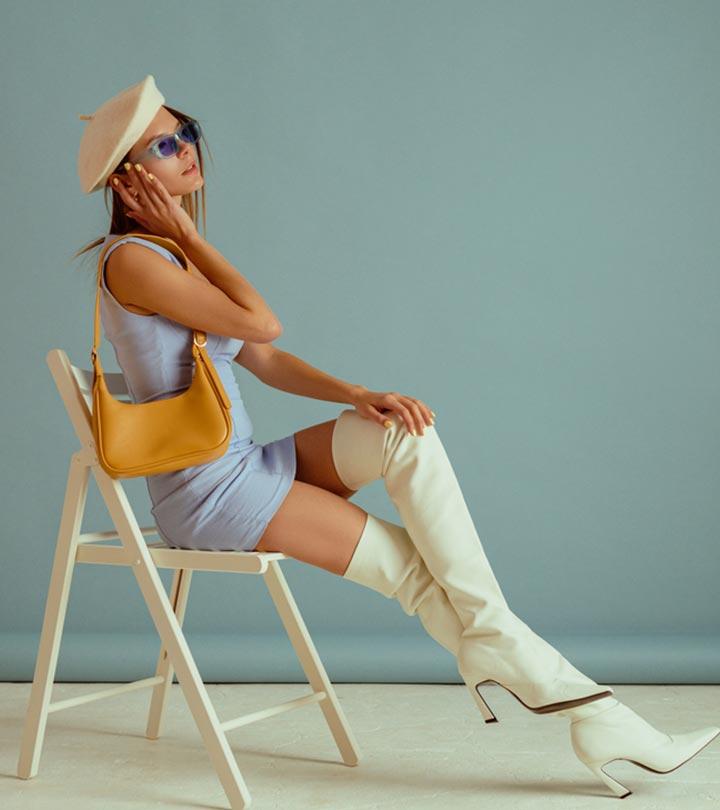 If you are wondering how to rock a knee-high boots outfit, then you are so going to be glad to know that we have got you covered. Today, in this article, we are going to provide you with a lookbook that answers all your queries relating to knee-high boots outfits. All you will need to do is scroll down and find out. So before it is too late, go ahead and give this piece a read. It is time to flaunt those cute and gorgeous footwear!


Ace The Look
Occasion: Knee high boots are perfect for fall and casual winter outings. With proper styling, they can even be worn for night outs, concerts, parties and for work or business events.
Accessories: Add accessories like a lightweight printed scarf, statement waist belts with buckles, hats, and jewelry, like stackable rings and delicate necklaces, to enhance the look.
Bags: It is best to pair your knee high boots with an oversized tote or slouchy hobo bag of complementary or contrasting color for functionality and to make a fashion statement.
Hairstyles: To enhance your overall look, opt for hairstyles like a sleek high ponytail, messy bun, half up half down or loose waves to complement your knee high boots.
17 Ways To Style Knee high Boots – Outfit Ideas
1. With Faded Jeggings
If your obsession this season is knee-high boots, then you're obsessing over all the right things. Which means that you have got to stock up your skinny jeans, jeggings, fleece leggings, tights, or whatever else suits your taste and personality. It is a timeless boots outfit pairing that perfectly suits a chill casual day out.
2. With An Evening Outfit
One day when you decide that the boots with heels need to take over for the night, go with a mini skirt. They correctly space it all out to do just that.
3. With Skinny Jeans And A Crop Top
When you cannot wait until winter or even fall to bring out those new boots you got on sale, go on and wear them with a crop top or a tank top along with funky jewelry and your favorite bag and strut around. I just hope you're not in Arizona or Texas and you can handle the heat.
4. With Black Jeans And Top – Monochrome Look
A monochrome look with black knee-high booties, black jeans, and a black satin shirt will prove to you why black is the real black (if you know what I mean)!

Trivia
Knee high boots were originally created as men's riding boots in the 15th century. They were redefined as fashion boots for women only in the 20th century.
5. With A Sweater Dress
Swap the cashmere sweater for a sweater dress, and those boring winter gumboots for these booties, and see the magic unveil. Consider stockings or leggings if you are already knee deep into winter.
A plus size fashion blogger shares her experience of styling knee-high boots on her personal blog: "I loved the fact that they can be easily worn on skinny jeans or trousers because of the elasticated back, and that they can very well complement a short skirt or dress. I believe they can go with most things and can be styled according to your mood for formal or informal occasions (i)."
6. With A Checkered Shirt Dress
A checkered shirt dress will look incredibly chic too! Make this a signature casual look for this season and try all possible combinations.
7. With A One Piece Off-Shoulder Dress
Head to a party with an off-shoulder dress and cinch the waist with a chunky belt to match the aesthetic of the boots. You need no other accessory.
8. With A Mini Skirt
Ahhh! Love, love, love this outfit. Join the knee-high boots bandwagon this fall and make it official with a modern, statement outfit like this.
9. With A Formal Skirt
Trust us when we say that you can wear them to work, because what's there to shy away from? If you are headed to a party after work, change into a funky top and hat to go with the skirt, and you're party-ready!
10. With Denims And An Oversized Sweater
If you are an OTK boot veteran and tried standard colors, go light or different this time around. Beige, electric blue, suede, and gray are interesting options.
11. With A Long Checkered Jacket
Get some fall action going with a T-shirt dress, plaid coat, light-colored boots, and beachy waves. Style on point!
12. Go Couture
Shout out to the couture chicks out there. Girls, you need to really take the lead with designer knee-high boots, because I'm assuming you have tried everything else and cannot wait to take on more of these.
13. With Distressed Denim
If you are not impressed with the idea of distressed denim yet – pair this fashionable piece of clothing with your edgy knee-high boots – they add a little zing to your street-style outfit without being too shoddy.
14. Suede Knee-high Boots With A Mini Skirt
There's something magical about wine red (I mean red wine, too) and that's why it remains one of the the most interesting and classiest colors for boots. You see a woman wearing these trendy suede boots, you simply know she knows her fashion game.
15. With An A-Line Skirt
If you are one leg into Christmas and see new drinks being stacked up at Starbucks, but want to hold on to fall dearly, continue to do so in a checkered skirt and the knee-high boots paired with your favorite gloves and accessories.
16. With A Trench Or Oversized Winter Coat
A trench coat, an oversized jacket or anything a little oversized with sleek yet comfortable knee-high boots should probably make it to the 'Classiest Looks You Should Try This Winter" – and should top it too!
17. With Leather Shorts
Look how petite women can spin things around. Short shorts, clear stockings to support the boots, and an oversized sweater to add definition and layer.


Quick Tip
You can also create a sporty look by pairing workout leggings with a hoodie and layer it with an oversized puff vest and finish the look with beanie and knee-high boots.
Infographic: Best Ways To Style Knee-High Boots For A Stylish Look
Knee-high boots are a versatile choice for any outfit and can elevate your look if styled well. They look good with leather skirts, skinny jeans, midi skirts, or even cropped pants. Check out the infographic below to learn some of the best ways to style knee-high boots to amp your style quotient.


Knee-high boots may be tricky to pair with all outfits, but with our expert insight and photos for your reference, you can see how much they can add to your personality. We hope we have convinced you to get a pair of your own and make a runway out of the streets! So, grab a pair if you haven't already! Experiment with these elegant knee-high boots outfits. We are sure there is a perfect style for you on this list. So, get ready to discover new ways of rocking knee-high boots!
Frequently Asked Questions
Are knee-high boots out of style?
No, knee-high boots are still one of the stylish and timeless shoes out there. Knee-high boots are versatile shoes that can be worn with several different outfits and occasions. Event stylist and certified image consultant Paola Farina says, "20 years ago they were something odd, think back to Julia Roberts in Pretty Woman. But now they are called classics. They will never go out of style, so invest in a good pair. "
Do knee-high boots suit everyone?
Yes, knee-high boots are suitable for everyone. They can give you a taller and slimmer appearance. All you need to do is pick out the right pair of knee-high boots to add to your collection.
Should I tuck my pants into knee-high boots?
You may wear knee-high boots with slim fit jeans that are tucked in, rolled under, or that hit at the ankle.
How to style over-the-knee boots for over 50?
You may choose a classic and elegant outfit such as a knee-length skirt, midi wrap dress or maxi skirt with over-the-knee boots for a sophisticated look for those over 50.
Can I wear socks with knee-high boots?
Yes, you can wear socks with knee-high boots for extra warmth and comfort.
Can I wear knee-high boots to a wedding?
It depends on the dress code and the formal nature of the wedding. Knee-high boots can work for a more casual or outdoor wedding.
How can I style knee-high boots modestly?
Opt for a longer hemline and pair knee-high boots with a modest top or sweater.
Are knee-high boots appropriate for the office?
It varies in terms of the company's dress code and culture. In general, a more conservative style shoe with a lower heel and closed-toe is preferable.
How to choose the right pair of knee-high boots for my body type?
When selecting knee-high boots, consider your height, leg shape, and personal style. Look for a flattering fit that draws attention to your best features.
Banner Image Credits: Instagram
Key Takeaways
Knee-high boots are a versatile option for the fall and winter seasons
There's a wide variety of styles such as flat, heeled, and over-the-knees.
Pair them with a formal skirt and funky top if you are headed to a party after work.
One of the classiest winter looks is pairing the boots with a trench coat.
You can swap your boring winter gumboots for pair of knee-highs when wearing a sweater dress.
Step up your fall style game with some timeless and fashionable pairs of over-the-knee boots. Take a look at this video to discover styling tips for these versatile boots!
Personal Experience: Source
i. How to wear knee high boots 4 ways (plus size)
https://italiancurves.blogspot.com/2015/01/howto-knee-high-boots-plus-size.html
The following two tabs change content below.