39 Koi Fish Tattoo Design Ideas With Meanings
Carry a bit of Japanese luck on you by choosing one of these incredible ink designs.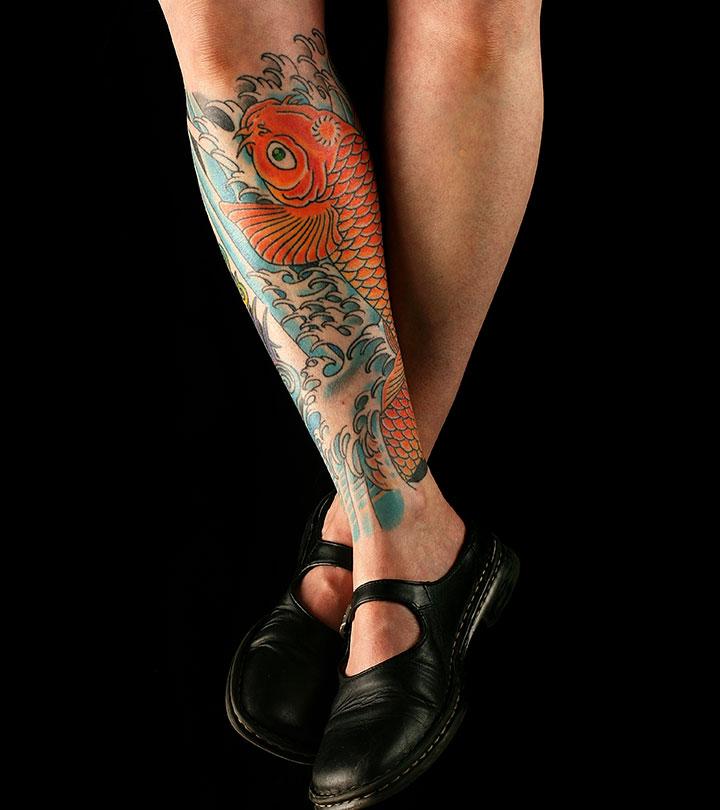 Koi fish tattoo designs are a forever favorite among tattoo enthusiasts, and if you are looking for tattoo inspiration, this is the right stop. Koi fish is a popular subject of art, and anyone who has a thing for meaningful and intricate designs can't deny the gorgeous Koi fish.
The classic Koi fish tattoos are done in a Asian traditional style and are inspired by the rich cultural traditions. According to the Chinese, the fish represents good luck for research and trade. Even Buddhists perceived Koi fish as a symbol of courage.
There are many ways to wear Koi ink, and each signifies a different thing. A school of Koi represents a bond. Koi is a prominent part of traditional Japanese paintings, too. According to mythology, when a Koi reaches the top of a waterfall by swimming against the stream of water, it gets transformed into a dragon. Hence, it symbolizes enthusiasm, accomplishment, willpower, and determination.
Different colors of Koi represent different things. For example, red Koi stands for romance, orange stands for mother, pink Koi signifies a mother-daughter relationship, and the golden Koi is known as Yamabuki and signifies well-being and wealth. The black Koi represents overcoming obstacles, and the blue Koi represents serenity and tranquility.
Here are some Koi tattoos to draw inspiration from. Keep scrolling to check them all out!
Different colored koi fish carry different meanings. The red koi symbolizes passionate love and romance. The orange koi represents the mother of the family, and the pink koi is a symbol for the daughter. Red koi can also indicate authority and courage. The golden koi, known as yamabuki in Japanese culture, denotes capital and good well-being. The black koi represents overcoming an obstacle in life. The blue koi symbolizes harmony, tranquility, and serenity.

Quick Tip
Traditional Koi fish tattoos are commonly of three types. Dragon koi tattoo represents strength, ferocity, and triumph. Yin Yang koi represents duality and harmony in life. Lotus koi tattoo to represent beautiful blooms growing from hardships.
If you want to tattoo this exquisite creature on your body, check out our list of 39 cool koi fish tattoo ideas.
39 Meaningful Koi Fish Tattoo Designs
1. Red Koi Tattoo
This stunning design of a red koi symbolizes guidance and passion. The striking deep red color in contrast with black will look great on your skin. Get this tattoo on your forearm to flaunt it in all its glory. The undertone of spirituality of this tattoo speaks of fortune, luck and positive circumstances.
2. Koi And Lotus Tattoo
If you are a fan of intricately shaded designs, this koi tattoo is sure to impress you. This realistic ink design of a koi splashing in a lotus-filled pond will make you want to get inked immediately. It will look great on your biceps.
3. Angry Koi Fish Tattoo
This monotone tattoo on your sleeve can represent the boldness in your attitude. The fierce expression of the koi symbolizes your willingness to take up challenges in life. This Chinese art-inspired tattoo is accented with waves, fish scales and flowers to enhance its overall appeal.
4. Face Koi Tattoo
Getting a tattoo on your face is not a very wise choice. However, if you want to be hooked to the look and go against the norm, this realistic koi tattoo design is perfect to go on the face. This watercolor, borderless design reflects your skin tone and looks like the koi are swimming on your face.
5. Koi Tattoo On Wrist
Flaunt this adorable gold koi design on your wrist. It features a lovely and well-detailed koi sketch with a red border and orange filling. The black-spotted design on the head of the koi will add a contrasting effect on your wrist, resulting in an ornamental and decorative effect.
6. Watercolor Koi Tattoo
This beautiful colored koi design is the perfect tattoo to go on your forearm. The thin outline with a splash of black and orange done in a watercolor effect adds a ton of beauty to this design.
7. Abstract Koi Tattoo
If you are a fan of abstract art, this stunning koi tattoo design is sure to catch your eye. The rough lines and strokes and patterns lend a distinct touch to this piece. The slight shading adds a touch of mystery. This elegant design will fit on your forearm seamlessly.
8. Blue Koi Tattoo
A blue koi fish symbolizes harmony. Get yourself inked on the back with this beautiful blue koi body art design. This design includes a blue koi fighting its way upstream in the water current. The detailed background and contrast make it even more appealing.
9. Koi Tattoo Sleeve for Women
Flaunt this full-sleeved koi tattoo done in a gorgeous Japanese art style. This black and white tattoo features intricate sketching, which complements the beauty of the design. The winged stork above the koi adds to the uniqueness of the tattoo.
10. Small Koi Tattoo
This simple, thinly lined Asian koi design is the perfect tattoo to go on your forearm. The red head and super fine fins contrast beautifully with the spotted body, making this the ideal tattoo to be etched on your arm.
11. Leg Koi Fish Tattoo
Give your feet a happy treat with this trendy tattoo. This classy design uses warm colors and stretches from your calves to your feet. The thin outline and detailed shade work add charm to this piece.
12. Traditional Koi Fish
If you like keeping things traditional, you will love this simple koi fish design. This light golden koi tattoo with a contrasting blue lotus and black splash marks will look amazing on your forearm.
13. Band Koi Tattoo
This beautiful band tattoo circles around your forearm. The rich colors of the koi fish and surrounding pool are the trendiest way to take your band tattoo up a notch. Flaunt this beautiful design on a dark background to contrast with your skin tone.
14. Tiny Koi Tattoo On Hand
Flaunt your tattoo this charming koi fish tattoo on your wrist. This tattoo is small, but intricately detailed, and looks adorable. The two tiny pink blossoms look amazing in contrast to the monochrome carp.
15. Japanese Koi Tattoo Design
This Japanese koi fish art beautifully showcases the uniqueness of the tattoo. The black ink of the tattoo creates a striking contrast with your skin, making it the ideal tattoo for your entire arm. The beautifully detailed blossoms and waves add another cool dimension to this piece.
A blogger expressed his deep-seated love for koi fish tattoo designs, attributing it to fond memories of the serene koi ponds in the Japanese gardens of San Francisco and San Jose. He writes, "While I love viewing ultra complicated & intricate Japanese style tattoos I was aiming for something that combined that style while still clearly being about the koi – hence the size of the fish (i)."
16. Realistic Koi Tattoo
If you are a fan of realistic tattoos, this beautiful one is perfect for getting etched on your arm. The detailed shade-work and delicate glossy finish bring the tattoo to life. Go for a full-sleeve tattoo with this design to stand out from the crowd.
17. Yin Yang Koi Tattoo
Combine Japanese and Chinese art styles to create this koi fish tattoo in the form of a Yin Yang symbol. This exclusive design with contrasting black and white shades symbolizes peace and liveness.
18. Watercolor Koi Tattoo
If you are a fan of watercolor art, this koi tattoo design is sure to impress you. This simple outline of a koi with splashes of orange looks delicate. This unique design is perfect to flaunt on your upper back.
19. Koi Tattoo With Japanese Lantern
This cute lantern charm tattoo is the perfect treat for your skin. The Chinese lantern and koi are symbols of good luck and prosperity.
20. Koi Japanese Slayer Tattoo
If you are looking for the coolest tattoo, this Japanese koi fish design is the perfect choice for you. The shaded red and orange fish with a distinct outline fills your arm perfectly.
21. Koi Fish With Spots
This elegant tattoo design of a golden spotted koi fish, adorned with flowers and waves, is the ideal tattoo to go on your legs. Flaunt your body with this Japanese art piece, and you are sure to make heads turn.
22. Black And Gray Koi Tattoo
If you are a fan of monochrome designs, this koi tattoo is sure to steal your heart. This elegant design features a delicate black and gray shaded koi with a thin outline. The Chinese style splash and flowers add to the glamour of this tattoo.
23. Mermaid Koi Fish
This beautiful tattoo featuring a princess with a beautiful flower and a koi swimming around her is the perfect design for your arm. The detailed design makes it the perfect piece to get inked on your body.
24. Back Koi Tattoo
Getting a full, back tattoo is a huge commitment and quite time-consuming, but we say, go for it! This vivid and colorful koi tattoo creates a stunning contrast against the black waves.
25. Fire Koi Tattoo
This modern tattoo design of a koi is one of a kind. It features a sketchy outline of the fish with a fire blazing on its back. Get it done on your thigh.
26. Koi Tattoo With Blossom
The orange shade of the koi looks stunning with the purple hue of the flowers. The bright color palette of this tattoo is sure to liven up your life. The beautiful shading makes it a perfect masterpiece for your skin.
27. Intricate Koi Tattoo
If you are looking for an intricate design for your tattoo sleeve, your quest ends here. This is a beautiful Japanese art-inspired piece done in blue and black. The line work on this tattoo is incredible, so we recommend you get it done by an experienced tattoo artist.
28. Sleeve Koi Tattoo
This beautiful design of a golden koi swimming down a blue stream will look amazing on your arm. The twist of the tail is aligned with the joint of the arm, giving it dynamic movement.
29. Japanese Waves Koi Tattoo with Chrysanthemum
If you are a fan of Japanese tradition and its art, try out this gorgeous tattoo. This pretty koi tattoo design features a fully bloomed chrysanthemum that adds to its feminine appeal. It will look absolutely gorgeous on your forearm.
30. Diagonal Koi back Tattoo
This elegant design of koi fish with an extensive outline and shading is a masterpiece in itself. The red flowers blossoming around the monochrome design make it look even more appealing. The broad layout covers your back extensively and gives it a classy look.
31. Orange Japanese Koi Fish Tattoo
This beautiful tattoo is done with bold strokes that make it a unique and elegant piece of work. The use of warm colors along with blue adds to its serenity. The broad and thin lines merge flawlessly to add to its appeal. Get this delicate design on your bicep and wear tank tops to flaunt it!
32. Goldfish Koi Tattoo
This tattoo is a lesson in contrasting colors. The black background makes the warm orange tones of the koi and flowers stand out beautifully. The light shade work and smart strokes to portray the water current make it even more appealing.
33. Bicep Koi Tattoo
This beautiful vintage design of a koi in dark water is a masterpiece in itself. The depth created with the dark background makes your arm look like a fishbowl for these stunning creatures.
34. Swimming Koi Tattoo
If you want a tattoo to showcase your life struggles on your body, this blue koi tattoo is the perfect design for you. The design features a splash of water and a koi fighting against the current to reach the top. The beautiful blue hues and light border will create a great contrast with your skin tone.
35. Ankle Koi Fish Tattoo
A tiny design on your ankle is the ideal tattoo for you if you are a fan of chic tattoos. This gorgeous tattoo features a koi fish drawn with intricate details. You can get a matching tattoo with your partner by incorporating a yin-yang theme into this design.
36. Black Koi Tattoo
This elaborate design features a koi fish in a pond. The pink lotus on the side makes it look even more appealing. This is the perfect tattoo to get inked on your thigh.
37. Dragon Koi Fish Tattoo
A beautiful dragon carp design will look great on your bicep. This tattoo features the complete transformation of a carp to a dragon. The shading and thin outlines of this tattoo are incredible.
38. Koi Fish In Pond Tattoo
This splendid tattoo features two swimming koi fish forming a perfect circle. While one fish is colored with gorgeous pink and peach hues, the left has been left uncolored, which creates a stunning juxtaposition.
39. Koi Swirl Tattoo
This unique tattoo is comprised of two koi fish that seem to be swimming around a whirlpool. The red swirl creates a striking contrast with the black and white koi fish.


Quick Tip
There are many theories about the direction in which the Koi fishes are swimming in. Upstream shows perseverance, and downstream shows self-assurance. However, since it is your tattoo, you may choose what it means to you.
Infographic: Tattoo Aftercare
If you loved these koi fish tattoo designs and are ready to get inked, there's something else you need to learn more about aftercare tips for tattoos. Yes, it is extremely important to know how to take care of your tattoo and the skin that has been inked. These tips will not only prevent infections but also make your tattoo look vibrant and fresh for a long period of time.
Check out our infographic below to learn about tattoo aftercare!



The koi fish symbolizes a deep meaning for individuals who adopt it as part of their tattoos. If you plan to get a koi fish tattoo, do some research beforehand. The koi fish tattoo has a variety of meanings, but one of the most prominent is perseverance. Because the koi's story has such a deep symbolism, it's easy to see why so many individuals acquire this tattoo.
Remember that each color and symbol you add to the koi fish has a different significance, so consider what you want it to represent before you begin. Then, you can mix and match these exclusive motifs to create your one-of-a-kind koi tattoo.
Frequently Asked Questions
What color of koi fish tattoo is good luck?
Gold, orange, or yellow-colored koi fish tattoos are considered a sign of wealth, prosperity, and good luck.
Are black koi fish tattoos good luck?
Black koi fish tattoos symbolize strength and perseverance. You can mix it with gold or yellow to symbolize good luck and fortune.
Which way should a koi fish tattoo face?
This depends on which direction you want the koi fish tattoo to be. A koi fish swimming upwards is symbolic of perseverance and strength. A koi fish swimming downward is symbolic of freedom and independence.
Check out this video to see the top 50 koi fish tattoos! Get inspired by these amazing designs and find the perfect one for you!
Personal Experience: Source
i. Japanese koi fish tattoo designs full body
https://newfacebooktattoo.blogspot.com/2010/07/japanese-koi-fish-tattoo-designs-full.html
The following two tabs change content below.