7 Best Korean Glass Skin Care Products You Need To Try In 2023
Achieve clean skin and flawless beauty with the right products used in the right way.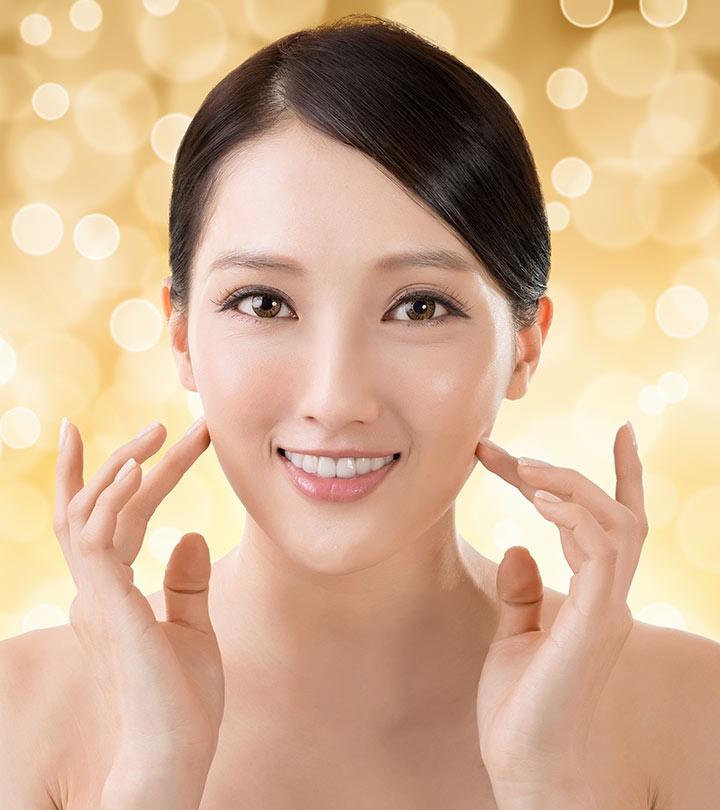 Glass skin routine sounds like the Koreans are taking skin care routine to an unrealistic standard. But, after doing some research on this new skin care routine that everyone and their mother seems to be talking about, we have realized that flawless skin is not unachievable. Thanks, K-beauty! This 7-step K-beauty routine that has been doing the rounds over the last few years promises to give you glass-like clear skin. Let's see what this crazy-sounding skin care routine is all about.
What Is Korean Glass Skin Routine?
Glass skin routine is a step-by-step guide to achieve flawless, dewy, and practically spotless glass-like skin. It starts with cleansing your skin, followed by a serum, lotion, moisturizer, and mist – all specifically formulated for your skin type. What sets this K-beauty regimen apart from the Western ones is that it does not make use of astringents but relies on hydrating ingredients that maintain the pH balance of your skin.
It comes as no surprise that this beauty regimen has sent people all around the world in a tizzy. So, let's break down the steps to follow and the best products to use in the glass skin routine.
How To Get Glass Skin At Home In 7 Simple Steps
To get the most out of your glass skin routine, you need to use products that are highly hydrating, lightweight, filled with antioxidants, and loaded with high-quality ingredients.
1. Cleansing (Double)
Remove all your makeup using the double cleansing method. This method involves removing your makeup with an oil-based cleanser and washing your face with a water-based face wash. Choose a makeup remover and face wash that are specially formulated for your skin type and maintain the pH balance of your skin without drying it out.
2. Toning
Toning is a step most of us tend to take for granted, but it can make a huge difference in the long run. Cleansing opens up your pores and leaves them open if you do not follow it up with a toner. Use a gentle, non-alcoholic toner that closes your pores, softens your skin, restores its pH balance, and plumps it up.
3. Essence
Essence is the epicenter of the Korean skincare routine. The main ingredient of any essence is water. It falls somewhere between a serum and a lotion. It is light and extremely hydrating. It gets absorbed into your skin easily and brightens it instantly.
4. Serum
At this point, your skin care routine gets serious and is elevated to the next level. A serum does more than hydrating your skin – it evens out your skin tone, plumps up your skin, reduces fine lines, and maintains the moisture balance in your skin throughout the day. Use a serum that contains active ingredients like hyaluronic acid, vitamin C, alpha hydroxy acids (AHAs), or beta hydroxy acids (BHAs).
5. Moisturize… A Lot!
Sometimes, the whole point of following a skin care routine is to moisturize your skin and find ways to keep it hydrated for the longest time. You need to use a moisturizer that is meant for your skin type, does not cause breakouts, and has a calming and brightening effect.
6. Foundation
Look for a medium coverage foundation that matches your skin type and skin tone. Don't use a matte-finish foundation because it will work against the glassy-dewy look that you're trying to achieve. Choose a foundation that is light, gel-based, blends easily, and has a mild illuminating effect.
7. Highlighting Lotion
Highlighting is the last step of the glass skin routine before you move on to your makeup. A highlighting lotion helps bring out the defining features of your face by adding a subtle glow and lustrous finish.
There's no denying that the glass skin routine is pretty tedious. So, imagine going through all that trouble and not seeing any visible results. That would break your heart, wouldn't it? This usually happens when you use low-quality products. To prevent this tragedy from occurring, I've combined the best products that you can use while following this skin care routine. Check them out!
The Best Glass Skin Routine Products You Need To Try Out
The Bounce Cleanser from Glow Recipe is a best-seller because it is filled with antioxidants, has toning properties, and is extremely hydrating. Use a cleansing balm or an oil-based cleanser to remove your makeup before you wash your face with this cleanser. Need more information about the product? Watch this video.
Pros
Gentle formula
Moisturizes the skin
Exfoliates the skin
Vegan
Cruelty-free
Paraben-free
Sulfate-free
Phthalate-free
Silicon-free
Alcohol-free
Mineral oil-free
No synthetic dyes
Cons
Not suitable for sensitive skin
Price at the time of publication: $39.0
Look up any list for the best K-beauty toner out there, and this one is sure to be on top. This alcohol- and chemical-free toner by Whamisa is made with naturally fermented flowers that tone your skin while creating a moisture barrier. Use this toner twice a day after cleansing, and you will see an overall improvement in the texture of your skin.
Dr. Farhaad Riyaz, a US-based board-certified dermatologist notes that this is a great toner for those with sensitive or dry skin. He states, "Alcohol-based toners can be especially drying, especially in the winter. Despite having fermented flowers, it has a mild scent which is important for those who easily get irritation."
Pros
Vegan
Alcohol-free
Water-free formula
Eco-friendly packaging
Long-lasting hydration
Organic
Suitable for dry skin
Cons
May have a sticky consistency
Price at the time of publication: $40.99
This is a moisturizer that is not only exceptionally hydrating, but it also adds radiance to your face. Neogen Dermalogy's White Truffle Oil Stick is enriched with white truffle oil that repairs your skin, evens out your skin tone, and brightens fatigued skin. Its unique stick packaging makes it easy to highlight areas that are drier than the others. This is a must-have product according to K-beauty experts.
Pros
Lightweight
Non-greasy
Non-irritant
Suitable for sensitive skin
Skin brightening
Cons
Not suitable for cold weather
Price at the time of publication: $32.9
AmorePacific Vintage Single Extract Essence is expensive, but it is worth every penny. This essence contains green tea extracts from the foothills of Jeju Island in South Korea and is loaded with antioxidants and anti-aging, skin repair, and moisturizing properties. It leaves your skin looking visibly plumper and vibrant.
Pros
Provides anti-aging benefits
Improves skin firmness
Hydrates the skin
Infused with natural ingredients
Cons
Takes time to show the benefits
Price at the time of publication: $175.0
The Ordinary Hyaluronic Acid is one of the best HCA serums out there. It is a vegan product that combines HCA with vitamin B5 to boost hydration and lock in moisture. The serum seeps into your skin instantly and leaves you with a visibly rejuvenated face. This YouTuber's review will help you understand the product better.
Pros
Water-based formula
Hydrates the skin
Reduces fine lines
Vegan
Cons
Price at the time of publication: $12.13
Clinique Even Better Glow Light Reflecting Makeup is a moisturizing foundation that gives you sheer, radiant coverage. It blends easily, leaving you with dewy and spotless skin. The vitamin C in this foundation covers up fine lines and plumps up and brightens your skin. Check out this video to better understand the functions of this product.
Pros
Moisturizes the skin
Long-lasting
Oil-free
SPF 15
Reduces dark spots
Cons
None
Price at the time of publication: $33.0
The L'Oreal Tru Match Lumi Glotion is the perfect way to end your Korean glass skin care routine. It is a highlighting formula that not only hydrates your face but also makes your skin look naturally healthy and bright. Choose your shade, and use it as a bronzer or highlighter. If you are a fan of the "no-makeup" makeup look, this is the perfect product for you as it leaves you with glowing, spotless skin.
Pros
Imparts glow
Provides instant hydration
Suitable for all skin types
Lightweight
Long-lasting
Refreshes the skin
Cons
Price at the time of publication: $6.99
Why Trust StyleCraze?
The author, Shiboli Chakraborti, is a certified skin care coach. She is passionate about the K-beauty skin care routine and has devoted hours of research to illustrate the simple steps to get glass skin at home. She also curated the list of the best glass skin routine products so that you can use them and see an overall improvement in the texture of your skin. These products have been closely reviewed and selected based on user feedback on multiple online forums.
Frequently Asked Questions
What is the recommended Korean morning routine for glass skin?
The morning routine is not much different from the regular Korean glass skin care routine. In the morning, use a gentle foaming cleanser to clean your face. You can then apply a toner and serum or face oil to offer nourishment and glow to your skin. Then moisturize your face and put on your sunscreen!
Are Korean glass skin care products safe for use during pregnancy?
Yes, most Korean glass skin care products that do not contain retinoids, salicylic acid, hydroquinone, or phthalates are safe for use during pregnancy. But it will still be wise to consult your doctor before committing to the products.
Are Korean glass skin care products cruelty-free?
Some brands like Tonymoly, COSRX, Saturday Skin, or Dear, Klairs create cruelty-free glass skin products.
How long do Korean skin care products last?
Korean skin care products last more than a year. However, stop using the products if they give off a bad smell and appear to clump.
What gives you glass skin?
Use products enriched with vitamins and hyaluronic acid. The formulas enriched with these ingredients bring out your natural glow.
How long does it take for Korean glass skin care to show results?
Once you start applying Korean glass skin care products, it may take a month to six months to witness visible results.
Recommended Articles