Korean Style Makeup – Step By Step Tutorial With Images
The ultimate makeup cheat sheet to help you look like your favorite K-pop superstar.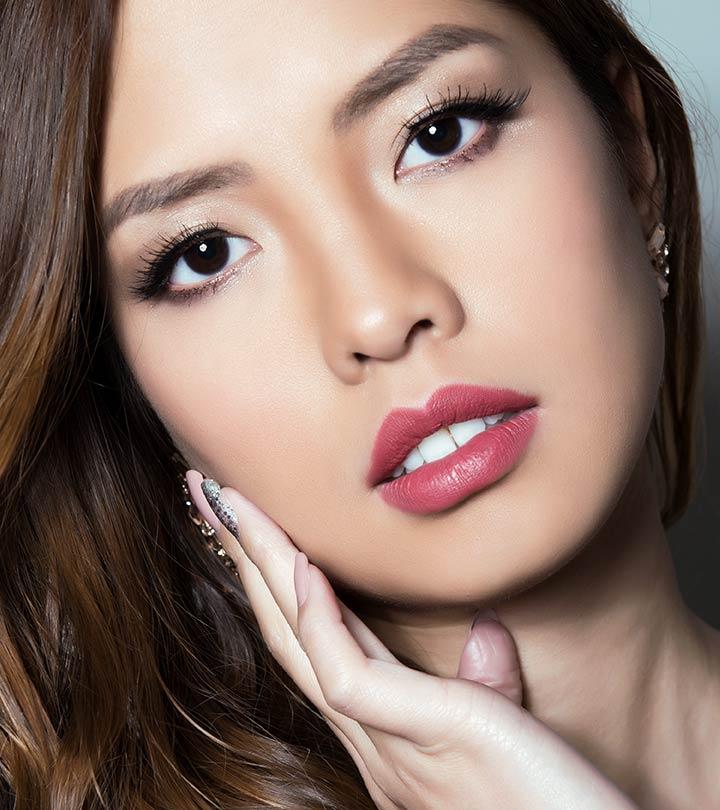 Korean style makeup is all the rage these days, and for good reasons. Bold makeup has been done to death, and beauty influencers worldwide are now obsessed with everything K beauty. The flawless and radiant glass-like skin of the Koreans has become a dream for many. They have shown us how to create magic with soft pinks and shimmery white colors. Simple Korean makeup is perfect for the summer months as it is light and breezy and keeps you feeling fresh all day. So, if you want to know all about rocking a Korean makeup look, you have landed on the right page. Our step-by-step tutorial can help you achieve the desired look in no time. So, what are you waiting for? Transform into a Korean diva and show off your look. Swipe up for the details!
Quick Tip
A major part of perfect K-makeup is a perfect skin care routine. Make double-cleansing, moisturizing, and sunscreen a regular part of your skin care routine for any K-makeup tutorial to work flawlessly.
Korean Makeup Tutorial
Step 1: Apply Creamy White Or Nude Kohl To Hide Pigmentation In Your Eye Area
Koreans are blessed with flawless and radiant skin with absolute no signs of dullness or darkness. So, let's start by concealing all the darkness to reveal the fresh and radiant skin beneath. I have used the Kryolan Derma Camouflage Concealer to hide and lighten my dark circles.
Next, let's move towards the eye makeup. Pick a creamy white or nude kohl and thickly cover up your eye area up to the brows to lighten and remove pigmentation on your eye area. Don't bother trying to be neat—we'll be smudging it later, so don't sweat it. Make sure the creamy base applied to the lid does not have a shimmer in the color as this will make it difficult to apply other eye shadows on top.
Step 2: Apply A Shimmery White Eyeshadow
Apply a shimmery white, silver or a champagne eyeshadow above the kohl and softly blend it with a blending eyeshadow brush. Here, I have used the Revlon eyeshadow in Sand.
Step 3: Apply A Soft Shimmery Medium Brown Shade To The Upper Lash Line
Korean makeup style doesn't emphasize the eyeshadows on the crease so we would be focusing the eye makeup only on the upper and the lower lash line. Apply a soft shimmery medium brown shade to the upper lash line and softly blend it with the silver eyeshadow.
Step 4: Apply Shimmery Turquoise Kohl To The Lower Lash Line
Apply shimmery turquoise kohl to the lower lash line to lift the eye makeup. Here, I used the Maybelline Colossal in Turquoise. Set this kohl with a matching eyeshadow to prevent creasing of the liner. Then, line your waterline with soft nude kohl to create soft eye look as black or brown can look harsh for the Korean style makeup. Here, I used the Oriflame Nude Kohl pencil.
Step 5: Apply Mascara And Black Eyeliner To Your Upper Lash Line
Use a black eye liner and apply it on your upper lash line to define your eyes. Gently wing it outwards to elongate and give an illusion of a bigger eye. Here, I used the Kryolan Black liquid liner. Then, apply mascara to complete the eye look.
Step 6: Apply A Soft Pink Blush
Apply a light bb cream to neutralize your complexion. Here, I have used the Lakme CC cream in the shade Bronze. Then, set it with a compact to prevent budging or creasing of the product. Apply a soft pink blush to give dimension to your face.
Quick Tip
While the Koreans use a lot of whites and pinks, they are shades that suit their pale skin tones. If you have darker skin, use nude shades that will flatter your skin and give you a natural look.
Step 7: Lip Makeup
Korean style makeup has a very soft ombre-like effect on the lips. To create ombre lips start by filling in your lip area with a soft nude brownish pink lip gloss. Here, I used the Maybelline Color sensational Lip Gloss in Hooked on Pink.
Quick Tip
For the ombre effect to be more evident, use a concealer on your lips before you apply the tint.
Then, apply a hot pink shade to the center of the lips. Here, I used the Mua Lipstick in shade 3.
Now, gently blend both the lipstick and the lip gloss with your fingers or a lip brush to achieve a seamless even finish.
And you are done!
Today, we live in a world heavily influenced by the Korean wave. Korean celebrities are making headlines with their creative fashion and makeup choices. Everyone wants to stay relevant by including Korean trends in their look-books by taking inspiration from their favorite stars. You might want to be a part of it, too. This article tells you all about Korean-style makeup, which is brave, experimental, and adds a fresh pop of color to every look. So do not delay anymore and follow this step-by-step tutorial inspired by a popular summertime look.
Frequently Asked Questions
What is Korean-style makeup?
Korean-style makeup is subtle and natural. It mainly focuses on brighter tones and a fresh, dewy look.
Why is Korean skin so flawless?
Koreans take their health, diet, and skincare very seriously. They have a proper routine, regardless of their age or lifestyle. This also is reflected in how healthy and supple their skin is. One beauty secret of Koreans is how they believe in doubling the steps in their routine – double cleansing, double toning, double hydration, etc.
Key Takeaways
Korean style makeup mainly focuses on brighter tones and is characterized by a radiant look.
White or nude kohl can help hide dark circles, and shimmery white eyeshadow can make you look brighter and fresher.
A shimmery kohl to the lower lash can give you a smoky, soft eye makeup look.
You can finish your makeup with a soft pink blush to your cheeks and nude pink lip gloss.