15 Latest Kurti Neck Design Patterns – 2019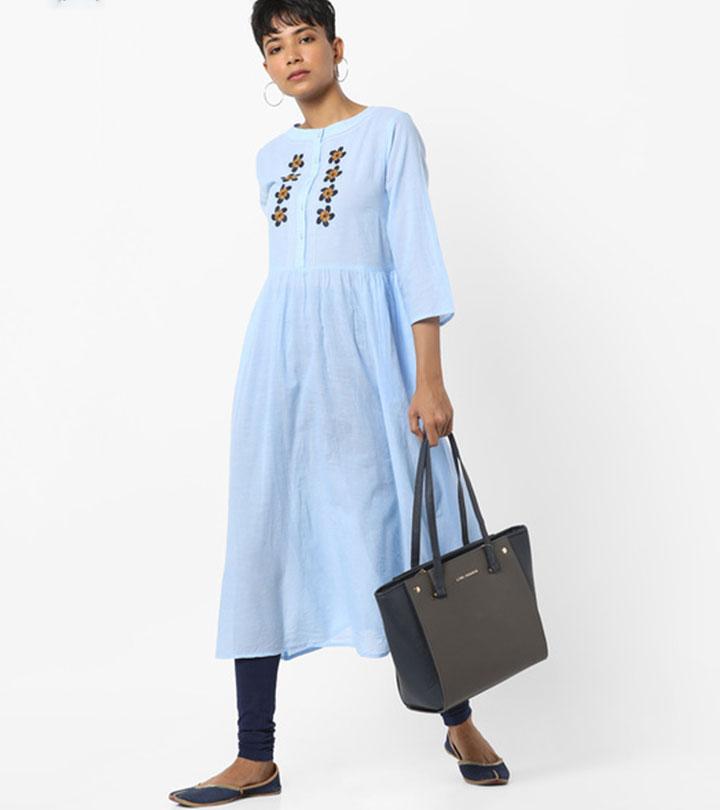 If you think kurtis are passe, we'll get you to change that perception soon. Yes, it's time for kurtis with leggings to make a graceful exit. But kurtis, tunics, and kurta sets will forever be faves for the desi girl in us. The best part of it all is that styling these is almost effortless. From ready readymade stuff in the market to random neighborhood tailors, big boutiques and, of course, online retail giants, kurtis are everywhere. But there are some kurtis that you still need to customize and get stitched. For all those and more, here are some of the most sought-after kurta neck designs and patterns.
15 Best Kurti Neck Designs Catalogue 2019:
1. Halter Neck Design
A halter neck is the perfect segue for adding a western touch to your desi attire. If you are not entirely comfortable with the idea of a noodle-strap tying neckline, go with a broader neck pattern like this one. Pair your kurta with a straight cut palazzo and, of course, skip the dupatta for obvious reasons. Now this is an outfit that checks off all the boxes for power dressing.
2. Front High Neck With Backless Pattern
If you thought that kurtis don't give you an opportunity to sport backless patterns, we need to set the record straight once and for all. While everyday straight cut kurtis are relatively more straightforward, party wear kurtas give you the scope for backless designs. And it is that one simple detail that can transform your regular attire into party wear. Sport a phulkari or Banaras dupatta to round off this look.
3. Chinese Collar With Button Detailing
Chinese collar will never go out of style because it instantly adds charm to your outfit and lifts it completely. Adding wooden buttons is yet another way to enhance the collar. It goes well with linen, cotton, and other handloom materials.
4. Cross V-Neck For Cotton Kurti
It is a notion – and a wrong one at that –  that cotton and handloom kurtis don't make for party wear dresses or that they are too simple to wear on special occasions. I don't agree and actually prefer them over heavy materials. But, of course, you need to be a little smart with the designs. Go with a cross V-neck that cinches at the waist and flares up as it moves down.
5. High Collar Neck Line For Party Wear Kurtis
Do you sometimes look at a Manish Malhotra or a Sabyasachi dress and want to replicate that look with your everyday dresses? It happens a lot with me because I prefer simple kurtis over anything ostentatious. Here's one such design you can easily incorporate into your kurtis. Go with a pastel or printed kurta fabric and add a contrast patch to the neckline.
6. Open Flap Neck Design
Oval kurtis, flap sleeves, and flap necklines are all patterns that are in fashion right now. Like we just discussed, kurtis are not treated very differently these days, so we don't leave any stone unturned to spruce them up. Next time, you are choosing an oval hemline for your kurta, try the open flap neckline as it goes well with the silhouette.
7. High V-neck Design
Bring the best of both worlds with this fusion neckline. V-neck and Chinese collar are the most common necklines. Why don't we bring them both together  and marry them  into something that transforms your look? Chanderi, raw silk, or other expensive fabrics are exciting choices to amp this up further.
8. Straight Neckline With Embellishments
Consider any prominent designer in the country and you generally see them playing around with everyday outfits. Sometimes they are better off on the runway, but mostly they just alter little details. If you have an eye for detail, you can work that magic on your everyday wear kurtis. Depending on your preference, add embellishments or mirror work to the straight neckline and see how a simple kurta can do wonders with just that.
9. High Keyhole Neckline
We have seen a lot of keyhole necklines in the past and it is a very retro way of doing things. But what if you want to add a modern touch to it? Here's how you do it – take a high neckline and add a lace or border strip that acts as a connector andworks as a necklace too. Why not?
10. Halter Backless Pattern For Net Kurtis
When we say kurti, it does not always have to be simple. That is a misconception we need to dismantle. Net or tulle kurtis are go-to party wear choices for a lot of us because you can mix and match them with almost any bottom to create an outfit. If you want to take it all to the next level, go with a svelte halter neckline that trickles down into a backless design. You can choose to go with a broad or a smaller back neck depending on your comfort.
11. Scoop Neckline
Scoop necks are simple, but that's all some of our kurtis need. Here's a kurti that reassures that with a great fit and little details you can still steal the show. A scoop neck on a straight cut kurti and cigarette or palazzo pants are perfect for work or small events too.
12. High Plunge V-Neckline
A lot of us shy away from plunging V-necklines, but there are ways to deal with them without being all over the place. Combine this style with a high neckline to have enough support from the top and to hold the plunge V-neck in place. Add embellishments, Kundan work, or other accessories to add on to the look.
13. Broad V-neck
Broad V-neck on a plain kurti looks better than you think, but again fit matters the most. So if you are choosing this, take a reference picture like this to your tailor just so they get it right. Since a broad V-neck is a little too bland, add a small collar and bam! This is how it looks.
14. Flared Boat Neck Kurtis designs
There is a sudden demand for flared cape style kurtis, especially in handloom fabrics. You can go with a boat neck design, which may seem like a tiny detail, but is more than enough.
15. Square Neck And Spaghetti Straps
Square neck and spaghetti straps? Who would have thought that this could be an everyday look and also make you look like you are ready for a party? This is exactly how you go from your desk to a date.
Are you a sucker for procuring kurta materials and experimenting with designs? Do you enjoy buying fabrics and playing with your creative side? What is your favorite kurta set design? What are your go-to kurta patterns? Let us know by dropping a text in the comments section below!
Banner Image Credits: Source
The following two tabs change content below.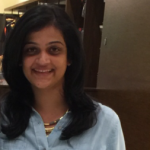 Pratima Ati
After working in Marketing and Business Development for a few years, Pratima Ati jumped ship to pursue two things she loved – fashion and writing. She's now a full-time Fashion & Lifestyle writer and has never looked back ever since. She sleeps early, reads often, and when she can't, she finally gives a closure to all the characters living in her drafts. Sometimes, they pass off as poetry too! That, and her training in Indian classical music and playing (learning) the veena keep her sane, civil, and bearable.