13 Pictures Of Kylie Jenner Without Makeup
Kylie Jenner, the youngest of the Kar-Jen clan, is presently the most powerful of the bunch. This reality TV star has made it to TIME Magazine's list of 'The 25 Most Influential People On The Internet.' With her $900 million cosmetic empire, Forbes called her the youngest self-made billionaire in history at the age of 21. Whether Kylie is what one would call "self-made" maybe a matter of debate, but there is no denying that the girl has made it, and she has made it big! If you're her fan, keep reading because we've rounded up some of her best makeup-free pictures below.
Kylie Jenner Without Makeup
1. The Sun-Kissed Selfie
Kylie posted this picture on her Instagram profile with zero makeup while embracing her natural beauty. Doesn't her bare skin look way better than it does when all glammed-up? Jenner manages to look breathtaking with just a little mascara and lipstick. And that sun-kissed glow only adds to the beauty of this picture!
2. The One With Stormi
This makeup-free picture of Kylie with her daughter Stormi is simply gorgeous. She posted the photo on Instagram with the caption, "I spy with my little eye," and millions of fans flooded her with compliments. Kylie's freckles are one of her best features, and we love how she flaunts them from time to time.
3. The Morning Selfie
Kylie looks radiant in this picture, and her smile only adds to her beauty. She lets her long, dark hair and fresh face do the talking in this one.
4. The Workout Selfie
This stunning selfie, once again, wowed Jenner's fans with her natural beauty. This reality TV actress is big on fitness and clean eating. According to her personal trainer, Kylie loves ab workouts and other forms of weight training. Her '11 Minute Workout' created a whole lot of buzz amid her fan following.
5. The Pillow Selfie
Besides her eyelash extensions, Kylie has absolutely no makeup on in this gorgeous photo. Her freckles are definitely the standout feature of this picture. There's something so wholesome and raw about letting your natural skin shine through.
6. The One With Lush Lashes
Kylie loves her eyelash extensions and, besides her full pout, lush lashes have been her thing for some time now. We sure love it when she flaunts them without mascara or any other makeup.
7. Freckle Love
This was one of the first makeup-free selfies Kylie shared with her fans on Snapchat, and the photo went wildly viral all over the Internet. She sure does look adorable with those fluttery lashes and her bare skin looking as real as it possibly could.
8. The Au Naturel Selfie
Here's a picture of Kylie looking her best without glamorous makeup and styled hair. She's just sitting in her car in a cozy sweatshirt, looking flawless as ever.
9. The No-Makeup Makeup Look
Although Jenner looks beautiful without anything on her face, she does like sporting the famous no-makeup makeup look from time to time. She looks stunning sitting in this cafe in a casual tee and overalls, doesn't she?
10. The Mirror Selfie
This picture of Kylie in an all-black outfit and barely-there makeup is so stunning. This Snapchat queen is all about mirror selfies, and she knows how to slay her selfie game.
11. The One In The Camouflage Jacket
Here's a picture of this beauty in an oversized camo jacket, a high bun, and a bare face. Her fans can't stop raving about her style and this minimalist look.
12. The Brown-Eyed Gal
The light in this picture is falling in all the right places, making Kylie's beautiful brown eyes pop even more.
13. She's All About That Pout
Kylie posted this picture on her Instagram while on a flight. Her face is free of any makeup, and she looks quite happy flaunting her real self.
Ladies, love her or hate her, Kylie Jenner has made the best of what was handed to her. She sure has lived a life of luxury, but she also worked towards branding herself as an online influencer and entrepreneur to build her makeup empire. Jenner has consistently supported Smile Train, an international children's charity that provides free cleft repair surgery to kids in developing nations. Way to go, girl!
That was our round-up of the best photos of Kylie Jenner without makeup. Which one do you like the most? Do let us know in the comments section below.

The following two tabs change content below.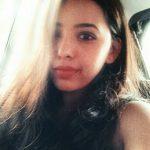 Latest posts by Esha Saxena (see all)