Kylie Jenner's Workout Routine – How To Get A Body Like Kylie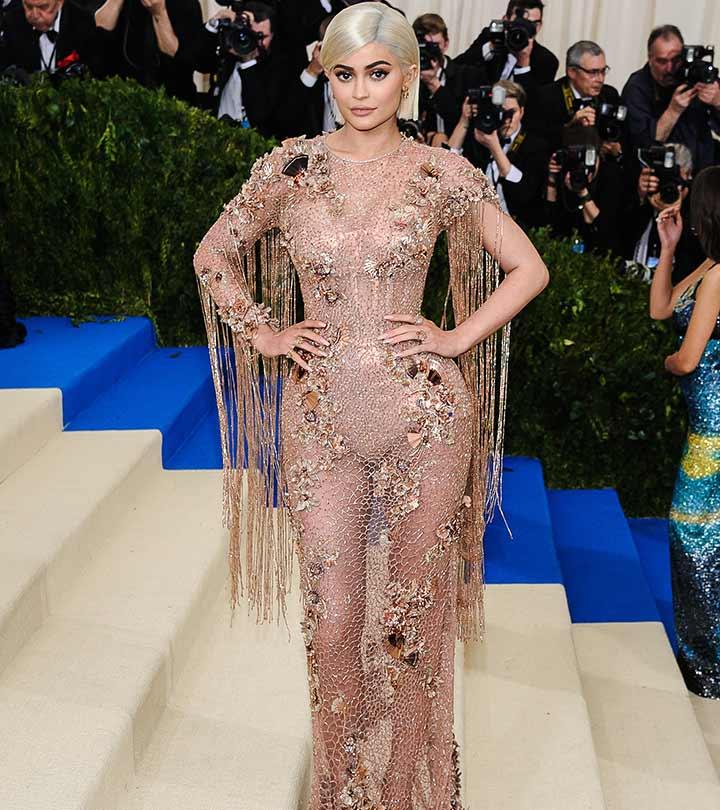 "Self-made youngest woman billionaire" or not, Kylie Jenner sure has a hot bod and a kickass makeup line. Kylie is the youngest of the Kardashian sisters and is not a fan of working out. But her role as a mother to her daughter, Stormi, prompted her to take up exercising regularly. Working out keeps her feeling good and in shape post-pregnancy. Curious to know Kylie Jenner's hourglass body shape secrets? Here's her workout routine and diet. Keep reading!
Kylie Jenner Workout Plan
Kylie Jenner likes to workout with her family and trains with Kourtney's fitness trainer. She admits that she likes a "lot of HIIT (high-intensity interval training) and needs to be constantly switching up the moves."
She also revealed that she and Kourtney "work out for an hour. It's hard, but it makes me feel good. Kourtney likes to blast music. I'm really into Kanye's new songs. PartyNextDoor has a song called 'Party at 8,' which my friends and I have been listening to on repeat." Kylie also gets a lot of playtime with baby Stormy, which also helps burn calories.
In an interview, Kylie's sister, Khloe said, "Kylie doesn't really work out. She did come with Kourt and me one time, when [our trainer] Don was training us. Don does four quarters in each session and Kylie only stayed for one quarter. When she was leaving, we were like, 'Hello?' She's like, 'No, I'm OK. I'm not feeling this.' And she just walked away. She doesn't have any remorse, either. We were like, 'Kylie, you only did one quarter!' and she's like, 'That's all I wanted to do.' OK then-you do you, Kylie!"
However, Kylie does have a routine, and she sticks to it. Take a look:
Warm-up – 10 minutes
Running up the hill – 10 minutes
Side lunges – 3 sets of 12 reps
Forward lunges – 3 sets of 12 reps
Skater lunge – 3 sets of 12 reps
Bicep curls – 3 sets of 12 reps
Lateral dumbbell raises – 3 sets of 12 reps
Dumbbell rows – 3 sets of 12 reps
Crunches – 3 sets of 12 reps
Plank – 2 sets of 90 seconds hold
Ball throws – 3 sets of 12 reps
Lat pulldown – 3 sets of 12 reps
Stability ball leg curl – 3 sets of 12 reps
Wood chops – 3 sets of 12 reps
Mountain climbers – 3 sets of 12 reps
Cool down
What else does Kylie Jenner do to keep herself in shape and look so gorgeous always? Find out next.
What Kylie Jenner Eats
Kylie Jenner prefers eating organic food. Her diet mainly includes a green juice loaded with vitamins and minerals. For coffee, she uses a vanilla-flavored collagen creamer. For breakfast, she eats bacon, eggs, and mashed avocados.
In an interview, Kylie admitted that she is enjoying living her youth and eats anything that she wants. She also added, "I love potatoes; I'll make all different kinds of potatoes, like scalloped potatoes, mashed potatoes, candied yams."
However, your metabolism may not be as active as Kylie's, especially because the Kardashians are constantly on the go and always traveling. If you do not have an active lifestyle, it is best that you consume foods rich in dietary fiber, a source of protein in every meal, and whole food sources instead of packaged foods, frozen, and fried foods (1), (2).
Eating healthy is good for everyone. But why did Kylie want to lose weight when she already had a perfect body? Find out in the section below.
Why Did Kylie Jenner Want To Lose Weight?
Kylie Jenner is a beautiful 22-year-old mom who has established herself as an entrepreneur. Thanks to her body's metabolism, she did not gain many pounds post-childbirth. But soon after the birth of her first child, she wanted to start working out.
In a Q&A session with her best friend Jordyn Woods, Kylie said, "At such a young age to see your body go through such a change, and it is physically, mentally, and emotionally, a challenge."
She added, "It's also a beautiful thing, and it was such a great pregnancy and birth and I'm so happy and I would have done the same thing over again."
Moreover, her sisters, especially Khloe and Kourtney, and Jordyn also motivated her to include workout in her routine and follow a healthy diet.
But there's one food group that Kylie avoids consuming. Scroll down to find what it is and why she has to avoid a food group that's considered healthy and enjoyed by many people around the globe.
Kylie Jenner Is Lactose Intolerant
Yes, Kylie Jenner is lactose intolerant and avoids consuming dairy. She said, "I didn't realize I was lactose intolerant. I just became lactose intolerant, like, this year."
If you feel bloated or have digestion issues when you consume dairy products, confirm with your doctor if you are lactose intolerant (3). Avoid consuming all kinds of dairy and start consuming vegan alternatives like almond milk, peanut yogurt, etc. (4). It is best when you prepare these at home. Why? Because Kylie does it too!
Kylie Cooks At Home
Home-cooked meals are best to keep your weight in check and protect you from various diseases (5). Kylie started cooking recently, and she loves it.
"I love cooking these days," Kylie said. "I like to make burgers. I also make spaghetti because my mom is obsessed with spaghetti. It's the first thing I learned to cook."
You can cook easy and quick healthy recipes at home and keep the nutrition and calories in check.
What else does Kylie do to keep herself in shape? What lifestyle rules does she follow?
Other Habits That Keep Kylie Jenner In Shape
Apart from eating healthy and working out, here are a few tips to get a body like Kylie Jenner:
Avoid alcohol completely or drink a glass of wine once a week.
Get at least 7 hours of sleep so that your cells and tissues can de-stress and rejuvenate.
Eat frequently in moderate amounts.
Do not force yourself to follow a diet or a fad that you cannot adhere to. "Cleanses" do not work for Kylie, and hence, she doesn't believe in any detox cleanse.
If you are craving for a certain food, consume it, but practice portion control.
If your body allows, practice intermittent fasting. It will rejuvenate your body, cleanse, boost metabolism, and keep you in shape.
Spend time with your loved and dear ones. Kylie is super close to her family, and that gives her a lot of unspoken support. She is surrounded by friends who wish her good, and she supports them as well. This helps her reduce stress, which, when unchecked, may cause inflammation and inflammation-induced weight gain.
Conclusion
Kylie Jenner lives her life by her rules, and so should you. If you think you need to make certain changes to your lifestyle to keep yourself fit and strong, do it.
If you think it's not your time or that you are perfect the way you are, do not listen to anyone who tells you otherwise. We recommend that you follow a healthy lifestyle – and everything else will fall into place.
Go ahead and make some small tweaks, and see your life change.
Sources
Articles on StyleCraze are backed by verified information from peer-reviewed and academic research papers, reputed organizations, research institutions, and medical associations to ensure accuracy and relevance. Check out our
editorial policy
for further details.
Recommended Articles
The following two tabs change content below.