Top 10 Lady Gaga Tattoo Designs
We all know Lady Gaga, the famous singer, songwriter, actress and fashion designer. Her songs 'Born this way', 'Do what you want', 'Just dance' etc are till date amongst the chartbusters. But do you know, she is a big time tattoo lover too. The tattoos inscribed over her skin are very vivid and are a way to cherish for many
Lady Gaga Tattoo Designs – Top 10
Let us have a glimpse at Top 10 Lady Gaga Tattoo pictures that hold some sort of reverence!
1. Unicorn Tattoo:
This is the best tattoo of Lady Gaga among all the other designs. She got it tattooed on her thighs in September 2010. It also has a banner of her chartbuster song 'Born this way'. Unicorn is a symbol of uniqueness and rarity and Lady Gaga loves to stay unique in all her ways.
2. The ARTPOP Tattoo:
As Lady Gaga got 'born this way' tattooed on her thighs to celebrate the success of her song, in August 2012, she got inked the title of her new album 'ARTPOP' on her arms. I very much liked the idea of getting the text inked backwards. It is a simple text tattoo yet very appealing and unique.
[ Read: Pink Tattoo Designs ]
3. German Text Tattoo:
In August 2009, Lady Gaga visited Japan. There she got this German Text tattoo inked on her bicep. This whole long text is actually a passage which has been written by Rainer Maria Rilke who is her favorite writer. Its translation is "Confess to yourself in the deepest hour of the night whether you would have to die if you were forbidden to write. Dig deep into your heart, where the answer spreads its roots in your being, and ask yourself solemnly, Must I write?"
She says that this tattoo reminds her of her gift of Song writing by God. It is more like breathing to her than just an option.
4. Daisy Tattoo:
This is yet another beautiful tattoo on her left shoulder. This is one of the earliest of the Lady Gaga tattoos collection. It is elegant, beautiful, girly and eye-catching.
5. Peace Tattoo:
She got a peace symbol tattooed on the inside of her wrist. She told that her peace sign is inspired by John Lennon who was a huge believer in peace. On looking at this tattoo, you'll think it is made upside down, but it actually right side up for the Lady, as she says this tattoo serves as a reminder for herself.
[ Read: Scroll Tattoo Designs ]
6. 'Dad' Tattoo:
This is a simple tattoo on her shoulder which has a heart and 'dad' written inside it. It is inked on her left shoulder which clearly depicts her love for her father. She got this dad tattoo done right after her dad had a successful open heart surgery.
7. Tokyo Love Tattoo:
During her visit to Japan, when she got the German phrase tattooed on her bicep, she got another small text tattoo inked right above her daisy tattoo on her left shoulder. This tattoo read 'Tokyo Love'. She got this tattoo done along with her creative team designers & stylists known as 'Haus of Gaga' in order to commemorate a shining moment of her during the time she worked with them.
8. Little Monsters Tattoo:
Lady got this tattoo inked on her bicep right below the German text tattoo. This was the way to express her love for her fan base as 'Little Monsters' is a name given by her to her fan base. She got this tattoo done right after she won two Grammy Awards in 2010.
[ Read: Small Tattoos ]
9. Anchor Tattoo:
In September 2012, Lady Gaga revealed another simple and elegant tattoo which was an Anchor symbol. It was done on her Ribcage in AmsterdamTattooMuseumby Henk Schiffmacher.
10. Cherub Tattoo:
Last but not the least on our list of top 10 Lady Gaga tattoos is this Cherub tattoo. She got this renaissance Cherub inked on the back of her head. She shaved her hairs in triangle shape for this tattoo as shown in the picture, but after few months, she let her hair grow over the tattoo.
Hope you found these Lady Gaga tattoo ideas quite interesting. Do leave us a comment!
Considering to get a tattoo? Make your choice right with the help of 'Tattoos For All'.

The following two tabs change content below.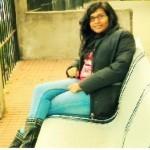 Latest posts by Anamika M (see all)