Lakme 9 To 5 Primer + Matte Lip Color Review Lipstick is a must-have in almost everyone's cosmetics kit as nothing beats a perfect matte lipstick for a bold pout. Lakme's 9 to 5 lipsticks have been re-invented, and you can now purchase your favorite color from the collection, but with a superior formula! Scroll on to read a detailed Lakme 9 To 5 Primer + Matte Lipstick review. I have experimented with a variety of these hues and have a lot to show you. If you're interested in learning more about how they function and fare, keep reading. We're sure you won't be disappointed!
Lakme 9 To 5 Primer + Matte Lip Color Review
The new and improved Lakme 9 to 5 lipstick is the first lip color with a built-in primer for a long-lasting matte finish. Its primer extends your color's stay comfortably for up to 12 hours. It ensures smooth application and an intense color payoff. Touch-ups are now a thing of the past. It's available in 30 work-ready shades so that you can match your look with perfection.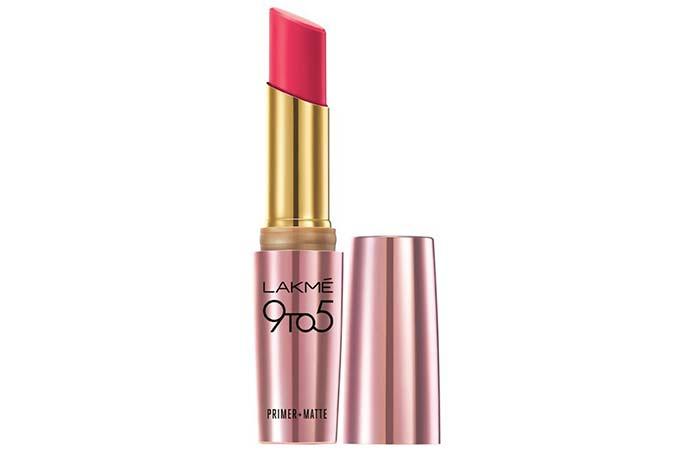 Features And Benefits
Here's what Lakme claims to offer with its Primer + Matte Lip Color:
This sets a flawless base and evens out your lips for smooth application
It comes in highly pigmented shades that have a rich and intense color payoff
It develops a fine matte finish on your lips that lasts up to 12 hours
It gives you a vibrant color payoff
It's available in a variety of shades
Packaging
The Lakme 9 To 5 Primer + Matte lipstick comes in a shiny, rose gold metallic finish packaging in a cardboard box. The tube looks very attractive, and it also feels nice to hold. Its cardboard cover contains information like its shade name, price, and manufacturing date. The tube also has the shade name mentioned on a sticker at the bottom. Overall, its packaging is simple, elegant and functional. The cap secures the product well, and you can easily carry it around in your bag without the fear of the tube opening up.
Ingredients
Its full ingredients list is not mentioned anywhere. However, Lakme claims that the key ingredient of this lip color is primer, which ensures that the lipstick provides smooth application and comfortable wear all day long.
My Experience With This Lakme 9To5 Matte Lip Color!
I was a big fan of the old Lakme 9 to 5 lipstick range, and when I saw its revamped version with a primer in its formula, I was so keen on trying it. I bought my favorite shades to start off with and here's my experience with the Lakme 9 to 5 Primer + Matte Lip Color.
Texture And Fragrance
This lipstick formula has a smooth and creamy texture that glides easily on the lips without tugging or pulling. Its soft finish does not feel patchy on the lips, and it never highlights dry patches on my otherwise dry lips. It feels light and comfortable to wear, and I would say it's perfect for daily wear – you can easily wear it to work or college without feeling like you have a heavy product on your lips.
It has a mildly sweet fragrance that fades after some time of application. Even if you're sensitive to smell, this will not bother you.
Pigmentation And Efficacy
I was very impressed with its pigmentation. The color is super saturated, and even a single coat will leave you with a fully opaque finish. Its formula feels high quality and does not leave an annoying stain like some matte lipsticks tend to do. My lips feel soft and moisturized after applying this lipstick, and it never smudges or bleeds! Also, the formula never settles into creases and fine lines, which is the sign of a good lipstick.
Staying Power
This stays on easily for 5-6 hours, and it can decently survive a meal. However, after a heavy meal, it does tend to fade away from the centre of the lips, so a slight touch-up is required, which is not much work as this is so easy to apply. Also, the lip color never looks messy on the lips. It's easy to remove – a wet wipe will do the trick instantly.
Lakme 9 To 5 Primer + Matte Lip Color Shades
The Lakme 9 to 5 Primer + Matte Lip Color range comes in 30 gorgeous shades. I was very happy to see the variety of pinks, red, mauves, and browns. There's a lot to choose from with something for everyone. Here's how some of the shades look and perform.
Maple Map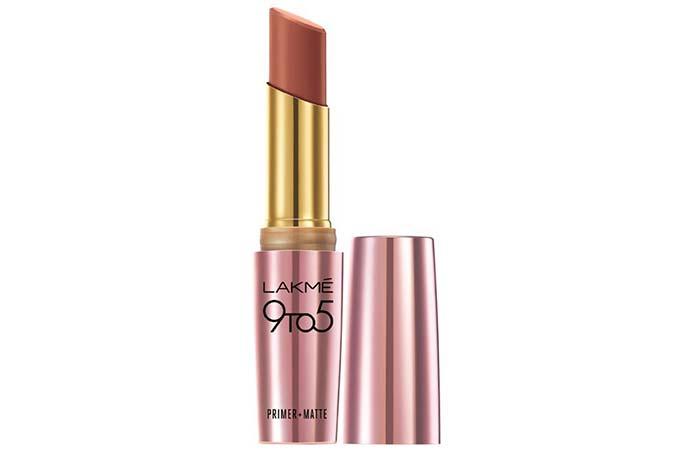 The shade 'Maple Map' is a stunning nude shade which will flatter any skin tone. It's a warm-toned, peachy nude color with a hint of brown in it, which instantly makes anyone look fresher. It's a great everyday shade!
Berry Base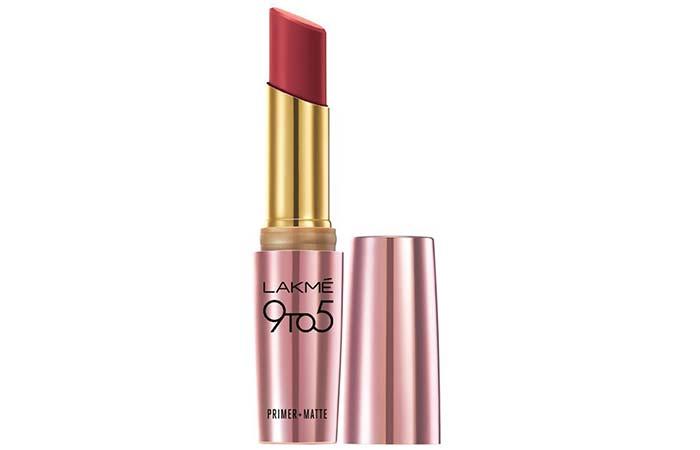 This is a beautiful berry shade with pink undertones. The name 'Berry Base' is so apt for this color. It suits all skin tones well and is extremely pigmented. This shade is ideal for evening wear.
Brick Blush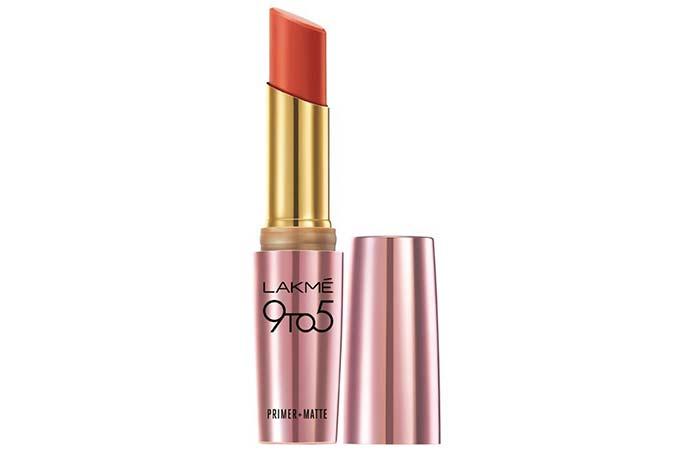 This is a muted orange color with a brick undertone to it. It's ideal for warm skin tones and instantly brightens up your face. You can use it during the day when you're in the mood to add some color to your lips.
Cabernet Category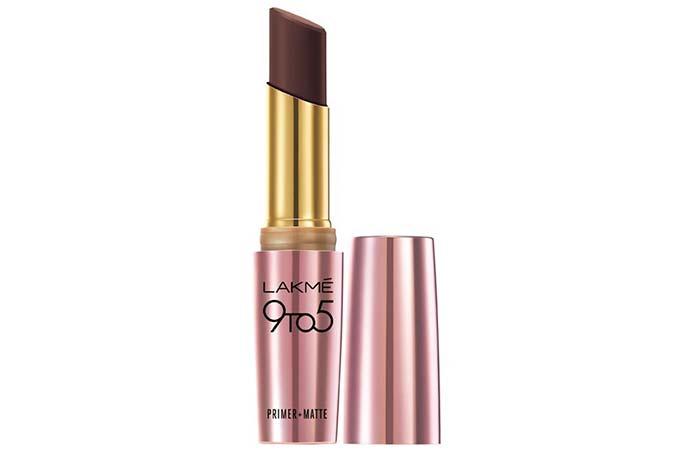 Are you a chocoholic? This is one of the most beautiful chocolate shades from this range. Its pigmentation is incredible! It suits fair to medium skin tones well.
Cherry Chic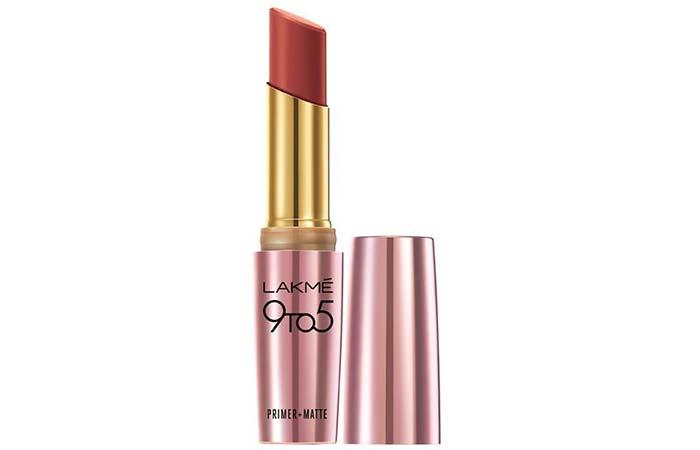 This is one of my favorite shades. It's a bright brick red that suits Indian skin tones well. It never looks over the top and can be pulled off easily even during the day.
Rosy Mind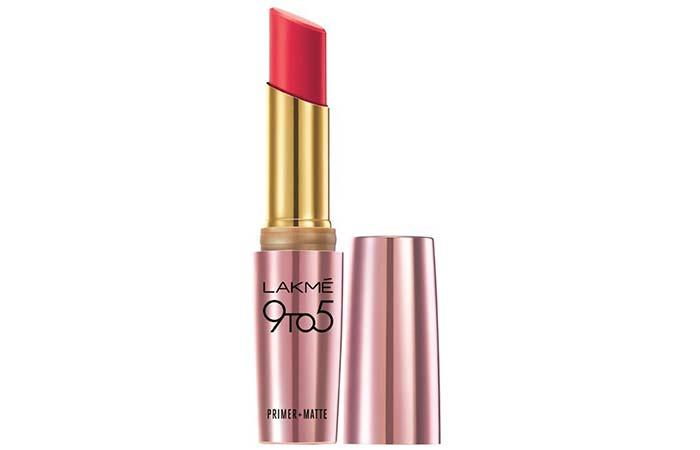 If you're a fan of pinks, you will love 'Rosy Mind'. It's the prettiest blend of pink, red, and coral and will suit almost every skin tone. It looks very fresh and summery. Also, it complements all looks well.
Pink Perfect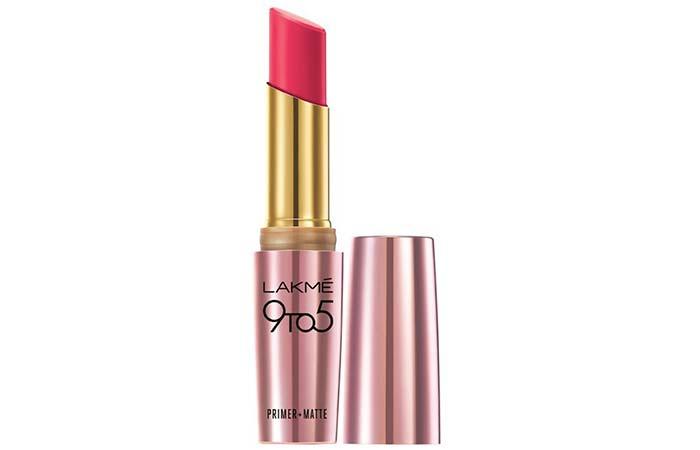 'Pink Perfect', like its name suggests, is a pure pink shade with some shimmer particles in it. However, the shimmer is not very visible. It's a great shade for spring or summer, and it complements medium to fair skin tones so well.
Sorbet Tuesday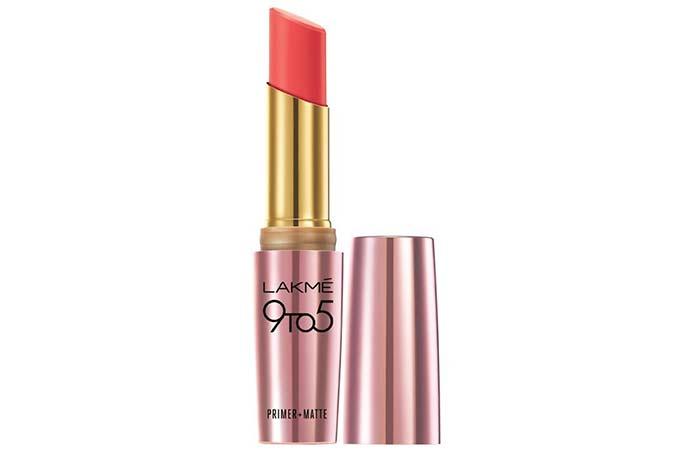 This shade is a beautiful baby pink color, and it gives your lips a natural flush of pink. It's a perfect shade for teenagers and college-goers, besides working women.
Rosy Sunday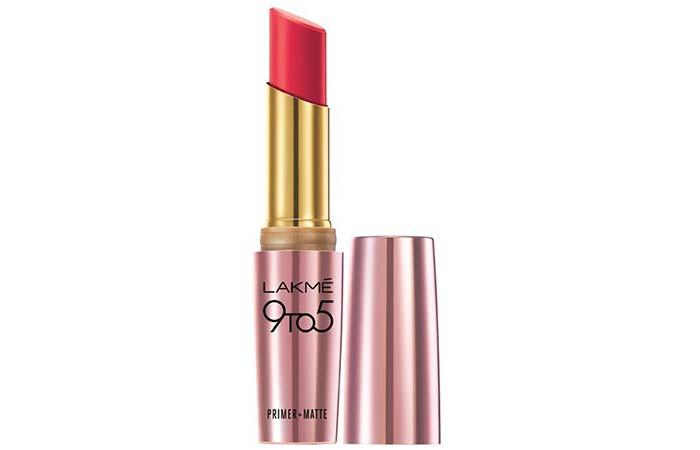 'Rosy Sunday' is a gorgeous warm-tone dusty rose color with subtle earthy hints to it. This is a universally flattering shade and will suit every skin tone well.
Red Rebel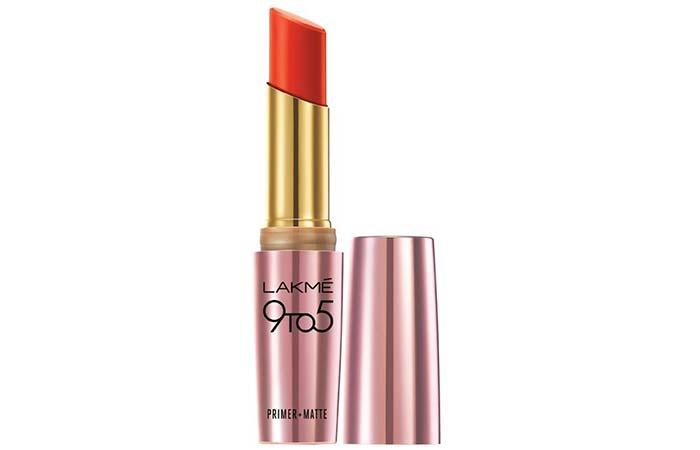 'Red Rebel' is a bright red with orange undertones. It's a highly pigmented shade, and a single swipe is all you need for a fully opaque finish. This suits all skin tones.
Vermillion Fired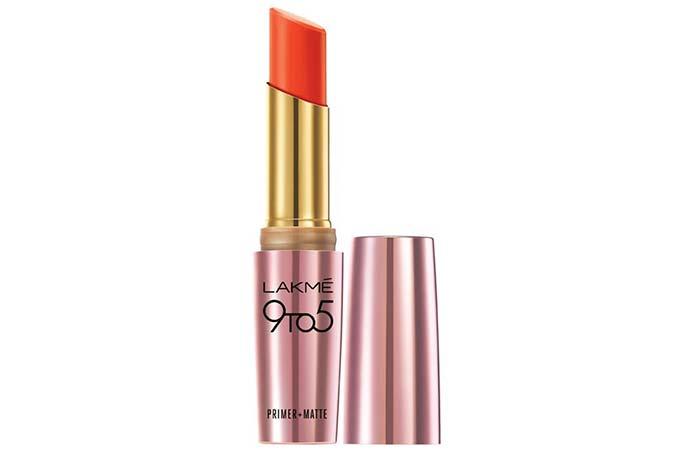 This one's a neonish, hot orange shade and is perfect for neon lovers. It suits medium to fair skin tones and is a great color for summer or spring.
Some of the other shades from this range include:
Orange Edge
Saffron Gossip
Crimson Catch
Red Letter
Red Coat
Roseate Motive
Choco Break
Espresso Shot
Fuchsia File
Pink Post
Blush Book
Scarlet Surge
Ruby Rush
Crimson Cue
Maroon Mix
Pink Party
Blushing Nude
Garnet Punch
Sangria Weekend
Coral Date
Caramel Cut
Brownie Point
Coffee Command
Red Rust
Plum Pick
Pros
Great pigmentation
Does not dry out lips
Easy to apply
Glides smoothly without tugging or pulling the lips
Feels light and comfortable on the lips
Doesn't bleed or settle into fine lines
Sets to a beautiful matte finish
Wide array of shades available
Long wearing
Affordable
Easily available
Cons
Transfers slightly
Requires touch-up after a heavy meal
Hard to achieve precision with its tip
How To Use This Product?
Here's how you can make the best of this lip color and achieve lips that are on-fleek!
Dot your lips with a hydrating lip balm and smooth them out.
For a more precise application, you can use a lip liner that matches your lips.
Apply the lipstick, starting at the center of the upper lip and moving outward towards the corners.
Blot your lips.
Shelf Life: 24 months
Will I Recommend This Product?
Yes, I definitely recommend this product to anyone who loves a good, long-lasting matte finish formula. Lakme has done a great job of improving the old formula, and the primer in it does the trick of extending its staying power and making my lips appear smoother. You should definitely try the shades 'Brownie Point', 'Espresso Shot', 'Cherry Chic' and 'Red Letter' as these are absolutely stunning and will suit any complexion or skin tone. These lipsticks are great for daily wear.

A bold matte lipstick works wonders on a face with minimal makeup. Also, unlike glossy lipsticks, a proper application of its formula usually requires a little finesse. That was my review of the Lakme 9 to 5 Primer and Matte Lip Color. Have you ever tried any of the shades from this new range? What were your thoughts? Let me know in the comments section below.
Frequently Asked Questions
Is Lakme 9To5 Lip Color suitable for all skin types?
Lakme 9To5 Lip Color is generally suitable for all skin types. However, it's essential to check the specific formula and ingredients to ensure it suits your skin's needs and avoid allergic reactions..
How long does Lakme 9To5 Lip Color last on the lips?
The longevity of Lakme 9To5 Lip Color depends on factors like eating, drinking, and lip care. It generally lasts for a few hours, but touch-ups might be needed throughout the day.
Does Lakme 9To5 Lip Color transfer or smudge?
While the brand claims to be smudgeproof and transfer-resistant, anecdotal evidence suggests that some variants of the Lakme 9To5 Lip Color may transfer or smudge slightly, especially when eating or drinking. Opt for long-wear formulas if smudging is a concern.
Can Lakme 9To5 Lip Color be used as a lip liner or combined with other lip products?
The Lakme 9To5 Lip Color can be used as a lip liner to define the lips or combined with other lip products like a lip gloss, tint, or balm to create various looks and finishes.
Can Lakme 9To5 Lip Color be easily removed?
Lakme 9To5 Lip Color can be removed using a makeup remover, micellar water, or with soap. It has waterproof or long-wear variants that may require a bit more effort to fully remove.
Recommended Articles