Lakme Enrich Matte Lipstick Review There's no denying that lipstick is a woman's best friend. And of late, the Lakme Enrich Matte Lipstick is what everyone is talking about due to its creamy, long-lasting formula and vibrant and trendy shades. If you want a detailed Lakme Enrich Matte Lipstick review, you are in the right place. I have used a bunch of their lipsticks and reviewed them so you can ultimately decide whether or not this lipstick is worth your money and time.
In this article, I have discussed the features and benefits, packaging, texture and fragrance, pigmentation and performance, and so much more. Interested in learning more? Here's everything you need to know about it! Keep scrolling.
Lakme Enrich Matte Lipstick Review
India's no.1 Lakme Enrich lipsticks are now available in a matte format and are everything a girl needs for picture-perfect lips. It's available in 25 vibrant and trendy shades. These are long-lasting and designed to give an even and luscious finish to your lips. Enriched with Vitamin E, the creamy matte textured lipstick does not drag on or dry the lips and instead leaves them feeling hydrated.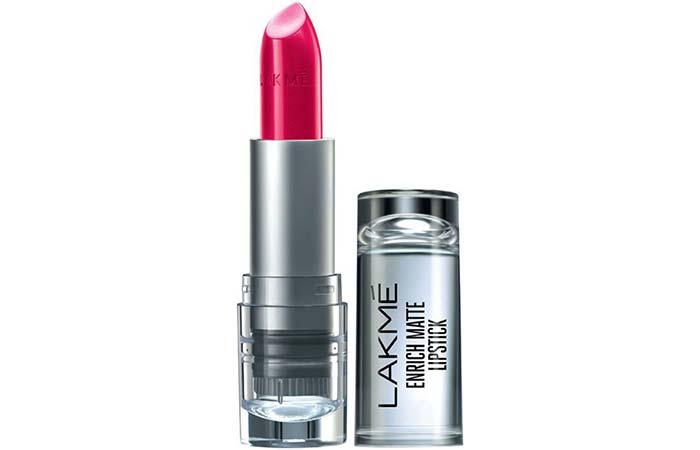 Features And Benefits
Lakme claims that its Enrich Matte lipstick offers the following features and benefits:
A creamy matte texture that's comfortable to wear
Finish and delivery of matte lipsticks but the comfort of creme lipsticks
No drag-on lips
Intense color payoff
Available in 25 new shades that are designed to match your skin tone
Packaging
This lipstick comes in a matte silver colored plastic case with a clear cap. Its cap shuts tightly, making it travel-friendly and easy to carry around in your purse. The lipstick tube comes in a silver cardboard box with the product description, but Lakme hasn't mentioned the ingredient list anywhere. Its silver carton looks more attractive than the tube itself. On the whole, the lipstick feels very plasticky and cheap to hold, much like a tester. Lakme could've done a better job on this front. But for its price, I suppose we get what we pay for.
My Experience With Lakme Enrich Matte Lipstick
I had tried the Lakme Enrich Satin lipsticks before, and when I heard about its new matte range, I was quite excited to give these a shot because I prefer matte formulas for daily wear. I picked this up in four shades and here's what I thought of this lipstick.
Texture And Fragrance
This lipstick formula has a creamy, soft texture with an almost powdery formulation. It's easy to use and glides smoothly on the lips without tugging or pulling. Also, I noticed that some shades go on differently than others – some of them are a pure matte while a few are on the semi-matte side.
Much like the Lakme Enrich Satin finish lipsticks, these have a sweet, flowery yet very cosmetic-like fragrance. If you are sensitive to smell, this may bother you. However, it fades within a few minutes of application.
Pigmentation And Performance
The pigmentation of these lipsticks is quite decent. However, it takes a minimum of two to three swipes of the formula to achieve a fully opaque finish – this especially applies to the lighter shades from the range. The formula is neither too dry nor too moisturizing, and so it feels comfortable to wear. However, one major drawback of this lipstick is that it highlights dry areas on the lips because of its powdery texture and also settles into lip lines. It also fades unevenly through the day, leaving an intense stain that is so hard to remove.
Staying Power
It stays on for around three to four hours with light snacks in between. It definitely needs a retouch after heavy meals like most lipsticks.
Lakme Enrich Matte Lipstick Shades
This lipstick formula comes in a range of 25 vibrant shades to suit every skin tone – from pinks to reds and nudes to mauves, you have a whole bunch of options to choose from. To make it easier, here's what each shade stands for – BM: Brown matte, RM: Red matte, WM: Wine matte, PM: Pink matte and OM: Orange matte.
Shade BM 10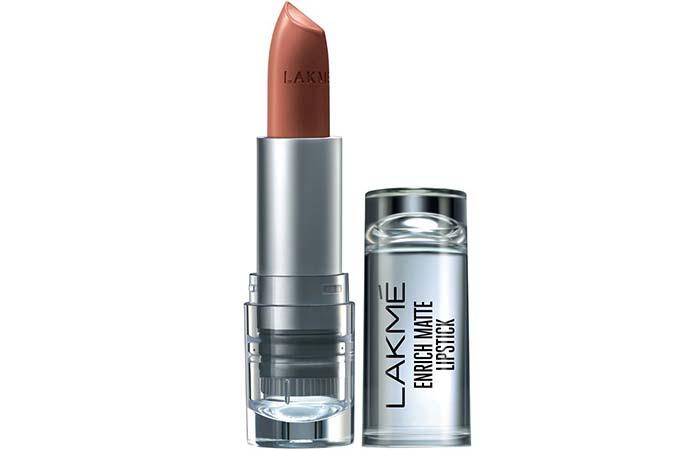 This shade is a nude brown with strong yellow undertones. It looks great with smokey eyes and is also great for daily wear. However, this shade will only flatter fair skin tones as it tends to wash out other skin tones.
Shade BM 11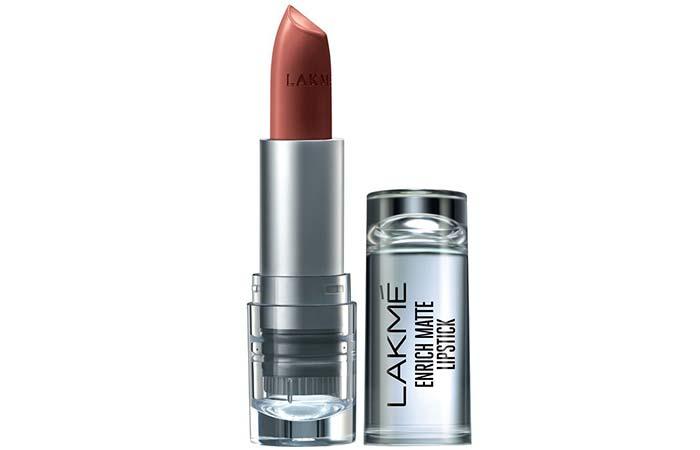 BM 11 is a dark brown chocolate shade that goes well with fair to medium skin.
Shade BM 12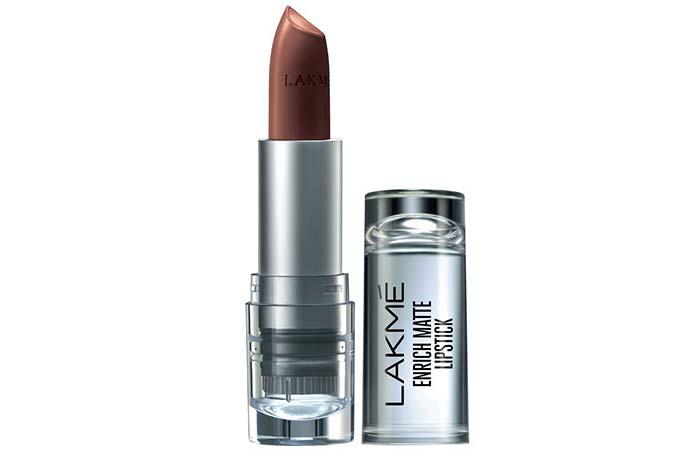 This one's a deep brown shade that complements fair to medium skin tones. However, this color goes on dry and looks rather uneven and streaky.
Shade PM 10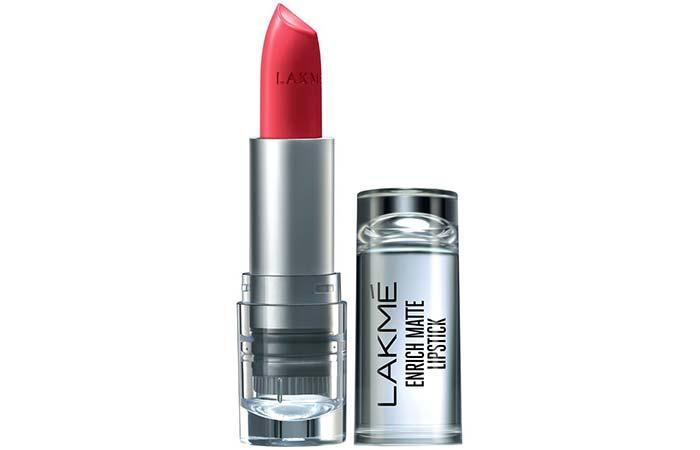 PM 10 is a hot raspberry pink and will flatter all skin tones well. It's great for daytime wear and instantly brightens up your face.
Shade PM 11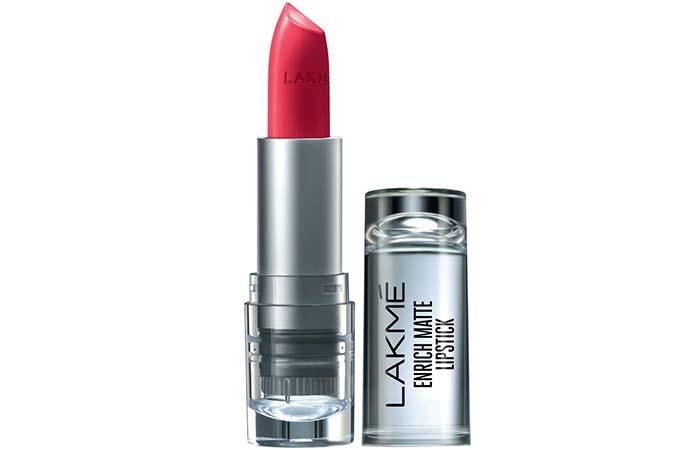 If you like fuchsia pink, this is one with neutral undertones. It's a perfect shade for daily wear and looks beautiful on fair to medium skin tones.
Shade PM 12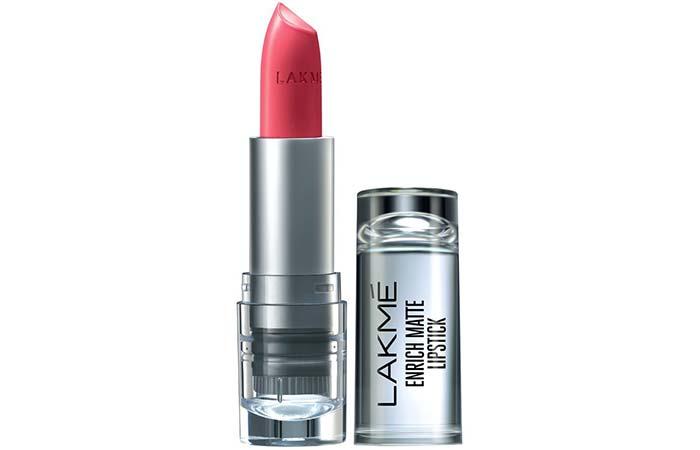 This is a true petal pink shade. It's subtle and classy, plus it makes for a great everyday shade. It has no shimmer or sheen and complements fair to medium skin tones.
Shade PM 13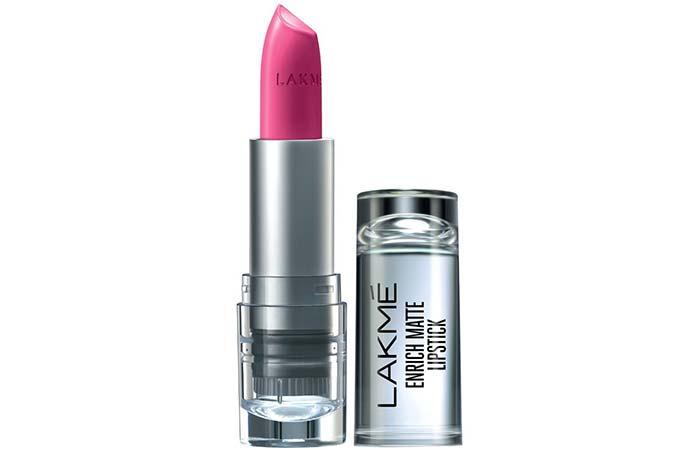 The shade PM 13 is a cool-toned Barbie pink, and it looks extremely pretty on fair skin tones. It's free from shimmer and frost.
Shade PM 14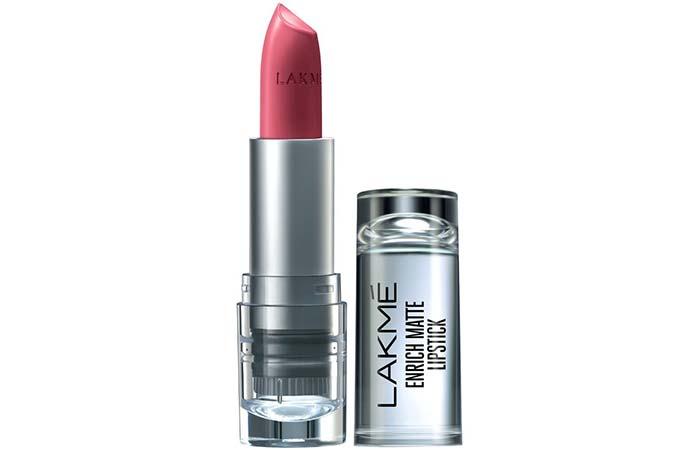 This one's a pinkish nude shade with a subtle mauve hue. It suits medium to fair skin tones and is a perfect shade to wear to the office or for college goers.
Shade PM 15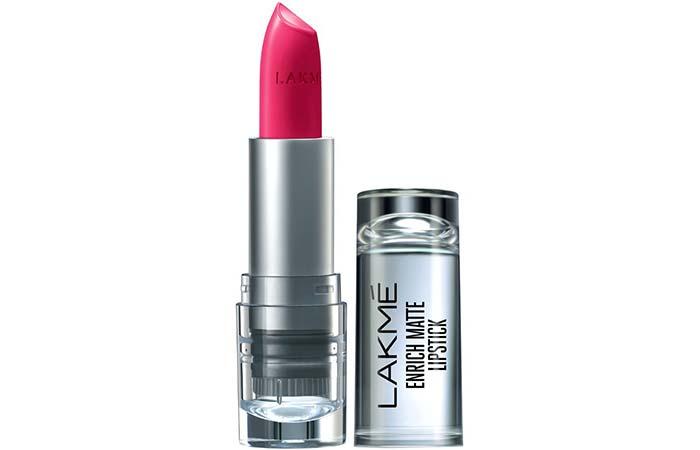 PM 15 is a bright pink with a hint of purple. It instantly brightens up your complexion and suits medium to fair skin tones well.
Shade PM 16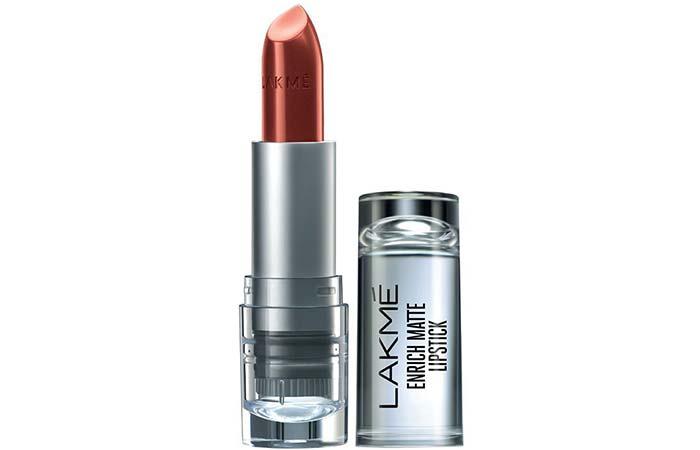 This is a brownish pink shade with a lot of grey undertones to it. If you have deep or fair skin tones, this is the color for you!
Shade PM 17
This one's a rather muted pink and it's ideal for daytime for work or college. It suits every skin tone well and leaves your lips with a natural-looking pink flush of color.
Shade RM 10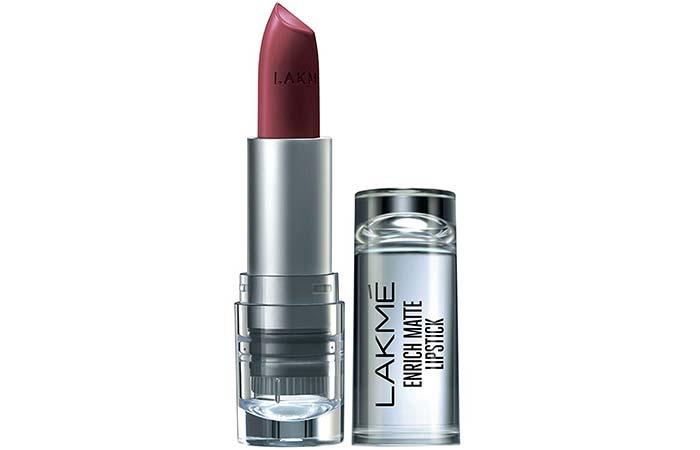 The shade RM 10 is a deep plum shade and is a gorgeous color for fall or winter. It's bold and classy and suits all Indian skin tones very well.
The Lakme Enrich Matte Lipstick is also available in the following shades:
Shade RM 11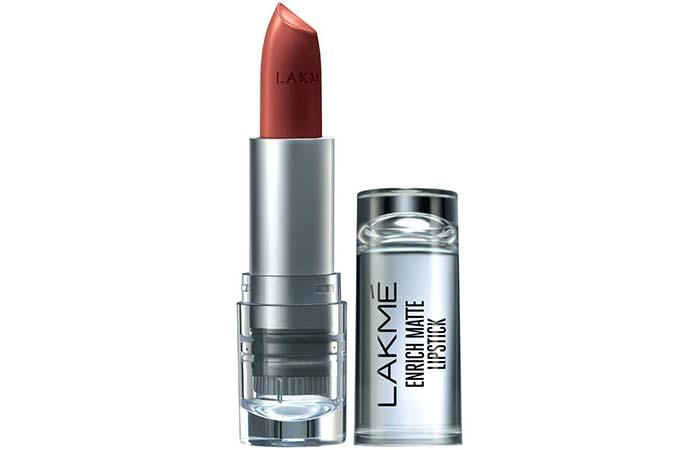 Shade RM 12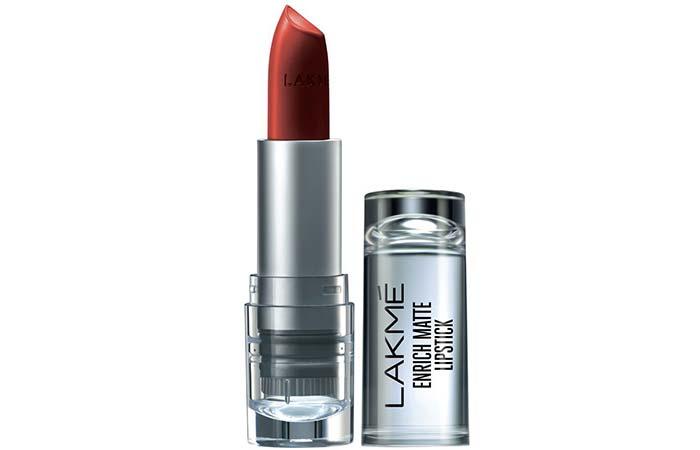 Shade RM 13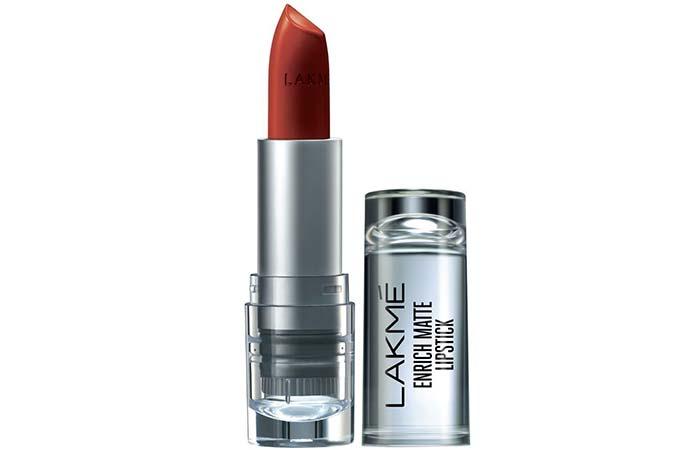 Shade RM 14
Shade RM 15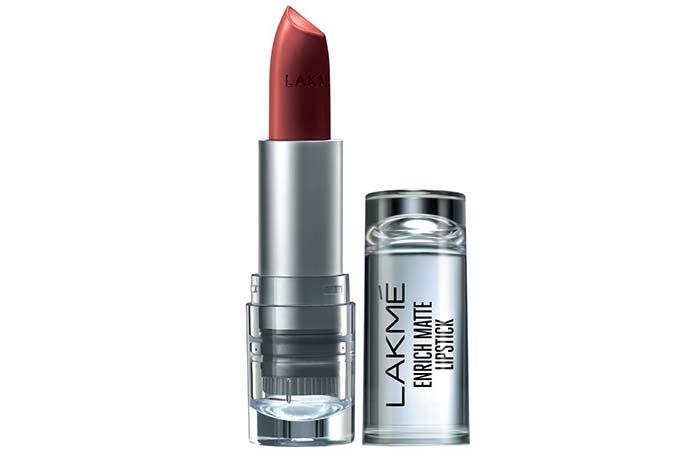 Shade RM 16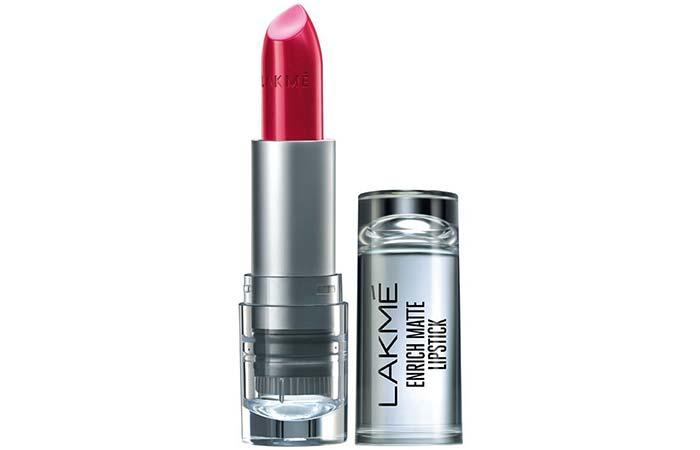 Shade RM 17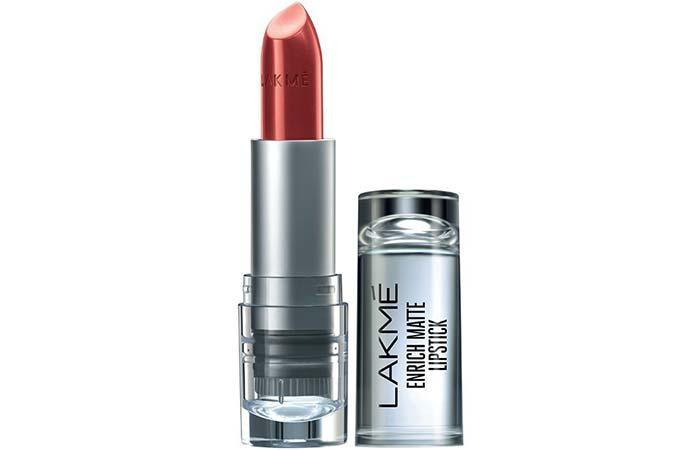 Shade RM 18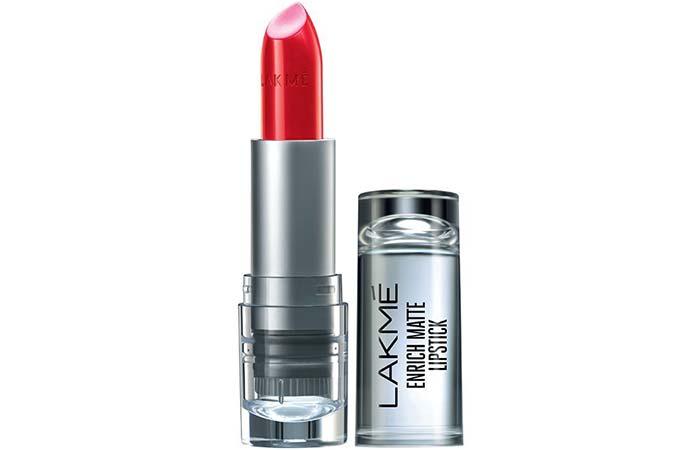 Shade OM 10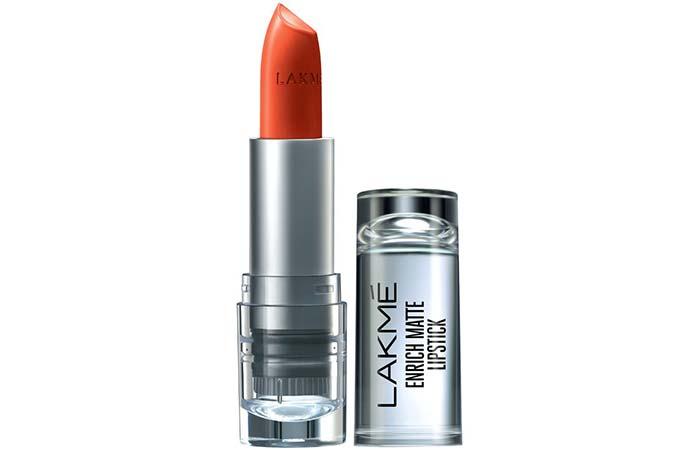 Shade OM 11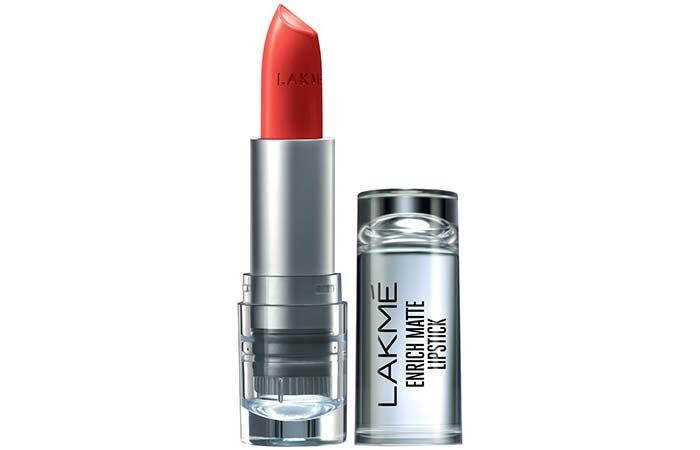 Shade OM 12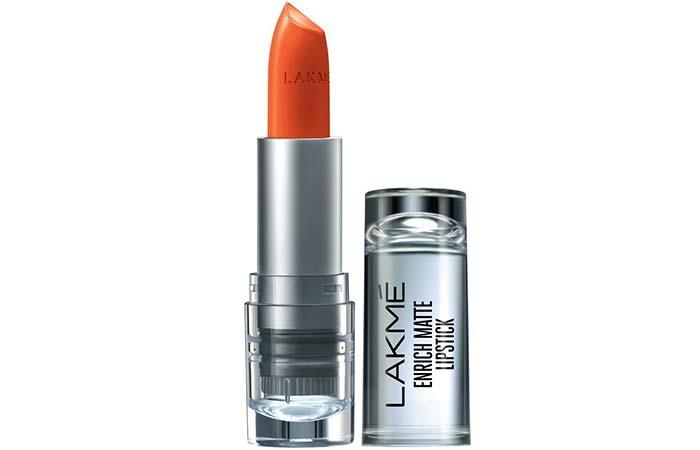 Shade WM 10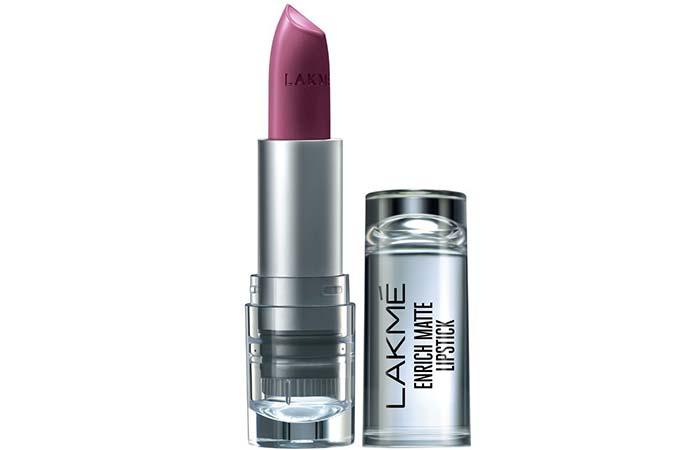 Shade WM 11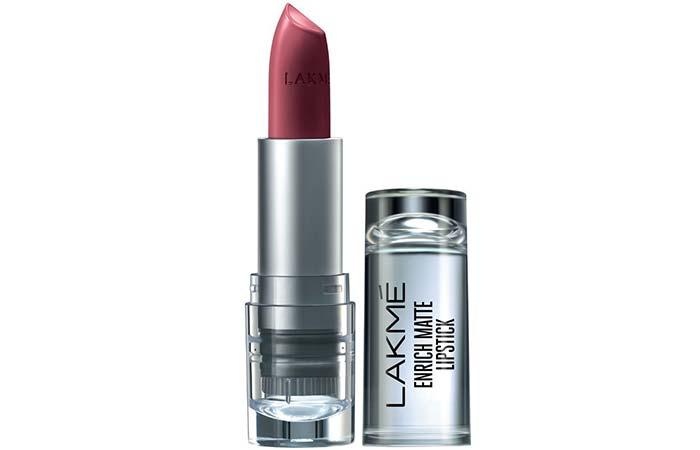 Pros
Feels smooth and soft on the lips
Easy to apply
Good pigmentation
Does not crease
Transfers minimally
Buildable color
Affordable
Cons
Settles into lines
Highlights dry patches
Has a strong fragrance
Leaves a stain that's hard to remove
Poor packaging
If you have dry lips, this may leave your lips feeling even drier
How To Use Lakme Enrich Matte Lipstick?

Here's how you can achieve the perfect pout using the Lakme Enrich Matte Lipstick:
Prep your lips well and moisturize them using a nourishing lip balm.
Start applying the lip color from the center of your upper lip.
Work from the center towards the outer edges of your lip, following the contours of your mouth.
Glide across the entire bottom lip.
Shelf Life: 24 months
Will I Recommend This Product?
If you're on a budget and are looking for a matte finish lipstick, the Lakme Enrich Matte finish lipstick is something you could try. However, if your priority is the quality of the formula and its overall performance, you could give this a miss as it's a very average product. If you have dry lips with lip lines, it's best to avoid this lipstick.

Not everyone wants to cough up a thousand bucks or more for a lipstick, but when it comes to a budget lipstick, it's important to pick one that does not sacrifice quality. In the case of this one by Lakme, a lot has been sacrificed. That was my review of the Lakme Enrich Matte Lipstick. Have you ever tried this lip color? What did you think of it? Let me know in the comments section below.

Frequently Asked Questions
Does Lakme Enrich Matte Lipstick transfer or smudge easily?
It is not transfer-proof, however, it does not smudge at all and can be worn comfortably.
Are there any specific ingredients or properties in Lakme Enrich Matte Lipstick that provide additional benefits to the lips?
Yes, the Lakme Enrich Matte Lipstick contains vitamin E and olive extracts to nourish your lip and prevent dryness.
Can Lakme Enrich Matte Lipstick be used as a lip liner or combined with other lip products?
A lipstick brush can be used to line the lips with the lipstick and it can easily be combined with contrasting or similar shades to create different looks.
Can Lakme Enrich Matte Lipstick be layered for a more intense color payoff?
Yes, the Lakme Enrich Matte Lipstick is buildable and can be layered seamlessly for a more intense lip color.