Top 4 Lakme Kajals – Their Best Benefits And Uses
Who doesn't love beautiful and expressive eyes? Kajal or kohl-lined eyes look simply stunning! Lakme is a popular brand in India. Their quality has improved greatly over the years and they offer an amazing range of makeup products. We have compiled a list of best kajals from the house of Lakme. Discover the range and flaunt dramatic eyes in no time!
4 Most Popular Lakme Kajals:
1. Lakme Eyeconic Kajal:
This eyeconic kajal from Lakme comes in a twist-up or you can say retractable packaging. The color is deep black and the texture is really smooth that glides effortlessly on your eye lids. The kajal stays for 10 hours without smudging… isn't that amazing? You do not need to carry it with you and worry about fading or touch-up when you're wearing it. It is waterproof and sweat -proof too. You can use it on waterline too as the eyeconic kajal is dermatological tested and you won't experience any irritation or allergy. Use it from outer corner working to inwards and tadaaaa… you're done!  You can apply one additional stroke if you want. You can use this new kajal for daily use and also for creating dramatic eye makeup looks.


[ Read: Lakme Cream Blush ]
2. Lakme Black Satin Kajal:
This eyeliner comes in a black pencil packaging which can be sharpened accordingly. It's smooth and creamy in texture and it glides easily on eyes. The color is much pigmented and you need only one stroke to get intense black color. The kajal stays for long time without smudging. It takes some time to settle which means you can also use it if you want to get Smokey eye look. Just apply it on eyelids and smudge it immediately to get the desired look….interesting no? It stays for 8 hours without fading and you do not need to worry about your eyeliner anymore.


[ Read: Lakme Eye Shadows ]
3. Lakme Nine to Five Kohl:
This Lakme kajal comes in an interesting packaging and also contains an in-built sharpener which makes it travel friendly, as you do not need to carry a separate sharpener with you. It contains moisturizing ceramides which are considered to be soothing foe eyes. The color is intense black color and you need only one swipe for everyday use so this kajal is going to last long. The texture is smooth and it glides effortlessly. IT stays for 10 hours with fading as it is smudge proof and water-proof both. You can use this kohl on upper or lower waterline to get 'no-makeup' look. You can also use it as eyeliner and it stays for 8 hours like this too. It is worth the price according to me as it doesn't smudge, chip, flake or even fade away even after 10 hours of application… what more can we ask for?

[ Read:: Lakme Compacts ]
4. Lakme Kajal:
Everyone must have used this Lakme kajal as it is the very first kajal at such an affordable price tag. It comes in a big pencil form which is travel friendly and attractive too. This kajal contains camphor and castor oil which soothes eyes and also help lashes to grow faster. It is pigmented and you need two three swipes to get desired black color. It stays for 4-5 hours which is commendable especially at such low price. The texture is smooth and it glides easily, it also don't irritate when applied on waterline. You can use it on eyelids like an eyeliner or you can also use it as eye shadow base when you want to get smokey eyes. It adds drama to eyes and makes them more attractive. It is really good for people who are on budget and for those who want to experiment with eye-makeup looks. This kajal smudges a bit but if you want to prevent it from smudging then apply lose powder before aping it and it won't smudge then……don't forget to remove the powder once you're done.


[ Read: Lakme Eyeliners ]
*Subject to Availability
For exotic and mysterious eyes, do splurge on a good kajal from the house of Lakme. So, play with your kajal and be ready to turn heads around your way. Let us know you views about them if you have used it before. Stay gorgeous!
The following two tabs change content below.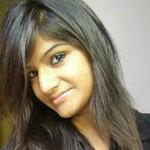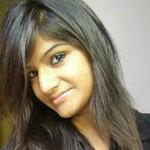 Mansi
Having great interest for writing, I always love to share my ideas with the readers. I love trying different make ups, hairstyles and would always come up with something new. I love travelling and my aim is to travel across the globe without missing a single country in my lifetime.