Lakme Lip Love Lip Care Review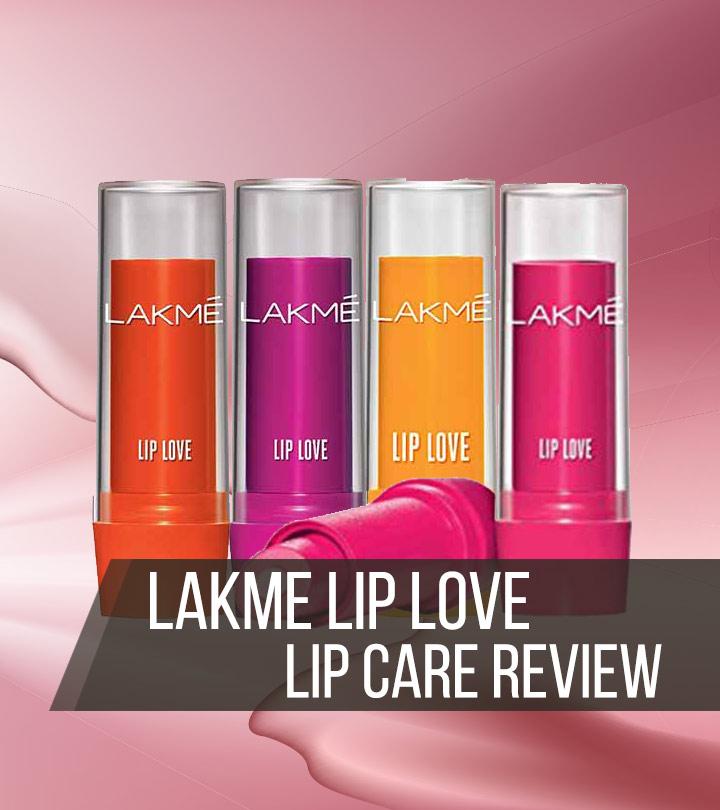 Have you ever considered swapping your regular lipstick for a tinted lip balm that protects and nourishes your lips? The answer lies in finding a great tinted lip balm! Offering both hydrating benefits and a pop of your favorite color, these are the perfect middle ground between lip color and lip care.
The best part is that you will single-handedly solve the struggle of providing a subtle wash of color on your weather-worn pout! I'm going to review the Lip Love Lip Care which is a range of dual-core lip balms from Lakme. Keep reading to find out how Lakme's tinted lip balm fared in this review.
Lakme Lip Love Lip Care Review
Fall in love with Lakme's new offering – the Lip Love Lip Care is a range of dual-core lip balms, the first of its kind in India. It's a little tint with lots of lip care. Keep your lips moisturized and protected with a combination of a nourishing core along with a hint of tint and SPF 15.
Features And Benefits
Super moisturizing balm
Luxuriously creamy core that nourishes your lips
Swirl of color for a hint of tint
SPF 15 to protect your delicate lips from sun damage
Available in a variety of shades
Delightful fragrance
Packaging
All of the shades come in majorly cute packaging. It's a colored, plastic twist-up stick with a transparent cap. The color of the stick represents the shade. Also, the shade name is written at the bottom of the stick. On the whole, it's attractive, sturdy, and travel-friendly.
My Experience With Lakme Lip Love Lip Care
I love a good tinted lip balm, especially during those times when my lips are a little chapped and are crying out for moisture and some color. I was pretty excited to try out the Lakme Lip Love Lip Care lip balms when I saw them at the store. For starters, they looked really cute, and it said "tinted sticks with creamy centers" on the outer cardboard, which aroused my curiosity to see how this works. Here's my experience!
Texture And Fragrance
The Lakme Lip Love has a creamy consistency, and its texture is buttery smooth and balmy. It glides onto my lips easily, leaving them soft and supple. Coming to its fragrance, it smells like sweet candy. The smell is not overpowering, and it fades after some time of application. Also, it does not feel tacky on the lips as it's a non-sticky balm.
Staying Power
It stays on for about four hours without any eating or drinking. However, my lips feel moisturized all day long. However, it can't survive meals – but you can always re-apply it whenever necessary.
Efficacy
Does it heal chapped lips? Yes, it does leave your lips feeling nourished even after the lip balm fades away. The intensity of the tint varies from shade to shade. Also, it does not sit heavy on the lips.
Lakme Lip Love Lip Care Shades
These tinted lip balms are available in ten shades named after delicious ice cream flavors.
This is a beautiful red-pink shade and is the most pigmented shade from this range. It's ideal for daily wear or for the times you feel the need to add a flush of red to your lips. It leaves your lips moisturized with a glossy finish.

This strawberry shade is a pure baby pink tint. The pink is slightly blue-based. It looks very natural when applied to the lips. You can swipe some on when you're heading out to the grocery store for some moisture to your lips and sun protection!

This is a clear balm with no color. You can use this shade underneath your lipstick to hydrate your lips or over a matte lipstick if you want it to look glossy. When applied alone, it leaves a whitish cast on the lips – just a heads up.

This shade is a beautiful nude brown that looks great on all skin tones. It's not very pigmented, but it leaves you with this slight tinge of color – perfect for the days you want a neutral lip color but don't want to go for lipstick.

Grape is a gorgeous plum color. It imparts a subtle plumish color on your lips and also has a sweet grape fragrance.

This orange shade is perfect for the summer! When applied, it looks more like a bright peach as it's very sheer. The color will show better on lighter lips.

Raspberry is a berry pink shade that adds a natural-looking, pink flush to your lips. It needs to be layered for the color to show. It also has a typical raspberry fragrance.

This shade is a really pretty coral pink. It suits every skin tone and is also decently pigmented. It's great for daily wear!

Although its bullet is a bright orangey red in a yellow tube, this shade looks like a peachy orange when applied. It's very sheer and adds a soft flush of color to your lips.

This shade comes with medium pigmentation. Its bullet is a bright pink-red, but it looks like a very sheer pink when applied to the lips. If you want a natural look, this one will do the trick, and it also smells wonderful.

Pros
Nourishes and hydrates lips
Contains SPF 15
Decent staying power
Easily available online and in stores
Affordable
Cons
No ingredient list mentioned on the packaging
The color payoff is below average
If you're too sensitive to smell, you may hate how this smells
How To Use Lakme Lip Love Lip Care?

Exfoliate your lips well before you go in with any lip product.
Twist up the stick, so the lip balm is visible.
Work from the center towards the outer edges of your lip, following the contours of your mouth.
Glide across the entire bottom lip.
It's best to apply this evenly and liberally as often as needed.
Shelf Life: 24 months
Will I Recommend Lakme Lip Love Lip Care?

If you're looking for a tinted lip balm that's budget-friendly and easily available in India, this one's a great option. However, if you're expecting an outstanding color payoff, this does not do justice as its "tint" is extremely sheer. I would not recommend it to those of you with pigmented lips. All things considered, this one's a quite mediocre product, but bearing in mind the low price, this is all it has to offer.
A tinted lip balm is a savior when it comes to healing dehydrated lips that are also in need of some color! Also, if you're new to makeup and are intimidated by lipstick, tinted lip balms always make a good start. That was my review of the Lakme Lip Love Lip Care range. Have you tried this lip balm yet? What do you think of it? Tell us in the comments section below!

Recommended Articles
Best Lip Balms Available In India
Best Tinted Lip Balms For Dry, Chapped Lips
Best Lakmé Lipstick Reviews And Swatches
Best Lip Balms With SPF Available In India
Best Herbal Lip Balms In India