Top 10 Lakmé Products For Your Bridal Makeup Kit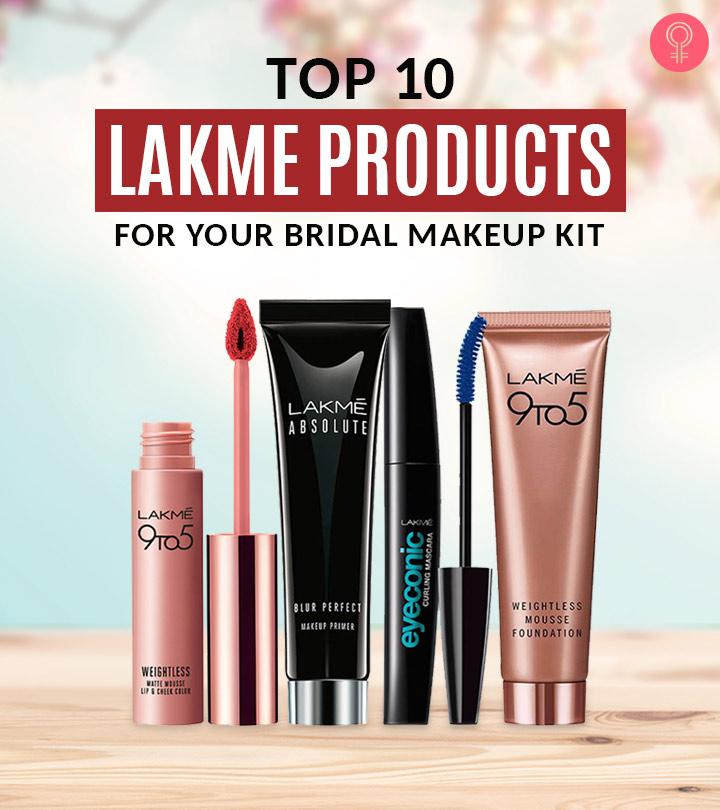 With the wedding bells ringing around this season, we shed light on 10 makeup essentials from Lakméthat deserve a spot in your makeup bag. Whether you are the bride or a guest, these affordable must-haves are guaranteed to take your makeup game to the next level. Calling all brides, bridesmaids, and wedding guests: here's a round-up of the best drugstore beauty buys you need to stock up on during this wedding season! Keep reading to find out more.
10 Of The Best Lakmé Products For Your Bridal Makeup Kit
Review
If you are on the hunt for long-lasting color, Lakmé's 9 to 5 Weightless Matte Mousse Color doubles as a lip and cheek color for versatile use. Its ultra lightweight texture feels weightless and is exceptionally comfortable to wear. This leaves your lips with a flawless, powdery matte finish that lasts through the day. This formula is available in 20 shades, from the prettiest nudes to the rosiest plums. "Do not top with gloss unless completely necessary. A balm or gloss will break down the pigment faster resulting in smudging and less staying power.", suggests Cha Cha Woska, a certified makeup artist.
Pros
Lightweight
Long-wearing
Will not smudge or feather
Easy to apply
Value for money
Cons
None
Review
If you want your makeup to go on smoother and last longer, a primer comes in handy to fill in pores and blur out blemishes. This primer from Lakmé is an absolute must-try for every makeup lover! Its waterproof formula creates a perfect finish that you can wear alone or use as a base for your foundation. It hides imperfections and pores with a flawless matte finish that stays on throughout the day.
Pros
Lightweight
Blends easily
Long-wearing
Versatile
Minimizes the appearance of redness and large pores
Cons
None
Review
If you want a foundation that looks incredibly natural and skin-like, the Lakmé 9 to 5 Weightless Mousse foundation is your best bet. This lightweight formula not only blends in effortlessly but also leaves a matte finish that lasts through the day. Its coverage is buildable from sheer to medium so that you can customize it according to your needs. This formula comes in 8 different shades.
Pros
Extremely lightweight
Feels comfortable on the skin
Will not dry out your skin
Easy to apply
Instantly brightens and adds radiance to the skin
Cons
Limited shade options for darker skin tones
Review
No wedding look is complete without beautiful kohl-lined eyes, right? Lakmé's Eyeconic Kajal is an excellent pocket-friendly pick for long-lasting eye makeup that is both waterproof and smudge-proof. Its twist-up packaging is sleek and convenient and also makes it very easy to apply and control. This is available in six shades: black, classic brown, brown, turquoise, regal green, and royal blue.
Pros
Long-wearing
Extremely pigmented
Waterproof
Smooth application
Available in various colors
Cons
None
Review
Lakmé's Absolute Shine Line eyeliner offers the most intense color payoff thanks to its super pigmented formula. Its wand is thin and precise, so it helps you achieve smooth application. Its formula dries quickly and does not budge through the day, even if you have oily lids. This liner is available in 5 shades: black, gray, sparkling olive, liquid gold, and shimmer bronze.
Pros
Long-wearing
Easy to apply
Smudge-proof
Glossy finish
Bold color
Cons
None
Review
Your mascara is an essential part of any look, ranging from natural to glamorous and everything in between. Coming from Lakmé's Eyeconic range is its Curling mascara that promises to give you intensely curled lashes. Its wand allows smooth application for enhanced lashes that complement any eye makeup look. This formula is available in two shades: black and blue.
Pros
Easy to apply
Lightweight
Long-wearing
Waterproof
Does not clump
Cons
None
Review
Setting your foundation is always a good idea, and this powder foundation from Lakmé works beautifully to seal your makeup in place. Its formula gives you even coverage, and it blends like a dream. It has a smooth, silky texture that leaves you with a matte finish. This can be used dry as well as wet, depending on your expertise level. Find your pick from its range of 6 shades.
Pros
Adds instant radiance
Lightweight
Long-wearing
Blurs out minor flaws and imperfections
Comfortable on the skin
Cons
Limited shade options for darker skin tones
Review
Lakmé's Face Sheer Blusher can be used as a blush and a highlighter for glittery radiance. This comes with a sponge applicator that allows stress-free application for subtly tinted cheeks. Its formula is highly pigmented and delivers intense color payoff with just a bit of product. However, make sure you blend it in really well for a more natural effect. This is available in two shimmery shades: desert rose and sun kiss.
Pros
Easy application
Intense color payoff
Long-wearing
Versatile
Affordable
Cons
None
Review
No wedding outfit is complete without a sleek mani. This gel nail polish from Lakmé offers high color delivery with a reflective shimmer finish and is perfect for special occasions. Its long brush makes it very easy for you to apply the polish onto your nails without any hassle. The formula dries quickly and lasts for a whole good week. Find your color from its range of 18 shades.
Pros
Long-wearing
No chip formula
Dries fast
Shiny gel finish
Value for money
Cons
None
Review
The Lakmé Absolute Illuminating Blush Shimmer Brick is guaranteed to glam you up in a second. Backstage experts specially crafted this blush palette at the Lakmé Fashion Week (we're talking about Sabyasachi!) The brick contains four colors with a hint of shimmer and a glossy sheen to help you achieve a luminous, party-ready look with ease.
Pros
Versatile
Adds color and highlights
Long-wearing
Great color payoff
Value for money
Cons
Lakmé is continually innovating and creating quality makeup at affordable prices. The brand has various lines, such as its classic range, the 9 to 5 range, and the Absolute range. Its classic range is the most affordable of the three, followed by 9 to 5 and Absolute. Lakmé makeup starts at an average price of Rs. 100 and goes up to Rs. 1000.
Ladies, that was our round-up of the top 10 Lakmé products for your wedding makeup bag this season. Which ones are you looking forward to trying? Let us know in the comments below.
Frequently Asked Questions
Does Lakmé ensure long-lasting and flawless coverage for bridal makeup?
Yes. Lakmé offers long-lasting and flawless coverage by formulating their makeup products with advanced technologies and ingredients that provide excellent pigmentation, staying power, and blendability. The Lakmé 9 To 5 Weightless Matte Mousse Foundation, the Lip & Cheek Color, and the Lakme Eyeconic Kajal are some of the best Lakme bridal products that give flawless coverage.
How does Lakmé ensure that their bridal makeup products are waterproof and sweat-resistant?
Lakmé products like the Lakme Eyeconic Kajal, the Curling Macara, and the Absolute Blur Primer offer waterproof and sweat-resistant properties. These products were designed to withstand heat, humidity, and perspiration, providing long-lasting and smudge-proof coverage, which is especially important for bridal looks that need to stay intact throughout the day.
Can you explain the shelf life and storage recommendations for Lakmé's bridal makeup products?
Lakmé's bridal makeup products typically have a shelf life of around 24 to 36 months. To ensure the best quality and efficacy, store these products in a cool, dry place away from direct sunlight and extreme temperatures, and always close the containers tightly after each use to prevent air exposure and maintain product freshness. However, its best to check the packaging and product details for up-to-date shelf life
Recommended Articles