Laser Genesis: Benefits, How It Works, And Cost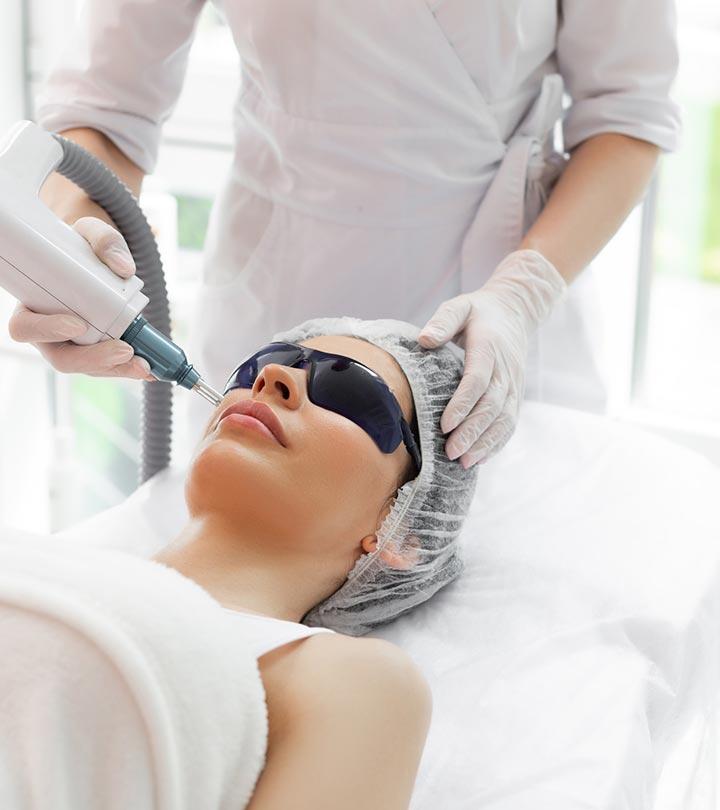 Lines. Wrinkles. Uneven complexion. As we age, our skin begins to show signs of aging despite following the best skin care routines and expensive products. This is due to collagen depletion, which keeps our skin soft, supple, and firm. While this is a normal part of aging, laser genesis can help you deal with it. It is a quick, safe, effective, and non-invasive way to minimize the signs of aging. Keep reading this article to learn more about this laser treatment for beautiful, glowing skin.
What Is Laser Genesis?
Laser genesis is a non-invasive procedure that stimulates collagen production and promotes cellular regeneration to keep your skin radiant and youthful. It is a safe and effective way to improve skin texture, reduce fine lines, wrinkles, scars, and dark spots. Dermatologists often use laser genesis to improve the redness caused by the broken capillaries, typically observed in people with rosacea or other vascular conditions. There are several benefits of laser genesis.
What Are The Benefits Of Laser Genesis Treatment?
Laser genesis gives the skin an even-toned and youthful appearance without damaging the surrounding tissues. This quick and painless laser treatment may also get rid of the harmful bacteria on the skin. You may notice the following benefits after undergoing laser genesis session(s):
Skin tightening
improved appearance of pores
Youthful glow
Fewer fine lines and wrinkles
Faded acne scars
Brightening effect (due to reduced pigmentation and discoloration)
Laser genesis may also help improve your overall skin condition, especially if you have existing issues like acne scars, hyperpigmentation, etc. The following sections explore how laser genesis works, cost, risk factors, and what you can expect during the procedure.
How Does Laser Genesis Work?
Laser genesis uses non-ablative lasers to heat the dermis (second layer) with rapid light pulses. This heat constricts the blood vessels and stimulates collagen production to make the skin look firm and plump.
According to the American Society for Dermatologic Surgery, non-ablative lasers deliver the heat into the skin through thousands of tiny, deep columns (microthermal treatment zones) (1). The fractional approach allows the skin to heal much faster, reducing the recovery period, risks, and other complications. The only downside is it may require multiple sessions, increasing the total cost. However, since the results are long-lasting, it is worth the investment.
Laser Genesis Procedure
A single session of the laser procedure may last up to half an hour and is painless. A qualified dermatologist sterilizes the skin and then uses lasers on the target areas. You may feel a mild burning sensation and experience temporary redness. You have to wear eye goggles throughout the procedure. There is no downtime or recovery time.
It is important to take a few cautionary steps before the procedure, such as:
Avoid tanning or excessive sun exposure.
Avoid perfumes, deodorants, and other potential irritants in the treatment area.
Avoid taking aspirin and other blood thinners before treatment.
What Does Laser Genesis Treat?
Laser genesis can promote collagen growth, which will naturally heal and strengthen the skin. It can help improve:
Acne, inflammatory acne, and acne scars
Scarring from surgery or burns
Symptoms of rosacea (like redness)
The appearance of the veins (due to vascular conditions)
Port-wine stains (a type of birthmark)
Age spots
Sagging skin
Enlarged pores
Uneven skin tone
Crow's feet
Fine lines
Wrinkles
Where On The Body Can Laser Genesis Be Done?
Laser genesis is commonly done on the face or neck, but it can also be performed on other body parts.
How Many Laser Genesis Treatments Do I Need?
This depends on the skin condition you are treating, its severity, and the location. Doctors usually recommend 3-6 sessions. However, the number may vary.
How Long Do Laser Genesis Results Last?
The results can last between 6–12 months. However, it may vary depending on the skin condition, age, cell turnover rate, and the number of maintenance sessions. A careful diagnosis from your dermatologist can help you understand how to maintain and follow up procedures for lasting results.
Are There Any Risks Or Side Effects?
Laser genesis is considered a low-risk procedure. Initially, you may experience:
A slight burning sensation
A warm tingling sensation
Redness and swelling
However, these are temporary and may last for a few hours. Before the procedure, the dermatologist will usually review your medical history and conduct a physical examination.
Let your doctor know if you have a history of cold sores or similar disorders. Avoid laser treatments if you are pregnant or planning to conceive.
What To Expect After Laser Genesis?
You will notice changes in your skin tone immediately after the procedure. However, collagen development and skin cells turnover may take a month. So, you can expect visible results after a month. You can do all your daily activities without any inconvenience. However, follow any special instructions given by your dermatologist.
How Much Does Laser Genesis Cost?
It can cost anywhere between $275 and $400 per session. However, the cost may vary depending on the area, skin condition, and clinic. You might need an average of three to six sessions.
Laser genesis is a great way to reduce the appearance of aging signs such as wrinkles on the forehead, crow's feet, sagging skin, and more. Heat is used to increase collagen formation and cell turnover during the treatment. It is a simple, painless, and successful procedure with no downtime or negative side effects. You will notice a difference in your skin tone immediately after the procedure. Keep in mind that the effects can persist anywhere from 6 to 12 months. It may, however, vary depending on the skin's health, age, cell turnover rate, and the number of maintenance sessions. So before you go ahead with it, visit a doctor and get your skin assessed.
Frequently Asked Questions
Is laser genesis better than microneedling?
Both treatment options have their own advantages. If you want to treat your skin proactively, microneedling is a rapid and low-risk option to achieve the desired results. However, a laser genesis treatment might be appropriate for you if you have a more particular skin concern to address.
What is the difference between IPL and laser genesis?
While laser genesis is a laser treatment, IPL is a light-based treatment. The laser treats the skin at a deeper level, whereas IPL is a more superficial treatment. That is why the two treatments complement each other.
Is laser genesis the same as BBL?
No. Laser genesis is a non-invasive and pleasant procedure that involves mildly heating the skin using a laser. It can help diminish wrinkles, dark spots, and fine lines by smoothing the skin. In addition, it can help people of all ages and skin colors minimize the appearance of fine lines and redness.
BroadBand Light (BBL) is a pulsed light treatment that is used to treat skin issues such as aging, UV damage, acne, and excessive hair growth.
Unlike many lasers and light-based treatments, BBL targets the deeper layers of your skin, where most aging occurs. In addition, unlike many other laser treatments, BBL is safe for practically all skin types (excluding Skin Type 6) and has little downtime.
Is laser genesis the same as Fraxel?
These are two different technologies. Fraxel is a skin-tightening laser that takes days to weeks to complete. Laser genesis, on the other hand, stimulates collagen synthesis and reduces redness by applying a rapid pulse. Fraxel will give you faster and better results but will also give you more downtime (may take longer to heal). Laser genesis will have a lower failure rate but will take longer to show the desired outcomes.
Key Takeaways
Laser genesis has several benefits as it helps improve the redness caused by broken capillaries.
In this technique, the heat from the laser constricts the blood vessels and boosts collagen production to improve the skin's firmness.
Though commonly done on the face or neck, you can perform it on other body parts too.
The number of sessions depends on the issue you want to treat and its severity.
Sources
The following two tabs change content below.