Laser Treatment For Hair Growth: Does It Really Work?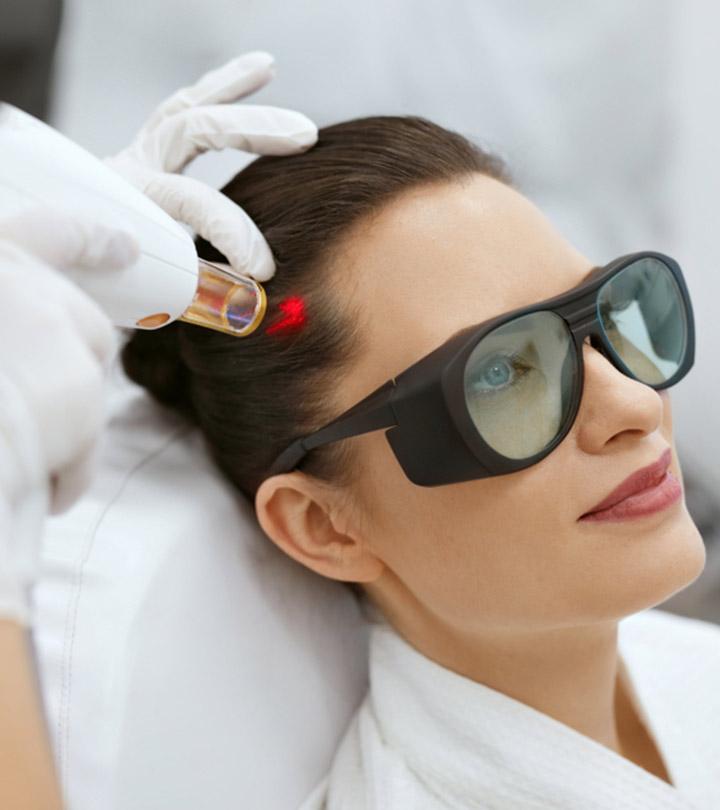 Your hair loss may have several causes – including hormonal imbalances, stress, chemotherapy, heredity factors, nutritional deficiencies, PCOS, menopause, and the use of certain medications. But, fortunately, solutions like laser treatment for hair growth are gaining popularity worldwide. How does this treatment work? How effective is it in the long run?
This article explores the benefits of laser treatment, its reviews, costs, and limitations. We also discuss who can benefit the most from this treatment and how to go about it. Continue reading to know more.
What Is Laser Hair Treatment?
Laser hair treatment or Low-Level Laser Therapy (LLLT) is an FDA-approved, effective, and safe treatment for male and female pattern hair loss (androgenic alopecia). It is a non-invasive and painless therapy that uses low-level monochromatic red light to stimulate hair growth (1).
How Does Laser Treatment Work For Hair Growth?
The low-level laser irradiates photons into the scalp tissue. These photons get absorbed by the hair follicles, stimulating blood circulation. Increased blood circulation leads to increased nutrient supply to the hair follicles and increased cellular activity. This results in thicker and stronger hair follicles, boosting hair density or the number of hairs on the scalp.
A study by American scientists found that laser treatment for 16 weeks showed 39% hair growth in men between the ages of 18-48 with male pattern baldness (2).
A 2019 review confirms that low-level laser hair therapy is an effective hair loss treatment for men and women (3). Another review supports that low-level laser treatment is a good option for men and women with androgenic alopecia who do not want to undergo surgery or use medical therapy (4).
There are many reasons laser hair therapy is considered good. Find out the benefits in the following section.
Benefits Of Laser Treatment
Effective and safe
Non-invasive
Painless
No localized scarring
No recovery time
Improves hair restoration
No side effects
At-home use devices are convenient.
Here are a few laser hair growth reviews with before and after pictures.
Laser Hair Growth Reviews
Here, the laser therapy device used is the iRestore Pro. The picture shows how the hair has grown after using the device for over 6 months.
Here's another before and after picture. The device used is Laser Cap Pro. The device looks like a baseball cap with laser diodes on the inside. However, the user also took Rogaine and used coconut oil and castor oil, along with laser therapy, to support hair growth.
Apart from the laser caps and at-home use devices, you can also go to a clinic and get LLLT treatment. Here's a before and after picture of LLLT treatment for about a year.
Note: Whether you use an at-home device or go to a professional treatment center, you must consult your doctor.
The question now is if laser treatment for hair fall is too expensive. To know the answer, scroll down!
What Is The Cost Of Laser Therapy For Hair Loss?
Laser hair therapy is not as costly as hair transplant treatment. However, it is not cheap, either. Professional laser treatment at a clinic may go up to $3000 per year or more. If you buy a laser treatment device, it will cost you around $800 – $1000.
Laser treatment is an effective and safe way to regrow hair. However, there are certain limitations.
Limitations Of Laser Treatment For Hair Growth
It takes a long time to show results.
It may not work on people with advanced stages of hair fall.
It may interact with certain medications and make the scalp photosensitive.
The laser devices do not undergo strict scrutiny by the FDA.
The long-term effect of use and safety is yet to be established.
More research with a wider sample is required.
The treatment is not cheap, if not as expensive as hair transplantation.
Should you go for laser treatment to stimulate hair growth? Here's who can get the most out of this therapy.
Who Can Benefit The Most From Laser Treatment For Hair?
Women with androgenic alopecia and men in the initial stages of balding or hair thinning may consider going for low-level laser treatment to induce hair growth and improve hair strength. However, do not decide on your own. Consult a licensed dermatologist or a cosmetologist to understand whether laser therapy will work for you or not.
Laser treatment is a medical procedure used to treat male and female pattern baldness (androgenic alopecia). The benefits of laser treatment for hair growth include improved hair growth and no scarring. What's more? Laser treatment is a safe and effective method with no side effects or downtime. However, despite being an effective method, it takes a long time to show results and may make the scalp photosensitive. Therefore, you should consult your dermatologist to understand the benefits and risks of the procedure before going for it.
Frequently Asked Questions
Is laser hair growth therapy permanent?
Yes. The hair growth after laser therapy is permanent as long as the hair follicle is healthy.
How long does laser therapy take to grow hair?
Small-scale studies of low-level laser therapy have shown positive hair-growth results within 4-6 months.
Key Takeaways
Also known as low-level laser therapy (LLLT), laser hair treatment is FDA approved.
It is effective and safe, non-invasive, painless, and improves hair restoration.
However, it takes a significant amount of time to show results and may not work on people whose hair fall has reached an advanced stage.
Sources
Articles on StyleCraze are backed by verified information from peer-reviewed and academic research papers, reputed organizations, research institutions, and medical associations to ensure accuracy and relevance. Check out our
editorial policy
for further details.
The following two tabs change content below.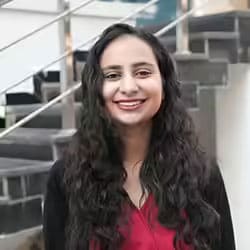 Arshiya Syeda is an editor at StyleCraze. Prior to that, she was a content writer and combined her writing and...
more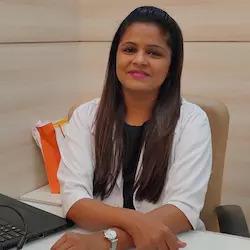 Dr. Shruti Chavan is a consulting dermatologist at Dr.Sheth's Skin and Hair Clinic since 6 years. She is a co-committee...
more