Laser Skin Tightening Treatment: How It Works And Procedure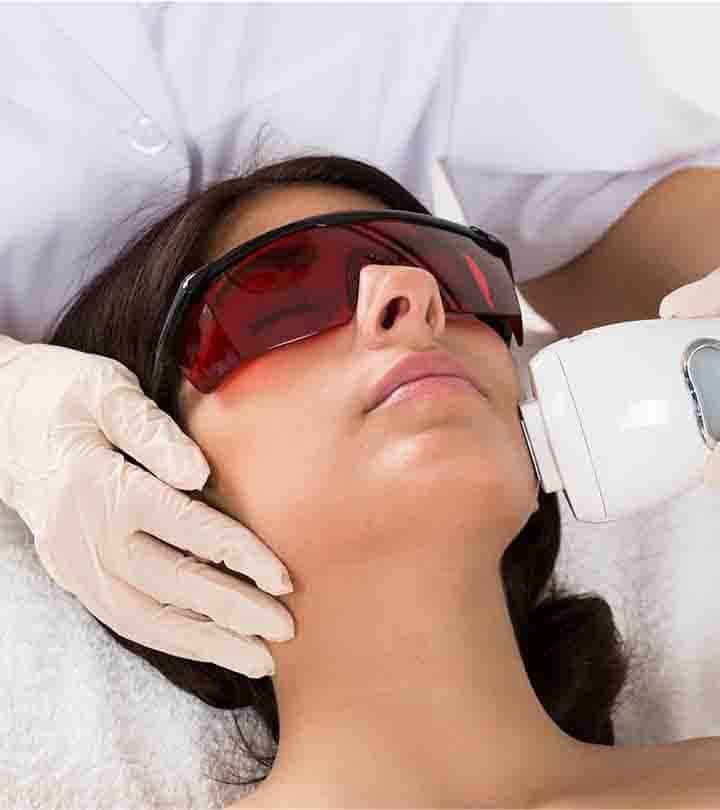 Laser skin tightening treatment is an anti-aging technique gaining popularity these days. It has taken the cosmetic industry by storm. Anyone who does not wish to go for surgical procedures to look younger can opt for laser skin tightening. It is a non-invasive treatment. Keep reading to know more about the different laser treatments and how they may work.
What Is Laser Skin Tightening Treatment?
Laser skin tightening is a procedure that helps you to achieve youthful and glowing skin and slows down aging by tightening the skin. This treatment is non-surgical and non-invasive, i.e., it does not involve making any incisions. Instead, it uses a laser device directed at the target area to boost collagen production. As a result, this treatment helps in reducing wrinkles, fine lines, acne scars, saggy skin, and hyperpigmentation.
But, why does your skin become loose and saggy? Find out in the next section.
Causes Of Loose And Saggy Skin
One of the biggest skin concerns that grow with age is saggy or loose skin. Saggy skin is visible on the face, chin, stomach, arms, eyelids, etc.
Loose skin or saggy skin can be caused by the following factors:
Reduction Of Collagen And Elastin: As you age, your body produces less collagen and elastin, which are essential proteins that help retain the strength and elasticity of the skin.
Sudden Weight Loss: When body fat is accumulated in your body for an extended period, it causes considerable harm to the collagen and elastin fibers in your skin. Hence, sudden weight loss may cause your skin to sag because of the inability of the skin to bounce back.
Exposure To External Factors: External factors like increased exposure to UV rays, pollution, dust, debris, etc. also leads to loss of collagen, which may then cause sagging skin.
Lifestyle Factors: Poor lifestyle choices like heavy alcohol consumption, chronic smoking, and insufficient nutrition are other purported causes for saggy skin.
Other possible reasons for skin sagging could be pregnancy or skin conditions that attack the skin's collagen production. One of the best ways to reduce aging, sagging skin, wrinkles, and fine lines is laser skin tightening treatment.
Benefits Of Laser Skin Tightening
Laser skin tightening treatment is widely known for improving the quality of your skin by tightening loose skin with infrared rays. Here are a few benefits of this treatment:
It eliminates aging concerns like wrinkles, fine lines, saggy skin, etc.
It leaves you with a healthy, rejuvenated, glowing, toned, and youthful face.
It is safe and causes no pain in the procedure.
It restores collagen balance, i.e., the balance between production and depletion of collagen due to external factors like sun damage.
It enhances the elasticity of the skin and its texture.
It shrinks large pores and tightens the skin.
It facilitates the overall repair of skin tissues.
The results of laser skin tightening are long-lasting. Usually, it takes two months for users to notice skin radiance and a youthful glow. These effects then last for years.
Find out how this treatment works in the next section.
How Does Laser Skin Tightening Work?
Laser skin tightening is a rejuvenating facial treatment done with the help of lasers. Through the process of photothermolysis, an infrared laser is passed beneath the skin. The laser heats the collagen present under the skin, which results in tight and firm skin.  Different types of lasers are used in the process of laser skin tightening treatment:
Ablative Lasers: Ablative lasers are generally used in skin tightening treatments. These lasers function by evaporating the top damaged tissues of the skin. Even though it is an aggressive form of laser and has a more extended recovery period, it is less time-consuming and treats deep wrinkles and hyperpigmentation.
Non-Ablative Lasers: Non-ablative lasers are also used in skin tightening treatments. They work penetrate deeper into the skin and go through the dermis. During a non-ablative laser procedure, the laser heats the dermis without touching the epidermis (the outer layer of the skin). This breaks down the weaker bonds in the collagen proteins and leads to more collagen production that tightens your skin.
A few types of ablative and non-ablative lasers used in laser treatment are as follows:
A CO2 fractionated laser is a laser specially made from carbon dioxide to remove the damaged outer layers of the skin.
Fraxel repair laser is an ablative type of laser that vaporizes the skin cells of the affected area.
Erbium and Thulium fiber lasers work in both ablative and non-ablative ways. They help tighten the skin barrier and treat fine lines, wrinkles, and scarring.
Laser skin tightening can be done through various procedures. Learn all about them in the next section.
Laser Skin Tightening Procedures
Laser skin tightening can be done through various procedures that are non-surgical and non-painful. These procedures include:
1. Ultrasound
Ultrasound skin tightening procedure uses ultrasound technology to send heat deep into your skin to stimulate collagen synthesis. This procedure is an effective way to eliminate any moderately sagged portion on the skin. It is usually done on the chin, jaw, neck, and brow areas.
A typical ultrasound therapy session starts with the marking of facial nerves so they are not damaged in the treatment process. Then, the doctor applies a generous amount of ultrasound gel. Next, the transducer is placed on the treatment area, and the ultrasound waves are transferred to the depths of the skin tissue to stimulate collagen production. This procedure enables the body to use its response to recondition the fibers.
The Ultrasound procedure takes 30-90 minutes, depending on the area and extent of treatment requested by the patient.
Benefits Of The Ultrasound Procedure
Helps in generating new collagen and elastin
Restores firmness and elasticity
Smoothens lines and wrinkles
Side Effects Of The Ultrasound Procedure
After the treatment is completed, patients might experience the following symptoms:
Redness and flushed skin
Minor swelling and tingling sensation around the treated area
Numbness
2. Radiofrequency
Radiofrequency therapy, also popularly known as RF therapy, is another way of tightening your saggy skin. This treatment also involves sending energy waves to heat the dermis. With the help of this heat, the production of collagen is boosted.
Dermatologists around the globe practice a few standard Radiofrequency Therapies.
I. Thermage
Thermage skin tightening treatment uses patent radio frequency to heat the deeper layer of the skin to stimulate the existing collagen and promote new collagen growth. A single session of Thermage gives you youthful and glowing skin. It can tighten sagging skin on the neck, eyebrows, eyelids, and cheeks. An average session of Thermage takes around 45 minutes for the face and up to 2 hours for the body.
Benefits Of Thermage 
Highly comfortable procedure
Reduces acne
Softens acne scars and wrinkles
One-time and cost-effective treatment
Side Effects of Thermage
After the treatment, some patients report swelling and redness around the treated area.
Slight bruises
II. Thermalift
Thermalift also uses radiofrequency technology to encourage skin proteins like collagen and elastin by passing heat to the dermis, i.e., the deeper layer of the skin, without harming the upper layer. The heat shrinks collagen, which results in tightening. Thermalift is usually used to tighten the area around the forehead, eyes, brows, neck, lower face, etc. Most of the sessions take around 30 to 60 minutes.
Benefits of Thermalift 
Safe and not time-consuming
Decreases fine lines and wrinkles
Boosts skin proteins like collagen and elastin
Results last up to a year
Side Effects of Thermalift 
Slight redness
In extremely rare cases, burns
III. Exilis
Exilis is a skin tightening treatment that utilizes controlled RF energy waves that travel through the deep layers of the skin and reduce fat cells, form more collagen, and alter existing collagen. Exilis can work on your arms, legs, face, back, knees, etc. It takes two to six sessions to achieve results, and each session lasts around 20-30 minutes.
Benefits Of Exilis
Smoother and younger-looking skin
Body contouring
Reduces fat and tightens the skin
Side Effects of Exilis 
No major side effects of Exilis have been reported, but patients have noticed redness and pinkness after treatment which fade away soon.
3. Radiofrequency Microneedling
Radiofrequency microneedling is a skin-firming and tightening treatment that works with radiofrequency waves generated through tiny needles. This procedure works on the concept of Controlled Skin Injury, a method used to gently and carefully injure the skin to strengthen and enhance its quality. The damage caused by this therapy helps grow a new layer of thicker and smoother skin. People who have wrinkles, fine lines, hyperpigmentation, acne scars, etc., can benefit from this treatment. One session of radiofrequency microneedling lasts around 20 minutes.
Benefits Of Radiofrequency Microneedling 
You get the benefits of two cosmetic procedures, i.e., radiofrequency and microneedling, in one treatment.
Suitable for all skin types
Reduces scars and marks
Tightens and smoothens the skin
Side Effects Of Radiofrequency Microneedling 
Results take longer to appear
Uncomfortable due to the inclusion of hot needles into your skin
Multiple sessions are required to get the best results.
Now that you know all about the various laser skin tightening procedures, let's talk about how to prepare for them.
How To Prepare For Laser Skin Tightening
Laser skin tightening is a process that targets a sensitive tissue of your body, i.e., the skin. Hence, there are a few precautionary measures you should take some weeks before the treatment. Being cautious about your lifestyle choices, skin care, sun exposure, and other factors is essential as it encourages a smooth treatment and speedy recovery.
The following are a few things you should do before a laser skin tightening session:
Ensure that you don't have any skin care products on your face (like cream, moisturizer, lotion, etc.) when you go to the clinic for the session.
Shave any hair on the area of treatment.
Try to avoid sun exposure and artificial tanning of the skin for a few days before the treatment.
Use SPF or sunblock religiously.
Any other cosmetic procedures or treatments like fillers, Botox, chemical peels, and microdermabrasion should be avoided two weeks before and after the treatment.
Refrain from using any highly concentrated skin topicals like benzoyl peroxide, salicylic acid, retinol, etc. about five days before the treatment.
Use only a gentle cleanser and a mild moisturizer in the days leading up to the session.
Inform your doctor about your medical history, any medications you are on, or any allergies you have during your initial consultation.
Avoid makeup on the day of treatment.
Make a few lifestyle changes like avoiding smoking as it might delay your healing process.
Stop taking any supplements that cause thinning of blood like vitamin E, Aspirin, Ibuprofen, etc. for a few days before the treatment.
Check out the next section for what to expect during the procedure.
What Should You Expect During The Procedure?
Before making an appointment for a laser skin tightening session, make sure you book a consultation session with your dermatologist. In the consultation session, your dermatologist will ask you questions about your past medical history, allergies, medications, etc., to ensure that it is safe for you to get the treatment.
Before the session, the treatment area is washed and cleaned thoroughly. You will be given protective eye gear to protect your eyes from the laser beam. They will then cover the area around the treatment area will be covered with a cloth.
The doctor will place the device on the target area and flash the laser beam on it several times. You may feel a slight burning sensation.
After the session, you will be asked to clean the treatment area multiple times a day. You will also be asked to use sunscreen and moisturizer religiously.
Check out which areas you can treat with laser skin tightening in the next section.
Targeted Areas For Laser Skin Tightening
Laser skin tightening can be performed on different parts of the body, like the face, knee, back, thighs, arms, legs, stomach, neck, jawline, brows, eyelids, etc.
A majority of people tighten the area around their face, neck, and stomach. The most popular methods used include Thermage, Thermalift, and Exilis. Radiofrequency micro-needling is recommended for bigger surface areas like the stomach.
Check out the side effects of this treatment in the next section.
What Are The Side Effects Associated With Laser Skin Tightening?
Laser skin tightening is a safe option for firming and tightening your skin, but it does have some side effects.
Most patients experience minor side effects immediately after the treatment, like redness, swelling, bruising, and flushing, which fade away with time. But, there have also been reports of some serious consequences like blistering, burns, permanent scarring, open pores, infections, etc. Hence, it is imperative to be aware of the associated risks before undergoing this treatment.
What Should You Expect After The Treatment?
After the laser skin tightening treatment, it is typical to see swelling or inflammation on the treated area, which may last for a few days.
You can use aloe vera to reduce the redness and irritation.
It is imperative to avoid exposing yourself to the sun after your treatment for two weeks, as the treated area is sensitive, and it might result in scarring, pigmentation, and a change in skin texture.
Use sunscreen or sunblock religiously to protect yourself from the sun.
Avoid using any skin topicals like salicylic acid, benzoyl peroxide, retinol, etc.
Use a gentle cleanser and lotion.
Learn all about the recovery and results from this treatment in the next section.
Laser Skin Tightening – Recovery And Results
The redness and swelling caused by laser skin tightening treatment do not last long. Most patients notice an immediate tightening of the skin, reduced wrinkles and fine lines, a firm skin barrier, and a healthy glow on their treated area. Since this treatment does not involve any surgery or cuts, there is no downtime to recover from it.
What Does Laser Skin Tightening Cost?
The cost of laser skin tightening treatment depends on the size of the treated area, the skill level of the practitioner, the location of the clinic, the type of treatment, etc. The average cost of one session usually ranges from $600-$1000.
Laser skin tightening treatment is a non-invasive treatment that aims to reduce the aging signs. A device is used to target the laser to specific spots on your skin to boost collagen production and minimize the appearance of wrinkles, fine lines, scars, and pigmentation. Besides, it also improves skin elasticity, minimizes the appearance of enlarged pores, and tightens the skin. Following the tips shared in this article will help you make the laser treatment session more comfortable and ensure a speedy recovery. Always ensure you discuss everything before and get it done by a certified dermatologist.
Frequently Asked Questions
How often can you do laser skin tightening?
Most people need 3 to 4 sessions of laser skin tightening about a month apart.
Can laser tighten jowls?
Yes, laser treatment can tighten the jowls.
Does skin peel after laser treatment?
The skin may peel after laser treatment. However, it heals in some days. So, it is best to consult your doctor to discuss how to take care of skin peeling after laser treatment.
Can you wear makeup after laser treatment?
Usually, it is advised not to wear makeup for 2-3 days after laser treatment. However, it depends on the kind of laser treatment as well.
Key Takeaways
In laser skin tightening, a laser device helps stimulate collagen production in the skin.
The treatment improves the skin's quality by enhancing its elasticity and restoring collagen balance.
Laser skin tightening can be done through ultrasound, radiofrequency therapy, and radiofrequency microneedling.
Articles on StyleCraze are backed by verified information from peer-reviewed and academic research papers, reputed organizations, research institutions, and medical associations to ensure accuracy and relevance. Check out our editorial policy for further details.
The following two tabs change content below.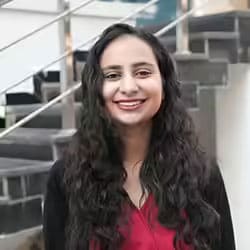 Arshiya Syeda is an editor at StyleCraze. Prior to that, she was a content writer and combined her writing and...
more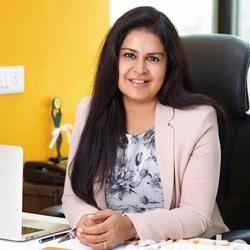 Dr. Madhuri Agarwal
(MBBS, MD )
Dr. Madhuri Agarwal is an aesthetic dermatologist with over 16 years of experience and the Medical Director & CEO of...
more