Top 30 Latest And Simple Blouse Back Neck Designs Of 2023
These jaw-dropping blouse back neck designs are the latest fashion trends.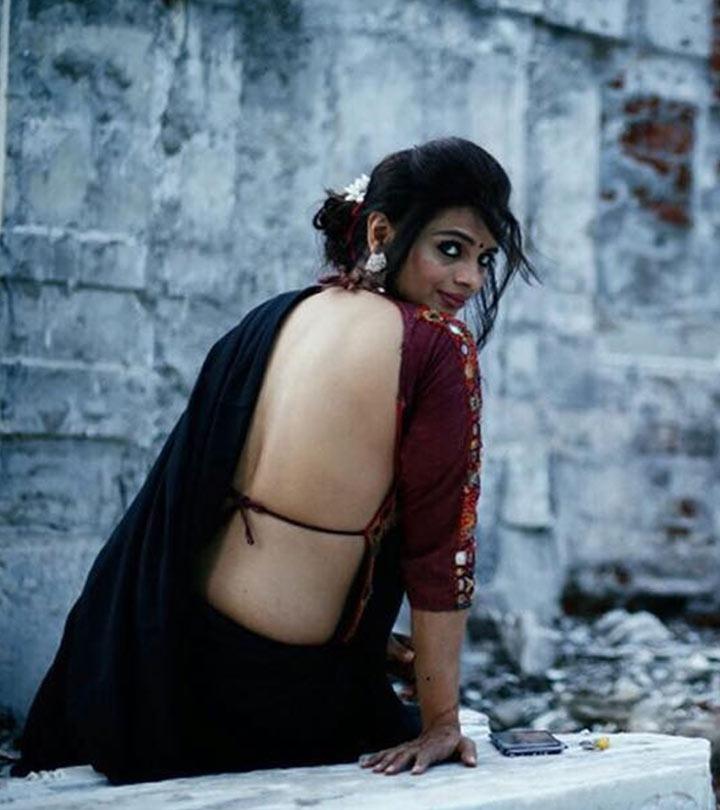 The best thing about draping that six yards of pure elegance (yes, the saree) is that you can play with the blouse. You can take your saree look to another level when you sport the most gorgeous and unique blouse with it. And since the back design is one of the most important aspects of the blouse, today, in this article, we will provide you with an amazing catalog of blouse back neck designs. These designs will let you decide on the most flattering and suitable back design for your saree blouse easily. And we are certain that you will totally steal the show wherever you go wearing a saree with these blouses. Now, to make that happen, all you have to do is, scroll down and choose your design. So without any further delay, go ahead and check it out because it is time for you to rock some beautiful ethnic looks.
30 Latest Blouse Back Neck Designs And Patterns
1. Mirrorwork With Tiable Back Neck Design
It is a stunning back neck design, isn't it? It works for all types of sarees. If you want to add modern touches to your pattu saree, here's something you must try. The tie-able format with those beautiful tassels is adding to the look.
2. Backless Blouse Design With Pom-Poms
A design that took Pinterest by storm – it's unique, urbane, and breathtakingly sensuous. This design is the brainchild of the famous designer Gursakhi Lugani, who swept people off their feet when she first launched it. It looks great with party wear or cotton sarees. I just got one of these for myself, and I think you should too!
3. The Asymmetrical Back Neck Design
Asymmetrical bob, asymmetrical dresses – asymmetrical everything is in right now. So, here's an eclectic design to join this bandwagon. You could try this blouse design for pattu, silk, chanderi or party wear sarees. If you are considering this for a special occasion, you can get it embroidered with thread, sequin, zardosi or maggam work.
4. Back Mesh Neck Design With Zardosi Work
An eye-catching meshwork design idea is ideal for any pattu or silk saree. You could either get a combination of meshwork and zardosi for the back neck or just meshwork throughout with a back opening.
5. Silver Thread Work Backless Blouse
You know what is better than a backless blouse? A sexy, backless blouse. One blouse every single one of us should have. In fact, this is a part of the latest bridal blouse neck design collection, and, who can beat that? Who says the bride cannot wear blouses like these? Just that one string is holding this beautiful fort together. I CANNOT STOP ADMIRING IT!
6. Fish Cut Side Dori Cotton Blouse
A combination of Chinese collar for the front neck and a unique fish cut with a side tie-able dori at the back will be perfect for cotton sarees like ikat, pochampally or any handloom fabrics.
7. Halter And Deep Square Back Design
For anyone who is like me, I mean someone who loves halter necks but is not comfortable with sleeveless blouses, here's something that will help. It looks like a halter neck with a deep square from behind, and a Chinese collar from the front – an interesting combination of all things good!
8. Round Pot Neck Blouse With Silver Embroidery
A blouse back neck design that will go with sarees, lehengas, and party wear dresses. With a combination of boat neck in the front and silver embroidery, this blouse is best of both the worlds. I also love how the opening is at the nape of the neck instead of the upper back.
9. Floral Black Blouse With Sheer Design
A floral blouse that goes with any plain saree, especially in a universal color like black, is a multi-purpose blouse. The sheer fabric that is used to cover the broad back neckline plus the button design element are simply chic and elegant.
10. Backless Blouse With Border Piping
There's so much you can do when you talk about backless or deep neck blouses. A simple contrast colored blouse can elevate the look with embellished borders, and by replacing the conventional piping, you can get a masterpiece. The technique is all about doing ordinary things in an extraordinary way.
11. Contrast Blouse With A Faux Bow 
We all love bows, don't we? If you are not confident about getting a real tie-able bow at the back – here's your closest second. Also, this is a more practical option.
12. White Lace Blouse With Deep V Neck
An offbeat yet graceful combination of a deep V-neck for the back instead of the front and lace and georgette fabrics, this is not something you see every day. The pearl embellishments for the bottom strip is the icing on this beautiful cake.
13. Royal Blue Blouse With Heavy Golden Embroidery
A breathtakingly gorgeous blouse design that will suit any skin tone and any fabric like pattu, silk, jute, chanderi, etc. The golden thread embroidery work is bumping up the sophistication of the blouse.
14. Nude Full Sleeves Blouse With Illusion Back Neckline
A discerning choice of blouse for fashion enthusiasts. It's subtle, yet stylish. You could follow the same pattern of using a contrast color for the blouse and make it interesting with elements like full-length lace sleeves, illusion back neck, and embellishments that are popping it all out.
15. Back Open Sleeveless Blouse With A Deep Pot Neck
By now, all of us have at least one deep back open blouse with a pot design, and we can never get enough of it. I added it to the list just in case some of you don't have it yet. If it's a plain blouse with gold or silver colored embellishments, it can be paired with more than one saree.
16. Banaras Blouse With Multiple Doris
Wow! That was my first reaction to this blouse. A simple old banarasi fabric transformed into something so incredibly stylish with the use of pom-poms and multiple doris. Because one is never enough!
17. Blue Sleeveless Blouse With Big Button Motifs
A neck design that will set you apart from your peers. I'm truly amazed by the difference minute design changes can do to an outfit. Instead of a single pot neck, this raw silk blouse is divided into two and connected with buttoned motifs. Makes all the difference!
18. Floral Thread Work Blouse With Fabric Embellishments
Here's a graceful and simple design from the Sabyasachi's bridal collection. You can easily replicate this model with any other color combination. Make sure your Masterji is on the same page as you, because for blouses like these, the very little work there is is the deal breaker. Like the teeny-weeny fabric embellishments and the thread work embroidery.
19. Drop-Shaped Back Neck With Dori And Tassels
If you are looking for something simple, you could try this. It has all quirky detailing but in proportions. The dori, the buttons, tassels, and the drop-shaped back neck take this blouse to a whole new level.
20. Sleeveless Checkered Blouse
Checkered blouses are back in vogue and are not considered dated anymore. The best part about this patterned blouse is that you do not have to bother about getting any work done on it. Simple back neck designs like these and a plain saree are all it takes for you to slay it.
21. Georgette Blouse With Sheer Sleeves And Back Neck
A back neck design that is effortless yet modish, and works for pure georgette sarees. The contrast buttons that stand out on the sheer blouse add so much value to the aesthetics of the blouse and the outfit.
22. Back Open Banaras Blouse With Asymmetrical Neckline
Another interesting twist to the asymmetrical blouse designs. Instead of the usual pot designs, go with this back neck design that adds a little zing to the outfit. Not to forget – the pearl embellished tassels. Much wow!
23. Plain Gold Backless Blouse
A pretty straightforward design but a must-have in every girl's closet. You can match it with most colors in your closet. The backless (well, almost!) design is enough to compensate for everything else that's not there.
24. Open Back Satin Blouse – Sonam Kapoor Style
I don't have to say anything – you already love it, don't you? Just take this picture straight up to your designer and get this one done. You could also use this blouse on top of a lehenga and pair it with a tulle gold or pastel dupatta.
25. Lace And Thread Embroidery Blouse
If you have a back you cannot wait to flaunt, do it in this blouse. Yes, the design is positioned in a way that flaunts your pretty back. Sensuous as hell.
26. Faux Backless Blouse Design In Net Fabric
Talk about creativity. Like, look at the number of backless variants we have right here. And then, we have this illusion backless blouse design in sheer net fabric with tassels and bordered pipings that are redefining backless for us.
27. Checkered Blouse With High Neck Design
Okay, you might not be super excited about the backless and deep neck designs, but you can still be stylish with back necks like these. This blouse with a checkered design for the back, with connecting plain strips at the center and button embellishments, should be a part of your wishlist.
28. Razor-Back Neck Design
Are you always looking to flaunt that back tattoo of yours? Good – here's what you need. A plain blouse with black sequin border for neck piping makes it equal parts elegant and exciting.
29. Satin And Sheer Tulle Back Neck With Lace Motif
Add oomph to this already ethereal saree with a neck design like this. The white satin blouse with lace piping for the sleeves and also for the motif to lift the illusion back neckline will have heads turning and jaws dropping.
30. Digital Print Blouse With Tieable Back Design
Digital prints are everywhere! What started from kurtis have now moved into the saree shelves too. For a contemporary, boho look, try this back neck design that looks normal, but if you look closely, there's just one string that's holding everything together (not literally, duh) but making all the difference.
When it comes to blouse back neck designs, the options are endless. From mirror work with tie-able back neck design to back mesh neck design with zardozi work, fish-cut side-dori cotton blouse, and more, the choices are way too many. All you need to do is let your tailor or boutique person know the ones that have stolen your heart. But while you go for a particular design, make sure it suits your entire look and goes well with the occasion you are wearing it for.