17 Latest Net Blouse Designs Catalog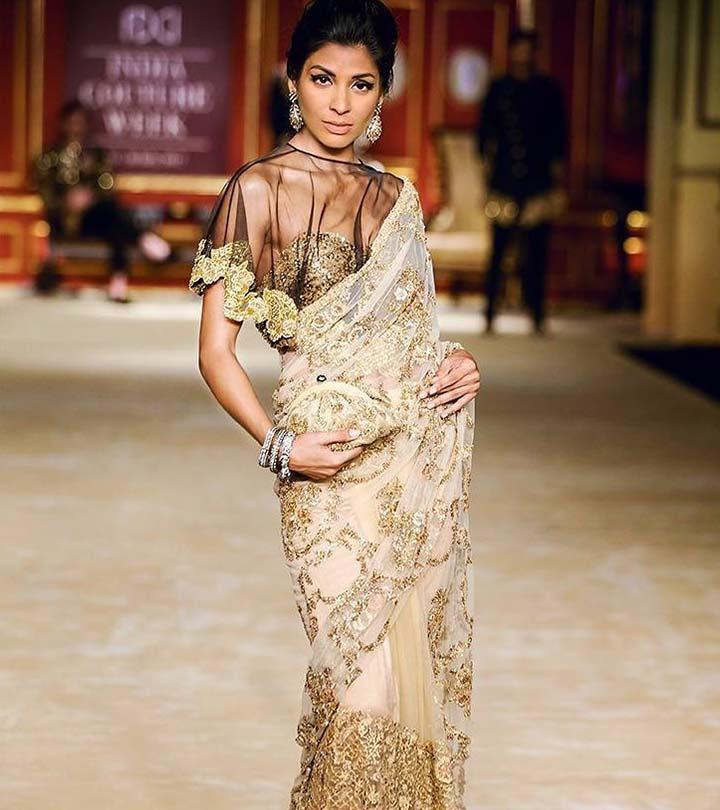 What is that one thing that excites you about a saree? For me, it's invariably the blouse, and I try new patterns with every saree I wear. And, this has been the trend all over, and that's why ethnic wear is evolving like never before – and the bar is rising higher with every passing day. Thanks to our designers for not just bringing in a variety of designs, but also for inspiring people to become designers and see the fashion world with a fresh pair of lens. Today, for the love of sarees and blouses, let's talk about one of the most sought-after blouses by women of all ages – net blouses. If you've been on the lookout for a great net blouse design, you've come to the right place. Presenting the best net blouse designs catalog!
17 Latest Net Blouse Designs Catalog
1. Cape Style Net Blouse
Like they say, superheroes do not always wear capes, but maybe sometimes they wear capes that are slightly different from the ones we know. So for all the superwomen out there, which is all of us, we need one of these stylish looking cape style net blouses that makes everything else fade.
2. Black Georgette Saree With Bracelet Sleeves
There aren't too many shortcuts in life, but luckily, there still are some. For example, if you want to instantly spruce up your simple georgette saree and transform it into a party wear saree, here's a blouse that does that for you. The sequin embossed sweetheart neckline bodice stands out while the net fabric provides you the coverage your blouse needs – but also adds it all up. I'd say, get a generic blouse like this in black or gold – and it will come handy.
3. Off-white Boat Neck Blouse With Golden Embroidery
We all have a picture of ourselves wearing that one ethereal white saree that flows beautifully and sticks at all the right places. If you've found the 'one', good for you, or if you are still scouting for it, good luck with that. But, here's a blouse that fits the bill for that dream white saree of yours. The faux boat neckline has been created using tulle (net) fabric to camouflage the plunged V-neck. The golden fringes at the bottom pop it all out and get you party ready.
[ Read: How To Wear A Saree In Different Ways – Step By Step Tutorial ]
4. Full Sleeved High Neck Net Blouse
Full sleeved blouses might sound a bit dated, but that's where a lot of us get it wrong. Long sleeves are stylish, sophisticated, chic, and anything but dated. Look at this handmade embroidered tulle blouse and how well it enhances the beauty of the saree and not just complements it. So, here's proof that long sleeves can look impeccably stylish if done right.
5. Long Sleeves Sheer Tulle Blouse
We thought we'd settle this for you if you still are in two minds about full sleeved blouses. The mukaish detailing on the blouse is perfectly spaced out, subtle, and spins towards being more contemporary than conventional. So, depending on what you prefer, have your pick.
6. Blue Net Blouse With Kundan Work
Some sarees come with heavy work, which makes them swing both ways – traditional or party wear depending on where you're headed. But since colors already have more of a conventional element to them, ditch the regular blouse and go for a contrast net blouse with Kundan work that brings all the details together.
7. Golden Color Silk And Net Blouse
If you are a sucker for blouses, you must have stumbled upon this style by now because it has become really popular. The silk or zari fabric for the body of the saree adds grandeur to the blouse, while the tulle fabric with thread embroidery takes care of the modern element your outfit needs.
8. Full Sleeved Black Deep Neck Blouse
A blouse, according to me, should come with a thick, broad back neck – the deeper, the better. So, obviously, this blouse had to make it to my final list here. The black full sleeves net blouse has a mix of lace and golden piping to go with the saree that looks like the midnight sky. This outfit can make you look like you've descended from the heavens.
9. Georgette And Net Blouse With Threadwork
Another one that is making the rounds – one, because it is supremely stylish, and two, because this one can go with a lot of other sarees. If you have been shying away from trying blouses with broad or deep necks or both, this blouse should be your go-to. The neon colored button detailing adds definition to the otherwise plain blouse.
[ Read: 20 Gorgeous Party Wear Sarees With Blouse Designs For 2018 ]
10. Net And Lace Blouse
There are a lot of ways you can play around with the sweetheart neckline and then camouflage it using lace, net or other sheer fabrics to sculpt that perfect silhouette. You can either use fabric that has a combination of net and lace or either one. Use satin or chiffon material for the body or something that goes with the net fabric and does not stick out.
11. Chiffon And Net Blouse With Golden Embroidery
Chiffon is another fabric most women like because they take your body shape and also make you look slimmer. This half and half saree design at the back is an exciting addition to your outfit.
12. High Boat Neck Sleeves Blouse
Mix and match your sarees with a fully embroidered boat neck blouse. These blouses go equally well with cotton, georgette, and pattu sarees. In fact, boat neck blouses with pattu sarees are entirely in vogue right now.
13. Mirror Work Net Blouse With Half Sleeves
Just like the full sleeves blouses, 1/2 and 3/4th sleeves are finding their way back into the ethnic clothesline. The mirror work stands out on this net blouse like no other and is a perfect match for your plain cotton, georgette or chiffon sarees.
14. Self Design Lace Blouse With Tulle Covering
Lace and net are a match made in heaven. They can easily blend into one another. You can mix this blouse with your pattu sarees as well as the party wear ones.
15. Heavy Floral Embroidery Net Blouse
If you have a big or special event you are looking forward to, go all out with this heavily embroidered full sleeved net blouse and a net saree with sequin work.
[ Read: 50 Trendy Silk Saree Blouse Designs Catalogue 2018 ]
16. Plain White Net Blouse
Another blouse you cannot say no to. If you have a lace saree in mind, mix it up with a net blouse like this and let the magic unveil. Also, get ready to deal with all the attention that comes your way.
17. Golden Sheer Tulle Blouse For Lehenga
We have all seen our share of crop top blouses (of all kinds) for lehengas; so next time, break the stereotype with this golden cape style top in net fabric. Keep the body of the top plain and let other parts pop.
I'd still say that these are just a handful of the amazing designs out there, but these are my favorites. Which ones are your favorites though? Let us know by dropping in a text in the comments section below.
Recommended Articles:

The following two tabs change content below.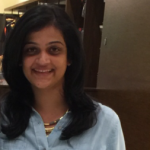 After working in Marketing and Business Development for a few years, Pratima Ati jumped ship to pursue two things she loved – fashion and writing. She's now a full-time Fashion & Lifestyle writer and has never looked back ever since. She sleeps early, reads often, and when she can't, she finally gives a closure to all the characters living in her drafts. Sometimes, they pass off as poetry too! That, and her training in Indian classical music and playing (learning) the veena keep her sane, civil, and bearable.