35 Inspiring Leadership Quotes From Powerful Women
Let the words of wisdom from incredible women bring out the boss lady in you.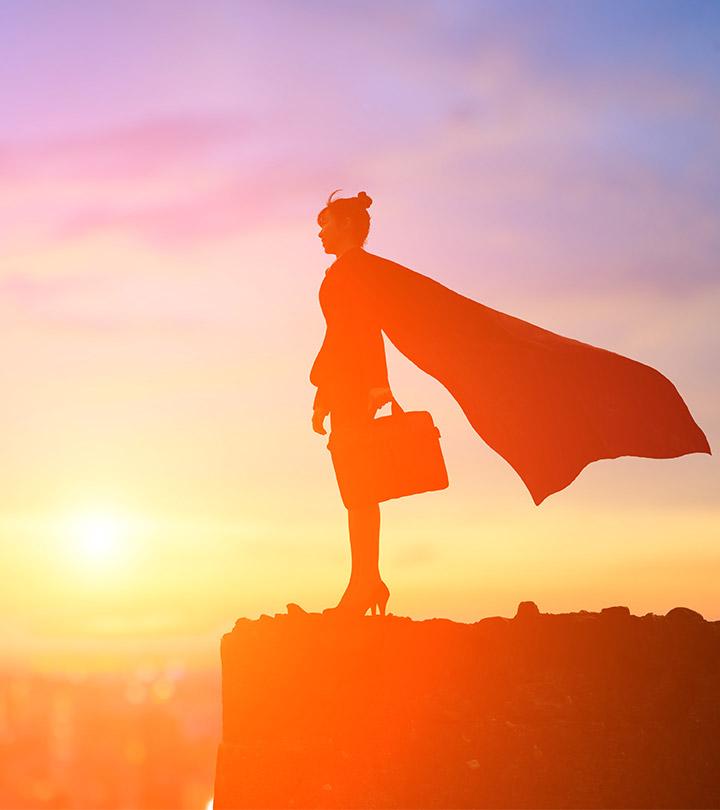 Women have proven their worth in every discipline, including athletics, astronomy, entertainment, business, politics, and more. Our list of some of the best leadership quotes by women gives a glimpse of their grit and perseverance. Even though the level playing field was far from even, some women defied all odds with their boldness, hard work, and determination.
Sometimes things may get rough, you may face an existential crisis, and it all becomes too much. So, you have to grab a scoop of inspiration to get on track. Take a moment to absorb and digest these inspirational leadership statements from some very remarkable ladies. Scroll down!
35 Leadership Quotes By Women Of Remarkable Substance
"I learned to always take on things I'd never done before. Growth and comfort do not coexist." – Ginni Rometty, CEO of IBM
"Listening to others, especially those with whom we disagree, tests our own ideas and beliefs. It forces us to recognize, with humility, that we don't have a monopoly on the truth." – Janet Yellen, Economist
"People respond well to those that are sure of what they want." – Anna Wintour, Editor-in-Chief, Vogue
"Women need to shift from thinking "I'm not ready to do that" to thinking "I want to do that – and I'll learn by doing it." " – Sheryl Sandberg, COO of Facebook
"Give light and people will find the way." – Ella Baker, Activist
"I am deliberate and afraid of nothing." – Audre Lorde, Poet, Writer, and Activist
"I raise up my voice not so I can shout but so that those without a voice can be heard… We cannot succeed when half of us are held back." – Malala Yousazai, Activist
"On my own, I will just create, and if it works, it works, and if it doesn't, I'll create something else. I don't have any limitations on what I think I could do or be." – Oprah Winfrey, Media Mogul
"I had to make my own living and my own opportunity! But I made it! Don't sit down and wait for the opportunities to come. Get up and make them." – Madam C. J. Walker, The first female self-made millionaire in America
"Anything's possible if you've got enough nerve." – J.K. Rowling, Writer
"You may not always have a comfortable life, and you will not always be able to solve all of the world's problems at once but don't ever underestimate the importance you can have because history has shown us that courage can be contagious and hope can take on a life of its own." – Michelle Obama, Former First Lady of the United States of America
"Buckle up, and know that it's going to be a tremendous amount of work, but embrace it." – Tory Burch, Fashion Designer
"An important attribute of success is to be yourself. Never hide what makes you, you." – Indra Nooyi, CEO of PepsiCo
"Fearlessness is like a muscle. I know from my own life that the more I exercise it, the more natural it becomes to not let my fears run me." – Arianna Huffington, Journalist and Entrepreneur
"You cannot live to please everyone else. You have to edify, educate and fulfill your own dreams and destiny." – Viola Davis, Actress and Producer
"You have to fight because you can't count on anyone else fighting for you. And you have to fight for people who can't fight for themselves. To get anything of real value, you have to fight for it." – Ronda Rousey, Professional Wrestler
"People will say to me, 'You've played so many strong women,' and I'll say, 'Have you ever said to a man, 'You've played so many strong men?'' No! Because the expectation is men are varied. Why can't we have that expectation about women?" – Meryl Streep, Actress
"Dreams are lovely but they are just dreams. Fleeting, ephemeral, pretty. But dreams do not come true just because you dream them. It's hard work that makes things happen. It's hard work that creates change." – Shonda Rhimes, TV Producer
"There is a stubbornness about me that never can bear to be frightened at the will of others. My courage always rises at every attempt to intimidate me." – Jane Austen, Novelist
"Define success on your own terms, achieve it by your own rules, and build a life you're proud to live." – Anne Sweeney, Co-chair of Disney Media
"The best way to change it is to do it. Right? And then after a while, you become it and it's easy." – Ursula Burns, Former CEO of Xerox
"To me, leadership is about encouraging people. It's about stimulating them. It's about enabling them to achieve what they can achieve – and to do that with a purpose." – Christine Lagarde, Lawyer and Politician
"When you can't find someone to follow, you have to find a way to lead by example." – Roxane Gay, Writer
"Abandon anything about your life and habits that might be holding you back." – Sophia Amoruso, Founder of Nasty Gal
"I love to see a young girl go out and grab the world by the lapels. Life's a bitch. You've got to go out and kick ass." – Maya Angelou, Writer, Poet and Civil Rights Activist
"We must have ideals and try to live up to them, even if we never quite succeed. Life would be a sorry business without them. With them, it's grand and great." – Lucy Maude Montgomery, Writer
"I always did something I was a little not ready to do. I think that's how you grow. When there's that moment of 'Wow, I'm not really sure I can do this,' and you push through those moments, that's when you have a breakthrough." – Marissa Mayer, Co-founder of Lumi Labs
"A good leader inspires people to have confidence in the leader, a great leader inspires people to have confidence in themselves." Eleanor Roosevelt, Author, Politician and Diplomat
"You have got to do the right thing even if it is painful. Don't trim or track all over the place. Set your course and take the difficult decisions – because that is what needs to be done." – Margaret Thatcher, Former Prime Minister of the United Kingdom
"The path from dreams to success does exist." – Kalpana Chawla, Astronaut and Aeronautical Engineer
"The difference between successful people and others is how long they spend time feeling sorry for themselves." – Barbara Corcoran, Founder of The Corcoran Group
"Take criticism seriously, but not personally. If there is truth or merit in the criticism, try to learn from it. Otherwise, let it roll right off you." – Hillary Clinton, Politician
"Champions keep playing until they get it right." – Billie Jean King, Former World No. 1 Professional Tennis Player
"Don't you ever let a soul in the world tell you that you can't be exactly who you are." – Lady Gaga, Singer, Songwriter, and Actress
"Every twist and turn in life is an opportunity to learn something new about yourself, your interests, your talents, and how to set and then achieve goals." – Jameela Jamil, Actress and Activist
Women have proven their leadership mettle in almost every field and are leading by example. Of course, there is under-representation of women in leadership roles, which has to change. Every woman faces some ups and downs in her career and may lack the motivation to lead when she is constantly battling imposter syndrome. The leadership quotes by powerful women listed above can certainly boost your morale and confidence and rejuvenate your perseverance and grit with new vigor. If you are going through this phase, take a look at these quotes to draw some inspiration and stand tall against all odds.
Frequently Asked Questions
What is leadership as a woman?
Apart from the courage, will, wisdom, and sense of responsibility that is necessary for a leader, women leaders also bring compassion to the table. Women who lead can be brutally fierce, but they also know that their softness can be powerful too. They have broken down societal barriers and embraced leadership roles after having embraced their own selves.
What is a female leader called?
A female who is a leader can be called, simply, a leader.
The following two tabs change content below.