How To Wear A Leather Jacket – Style Guide
Call me boring, old school or retro, a leather jacket is evergreen, and that's why they are making a major comeback. In fact, they didn't go anywhere – there was just a brief pause and then before we knew it, they have taken over. Couldn't be more thankful, could we? I'm telling you, it is all coming back in a full circle, and everything that was once retro or dated is not so anymore. But, can we do a quick refresher on ' how to wear a leather jacket '? Yes? Okay, let's do this.
How To Wear a Leather Jacket – Best Leather Jacket Brands And Different Ways To Wear Them
1. Harley Davidson Bomber Jacket
How can we talk about leather jackets and not start with Harley Davidson bomber jackets? It's understood that your biking gear comes with a bomber jacket. But, again, you do not necessarily have to be a biker, own a Harley Davidson, or even sit on one to carry this look. Get a bomber jacket and throw it on on days you feel the need for some grunge.
2. Faux Leather Jacket Poncho Style
Thanks to brands like H&M and Forever 21 who are continually innovating our everyday wear and making them so much more fun and interesting for us. Like this faux leather jacket that started making rounds and was a big hit from the time it was launched. Pair it with leggings or stockings, boots, and warm up your fall in style.
3. Leather Jacket And Scarf
Who says you cannot wear a scarf with a leather jacket? Nobody, right? Next time around, swap your light floral scarves with a woolen neck wrap (in winters) and give it a new spin. This looks great with skirts, jeans or dresses.
4. Black Short Leather Jacket
If you are a fan of Zara, I'm sure you already own one of these. But, wait, who isn't a fan of Zara? Its leather jackets are to die for, plus the short version of the black jacket is something that will go a long way. Take the jacket off, and take a look at your outfit. Now, imagine putting it back on – see how much of a difference it makes? Exactly!
5. Red Leather Jacket
There's nothing red lipstick, red pumps or a red leather jacket cannot solve. Keep one or all of it red, depending on your mood and the occasion. Wearing this to a Sunday brunch, or a luncheon with your girl gang, or even on a date night – this jacket fits the bill for all of it. An exclusive piece like this is a must in every fashionista's wardrobe.
6. Leather Jacket With Embellishments
What is better than a signature black jacket? A jacket with embellishments, embroidery or anything else that takes the leather jacket and puts it on the pedestal just like this one. Wear this with mommy or boyfriend jeans or high waisted trousers and a tank top.
7. Yellow Leather Jacket
Glam up your leather jacket with a yellow or brown embroidered jacket. It instantly lifts your look and if you want to spruce it up further, wear a cropped or tube style top, and a high waist skirt. It cannot get any more perfect than this.
8. Black Leather Jacket With Jeans
Leather jackets suit any personality type, no matter what. They add definition for petite women, and camouflage those curves for the plus size, and look great on any body type. Wear it with jeans and make it your thing, or as an add-on on days when you feel like – either way, you can never go wrong with this.
9. Waterfall Style Leather Jacket
How about going all out with leather? Leather pants, waterfall style leather jackets, and boots? There's nothing more stylish than this look, is there? Wear a black turtleneck T-shirt, fedora hat, big glasses, a tote bag, and brown lipstick. Cannot wait to try this look!
10. Sky Blue Leather Jacket
Blue is a color we all associate with denim jackets, but if you look a little harder, you can find gems like these. Whether it is dark or light, denim jackets in blue look chic, stylish, and dapper. You can wear this over a cocktail dress or a maxi gown to take your style in a different tangent.
11. Leather Jacket With A Floral Dress
Doll up in a delicate floral print one-piece dress this spring, and throw on a leather jacket to balance out the chic factor. If you want the grunge element to outweigh the floral print, throw on combat or ankle boots – and there's no stopping you, diva.
12. Graphic Or Hoodie Tops With Leather Jacket
Leather jackets with hoodies have caught up like wildfire. But, if you do not have one of these, pair a hoodie shirt with a leather jacket. Or, stick to basics with graphic T-shirts, boyfriend jeans, sneakers, and some beachy waves.
13. Kim Kardashian Leather Jacket
The eldest Kardashian sister is known for her love of spandex and leather outwear. Let's take some style inspiration from our very own Dash doll and subtly throw it over cocktail dresses or other partywear outfits. There's something cool about hanging it gently over your shoulder rather than the usual encompassing look.
14. Leather Jacket With A Long Dress
Pairing a leather jacket with long maxi dresses or short lace dresses provides a charm like no other. Add a thick waist belt if you are wearing a long dress, or gently cinch it at the waist with a satin belt if you are wearing a short one – either way, it looks matchless.
15. Pink Leather Jacket
Pink, yellow, brown, tan or blue, are all exciting choices of colors for a leather jacket barring our staple black. Pink leather jacket with pencil trousers, a silk top and pumps can genuinely change your power dressing game like no other. Put your hair up in a high pony, go with a no-makeup look and carry a leather laptop bag for some next level awesomeness.
If you still need some reassurance on how to wear a leather jacket, turn to your favorite celebrities or style icons, and you will see that they have all been carrying the leather jacket in the most modish and stylish ways possible, all through. Are you a bomber jacket kind of person? Or, you like experimenting with colors like yellow, red or brown? Let us know by dropping in a text in the comments section below.
Recommended Articles:

The following two tabs change content below.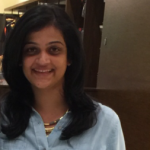 Latest posts by Pratima Ati (see all)