10 Amazing Lemon Verbena Perfumes You Should Try Now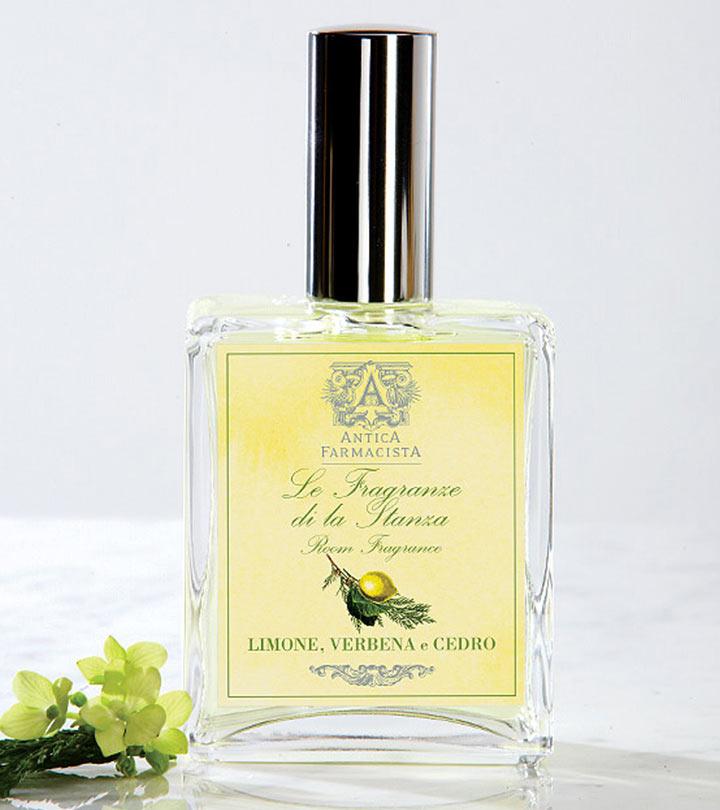 Looking for exotic lemon verbena perfumes online? If yes, let us assure you have come to the right place. Our list of perfumes is distinct, citrusy and smells delicious. Made especially for the hot summer months, these products promise to last you for a very long time. They contain natural ingredients and come with no side effects at all.
On that note, let's go ahead and check out some of the best lemon verbena perfumes from across the globe.
This lemon verbena fragrance is hand crafted and something you won't find in modern times. It contains the goodness of French lavender and Egyptian germanium that automatically makes you feel refreshed, uplifted and free spirited. The scent is a perfect example of happiness and optimism.
Similar Products:
[ Read: Benefits Of Lemon Verbena Soap ]
The Lemon Verbena body spray has been quintessentially designed for those women who take life just the way it comes. The scent is light and enamouring. It will add a bit of moisture to your skin and make you smell like a princess. It contains the goodness of oranges, lemon and verbena that soothes your senses and rejuvenates your mind and soul.
Similar Products:
Enjoy the magical fragrance of Ecco Bella Eau de parfum as it transports your senses to an entirely different world. It will make you feel spontaneous, relaxed and refreshed. The product is organic and gluten free. It also smells sophisticated and seductive. Do try this once.
Similar Products:
Made in France, this elegant glass spray bottle promises to make you smell pleasant and alluring at all times. It contains the goodness of aromatic plants and other natural ingredients that will enthral you and those around you. To discover the freshness of lemon and verbena, buy this now!
Similar Products:
5. 2 Signature Club A Lemon Verbena L'Eau De Toilette:
This perfume smells delicious indeed. The product has recently been endorsed in the market and has earned quite a good reputation so far. It promises to last you for a long period of time and is completely hassle free. You have to try this once!
Similar Products:
No products found.
This perfume smells sophisticated and classy. It is now being sold at a discounted price, which gives you a better reason to purchase it. If you are looking for something fresh, clean and citrusy, you must pick this one!
If you are tired of spray bottles, try the all new lemon verbena perfume oil. It is free of alcohol and dye, and comes in a roller ball bottle. It fits right into your purse, and you can carry it even when you are travelling in air. The product is very eco-friendly and contains the goodness of lemon, orange and verbena.
[ Read: Health Benefits Of Lemon Myrtle ]
Now this is another roll on product you can try! It contains lemon and verbena too and is popular among most for its gentle fragrance. The product is currently available at an inexpensive price. If you want to get hold of it, there won't be a better time than now!
This product gives you a total of 8 ounces and smells absolutely wonderful. It comes with a warranty, has received excellent reviews so far and should definitely be on top of your list. With only 5 of them left in stock, it would be wise to place your order right now.
10. Bath And Body Works LeCouvet Verbena And Lemon Perfume:
Bath and Body works are popularly known for their perfumes and body sprays. The perfume has recently entered the market and has made quite a lot of sales so far. The smell is luscious and super sexy and the product is also available at a special discounted price. Pick it up before it's too late.
*Subject to Availability
Benefits Of Lemon Verbena:
1. Lemon verbena, when taken in the form of tea or an herbal drink, can relieve you of digestive tract spasms. It also reduces the symptoms of constipation and diarrhea. (1)
2. It also effectively treats colds, fevers, flatulence, symptoms of asthma and spasms.
3. Lemon verbena is also used for facial care and skin treatment. It contains anti-inflammatory properties that will revitalize your skin, work as an astringent and cleanse your complexion entirely (2) . You must add this to your beauty regime if you haven't yet!
4. If you are too stressed out at work or if you feel your performance is deteriorating, you must try lemon verbena tea. It will nourish your entire body, your nervous system and reduce stress significantly (3) .
5. A final benefit of lemon verbena is its ability to fight lethargy and boost energy, confidence and dynamism. (4) It will make you feel cool, refreshed and uplifted.
Lemon verbena, thus, is not just an ingredient used for making delicious perfumes but also an herb that improves overall health.
If some of you didn't know, it is also used in the culinary world to prepare meat dishes, stuffings and baked goods. Some of the best potpurri mixtures from all over the world are made with the help of lemon verbena. If you haven't tried this herb, then it's high time you do so.
Have you tried any of the lemon verbena perfumes yet? Did you like the fragrance? Also were you aware of its surplus benefits? Do let us know in the comment box below.
Recommended Articles: